Pros
30-day money-back guarantee
Support via livechat
Versions for Windows, Mac, Linux, iOS, and Android
Self-installs on computers
No data usage meter
Cons
Relatively small server network
Bottom Line
New service that benefits from a brand new infrastructure with growing capabilities.
For a top-of-the-range VPN, you would usually expect the company to have servers in about 60 countries or more – ExpressVPN, for example, has servers in 94 countries. Buffered offers server locations in 37 countries presently, but that number will probably increase quickly, because the network is expanding rapidly. Apart from that caveat, the service quality is as good as that offered by the more established world-class VPNs.
How Much Does Buffered VPN Cost?
For a top-of-the-range VPN, you would usually expect the company to have servers in about 60 countries or more – ExpressVPN, for example, has servers in 94 countries. Buffered offers server locations in 37 countries presently, but that number will probably increase quickly, because the network is expanding rapidly. Apart from that caveat, the service quality is as good as that offered by the more established world-class VPNs.

Surprisingly, Buffered doesn't allow payment with bitcoin or PayPal. You need to have a Visa, Mastercard or Discover debit or credit card in order to sign up. No matter where you are in the world, you get charged in US dollars, so the actual price in your home currency will vary depending on the exchange rate of the day.
You are allowed to have up to five simultaneous connections with Buffered. The download page is available at all times during your subscription period, not just at the moment you sign up. That means you can share an account with friends and bring down your monthly expenditure.
What Do I Get With BufferedVPN?
The key features of Buffered are:
• 30-day hassle-free money-back guarantee
• World class support system available to you at any time
• Unlimited speed, bandwidth, and server switching
• No logging of your online activities
• Native, easy to install client for Windows, Mac, Linux, Android, and iOS
Read through the following sections to find out more on these service points.
Buffered VPN Refund Policy
The 30-day money-back guarantee is one of the longest in the industry. However, it is not quite so straightforward. The company has to cover itself to make sure that freeloaders are not just exploiting a loophole to get a free VPN service!
You can get all of your money back if you try the service for a while and then decide you don't want to continue. This refund promise extends for 30 days and applies to all subscription plans. However, there are a few conditions to that, so you can't sign up for the one month option, use the service as much as you like, and then get your money back. In order to qualify for the refund, you must have only used the service for fewer than ten hours before cancelling. You also should only have logged in fewer than 100 times, and have consumed less than 10 GB of bandwidth.
Remember, you are allowed up to five simultaneous connections, and the usage limit to qualify for the refund applies across all connections, not per device.
Buffered VPN Support
The Buffered website has a dashboard where you can access your account details. It also contains tutorials on complicated tasks, such as installing the VPN on your router instead of on your computer. If the tutorials don't solve your problems, there is a support option in the menu at the top of the website's pages. The support page first directs you towards advice pages to help solve your problems.
If you still can't fix what's wrong, press the Contact Support button.

The helpdesk contact screen is a pretty straightforward form. Once you have sent this appeal for assistance, a support operator will send you an email to establish contact. There is also livechat, where staff will reply immediately.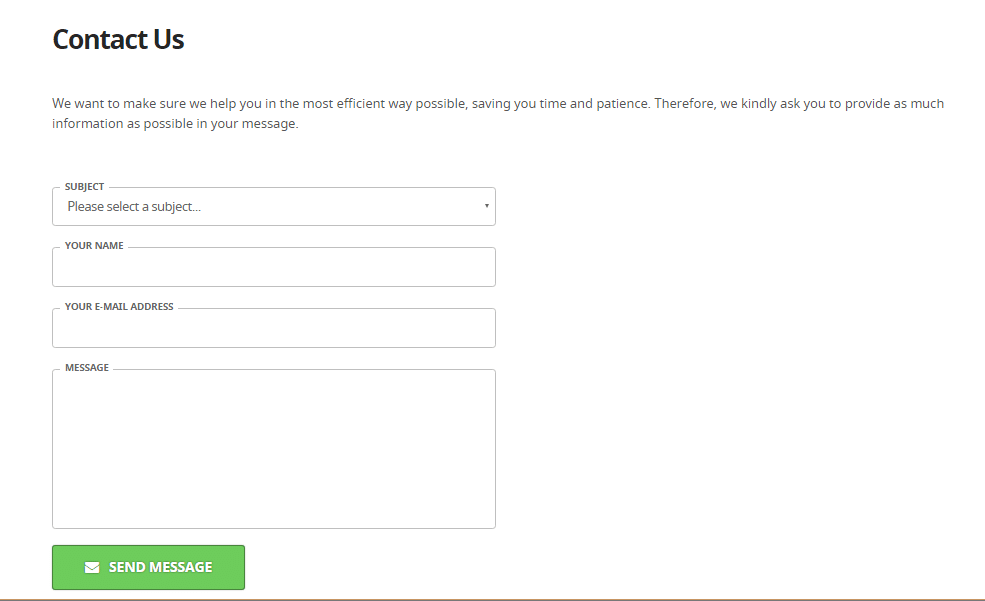 Buffered VPN Logs and Location
One of the key reasons for seeking privacy from a VPN is to avoid the risk of prosecution. Copyright holders, particularly in the USA, are becoming very determined to stamp out illegal downloading of their content. Some countries in the world ban access to particular websites and lean on internet service providers (ISPs) to enforce their policies.
A VPN will mask your IP address when you are downloading – in most torrent clients, for example, the IP addresses of sharing counterparties is always shown. The VPN easily evades website blocks imposed by ISPs and governments.
The fact that Buffered keeps no logs is very important. One way litigants have managed to track down transgressors in the past is to prosecute ISPs or the owners of download sites to force them to hand over their usage logs. This is why most VPNs these days don't keep any logs.
The NSA in America and GCHQ in the UK have the ability to snoop on just about anyone. Both countries hate VPNs and could, in theory, put pressure on the owners of VPN companies to hand over details of their customers' activities, in the name of counter-terrorism. Similarly, less liberal regimes including Iran, China, and even Brazil have been known to "disappear" executives of telecoms and internet companies in order to persuade them to cooperate with their national internet restrictions.
Buffered's location in Hungary gives the company a layer of protection. US lawyers are not going to bother hiring interpreters and local law firms in order to try to force cooperation in Hungary. The Hungarian government is not inclined to hand over "dissidents" to Iran or China.
BufferedVPN Support
You don't have to rush to install the client software at the moment that you sign up. Once you have your username and password for the system, you go to the main page of the Buffered website and click on the Login link at the top of the screen. Once you have logged in once, thanks to the miracle of cookies, you are permanently logged in, even if you close the page and return to it a few days later.
As a logged-in customer, you will see that the Login option is replaced by a big green Download button. Clicking this button takes you to the download tab of the dashboard page.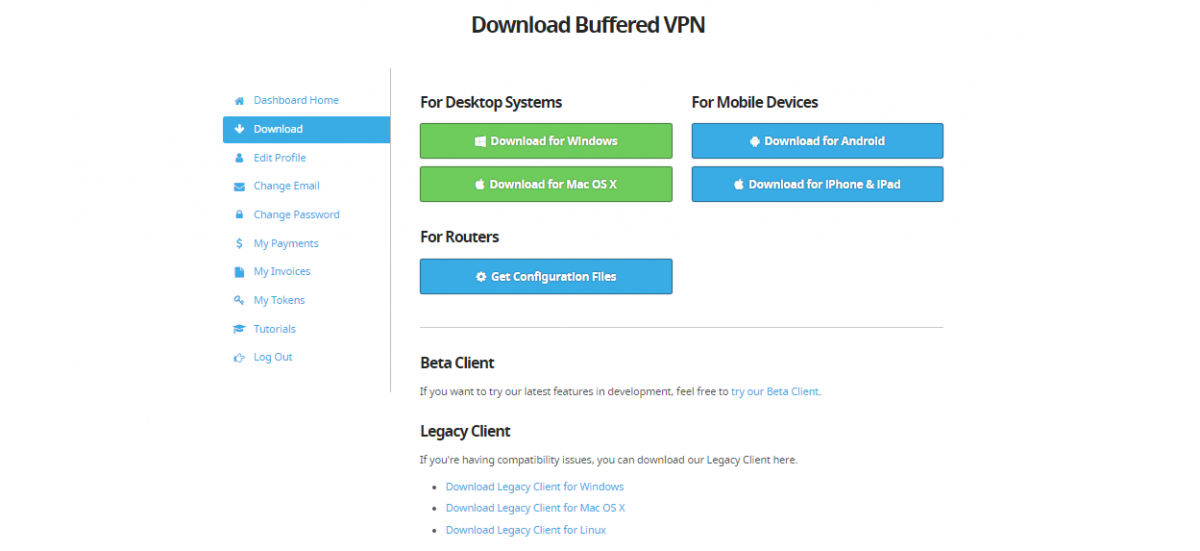 You may have read that Buffered does not have versions for smartphones. As you can see from the screenshot of the downloads page, that is no longer the case. This is an example of how Buffered is constantly improving.
Unfortunately for Linux users, the new, fast install options are not available for that operating system – just an older version of the VPN client. Although there is no option to download a version for mobile devices running Windows, the desktop Windows version will work just as well on mobiles.
How to Install Buffered VPN
Buffered launched during the middle of the "mobilegeddon" panic of spring 2016. Google announced that it would impose ranking penalties on websites that didn't have mobile-friendly versions. Many new sites decided to go the "mobile first" route, which meant that they didn't create a website and then try to work out how to crush down its key features to fit on the small screens of mobile devices. Instead, they created a mobile website that could also be displayed on desktops and laptops. Buffered's interface was designed using this strategy.
The "mobile first" design of Buffered's interface is the reason why users of smartphones running Windows should just click on the "Download for Windows" button, even though it is listed in the "For Desktop Systems" column.
Once you click on the appropriate download button, you will see the software transfer begin automatically. When it has finished, click on the downloaded file to start the install. This is a standard software installer and you will recognize the drill. You will be prompted to close down all other applications. It is better to do this, because if you happen to have software running that the installer needs to update, you will have to restart your computer at the end of the installation.
There are no sneaky toolbar extras slipped in with this install, so don't worry about just clicking the Next button on each page. You don't need to enter any information in order to get through the installation. The last page of the process offers you the option of opening Buffered immediately.
The Interface
As soon as the Buffered client opens on your computer, you will see the "mobile first" design. The app is small, and smartphone-shaped. Below is a full-size image of the client.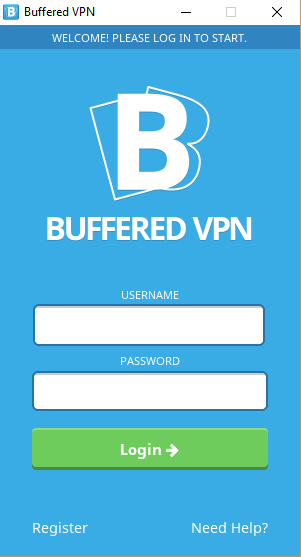 Keeping the client small also makes it easy to use. If you have no competence with IT, you will love this app. After logging in, you are presented with a list of servers that you can channel your traffic through.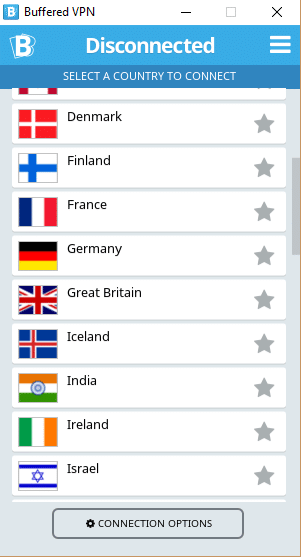 Select your preferred country and then watch the messages that explain what's going on. You are not required to make any intervention.
Once the connection is made, you are presented with a different screen, shown below.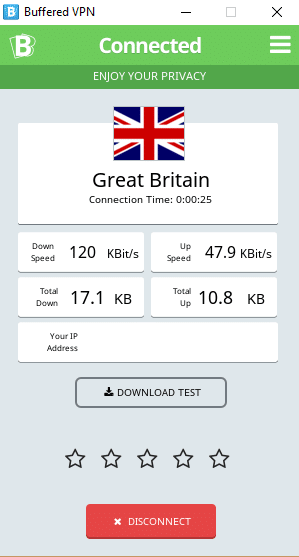 When you see this screen you know you are protected and can surf safely. Just press the Disconnect button to turn off the VPN.
Is Buffered VPN Fast?
The speed impairment you experience from applying a VPN to your connection will vary greatly depending on the location of the server you choose. The reasons you need to use a VPN will influence which server location you pick. For example, if you are using the VPN to get around the geo-location lock on a website, you need to choose a server in the same country as the site you are trying to access.
In most cases, you will get the best performance if you choose a server in your own country, or in the country of the website you would like to visit. Users in countries that are not home to a Buffered server will notice a considerable slowing of the connection when they access a site in their own country, looping through an overseas VPN server.
Here is an example. Connecting in the Dominican Republic to a website hosted a few miles down the road, gives the following performance:

Applying the Buffered VPN through its East Coast USA server to that same connection has these results:

The VPN really slows down the connection – except for the upload speed. However, there is probably little advantage looping through another country to access a site down the road. A connection to London from the Dominican Republic shows how accessing far-away sites takes a lot more time. This speed test shows a connection without a VPN applied:

With a VPN applied through a UK-based server, that same transatlantic connection has much better speeds than the raw connection:

For a comparison, here is the same connection from the Dominican Republic to London, using a Buffered VPN server in East Coast USA:

Users in less liberal nations, such as Iran, Saudi Arabia, or Pakistan, really can't risk connecting to VPN services in their own countries. Where local VPN companies are allowed to operate, such as in Iran, the "approved" services collude with the government and so provide no protection at all.
In this test, you saw that a long-distance connection through a Buffered VPN server in the target country actually improves speeds, and gives very similar upload and download performance levels to those experienced when connecting to a server just a few miles away.
Should I Subscribe to Buffered?
Buffered is a full-service VPN company that delivers solid anonymity to its customers. If you live in a country with lousy internet speeds, you can actually improve your surfing experience when connecting to foreign internet services if you apply the Buffered VPN to the connection. The company's location and policies guarantee your privacy and protection from detection. The 30-day money-back guarantee gives you a risk-free opportunity to try the service for yourself.
Yay!
• 30-day money-back guarantee
• 24/7 support, 365 days per year
• Self-installing on Windows, Macs, and smartphones
• Easy-to-use app
• Strong encryption
• Up to five simultaneous connections
• Enhanced speed on international connections
• Headquartered in a liberal country
• No logs
Nay!
• Nothing really
A little bit meh!
• Doesn't accept bitcoin