The ultimate aim of the attacker is to take that server down. As the network gateways become overwhelmed by traffic, the Internet Service Provider (ISP) or web hosting company will send out a message, telling all the routers in the world that the attacked IP address is no longer available at that location. Effectively, the IP address disappears from the web, no one can contact it, and the website is offline.
Surprisingly, individuals are now vulnerable to DDoS attacks. In this case, the individual gets locked out of an application, and ultimately, the ISP shuts down that person's activity for attracting excessive traffic to its network.
Successful gamers are particularly targeted by this new type of cheat. "Booters" offer a 20-minute attack on a given IP address for just $5.
The Best DDoS VPNs: Comparison
| # | Provider | Rating | Price | Link |
| --- | --- | --- | --- | --- |
Best VPNs For DDoS: Summaries
It takes some time to research all the VPNs and check out their DDoS protection, so we've done all the legwork for you. We have narrowed down your DDoS protection to the best five VPNs in the business. Check out our list of ways to protect yourself from a DDoS attack.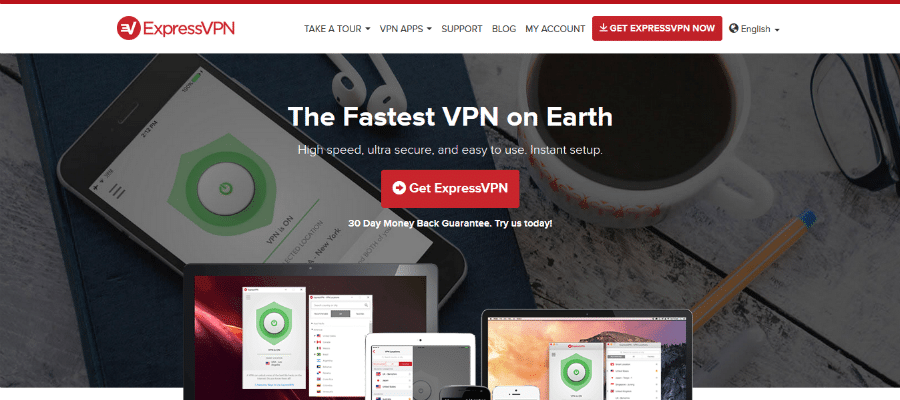 ---
Subscription Fee
Plan length -1 month – $12.95 per month (billed $12.95 every month)
Plan length -6 months – $9.99 per month (billed $59.95 every 6 months)
Plan length -12 months (3 months free) – $6.67 per month (billed $99.95 every year)
---
ExpressVPN doesn't offer specific DDoS protection, so you might wonder why they are included in this review of VPNs with DDoS protection. However, the company attests that they are very aware of DDoS methods and filter out superfluous floods of requests by routine. The company has a vast and brand new infrastructure, which means it is able to absorb even the strongest DDoS attack as a matter of course. It is an expensive service, but that high cost buys you automatic DDoS protection on their standard shared IP address service, without you having to pay out for a dedicated IP address or a DDoS protection package.
Advantages:
• DDoS protection built in
• Automatic protection included in the standard shared IP address service
• Massive infrastructure available to absorb attacks
• Filtering of Transmission Control Protocol (TCP), User Datagram Protocol (UDP), and ping requests
• Servers in 94 countries
Drawbacks:
• No explicit guarantees of DDoS protection
• Support only available in English
---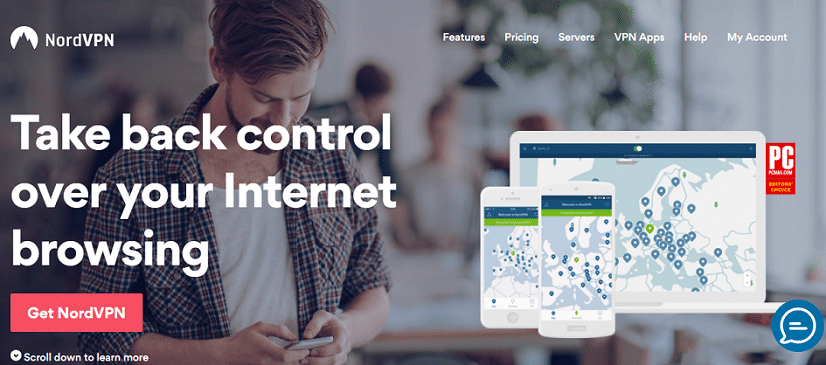 ---
Plan length – 1 month plan – $11.95 per month (billed $11.95 every month)
Plan length – 1 year plan – $5.75 per month (billed $69.00 every year)
Plan length – 2 year plan – $3.29 per month (billed $79.00 every 2 years)
---
NordVPN gives DDoS protection to its standard subscribers. The server selection function of the app gives users the option to select from a list of servers that specifically offer DDoS protection when they connect. There are three anti-DDoS servers in the United States, one in Canada, one in Germany, and one in Italy.
NordVPN's DDoS protection is probably more aimed at gamers than at small businesses – the company's publicity generally mentions online gaming when promoting its DDoS service over any other form of application.
The NordVPN service works out very economical when divided into a monthly cost based on the two-year subscription rate. You have to pay for the whole two years up front, but if you try the service and it turns out that the DDoS protection doesn't work for your circumstances, you can cancel within 30 days and get your money back.
Advantages:
• DDoS protection for shared IP addresses
• Specific servers for anti-DDOS traffic
• DDoS protection aimed at gamers
• Anti-DDoS offered for the US, Canada, Germany, and Italy
• Cheap two-year deal
Drawbacks:
• Not the fastest VPN on the list
• Support staff only speak English
• No DDoS option for dedicated IP users
---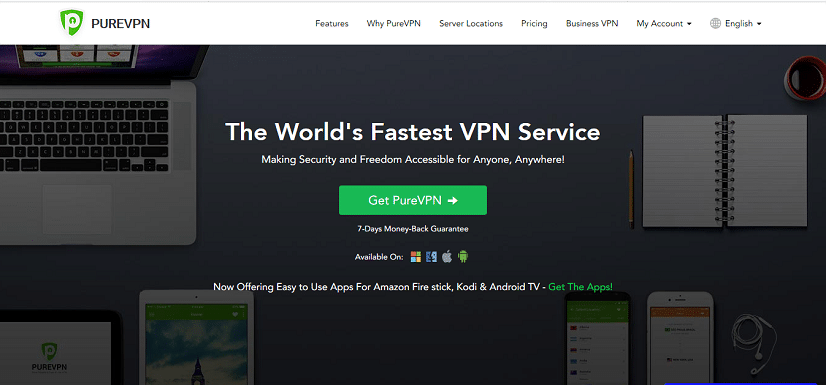 ---
Plan length – 1 month plan – $10.95 per month (billed every month)
Plan length – 1 year plan – $4.15 per month (billed $49.80 every year)
Plan length – 2 year plan – $2.49 per month (billed $59.76 every 2 years)
---
PureVPN was one of the first VPNs to offer specific DDoS protection. It still claims to be the only player in the industry with this service. However, a number of other providers have caught up. The company hired in cybersecurity expert Scott Schober to help it build DDoS solutions for individuals, small business, online traders, and even banks.
To protect a website from attacks, it is better to have your site hosted by a service rather than having your own server. This is because the hosting service has a much greater infrastructure, which caters to a large number of sites, not just yours. It has the spare capacity to absorb a surge in traffic. However, if the attack increases in volume, it is likely to shut down your site by telling all the routers in the world that your IP address is no longer hosted on its server.
PureVPN gives you a dedicated IP address, which then gets registered as the true location of your web address. All traffic that comes into your site first goes through the VPN server. PureVPN will "scrub" the incoming requests and filter out the trash, passing on only genuine requests to your actual hosting server, which is never accessed directly.
Advantages:
• Capacity to absorb large-scale attacks
• Strategies to block application layer attacks as well network layer attacks
• Scrubbing of UDP and TCP flood attacks
• Blocking of Ping and Ping of Death DDoS attempts
• Service offered in the US, Canada, France, and the Netherlands
Drawbacks:
• Service not available in every country – your website will appear to be located abroad
• Support staff only speak English
---
---
Plan length – 1 month plan – $9.99 per month (billed every month)
Plan length – quarterly plan – $6.66 per month (billed $19.99 every month)
Plan length – semi anually – $29.99 per month (billed $4.99 every year)
Plan length – 1 year plan – $4.99 per month (billed $59.99 every 1 year)
---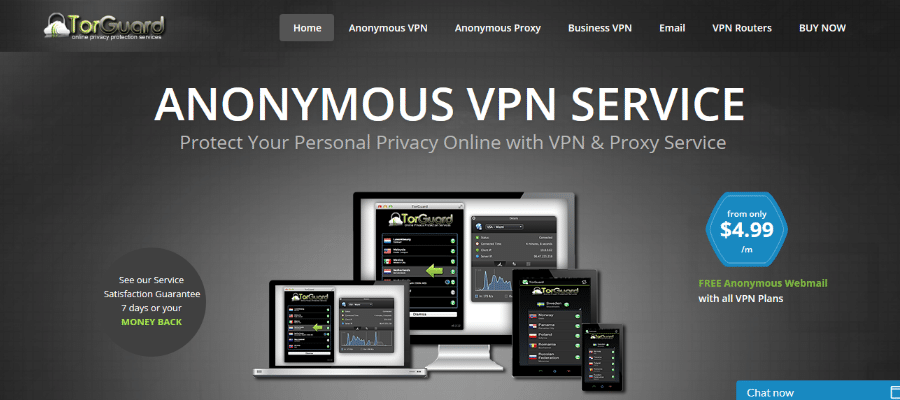 TorGuard is closely connected to the gaming community, and it was the experience of online gamers that prompted the VPN to invest in DDoS mitigation services. Although gamers require relatively low-bandwidth protection, TorGrard installed infrastructure that can take on any volume of attacks. The DDoS mitigation community regularly monitors the extent of common attacks, and these tend to average a bandwidth swamping of about 10Gb per second. TorGuard knows these volumes and has the
capability to absorb all of that traffic, filtering out only the genuine requests that should be reaching the destination.
This large investment mans that TorGuard offers suitable anti-DDoS VPN protection for businesses as well as individuals.
Advantages:
• Dedicated IP addresses with added DDoS protection
• DDoS mitigation offered for US, French, and Romanian IP addresses
• Anonymizes gamers
• Employs deep packet inspection to detect application-level flooding
• Filters out TCP, UPD, and ping floods
Drawbacks:
• Not available for every country
• Support staff only speak English
---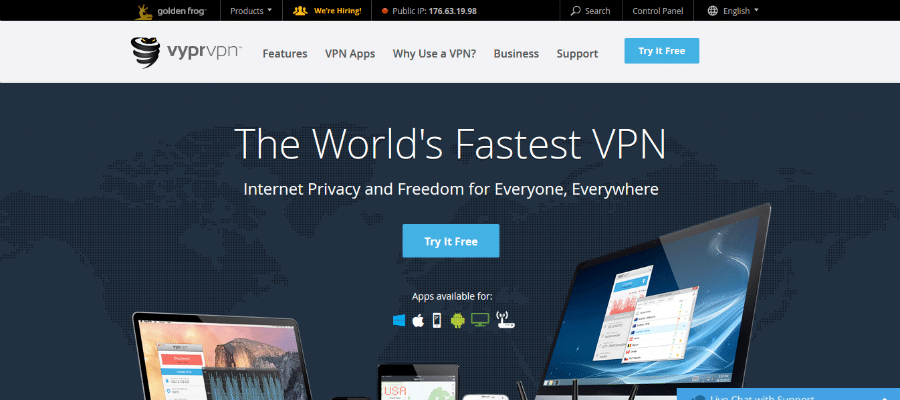 ---
VyprVPN fulfills its DDoS protection through the anonymity afforded by shared IP address and a network address translation (NAT) firewall that blocks all incoming protection. The company does not offer specific DDoS packages, and you do not have to buy a dedicated IP address as a special add-on in order to get DDoS protection. The company's website features a page about its services for gamers that includes a testimonial from an online gaming team, which specifically praises the DDoS protection of the VPN.
Advantages:
• DDoS protection standard on all packages
• Protection policy based on shared IP pool and a NAT firewall
• P2P allowed
• Specific protection for online gamers
• Accepts bitcoin
Drawbacks:
• Support only available in English
• All text in the app is in English
---
DDoS Protected VPN services: FAQs
We understand you may have questions about using a VPN to prevent DDoS attacks, so we have answered the most common questions below.
Considerations
DDoS attacks are becoming more common than the average internet user might realize. The gaming industry is particularly prone to attack, and that means star players as well as the servers that online games run on.
Some businesses are luckier than others when an attack is planned. Some companies receive warnings, which give them time to act to protect their networks and servers.
There are rogue hackers out there who will threaten an online business with an attack unless a payment is made via bitcoin. Many of these extorters are scammers, and don't actually have the capability of mounting an attack. However, businesses frequently pay out ransoms because the risk of the threat being fulfilled would result in a major loss of income.
An attack by a rival business, or an unexpected attack by political activists is harder to predict. Therefore, putting DDoS mitigation procedures in place before it is too late is the most sensible strategy.
Conclusion
Compared to the amount your business stands to lose, the cost of subscribing to a DDoS-protected VPN is laughably cheap. Getting the service implemented is a very quick process: it can take less than an hour for your web address to be re-mapped onto the dedicated IP address that you buy from the VPN. Certainly, if you receive a threat, you should get on the web straight away and contact one of the five services listed in this review.
If you are a successful gamer, once you come up against opponents who know where to buy a quick DDoS attack on command, you are never going to get an honest game until you protect yourself.
Don't wait until you're attacked before putting in place a DDoS mitigation plan. VPNs offer a relatively cheap method of getting protection from even the largest DDoS attack. These attacks cost money and require planning to implement. If you show the hacker community that you can ride out a DDoS attack with no loss of business, they will soon stop wasting their time and move on to the next unfortunate victim.
| # | Provider | Rating | Price | Link |
| --- | --- | --- | --- | --- |