Finding a Top VPN
If you spend a lot of time online, chances are you're only accessing 50% of the internet as a whole. There are so many things waiting to be discovered, from censored websites and services to unblocking Netflix, Hulu iplayer and more. These websites are really good at blocking VPNs, so getting top VPN service to unblock them is important.
Censorship is also probably not the only thing you're falling victim to. In many cases, third parties like ISPs and even governments can see everything you're doing online. That invasion of privacy is a great way to feel violated. And it doesn't end there. Perhaps you frequent public WiFi hotspots. If that's the case, you could be hacked at any moment by someone sniffing the network traffic.
This leads to the question: how do you prevent these things from happening?
Fortunately, at VPN Analysis, we have a solution. Use a VPN. By using a VPN, you're enhancing your digital privacy and security via encryption. While finding the right VPN can sometimes be a difficult journey, we're here to make it easier on you.
We've already done the research necessary to find the top five VPN services of 2018. All you have to do is choose one that best fits your needs.
The Best VPN Service: Summary
Take a look at the summaries below for an-depth view of the best VPN providers in 2018
---
NordVPN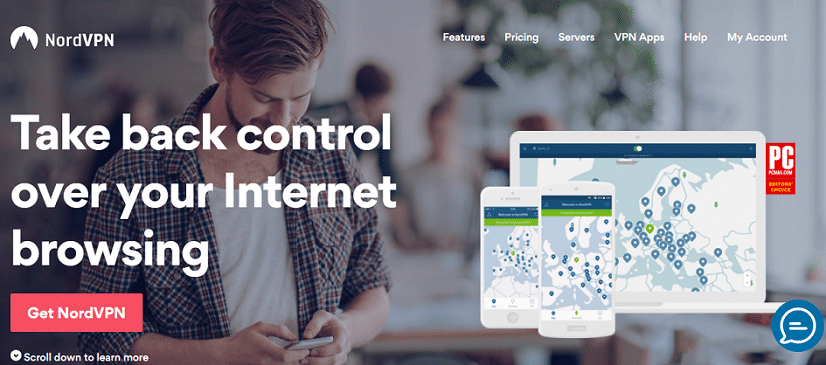 Subscription Fee
---
1 month plan – $11.95 per month
1 year plan – $6.99 per month (billed $69.00)
3 year plan – $5.75 per month (billed $107.55)
---
NordVPN is a VPN service with providers based in Panama – an excellent location for digital privacy. NordVPN provides users with excellent military-grade OpenVPN encryption, an airtight privacy policy and no logs policy, 6 simultaneous connections and 70+ server locations.
Additionally, NordVPN allows P2P activities and offers excellent server speeds. NordVPN also provides CyberSec anti-malware protection, a Smart DNS service, dedicated IPs (at an extra cost), a double VPN and a system kill switch. If you're still hesitant to try NordVPN, you can rest easy knowing they not only offer a free trial – but a 30-day money-back guarantee as well.
Pros
No logs
Airtight privacy policy
60+ server locations
P2P permitted
Kill switch
DNS leak protection
Dedicated IP purchase options
Double VPN
Cons
Tor over VPN (could be more secure)
ExpressVPN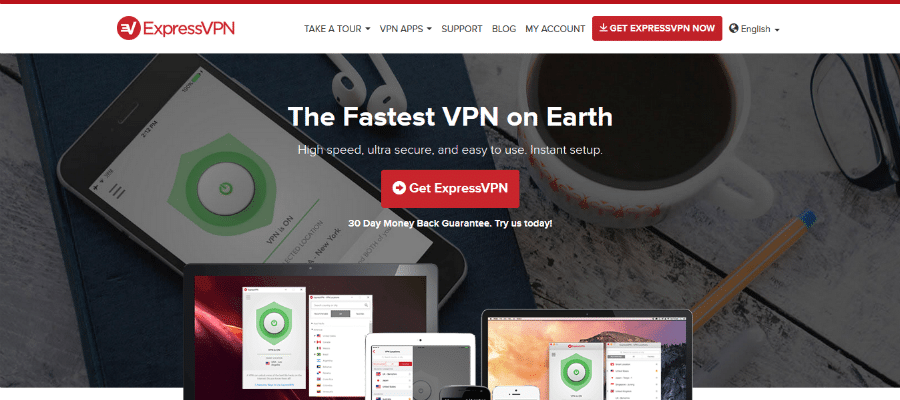 ---
Subscription Fee
1 month plan – $12.95 per month
6 month plan – $9.99 per month (billed $59.95)
15 month plan – $6.67 per month (billed $107.55)
---
ExpressVPN is a VPN provider based in the British Virgin Islands that offers an excellent service to its users. To start, ExpressVPN provides users with excellent military-grade OpenVPN encryption, a strict privacy and no logs policy and DNS/WebRTC leak protection. Additionally, ExpressVPN offers 90+ server locations with fast speeds to go along with them and "stealth servers" located in Hong Kong for additional privacy.
ExpressVPN also includes a free Smart DNS service in their package. If you have any issues with your service, ExpressVPN's dedicated 24/7 customer support will be there to help you in a very timely manner. Finally, ExpressVPN also offers a 30-day money-back guarantee for unsatisfied users.
Pros
Military-grade OpenVPN encryption
Strict privacy & no logs policy
3 simultaneous connections
Free Smart DNS service
24/7 customer support
Fast server speeds
90+ server locations
Cons
A bit costly (but worth it)
---
Cyberghost

---
Subscription Fee
1 month plan – $12.99 per month
2 year plan – $3.69 per month (billed $88.56 every 2 years)
3 year plan – $2.75 per month (billed $99.00 every  3 years
---
CyberGhost is a VPN service based in Romania – excellent for maintaining your digital privacy. The CyberGhost VPN app is user-friendly and the 24/7 customer support is easy to reach if any issues come about. CyberGhost offers five simultaneous connections, an airtight privacy policy and no logs policy<s/trong> and 60+ server locations.
Additionally, CyberGhost provides excellent speeds on most servers, a kill switch, P2P allowance on select servers, Bitcoin payment options and free browser add-ons. If you're still iffy on trying CyberGhost, you can always use their 7-day free trial or their 30-day money-back guarantee.
Pros
5 simultaneous connections
Based in Romania
Affordable
60+ server locations
Airtight privacy & no logs policy
P2P permitted
DNS leak/WebRTC protection
Works with Netflix and BBC iPlayer (+more)
Cons
Some servers are slower than others
---
PrivateVPN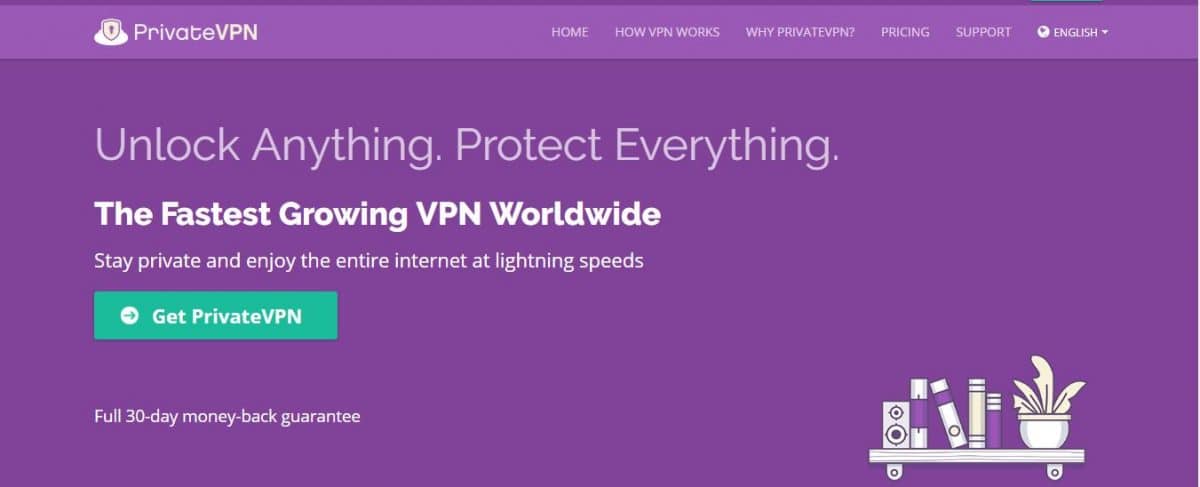 ---
Subscription Fee
1 month for $7.12
3 month plan – $4.20 per month (billed $12.60 every year)
19 month plan (7 months free) – $2.73 per month (billed $51.84 every year)
---
PrivateVPN is a Sweden-based VPN service that is ideal for users searching for a cheap service that still provides amazing capabilities, like unblocking websites and accessing geo-restricted content. For example, PrivateVPN supports 16 different Netflix regions – including the US. Moving on, PrivateVPN also offers military-grade OpenVPN encryption, a strict no logs/privacy policy and six simultaneous connections.
In addition to their accessing blocked content capabilities, PrivateVPN also offers amazing speeds for streaming that blocked content. PrivateVPN also offers an easy-to-use app for the less tech-savvy users. A downside to PrivateVPN – you have to manually configure the DNS via the provided guide. Fortunately, the guide isn't hard to follow at all. PrivateVPN also offers a 30-day money-back guarantee for unsatisfied users.
Pros
Affordable/cheap
50+ server locations
Unlocks 16 different Netflix regions
Great customer support
Fast server speeds
6 simultaneous connections
Military-grade OpenVPN encryption
Airtight privacy policy
No logs
Cons
DNS manually configured w/ guide
---
VyprVPN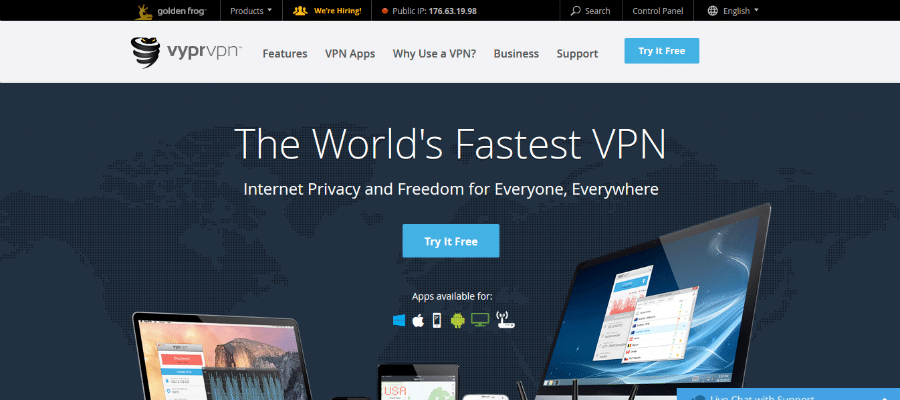 ---
Subscription Fee
1 month plan – $12.95 per month
12 month plan – $5.00 per month (billed $60.00)
24 month plan – $4.17 per month (billed $100.08)
---
VyprVPN is a VPN service with providers based in Switzerland that offer 70+ server locations, 24/7 customer support, fast streaming speeds and excess features like its proprietary technology, Chameleon. VyprVPN provides you with five simultaneous connections and excellent OpenVPN encryption.
While VyprVPN does not store usage logs, they do collect and store connection logs for 30 days. Another downside to VyprVPN – you definitely should not participate in P2P activities while using it. If you'd like to sample VyprVPN before purchasing, you can use their free 3-day trial.
Pros
Excellent encryption protocols
Switzerland based
5 simultaneous connections
70+ server locations
Proprietary technology
Great speeds
Cons
Connection logs stored for 30 days
P2P not permitted
Top VPN Services for 2018: FAQs
We understand that you may still have questions about our best VPN services above. Take a look at the Frequently asked questions below for an answer to your queries.
What is a VPN?
A VPN or Virtual Private Network is a technology that provides you with security and privacy via encryption. A VPN at work will redirect your network traffic to the encrypted VPN server. When you're connected to a VPN, your information is secure. You can't be spied on. In other words: a VPN helps protect you from internet censorship and government/ISP surveillance.
For more information on what VPNs do, visit our Beginner's Guide to VPNs.
Essentially, VPNs can be used to:
Hide your internet activity from third parties
Access geo-restricted content on Netflix, Hulu, etc.
Avoid website blocks and other types of censorship
Download/Torrent in a safe online environment
Secure your connection on public WiFi hotspots
Additionally, VPNs are also used by businesses to secure data and offer overseas employees a sense of security/privacy during their travels. With that in mind, it's easy to see why VPNs are necessary in today's digital world.
What Should I Look For in a Top VPN?
With over 800 VPNs on the market, it's difficult to know what to look for. Before making a final decision on what VPN service to try, there are a few things you should consider. The biggest one is telling the difference between a good VPN and a lousy VPN. Luckily, we're here to make that decision easier.
features of a good VPN:
Military-grade OpenVPN encryption
Strong privacy policy & no logs policy
WiFi protection
A killswitch
DNS leak protection
A variety of servers & server locations
Fast server speeds
24/7 customer support
When making your final decision, you should consider what features mean more to you. Is your goal to stream geo-restricted content? Then you're probably going to want a fast VPN. If you're an avid torrentor, you'll want a VPN that offers superb privacy features.
If price is a concern of yours then take a look at our cheap VPNs guide for a list of affordable VPN services.
Fortunately, all of the VPNs suggested in this article will get the job done.
How to setup a VPN?
Setting up your VPN is easy. If you need more detail than our instructions provide, you can research different tutorials based on your OS (Operating System).
Choose one of the VPNs mentioned in this guide
Click through to the VPN's website
Download the software
After installation, open your VPN
Navigate to VPN settings
Select your desired protocol (OpenVPN if available)
Connect to a server
Enjoy browsing the internet in a secure and private environment!
Testing your VPN
If your VPN is leaking your real IP address, the entire purpose of it is defeated. There are ways to verify that your VPN is working correctly. Here is one:
Navigate to ipleak.net
Do you see your real IP address or one belonging to your ISP? If you do not, your VPN is working properly. If you do, your VPN is leaking your IP.
If your VPN is leaking your IP and you haven't found a solution, consider trying another VPN service instead.
In addition to initially testing that your VPN is working, you should also visit ipleak.net every now and then to verify that your VPN is still working. Alot of the services in our best VPN list also offer free trials and money back guarantees, these are a great way to test a VPN services.
Conclusion
It's easy to see that VPNs are necessary in today's digital era. While some desire the use of a VPN solely for trivial things like accessing geo-restricted content, others desire a VPN to help strengthen the security and privacy in their online environment. Whatever the case – getting a VPN is worth it, and getting one of the best VPN services for 2018 is a great investment.