Netflix is one of the most popular (if not the most popular) online streaming services in the world, with 190 different Netflix regions served to this date. It's not a secret that Netflix offers thousands of more titles to users in the United States than users in any other country.
This is due to licensing and copyright restrictions. In order to offer content in specific countries, Netflix has to jump through dozens of legal hoops. One copyright holder might allow access to their content in the US but not in Australia or the UK.
Fortunately, VPN Analysis has a solution to this injustice: use a Netflix VPN.
What are the top 5 VPNs for Netflix?
So without further ado, let's go ahead and get right to our in-depth list of the top 5 VPNs that work with Netflix
NordVPN – Best for Netflix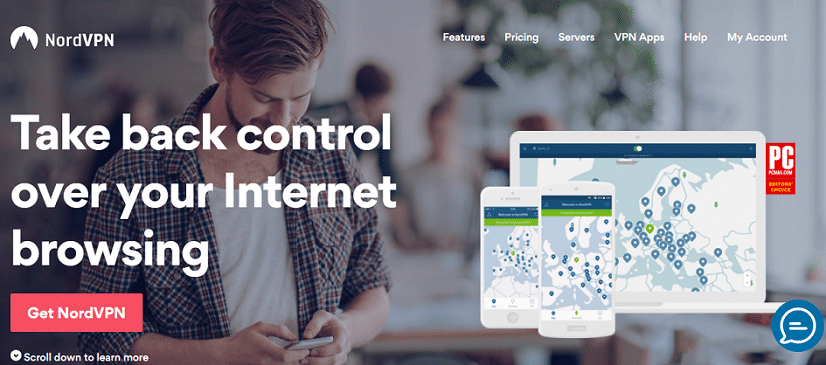 ---
Subscription Price
1 month plan – $11.95 per month
1 year plan – $6.99 per month (billed $83.88 every year)
2 year plan – $3.99 per month (billed $95.75 every 2 years)
3 year plan – $2.99 per month (billed $107.55 every 3 years)
---
NordVPN offers a number of servers that work with Netflix US and has servers around the world to unblock other libraries around the world.
NordVPN Offers their customers 6 simultaneous connections, so you can stream foreign Netflix libraries on all of your devices, it also has servers in over 60 countries.
NordVPN will give you a "dedicated IP" for free. When you connect to a VPN server, you often share an IP address with other users on the VPN Network.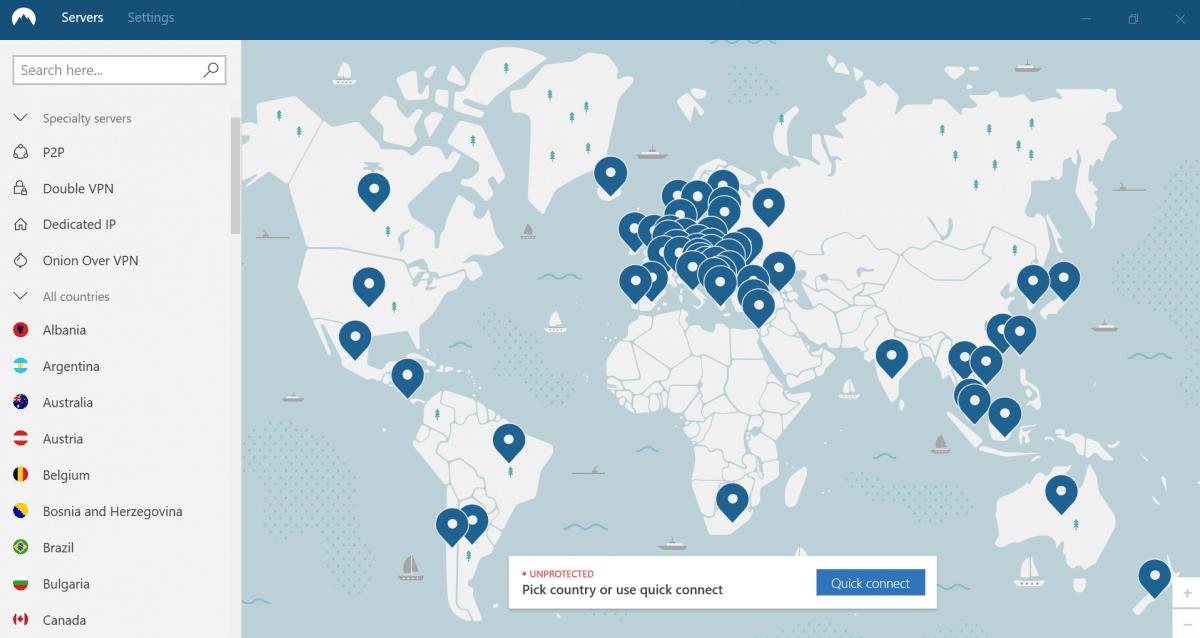 This is how Netflix knows you are using a VPN (and how Netflix ban VPN IP addresses), as they can see hundreds of other users coming from the same IP address. With NordVPN you get your own "dedicated IP" so you can rely on it to unblock Netflix.
This VPN also gives users a cool feature called "split tunneling". This means that you can choose what websites your VPN connection works on, so you can connect to US Netflix whilst browsing the internet in your home country.
NordVPN also offers customers fantastic security features, so you can be sure that your online activity is kept secure, these features include:
No logs
Airtight privacy policy
Kill switch
DNS leak protection
Double VPN technology (Which offers double the encryption)
CyberSec anti-malware protection
If you're still on the fence, you can rest easy knowing that NordVPN not only offers a free trial – but a 30-day money-back guarantee as well. Visit NordVPN for more information or take a look at our NordVPN Review.
---
CyberGhost


---
Subscription Price
1 month plan – $12.99 per month
1 year plan – $5.99 per month (billed $71.88 every year)
2 year plan – $3.69 per month (billed $88.56 every 2 years)
3 year plan – $2.75 per month (billed $99.00 every  3 years)
---
CyberGhost makes it easy for its users to unblock Netflix libraries by listing all of their recommended servers within a tab called "For Streaming" in the app. Simply click onto that tab, select the server you want and enjoy your favorite Netflix show.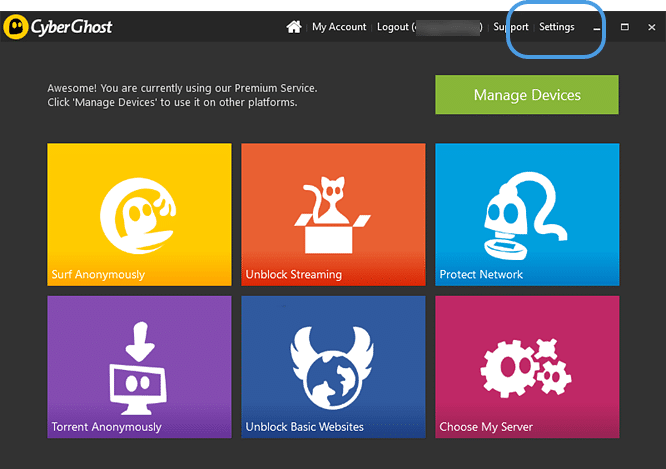 As well as having a user-friendly app, CyberGhost offer 24/7 customer support, so, if you happen to run into any issues when streaming you can quickly get back to your Netflix binge.
CyberGhost also gives customers seven simultaneous connections, meaning you can stream Netflix on every device you and your family have.
A VPNs main purpose is to keep you secure and you can be sure that your data will stay safe with CyberGhost:
Airtight privacy and no logs policies
DNS leak protection
If you're still not sure about trying CyberGhost, you can always take advantage of its 7-day free trial, 14-day money-back guarantee on monthly plans, or a generous 45-day money-back guarantee on plans longer than 6 months. Visit CyberGhost to find out more about their service or see our CyberGhost VPN review.
---
ExpressVPN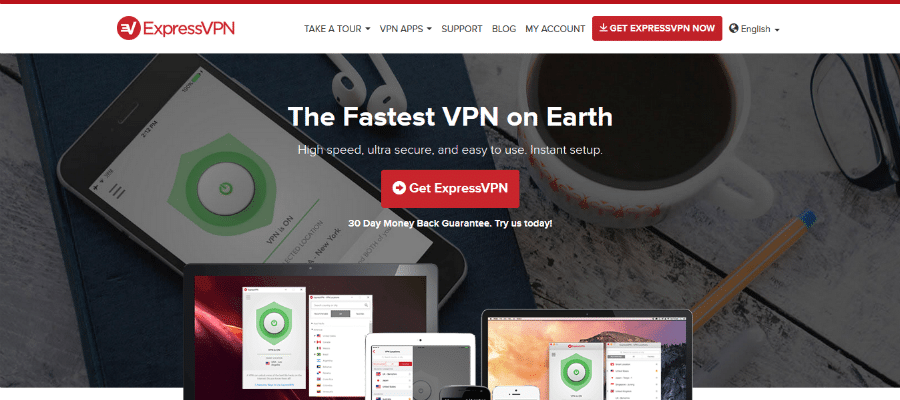 ---
Subscription Price
1 month plan – $12.95 per month
6 month plan – $9.99 per month (billed $59.95 every 6 months)
15 month plan – $6.67 per month (billed $99.95 for the first 15 months, then every 12 months)
---
ExpressVPN offers a few servers that can consistently unblock US Netflix. Sometimes their servers are blocked by Netflix, however, ExpressVPN offers great customer support so if Netflix ban an Express IP address you can be back on within minutes.
The stand out thing about this VPN is how fast it is. ExpressVPN is one of the fastest services on the market and therefore it is perfect for watching Netflix in HD. And they have servers in 94 countries.
ExpresVPN gives customers up to 3 simultaneous connections so you can connect all of your devices!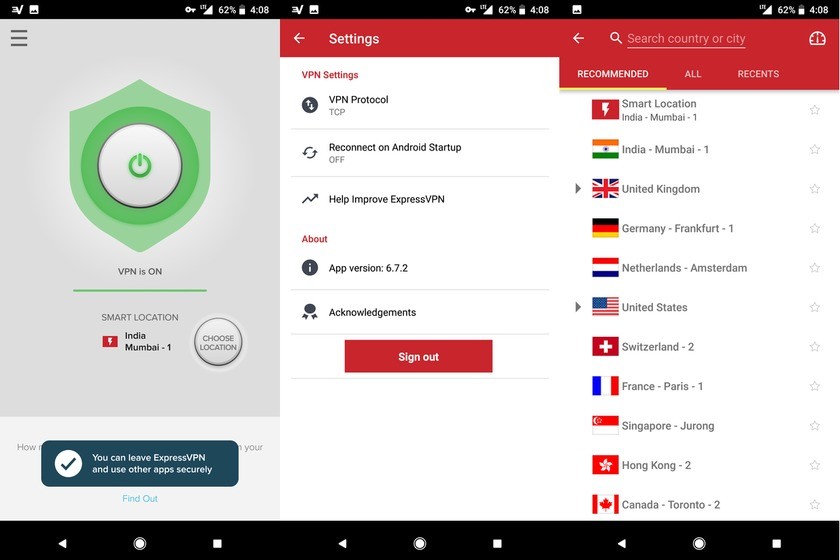 Another nifty little feature ExpressVPN offer is their Media Streamer. This allows you to use this VPN on devices that do not usually support VPN services, such as; Games consoles Xbox One, PS4, Apple TV and more.
They also offer a free Smart DNS service, so, you can unblock Netflix on a smart TV.
As well as being a fantastic Netflix VPN service, ExpressVPN offers some great security features to its customers including:
OpenVPN encryption
strict privacy and no logs policies
DNS/WebRTC leak protection
What's more ExpressVPN also offers a 30-day money-back guarantee for unsatisfied users. Visit ExpressVPN for more information or take a look at our ExpressVPN Review.
---
PrivateVPN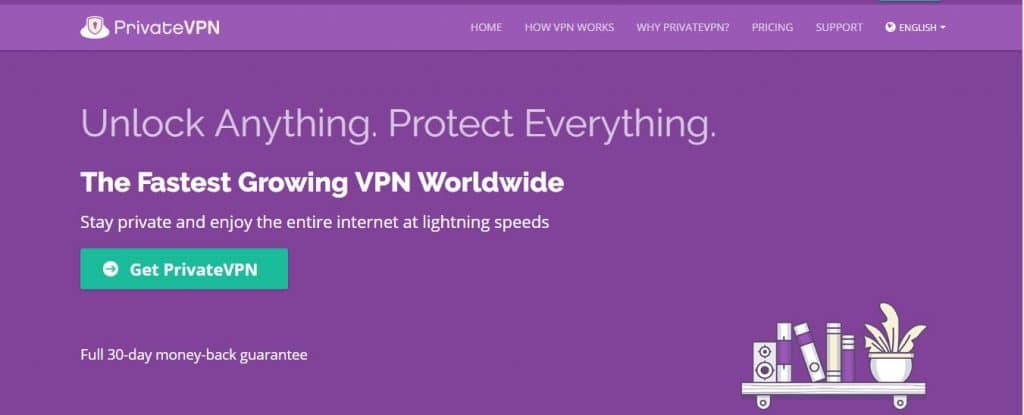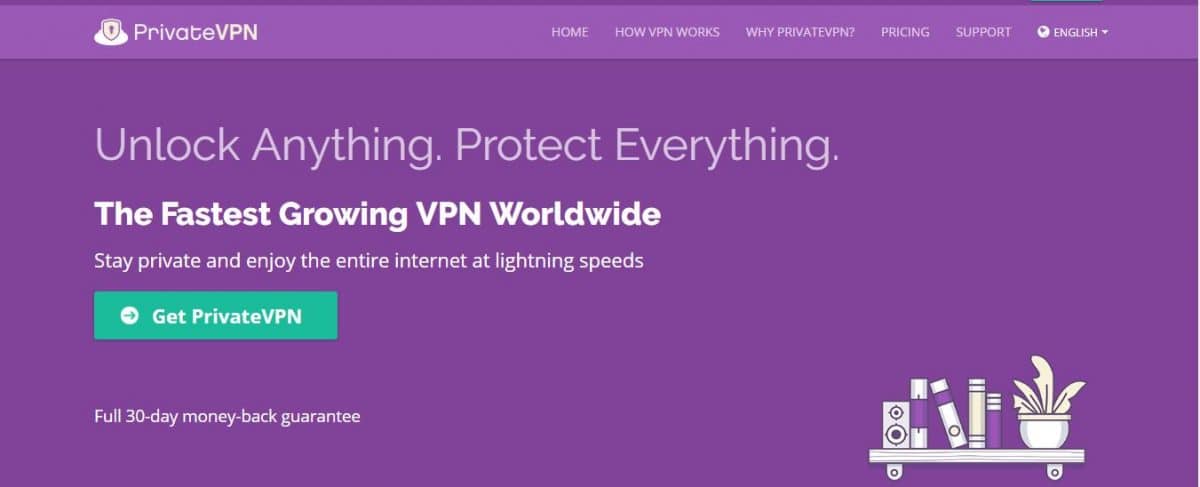 ---
Subscription Price
1 month plan – $7.12 per month

3 month plan – $4.20 per month (billed $12.60 every 3 months)

24 month plan – $1.89 per month (billed $45.35 every 2 years)

---
PrivateVPN can unblock Netflix in more countries than any of the other VPNs in this list.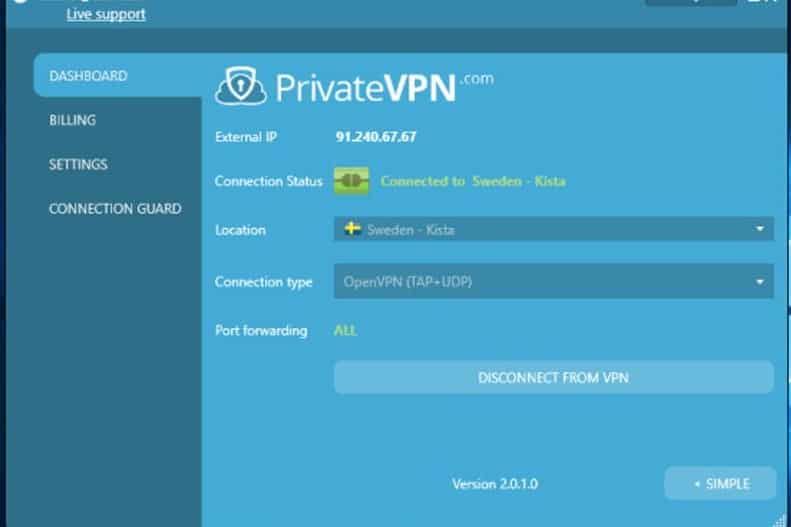 It is also the cheapest on our list! This bargain VPN gives its customers access to servers in 59 countries around the world. These servers unblock Netflix in 16 different regions, including the US.
The main advantage of this VPN is how easy it is to use. PrivateVPN clearly labels all the servers within their VPN client that are suitable for streaming. So you don't have to waste time finding a good server.
PrivateVPN also gives customers 6 simultaneous connections with a subscription, enough for all your devices.
The security features PrivateVPN offer are as follows:
Military-grade encryption standards
No logs
PrivateVPN also offers a 30-day money-back guarantee, alternatively, you can try it out for free thanks to the 7-day free trial. See PrivateVPN's website for more information or check out our PrivateVPN review.
---
GooseVPN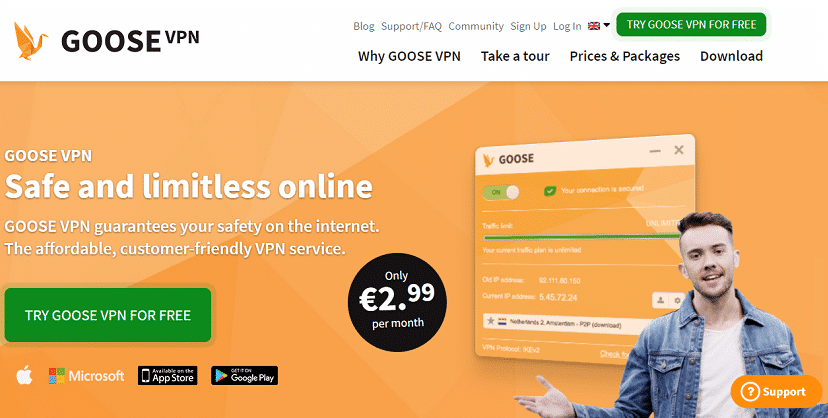 ---
Subscription Price
1 month plan – $12.99 per month
1 year plan – $4.99 per month – (billed $59.88 every year)
2 year plan – $2.99 per month – (billed $71.76 every 2 years)
---
GooseVPN is another easy-to-use VPN service, it gives customers a simple VPN application which is great news for VPN beginners.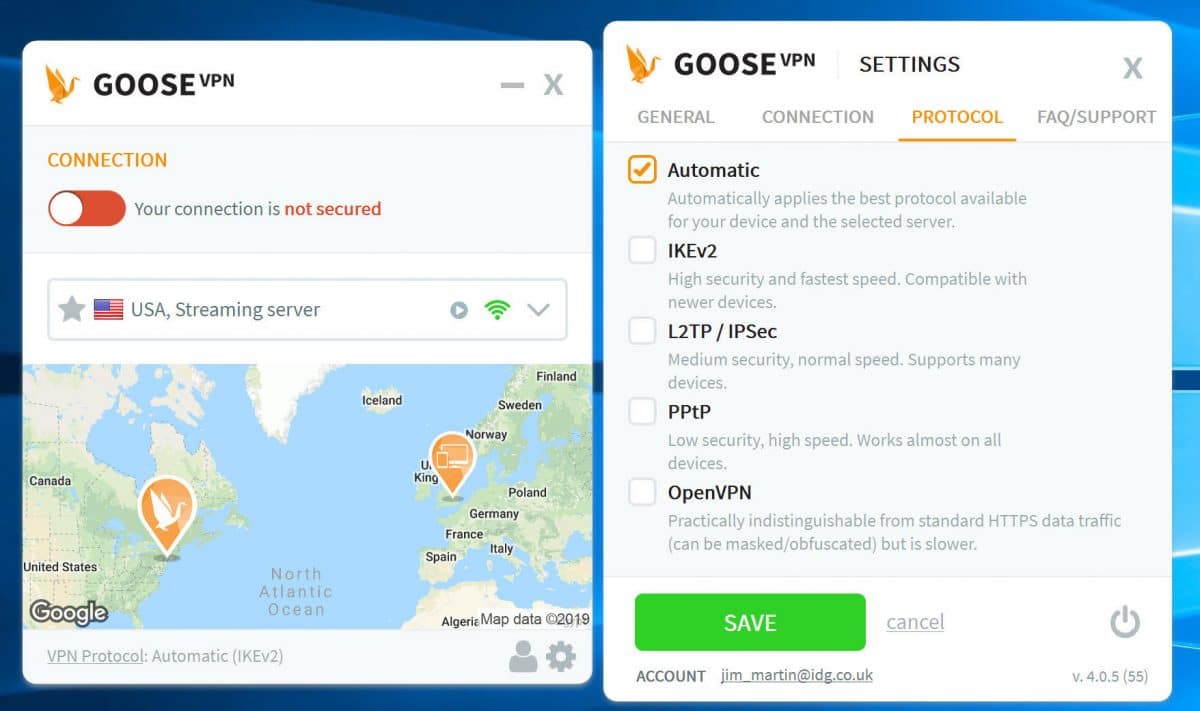 GooseVPN is relatively new to the market compared to our other picks, however, it is fantastic for unblocking US Netflix and other foreign libraries.
The only downside to this VPN is it isn't able to unblock UK Netflix, however, most of the content available on Netflix UK is also available on the US version of the service.
They offer good speeds and servers in 28 countries. This VPN also gives its customers unlimited simultaneous connections, which basically means you can use GooseVPN on all of your devices and even share the subscription with friends and family.
Goose offers users great security such as:
A strong privacy policy
A Windows-based killswitch, which turns off your internet connection if the VPN isn't working so you can't get caught watching Netflix
Excellent OpenVPN encryption.
If you want to sample GooseVPN before committing long-term, you can try before you buy thanks to their generous 30-day free trial. See GooseVPN for more details about their service.
---
What content can I unblock with a Netflix VPN?
It's no wonder that the Netflix US library is the most sought-after of all Netflix libraries – the content made available by Netflix in the United States dramatically dwarfs that of the content available in other countries' libraries.
Take a look at the comparison of titles for the 6 biggest Netflix libraries around the world.
Netflix US = 5665 Titles Overall | 4339 Movies | 1326 TV shows
Netflix Canada = 3571 Titles Overall | 2942 Movies | 629 TV shows
Netflix UK = 2967 Titles Overall | 2425 Movies | 542 TV Shows
Netflix Norway = 2099 Titles Overall | 1762 Movies | 337 TV Shows
Netflix Sweden = 2080 Titles Overall | 1738 Movies | 342 TV Shows
Netflix Australia = 2044 Titles Overall | 1599 Movies | 445 TV Shows
You also have cases like Hong Kong and Egypt, where the Netflix libraries there are only around a mere 10% of what is available in the US library.
This is precisely why so many people these days will rely on a Netflix VPN to help them unblock the extensive US library.
Some examples of great TV shows and movies that are only available on Netflix US are:
The Office (US version)
Parks and recreation
The West Wing
Fraiser
The Twilight Zone
New Girl
NCIS
30 Rock
Family Guy
House
Pulp Fiction
The Graduate
No Country for old Men
The Hunger Games
The best way to watch all of these titles is to get a quality Netflix VPN to unblock the US library.
Unblocking Netflix overseas
You may be wondering if it is possible to unblock Netflix overseas if you are traveling or living abroad. The great thing about using a VPN to connect to the internet through a remote server location is that you can trick Netflix into thinking that you are in the United States even if you are thousands of miles away.
In fact, regardless of where you find yourself in the world, if you have an internet connection, you can unblock geo-restricted Netflix content with a few simple clicks of your mouse!
How to use a VPN to watch Netflix
You may think that unblocking geographically restricted content on the internet would be something better suited for computer whizzes or hackers, but the reality is that using a VPN to access Netflix content from around the globe couldn't possibly be simpler to accomplish.
Truth be told, anyone can easily unblock Netflix with a VPN, regardless of their technical know-how.
Let's say, for example, you're traveling or living abroad and you'd like to unblock the Netflix US library. In this case, all you'd need to do is fire up your VPN app and connect to a server in the United States. If your VPN labels the servers suitable for streaming, connect to one of these.
Then, simply go to netflix.com as you normally would and watch all your favorite Netflix US content as if you were in the United States.
Of course, if you want to access a different country's Netflix library, just connect to that country through your VPN app and you'll have access to that country's Netflix library. Just a few clicks of your mouse, that's literally all there is to it!
Are there any free VPNs that work with Netflix?
Netflix has made it clear that it is continuously working hard to ban VPN services. Therefore, unblocking Netflix is not easy and requires significant time, commitment, and resources for VPN companies to continue unblocking the Netflix content.
A free VPN service will simply not have any incentive to deploy the necessary extra resources to unblock Netflix, so you won't find a free VPN service that will give you Netflix access. Also, free services are often too slow to stream content.
Netflix VPN ban (what is it?)
Because of licensing restrictions imposed by studios that provide Netflix with much of its content, Netflix is limited to what it is legally allowed to broadcast in certain countries. Many people, therefore, started using VPNs as an effective way to get around these geographical restrictions.
However, Netflix soon caught on to what was happening, and in an effort to appease its partners at television and movie studios and honor their licensing agreements, launched an aggressive, ongoing campaign to ban VPNs accessing their service.
This is the reason you may see the "proxy error" message come up if you try to access Netflix content while using a VPN.
Most VPN providers simply accepted the fact that Netflix blocked access from VPN IP addresses and chose not to focus their efforts on finding a workaround for the issue.
Others, however, continue to deploy workarounds with varying degrees of success. The five VPN providers listed in this article are tested on a regular basis by our experts and have proven to be consistently effective at unblocking Netflix content despite substantial efforts by the streaming giant to block VPN access.
What else can I do with a VPN for Netflix?
Unblocking Netflix is just one of the many useful things you can do with a VPN. A VPN is an essential online privacy tool that can be used to:
Access other geo-restricted streaming sites– Many websites restrict content to certain geographical areas. With the right VPN you can also access foreign content on; Amazon Prime, iPlayer hulu and more.
Hide your online activity from third parties – By encrypting all of your internet traffic, a VPN will prevent hackers, government entities, your ISP, or any other third party from snooping on your online activity.
Protect your data on public wifi hotspots – Public wifi hotspots are a notoriously insecure and popular target for cybercriminals and hackers to steal information. Connecting to a VPN while on public wifi will protect your data.
Bypass government firewalls and censorship – If you're in a country with strict internet censorship rules, then using a VPN to connect to a remote server located outside of the country can help bypass government censors and allow you to access websites otherwise restricted in the country.
Download torrents risk-free – Since your true IP address and your online activity will be concealed when using a VPN, you can download torrents without risking any repercussions resulting from such activity.
Netflix VPNs In summary
Not many VPN providers are able to successfully unblock Netflix content these days. As a matter of fact, most have simply stopped trying to figure out workarounds for the Netflix proxy error. The good news is that there are still VPN providers available that are working hard to keep Netflix access available to their customers. As we have seen in this article, there's definitely still hope for anyone looking to use a VPN to unblock Netflix content around the world. Each VPN provider listed above has proven to be consistently effective at unblocking Netflix. So, the time is now to sign on with one of the providers listed here and unlock your full Netflix streaming potential!