Pros
30-day money-back guarantee
24/7 customer support
Great encryption
Three simultaneous connections
87 VPN server locations
Bottom Line
ExpressVPN is the perfect combination of speed, security, and streaming-friendless. A little on the expensive side, but you get what you pay for – a truly stellar VPN service!
ExpressVPN has always been at the front of the pack when it comes to offering a fantastic customer experience. Central to this experience is a 30-day money-back guarantee (which it fully honors), round-the-clock customer support, and easy-to-use apps for all major platforms.
This British Virgin Islands-based VPN provider has now also buffed up its technical security, offering fantastic OpenVPN encryption.
How Much Does it Cost?
The subscription plans provided by ExpressVPN to it users include:


If bought on a monthly basis, ExpressVPN costs $12.95 per month. This is definitely at the pricier end of the VPN spectrum. However, an annual subscription drops to a much more reasonable $8.32 per month.
One of ExpressVPN's strongest selling points is its industry-leading, no-quibble, 30-day money-back guarantee. This means that there is very little reason not to at least try out the service!
This acts in lieu of a free trial for the full desktop service. Mobile users can also try out ExpressVPN before laying down any cash (one week for iOS devices and one day for Android users).
What Do I Get?
A subscription to ExpressVPN offers the following features: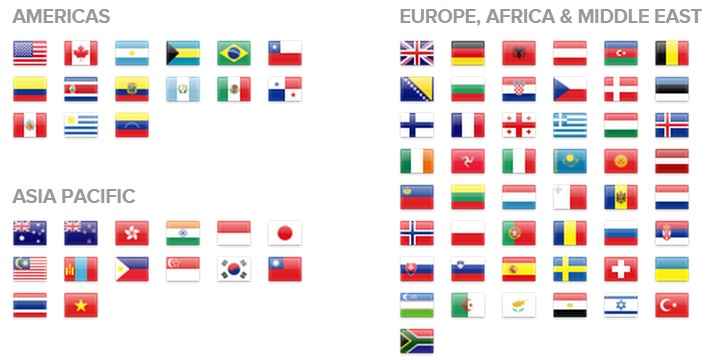 Support for the OpenVPN, PPTP, L2TP/IPSec, and SSTP VPN protocols. Unless your device does not support OpenVPN, I recommend always using that protocol.
Smart DNS.
"Stealth servers" – these are located in Hong Kong and allow users in mainland China to bypass the Great Firewall. They should also be helpful for users in other countries where the internet is censored (such as Iran or Turkey).
A .onion website – again, this is a great anti-censorship measure. It allows users to connect to the ExpressVPN website anonymously over the Tor network, even from places where access to ExpressVPN is censored. To access this special website you must use the Tor Browser.
Works with US Netflix and BBC iPlayer.
Logs and Location
The British Virgin Islands (BVI) does not require communications companies to keep logs. Although ExpressVPN keeps no record of which websites you visit, it does log some metadata related to your VPN sessions, "for the purpose of improving network resource allocation." These logs include:
Total amount of data transferred per day.
Choice of server locations.
Dates (not times) when connected to the service.
For most users these minimal connection logs are unlikely to be of much concern, but those with a very strong need for privacy might prefer a service that keeps no logs at all.
The BVI is a former British colony, and although internally self-governing, it remains under the jurisdiction and sovereignty of the UK government. What all this means in terms of GCHQ spying, I have no idea.
Using ExpressVPN
ExpressVPN has dedicated apps for Windows, Mac OS/OS X, Android and iOS. It also has a dedicated app for Linux. This is command-line only, but does include DNS leak protection.
ExpressVPN also supplies a wide selection of guides to setting up its service on a variety of platforms, and using a variety of VPN protocols.
Various router setup guides are also provided, or you can flash a router with ExpressVPN's custom router firmware. Pre-flashed routers are available for the fainter of heart.
The first step is to sign up for the service. A valid email address and payment details are required, but you can improve privacy by using a disposable email account and paying with properly mixed Bitcoins.
Please always be aware, however, that as with any VPN service, ExpressVPN will always know your real IP address, no matter how anonymously you sign up for the service.
For this review I tested ExpressVPN's Windows and Android apps.
Windows
As I have already mentioned, ExpressVPN excels at providing a great customer experience. One aspect of this is providing easy-to-use software that "just works," but which also provides all the most important features that VPN users actually need.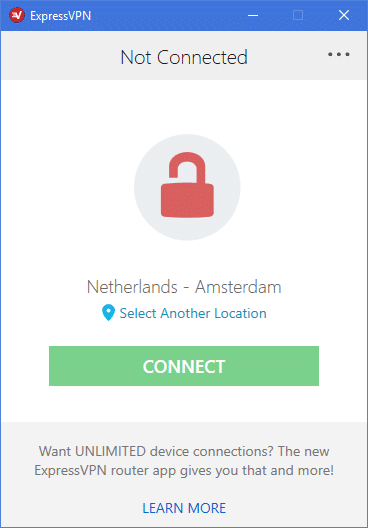 Just hit the big green button and go!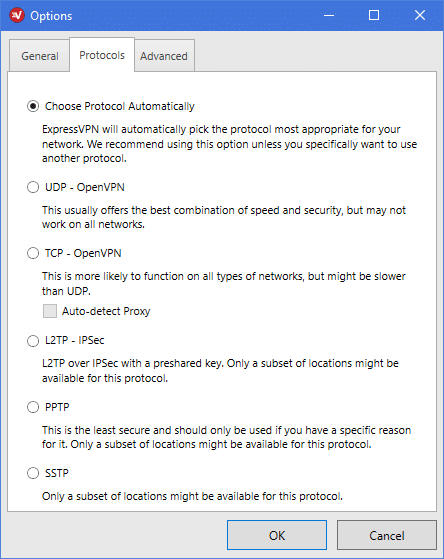 The client allows you to easily switch VPN protocols.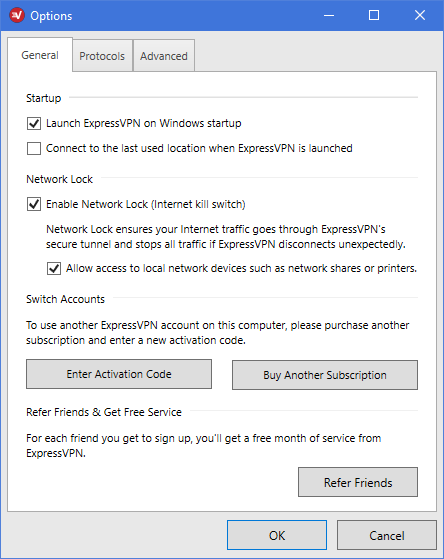 It also includes DNS leak protection and a kill switch (courtesy of its "Network Lock" firewall).
Android
Much like the Windows app, the ExpressVPN Android app is simple to use.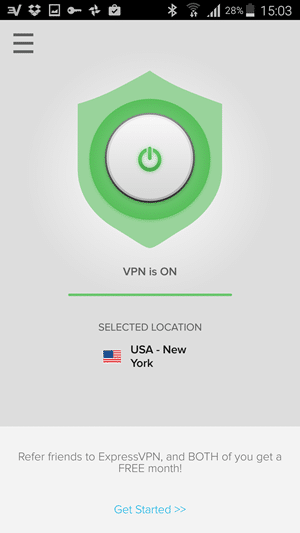 It prevents DNS and WebRTC leaks. There is no kill switch, however.
Encryption
ExpressVPN uses a very impressive OpenVPN encryption suite:
Cipher: AES-256 cipher
Handshake: RSA-4096
Hash Authentication: HMAC SHA-512
Perfect Forward Secrecy (PFS): yes, using an ECDH key exchange.
PFS means that new keys are generated on each connection. So even if the OpenVPN encryption is somehow compromised (which is very unlikely, given the above encryption suite), only data relating to a single session can be obtained. Each new session would require re-cracking OpenVPN.
Unlike many VPN providers, ExpressVPN creates a custom OpenVPN certificate for each user, which is then authenticated using a special code. This is more secure than using generic certs and simply securing the connection with a username and password.
As encryption and security goes, this is all pretty much flawless.
Speed and IP Leak Tests
I ran each test five times. The screenshots show the best download result, with lowest and average results noted below.
UK test server, no VPN (control):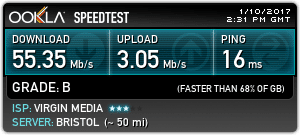 Lowest: 54.32/3.02 Mbs. Average: 54.67/3.05 Mbs.
UK test sever and UK VPN server: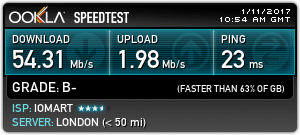 Lowest: 44.51/1.98 Mbs. Average: 46.81/2.42 Mbs.
US test server, no VPN (control):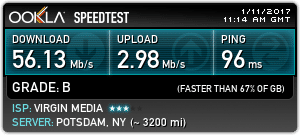 Lowest: 55.76/2.95 Mbs. Average: 55.80/2.98 Mbps.
US test server, US VPN server: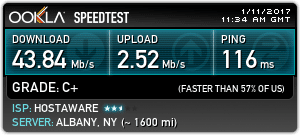 Lowest: 34.92/2.44 Mbs. Average: 37.65/2.49 Mbs.
These are very respectable speed results, and I discovered no DNS or WebRTC leaks. I am also pleased to report that, despite their bans on VPN use, both US Netflix and BBC iPlayer work just fine using ExpressVPN.
Website Usability and Aesthetics
The ExpressVPN website matches the professionalism and attention to detail shown in all other aspects of this provider's service. It looks good, and a huge amount VPN-related information is available. The only slight criticism I can raise is that some information is not quite as easy to find as I would like.
Customer Support
As noted in the introduction to this review, ExpressVPN has in large part built its reputation on providing exceptional customer support. The easiest way to access this is via year-round 24/7 live chat. It really is difficult to argue with this level of service!
In my experience, the front-line support staff is best at handling billing enquires and suchlike, but are quick to refer you to more technical resources, or pass you on to tech experts if needed.

Should I Subscribe to ExpressVPN?
Other than keeping a few (fairly minimal) connection logs, there really is almost nothing to complain about with ExpressVPN. The service oozes professionalism and polish, uses fantastic encryption, does not leak your IP address, has servers almost everywhere, throws in a Smart DNS service for free, and provides 24/7 support. If you are still not convinced, the 30-day money-back guarantee allows you to check out the service for yourself at your leisure!
Yay!
30-day money-back guarantee
24/7 support, 365 days per year
Easy-to-use apps for all major platforms
No IP leaks
Great encryption
Free smart DNS service
Servers in 87 countries
Works with US Netflix and BBC iPlayer
"Stealth" servers
.onion website
Nay!
A bit meh!
Some minor connection logs
At the more expensive end of the spectrum, but you get what you pay for: a full Smart DNS service is included.