Pros
Torrenting and P2P File-Sharing Allowed
4 Simultaneous connections
Unlimited Server switches
Shared IPs
Zero logging policy
Unlimited Bandwidth Range
Multilingual website
Cons
Limited Hours for Live Chat
PrivateVPN is a Swedish VPN provider that was launched in 2009 with an objective to make the users' connection truly "private" over the web. The company has foothold solid roots in the VPN market within a short span by  providing a secure network for internet users offering multi-encryption protocols support. We have published an in-depth PrivateVPN review on our website VPN Analysis, highlighting advantages and flaws associated with the service.
Private VPN's Windows VPN client is pretty decent and has a user-friendly interface. Moreover it offers extensive range of servers worldwide along with 4-simultaneous connections on a single VPN account. Although there were minor  glitches with their Windows VPN client previously, but now all those issues are  resolved and fixed. So, without further ado,let's jump into the heart of our PrivateVPN review to learn about its pricing, packaging, plans, global existence, compatibility and its privacy policies.
Pricing Plan
PrivateVPN offers 3 different subscription plans: Monthly, Yearly and a 3-months plan. Features offered in every plan are same..The cost of monthly plan is worth € 7,but if you are looking for a long-term subscription than either opt for the 90-days plan at a price of € 18 or yearly package at € 66.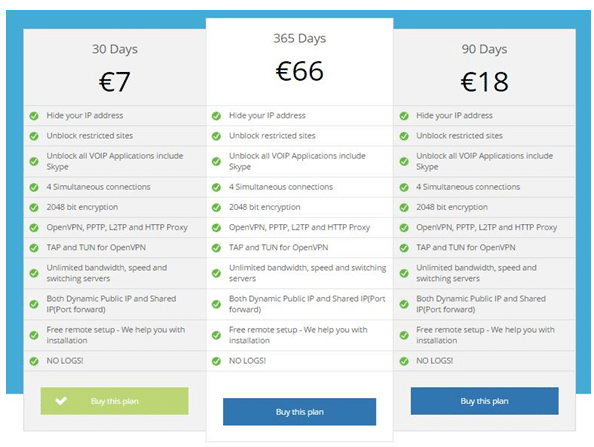 However, if you find these standard plans a bit pricey than we recommend you to wait for PrivateVPN' special sales and promotions in which they slash the cost of each package by offering good discounts.
Payment Method
PrivateVPN offers multiple payment methods that are commonly used all across the globe so that none of their clients face any issues while making their transactions.Payments are accepted through Credit Cards or via online payment systems like PayPal, Payson Direct Bank Transfer and the most anonymous way: BitCoin.
Free Trial and Money Back Guarantee
Sadly, PrivateVPN offers no refund but they do allow you to avail '1-day free trial" so that you can test their services and features. You simply need to make a request for the free trial activation code by contacting them via email, and once you receive the code,activate PrivateVPN, test it yourself and find out if the service is worth your money or not.
PrivateVPN Review – Features
PrivateVPN not only offers features like unlimited bandwidth, unlimited server switching and 4-simultaneous connection but there is a lot more they offer to their customers. Let's have a look:
• The connection guard
The connection guard feature offered by PrivateVPN is quite similar to Internet Kill Switch. It shuts-down all your online activities if, for any reason your VPN disconnects. Thus after the VPN connection is again established, all your killed activities comes back to life again.
• Port Forwarding
PrivateVPN supports port forwarding on their OpenVPN servers. Using this feature, you can redirect specific online traffic to pass through the special ports on the OpenVPN servers. For example, you can route all the torrenting and P2P traffic from the VPN tunnel using any of the public dynamic IPs or shared IPs.
• Bypass firewall
Bypass firewall feature allows you to connect to the 443 TCP port instead of 21000 UDP which means that a user can access all the restricted areas as this port is open for all firewalls. Although UDP port is a much faster option, but to bypass all the firewalls, 443 TCP is the ideal option.
• P2P service allowed
The support of P2P service by a VPN provider gives it a front edge to stand out firm in the VPN business. This is due to the fact that most of the VPN users utilize a VPN  for safe torrenting or P2P file-sharing. PrivateVPN understand this need of users and allow them to do safe torrenting on all their provided shared servers except for those located in UK, US and Finland. This restriction is just to keep their users protected from the wrath of DMCA notices. However, the provider do recommends Sweden based server to enjoy unlimited torrent downloading without any worry.
PrivateVPN Servers
The server network of PrivateVPN consists of total 34 servers in 21 countries . Delightedly, they are working to expand their VPN network by deploying more servers so that all of their customers can enjoy have  close proximity to their selected servers in order to get better connectivity. These servers are located in countries including Australia, Canada, Brussels, France, Finland, Denmark, Germany, Switzerland, Luxembourg, Italy, Spain, The Netherlands, Romania, Russia, Poland, Norway, Sweden, Ukraine, United States, UK and Sweden.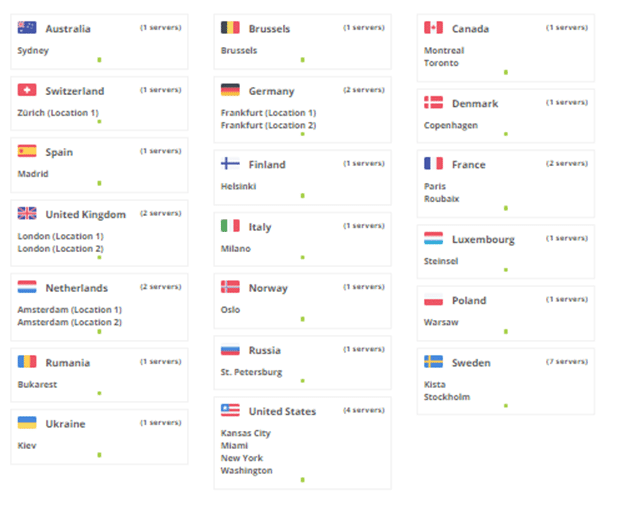 All of their servers deliver consistent and above average speed overall but as the servers are hosted on HQN platform i.e. due to High Quality Network infrastructure, the users might sometimes face downtime or lagging trap issues. But to set yourself free from these issues, you can always check the server status provided on their website before connecting to any server in order to connect to the less-populated server close to your region.
Compatibility-PrivateVPN
PrivateVPN is compatible with all commonly used operating systems including Windows, Linux and Mac OS X as well as with smartphones like Android and iOS. Let's dig deeper into this PrivateVPN review to learn exactly what protocols are supported with all these compatible platforms.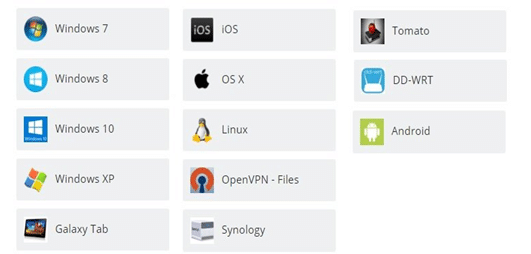 • Windows 8 and 7 (OpenVPN, PPTP and L2TP/IPSec)
• Vista (Not supported)
• Windows XP (OpenVPN and PPTP)
• Mac OS X (PPTP, L2TP/IPSec, OpenVPN on Viscosity)
• Ubuntu/Debian Linux (Can be configured via OpenVPN client, Network Manager TAP or TUN)
• Android (OpenVPN, L2TP/IPSec, PPTP)
• IOS (OpenVPN, L2TP/IPSec, PPTP)
• Galaxy Tablets (PPTP)
• Tomato and DD-WRT routers (PPTP)
• Synology NAS (OpenVPN and PPTP)
Security and Privacy
Privacy and security are the two primary factors that a user seeks in a VPN in order to get through either blocked or censored website or to enjoy unlimited safe torrenting over the internet. Therefore, PrivateVPN is among those VPN services which deliver great security tools in order to maximize user's privacy. Just drill down more to get familiar with their supported protocols and logging policies.
• Protocols and Encryption Level
PrivateVPN review provides the standard set of protocols that is PPTP, L2TP/IPSec and OpenVPN in almost all of its compatible devices. Considerably all of its servers utilize AES 256 bit encryption code with 2048-bit DH key,so your internet connection is always secured. Although this high security does affect your internet speed but PrivateVPN manages that very smartly by minimizing that affect and providing an un-interrupted connection.
• Logs & Privacy Policy
PrivateVPN has clearly stated on its website that "We NEVER produce logs of any data traffic. The only thing we store is your user name, password and your email address." That is actually true because being a Sweden based provider, PrivateVPN has the privilege to keep their service free from Data Retention Directives and thus set their users free from worries of being logged.
Customer Support
PrivateVPN offers various channels through which they assist their customers. Channels include Live Chat, Email, Remote Desktop help and ticketing system to resolve customer queries. During our review of their live chat, we came to know that their customer services area and response timings are not very proactive. Since there was no prompt response to our query on their live chat, we emailed them, but sadly they took around 19 hours to respond to our email too. Nonetheless, the answer we received from their end was quite satisfactory and relevant to our query, so we have to give them credit for that.
Moreover, if you are interested to know basic or general information about their product or services than you can go through their provided FAQs section. Butin case you are stuck in installation or configuration setups on Windows, Mac or Linux systems than you can always remotely get the assistance from their support agents through TeamViewer.
Website
PrivateVPN users can now redirect to the new PrivateVPN.com domain as the company has completely overhauled its website, giving it a clean and easy navigable lay out. This is how the new design looks like: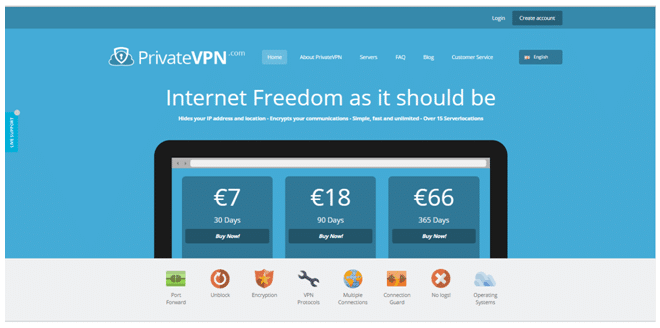 On top of that, the new website has now become Multi-lingual supporting Swedish and French languages besides English (which is not its first language though). Overall, the new look is much simpler and displays all the standard options to guide users regarding their product and services. They also have a detailed FAQ section on their home page.
Our Thoughts
PrivateVPN is an above average VPN provider that has improved and worked out enough to cover all its rough edges. Although there is still some room of improvement for PrivateVPN to bring some more amazing features like DNS leak Protection feature and Split Tunneling etc. But overall, if you are looking for a logless VPN that support P2P file sharing and provides simultaneous connectivity on multiple devices than PrivateVPN is the absolute choice and definitely worth your money!