Pros
No Logs
Strong Encryption
Highly Affordable
30 Days Money Back Guarantee
24/7 Customer Support
3 Simultaneous Connections
99% Uptime
No NAT
Supports IPv6
Unlimited Bandwidth
Torrent & P2P Allowed
FrootVPN is among those new entries in the VPN industry that are fast striving to compete with the other big boys. FrootVPN is on the right path to make progress in its service having over 300,000+ users. This Sweden based VPN provider was founded in 2014 and since then they are continuously making efforts for the people's security and anonymity on the web. With one of the highly affordable plans, FrootVPN encouraged us to write FrootVPN Review and further analyze this VPN product.
Pricing Plan
While writing the FrootVPN Review, we are impressed by the affordable pricing plans offered by FrootVPN. The cheapest of all is the 12 Months Package which is available at $2.99 per month i.e. you have to pay $35.88 per 12 months saving 40% of your money.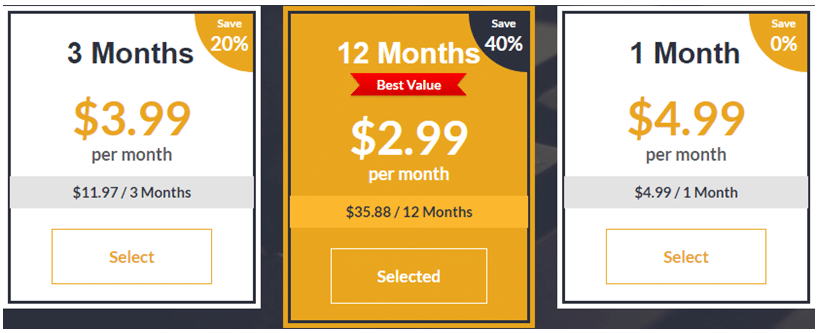 Other than the yearly plan, there are two more subscription packages which also offer the same services but the duration of subscription and the charges are different. The 3 Months Package will cost you an amount of USD 3.99 per month a total of $11.97 per 3 months at 20% discount while the Monthly Package charges up to $4.99/month.
• Payment Options
When it comes to payment to subscribe to the services of FrootVPN, you will have many options for that. They accept credit cards like Master Card, Visa, Discover, American Express or Web Money. They even accept the most secure PayPal and the most anonymous Bitcoin to make their payments out of any risks.

• Free Trial Or Money Back Guarantee
FrootVPN provides 30 days to test their services with a peace of mind. If, in any case, you find yourself unsatisfied (I doubt that will happen) with their services, you can immediately ask to refund your money. This money back guarantee is for 30 days only which means that they don't welcome any refund requests 30 days after the subscription.

Servers & Their Locations
There are 20+ FrootVPN servers that are deployed in 2 of the continents viz. Europe and America. These servers are located at 5 different locations round the globe. These countries include FrootVPN host nation; Sweden, Canada, USA, France and the recently added UK. All the servers are secured with SSL and are connected to multiple 10 Gbps backbone to assure uploading/downloading and streaming at ultra-fast speeds.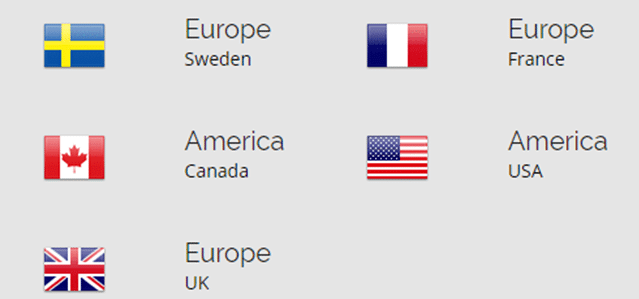 Unique Features
The feature section of any VPN provider should be well managed and continuously updated so that the customers are proffered with unique services. FrootVPN provides many unique features to their VPN users, some of those are listed below:
• IPv6 Support
FrootVPN supports IPv6 to make the communications of their VPN users more efficient, simplified and easier. Currently, they support IPv6 over OpenVPN only but they are looking forward to make it available on all of the protocols in the near future.
• No NAT
NAT – Network Address Translator is used to map networks to a single IP address or to translate public IPs to private IPs and vice versa. FrootVPN offers No NAT facility which prevents third-parties from intercepting and intervening in any way. It also makes sure that your privacy is not at risk making your identity safe from hackers and other cyber criminals.
• Multi-Login
FrootVPN provides its customers an ease of using their service over 3 devices simultaneously. This multi-login facility enables you to stream, play, listen and watch all of your favorite programs and music from home, office or school. You can connect FrootVPN over 3 different devices with the same VPN account.
• Torrent-Friendly VPN
FrootVPN was first seen on The Pirate Bay as a free VPN from where they gain popularity and has turned as a paid service now. Being officially recommended by The Pirate Bay, FrootVPN is obviously a torrent-friendly VPN and is able to make you anonymous while P2P filesharing.
Compatibility
Compatibility is an essential factor while choosing a VPN service for any purpose. It does not own any custom software/client for any device yet but they provide the manual configurations and installation guides for every device that they support.
FrootVPN is compatible with all the major devices that a VPN user desires to have on the compatibility list of their VPN provider. Froot VPN can work on Windows, Mac OS, Unix/Linux systems, iPads, iPhones and Android. You can even set it up on your home router if it has a VPN support.
Security and Privacy
FrootVPN providers are very serious about the privacy of their customers and they even don't make any false promises in providing strong security features to them. FrootVPN offers military-graded encryption to their VPN users so that they can stay away from the cyber-intruders and third-party surveillance.
• Protocols & Encryption Level
FrootVPN supports the 3 major protocols PPTP, L2TP and OpenVPN. For more secured and authenticated data communications and cryptographic privacy, they provide a PGP (Pretty Good Privacy) key supporting TLS 1.1 and up. All the data is secured using PFS (Perfect Forward Secrecy) with SSL rating and encrypted with AES 256-bit and 2048-bit encryption.
• Logs & Privacy Policy
The privacy policy of FrootVPN clearly states that they don't log information of any kind such as time stamps, IP address, log sessions, DNS queries, user info or any of your online activities. All that they ask for is your VPN username and email address which you provide them at the time of registration.
Customer Support
The customer support section of FrootVPN lacks a Live Chat option but their support agents surprised us with their quick and informative answers via email. While writing this FrootVPN Review, we got stuck up in some of the technical issues so we approached the FrootVPN agents through their Email Inquiry support.  The response time was pretty good and we were replied with a helpful guide to our query within a few hours.
Other than the Email support, there is a section where they provide their active users with the Frequently Asked Questions about their services and the troubleshooting and installation guides and tutorials to resolve any issue either basic or technical.
How to Setup FrootVPN on Windows
FrootVPN do not have their own client for Windows or any other device. However, users can connect FrootVPN on their devices by manually configuring OpenVPN. Don't get confused, we have provided you with some easy steps to setup FrootVPN on Windows:
Download the OpenVPN client for your respective version of Windows from here.
Install the OpenVPN client by clicking 'Next' and agreeing to the Terms and Conditions.
Once you are done with the installation procedure, click on 'Finish'.
Now, copy and paste the OpenVPN configuration file to c:/Program Files/ OpenVPN/ Config.
Connect OpenVPN by inserting your FrootVPN credentials which will be received via an email.
You will see a pop-up on the screen which indicates the new IP that is assigned to you.
Congratulations! You are connected with FrootVPN and are free to use the internet your way.
FrootVPN Review – Bottom Line
At the end of this FrootVPN Review, we are pleased to mention that the services and features offered by this VPN provider are worth noticing. No matter they are new in the VPN industry but they have been successful in attaining a good and dignified position in the VPN space.
They do have some downsides lacking a few things like live chat in their service but their hard work is going to soon cover it up. All in all, FrootVPN offers a great service within cheap prices so you are left behind with no reason to give it a go with FrootVPN!