Pros
Wider Compatibility Range
Unlimited Bandwidth
5 Simultaneous Connections
No Data Logging
Simple Setup
Malware Protection
Easy Payment Plans
High-Class Encryption
Speedy Connections
Cons
No Live Chat
Free Version Comes Ad Supported
No P2P Optimized Servers
Slow Tech Support
Hotspot Shield VPN is headquartered in United States of America powered by one of the most promising companies Anchor Free which is backed by Goldman Sachs, the most renowned investors. Hotspot Shield is considered as the most common choice of users having approximately 400 million downloads and gradually increasing. It has an easy setup and is supported on all popular platforms.
This VPN provider stepped into the market in 2008 grabbing the customers' attraction with the most tempting Free Download option. There are many other spectacular features of Hotspot Shield which makes us write this Hotspot Shield Review to get you known about every aspect of it.
Pricing Plan
The pricing plan of Hotspot Shield is divided into three easy modes for subscribing to their service. One is the life-time free package, the other one is termed as the Elite which is the paid one and the last one is solely for businessmen.
Free Version
This is the free plus unlimited version of Hotspot Shield VPN but unfortunately, it comes with an access to limited US servers only.  The free version is ad-supported and you continuously get to see ads every now and then.  There is a limitation of other features as well for which you have to pay if you want to get additional features on your browser. However, the free version works at premium speed but is found incapable of bypassing some of the popular streaming sites such as Netflix and Hulu.
Elite Version
The Hotspot Shield Elite is the paid version which is available for monthly, semi-annual, annual and biennial subscription at different price tags. The Monthly Package charges $11.95/month, Semi-Annual Plan is available for $3.33/month, Annual Plan costs up to $2.50/month while the Biennial Plan is the most economical of all i.e. $2.08/month.
All the four pricing plans within Elite category are totally ad-protected. Using Hotspot Shield Elite, you can bypass geo-restrictions on any website by virtually changing your location and IP address. Unlike other VPN providers, itonly slightly affects your internet speed and allows access to servers in different locations including USA.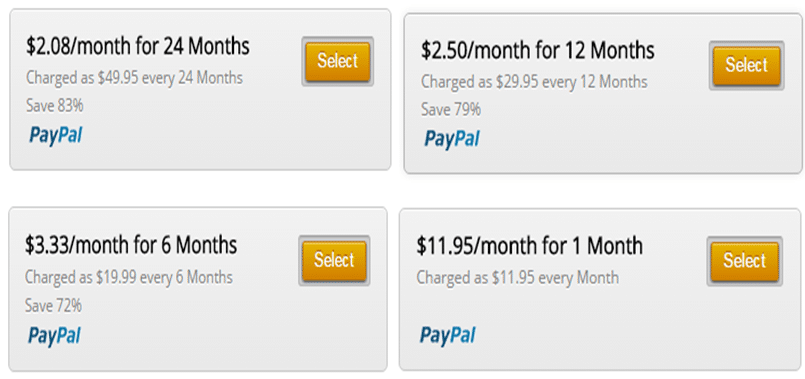 Business Package
The business package is solely for business professionals who wish to protect their business from hackers, thieves and spies. No matter how large or small your business is, using Hotspot Shield, you can make it securer than ever. The business package offers a monthly and a yearly plan.
Monthly Plan
Starting from 20 devices up to 100, the Monthly Plan comes for an amount of:
• $19.95/month for 20 devices
• $54.95/month for 60 devices
• $84.95/month for 100 devices
Yearly Plan
The yearly plan begins with a 14 day free trial. If you are satisfied with the service then you can continue with the yearly package with a payment depending upon how many devices you want to connect.
• 20 devices costs up to $99.95/year after trial
• 40 devices costs up to $199.95/year after trial
• 60 devices costs up to $274.95/year after trial
• 80 devices costs up to $349.95/year after trial
• 100 devices costs up to $399.95/year after trial
Money Back Guarantee
There is a 30 day money back guarantee for the Hotspot Shield VPN Elite users. If the usersare unsatisfied with their service or they want to quit the service for some other reason, they will get their money back if asked for within those 30 days' time period.
Payment Methods
While writing this Hotspot Shield Review, we come to know that Hotspot Shield VPN provides different payment options depending upon which country you locate and which package you select.Some of the countries, such as Romania and Egypt, even have an optionto pay with your cell phone.The Hotspot Shield Elite Version is available in 41 different countries with following methods to pay for any of the Elite subscription package:
• Visa
• Master Card
• American Express
• PayPal
• Credit Card
• Necard
• CashU
• MikroOdeme
• Discover
• Mobile Phone
Servers & Their Locations
In our Hotspot Shield Review, we attempted to provide crystal clear information about this VPN provider. Although, Hotspot Shield VPN does not possess a widespread server network. However, the speed is electrifying with no lags found in the internet connection. There are 100+ servers in 20 different locations including USA, UK, Australia, Japan, Canada, Hong Kong, China, India and Germanytoconnect with.
These servers are only for the Elite or Business Package members as the free version users are allowed to connect only to the US servers. Sadly, there is no any optimized server for torrenting or P2P file sharing but you can easily use these servers for evading the geo-restrictions over the most demanded streaming channels.
Spectacular Features
Hotspot Shield VPN has a number of spectacular features. Again, these features are only available for Business Package and Elite users. For instance, you have a Hotspot Shield free version then you have to pay some charges for these additional features or you may shift to the Elite Version.
• Multi-Device Support
Hotspot Shield proffers their customers a multi-device support. On a single Hotspot Shield VPN connection, you can connect up to 5 different electronic devices simultaneously. This means you don't have to pay any extra charges for each device. You can enjoy the same services on 5 different screens.
• Ad-Free Browsing
Free Version of Hotspot Shield is injected with advertisements of their sponsors. The Elite users' can experience an ad-free browsing without any interruptions in their video or music. You can easily browse anywhere bypassing the geo-restrictions placed on many websites in different countries. YouTube, Spotify, Pandora, HBO Go etc. will be accessed within minutes with this VPN provider at fastest speeds.
• Malware Protection
Your computer can be at risk while browsing to different websites on the internet. For this purpose, most of the netizens download anti-virus to fight against those viruses and Trojans which get into your system without being acknowledged. Hotspot Shield VPN provides an extra layer of malware protection which helps to protect your PC from the spywares and malicious apps which enter into your PC despite of the presence of the anti-virus.
• Wi-Fi Security
Public Wi-Fi hotspots are a common source of hacking and cyber-crimes. It is way too risky to connect your handheld devices with a hotspot nearby in the coffee shop or a lobby. Hotspot Shield VPN truly shields your device by spoofing your IP address so that any snooping eye or security agency may not monitor you or trace your existence over the internet.
• Compatibility
Hotspot Shield Elite is compatible on all popular platforms except the Linux. For operating systems, Windows (Windows XP, 7, 8, Vista) and Mac OS X can work with the Hotspot Shield VPN while, there are Android, Apple iOS and Windows Mobile Phones in the list for handheld device compatibility.
There are Hotspot Shield VPN applications for Android and iOS only. However, you can manually configure this VPN on the Windows Mobile Phones. For the users of Free Version, you can use your Hotspot Shield on the Chrome Browser as well as Firefox.
Security and Privacy
A company that stands rock solid in the security and privacy aspect is considered to be the most successful company in the market. Being the users' top choice to get into the world of internet securely, Hotspot Shield proves to be the best VPN service providers in the market.
• Protocols & Encryption Level
The Hotspot Shield VPN establishes a specialized VPN tunnel to route your online data traffic from their different servers spread in multiple locations round the globe. This VPN tunnel contains the data which is highly encrypted using HTTP protocol with 256-bit AES encryption.
The Hotspot Shield VPN uses PPTP, L2TP/IPSec and OpenVPN protocols to run over different devices and OS.  Although, the website doesn't contain any precise information about the encryption level or protocols, however, we managed to gain this information for our Hotspot Shield Review from the customer support desk.
Logs & Privacy Policy
The Hotspot VPN does not collect, maintain or store record of the browsing history, the online activities or any personal or confidential information of its users. They only collect some data through cookies which is done for upgrading the software and other promotional and advertisement purposes.
Customer Support
The customer support of a VPN provider plays an important role in maintaining the customers' strength and helping them out when they are stuck in technical issues or problems related to setting up the VPN. Hotspot Shield customer support contains frequently asked questions, basic setup guides, ticketing system and emails.
The FAQ section and basic setup guides consists of details about how to the setup the VPN and the basic information for beginners. There is no live chat option, however, you can contact their support agent via email or support ticket for which they reply fairly soon.
• Website
The Hotspot Shield official website is relatively attractive having a royal blue shade of tone. The website contains descriptive information about pricing plans, compatibility, features and setup guides. We face little disappointment by not getting any knowledge about the number of IP addresses possessed by Hotspot Shield VPN and the protocols and encryption level they provide. All in all, the website is weak in providing the technical type of information and very well-presented in every other aspect.
Conclusion
Providing such a decent service, valuable subscription packages and notable features to massive public, Hotspot Shield VPN has become the most trustworthy service provider of millions of internet users. One thing that has contributed in making the reputation of this VPN provider is the unlimited free version. But unfortunately, there are some downsides related to this. First of all, the free version offers only a limited number of servers and secondly, it is incapable of evading all of the streaming websites that are in demand.
Anyways, if we are to conclude this Hotspot Shield Review over here, we will surely recommend the Hotspot Elite Version to get complete freedom over the world of internet and allow a secure internet connection free of malwares and viruses.