IbVPN and its Exciting Features
IbVPN is gaining a stronger position in the VPN reviews section. Mainly because of countless amazing features and facilities provided to customers. We are writing this ibVPN review to help all readers and new users to understand why they should avail VPN services and why not as we will talk about its pros and cons in detail.
IbVPN is an invisible browsing and it a paid VPN provider managed by a company based in Romania. According to the information available on the official website of VPN, it can be understood that ibVPN is not an ordinary service provider of VPN.
IbVPN Protocols and Servers in 30+ Countries
To access VPN, ibVPN provides some protocols including PPTP, SSTP, Open VPN (TCP and UDP, L2TP/IPsec) on some servers. Its flexible features are potential enough to operate 60+ VPN servers located in 30+ countries, including some powerful countries such as, Ireland, Italy, Switzerland, and Hong Kong, Luxembourg. Panama, UK, USA, Canada, France, Netherlands, India, Spain, Germany etc.
According to the current update on their official page VPN status shows that the 24 servers are connected to 100 Mbit/s, while other 14 servers are connected to 1000 Mbit/s. with this feature the P2P traffic can easily reach to various locations including Luxembourg, Canada, and Netherland etc.
The 6 basic versions of servers in different countries are as follows:
1. US & Canada VPN – 9 servers2. UK & Ireland VPN – 7 servers3. EU VPN – 13 servers4. Torrent VPN – 4 servers5. Total VPN – 33 servers6. Ultimate VPN – 34 Servers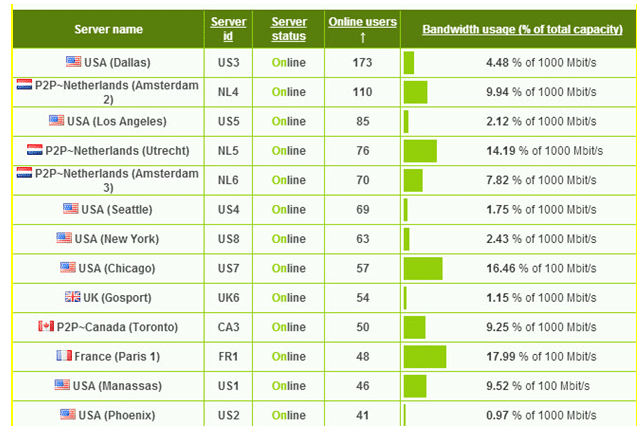 DNS Services
Another interesting feature that has grabbed out attention is the service of DNS that let all clients to unblock streaming websites even without making use of VPN. In fact in some countries customers can also easily avail proxy access. DNS services are remarkable and to avail this service a customer simply has add his IP address in the designated area and alter the DNS server.
You can find all useful information and guideline on the official website of VPN. We highly appreciate the way VPN professionals keep their web pages updated with the latest information and any addition made in the services or in its protocols. The page is updated every 15 minutes to provide a map with the VPN server, band width and the user count calculation. Hence, it is useful tools to use before connecting to some particular VPN server.
ibVPN Software
VPN software is provided to all ibVPN customers to help them conveniently connected on the protocols. Its installation process involves an instance of OpenVPN, provided with two additional VPN connection profiles to Windows.
PPTP and L2TP are useful software that kept updated and launched to link with ibVPN's server. With the use of this software a user can directly connect to TCP or UDP protocols, without choosing OpenVPN's port. However, while going through the software we have observed that the software is using OpenVPN on limited ports such as 53, 80, 443 and 1194.
Pricing and Plan Policy
Pricing of VPN is competitive and unbeatable in today's market and we are saying this because we have done an extensive research on the pricing policy of various VPN service providers and finally we have found its pricing most reasonable and attractive.
Actually, the fact that we found attractive in their pricing is that they have categorize different packages with different price range that gives the impression of their care of every customer. A variety of price and package is as follows:
$4.95 / month for torrent or location specific only is the cheapest of all
$7.95/ month is the middle plan
$10.95/ month is an ultimate VPN plan for higher incomes
Furthermore it is to be noted that VPN also provide some expensive plans, but those plans are for double services. When you will avail 2 connections at the same time, you will find the price reasonable.
The prices for more than 1 VPN connection at the same time are:
$19.95/month for 3 connections
$99.95/month for 20 connections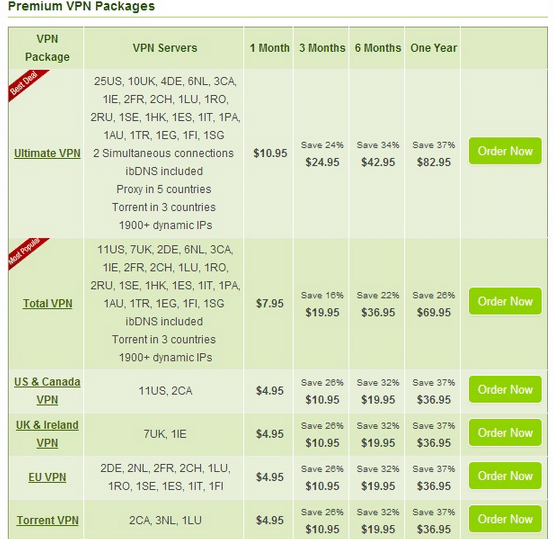 Advance payment is another advantage we can avail with the services such as, if we pay advance payment for Ultimate VPN for an year then monthly cost would be cut down to $6.9 instead of $10.95.
If you pay the ibVPN website a visit, make sure you go through all the details for each package plan before you put down a payment. It is always useful to read the instructions and other information to be satisfied with the pricing and service criterion.
We strongly believe that service quality and exciting features we get from the ibVPN services are based on the package and purchase decision you made. At first you might find the packages complex, but once you if clearly understood that we are sure that we you give full points to ibVPN stitching them to server demands. Definitely a unique feature! And we are highly impressed with this feature.
Experience with Fallback System
VPN has provided it customers with a variety of packages flooding the ibVPN website. Although, we were not satisfied about receiving effective customer support because their customer support help is available only for 12 hours and it gets very disturbing when we need some help from the relationship officer during off hours.
Nonetheless, on the other side we cannot completely disagree with the quality of customer support services because. The ibVPN website contains tutorials for every single package and platform imaginable. Also, their Live Chat services worked like a magic!
Breaking it Down
Under the respective packages on the ibVPN website the server list visible in "My Server" was observed limited in the limited server; it clearly shows that the server switching is unlimited. For us it was a complete bank of ibVPN from where we can easily avail the covetable services. This is an ideal package for all those customers purchasing ibVPN's Total VPN and Ultimate VPN packages.
ibVPN Performance and Speed
Apart from considering exciting features for the evaluation of the performance speed is the most important factor. We have conducted a test to check the connectivity speed in three countries and found that the downloading speed in Netherlands was 500-1000 KB/sec, in Canada it was 100-200KB/sec, while in the UK it observed as 300-500KB/sec.
For us these findings were quite satisfactory because we have also tested the speed and performance of some other VPN providers and amongst other we were satisfy with ibVPN's services. Hence, for us the performance was more than adequate keeping in mind the factors like cost, connectivity and data speed. Although, the limited server list felt a little disappointing but later we realized that it made sense in the long run.
Who Should buy and Who Shouldn't?
We highly recommend that people with a good enough budget should definitely go for ibVPN's services. We have a clear about the fact that number of accessible features on ibVPN is directly proportional to the amount of money you pay; so for us the amount is worth-paying.
In-Conclusion
Sign up speed is incredible; the payment modes are diverse and very much convenient
We are highly satisfied with 15 day money back guarantee, for us it is beyond comforting
ibVPN offers 6 basic VPN packages• It has server in more than 40 countries
Packages are available in 1, 3, 6 and 12 month packages; and come with PPTP, OpenVPN and L2TP protocol support
The packages sound difficult at first, but with respect to server demands these packages are great
The website has tutorials for every single package and platform imaginable
The speed is satisfactory