Pros
Zero Log Policy
Bitcoin accepted
7 days Money Back Guarantee
24/7 Customer Support
Access to Tier-1 VPN Network
5 simultaneous connections
P2P traffic allowed
Cons
No Free Trial Available
No Live Chat
Bottom Line
IPVanish is known for its enhanced security and privacy benchmark in the industry. With 256-bits AES encryption and Top Tier VPN services, we place IPVanish amongst the most reliable VPN providers.
IPVanish is providing services to thousands of customers over last 15 years; definitely it has something interesting, flexible, user friendly and affordable to offer. Otherwise, it is not easy to sustain in the competitive market for so long while having a number of clients using services in all corners of the world.
Hence, our tech team at VPN Analysis have decided to share our experience with other users of IPVanish VPN through this review. You will observe in this IPVanish Review the exact extent of VPN services offered by the provider to beat the competition.
IPVanish Pricing and Plans
The pricing and packaging of IPVanish is another thing that is beyond satisfaction and we have always found it affordable and strongly believe that all other users of IPVanish out there must be highly satisfied with the pricing policy because everyone of us knows a lot of companies providing similar services and their price tags are soaring day by day unlike IPVanish's price tags.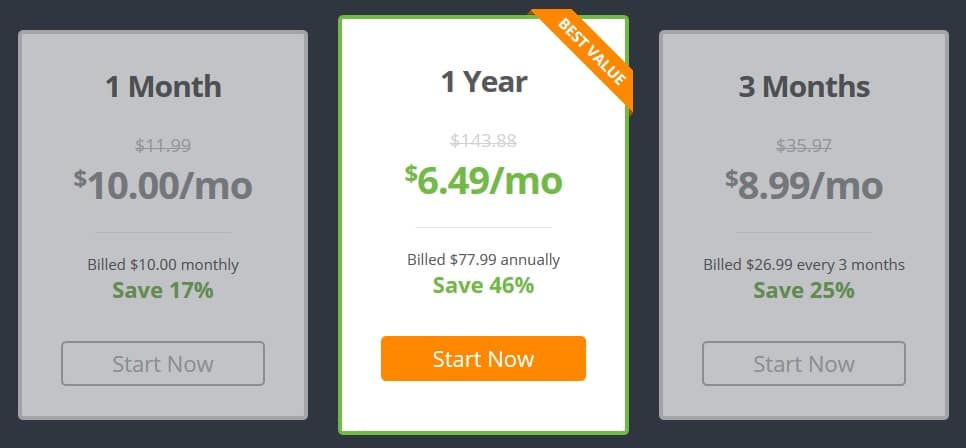 3 different packages of IPVanish are:
1 month VPN package is for $10.00
3 months VPN package is for $26.99 i.e. $8.99 per month
1 Year VPN package the price is $77.99 i.e. $6.49 per month
If we compare these rates with other similar service providing companies we can clearly see that IPVanish is offering good discounts to its potential consumers. In addition, IPVanish coupons are providing 40% on the monthly package, 40% on quarterly and 40% discount on 1 year package respectively. So, here we have figured out how reasonable IPVanish prices are on different packages which suites every type of user.

Without any doubt IPVanish has greatly improved their accessibility and speed since last year, but the biggest achievement which assisted them in attracting thousands of VPN fans is implementation of 'Zero Log' policy – it makes their security more reliable and risk free.
Now, IPVanish VPN performance is our next concern.
IPVanish Performance
Client application of IPVanish VPN is straight-forward and easy to use. Its functionality to identify servers according to response time is a good feature in the client application. With only a few clicks, users can easily get connected with the desired VPN server and streaming videos. If we talk about the overall performance of IPVanish it can be said that it is worth a trail.
IPVanish comes at you with everything but the kitchen sink. You get all the protocols, a global spread of servers, a choice of the standard pricing plans and great customer support. We recommend IPVanish software for the everyday VPN user looking for a reliable VPN service provider.
IPVanish Speed Tests
Obviously, one cannot decide among the best VPN service provider without authentic speed test. So our tech team at VPN Analysis evaluates impact of IPVanish after installation of software client over users' internet speed. However, the results were quite excellent – we have tested the speed on two different protocols i.e. PPTP and L2TP/IPSec.
We have noticed a negligible difference of just 1 MB per second after being connected with IPVanish client. The recommended protocol OpenVPN gave us the perfect result; with 256-bit encryption, it reduces our internet speed even less than L2TP/IPSec. The screenshots are as follow:
Features and Protocols
All features of IPVanish are impressive such as, OpenVPN, PPTP protocols, L2TP that are highly compatible and smoothly works with all major devices including iOS, all mobiles and desktops without any issue of bandwidth or transfer caps. It is all because IPVanish offer proprietary VPN connection software that is compatible with Windows XP Service Pack 3 or later, including Windows 8 and Mac OS X 10.5 or newer. It is note-worthy that IPVanish software is quite simple and easy to use those made us select the server to connect and use any hour of the day.
IPVanish is offering Tier 1 VPN networks in more than 60 countries, covering all Major European (Italy, France, Germany, United Kingdom, Russia, Sweden, and Switzerland), Asian (India, Israel, Saudi Arabia, Singapore, Hong Kong and Korea) nations as well as well United States, Canada and Mexico. An amazing thing about IPVanishVPN services that it provides 2 concurrent connections all the time and these two devices stay connected through OpenVPN.
The Zero Logs policy means IPVanish does not maintain any detail of your online activities; your browsing history, your chat history and etc. If you are using Bitcoin to purchase the services of IPVanish, all you need is an email address along with password, which means you can be completely anonymous at all levels. One of the advantages you get from this VPN service.
IPVanish Servers Locations
IPVanish VPN is continuously expanding, they currently have 500+ VPN servers in approximately 60+ countries across the globe including some most demanding countries of the world like Canada, US, UK, Switzerland, Japan, Australia, Belgium, France, Germany and a lot more.
We highly appreciate IPVanish VPN services of custom-designed DD-WRT routers, that are pre-configured for the IPVanish services from the likes of Asus, NetGear and CISCO. The gears are exported all over the world and can be easily bought from flashrouters.com. Moreover, we are happy to observe that all protocols are managed by dynamic pool of which IPVanish offers more than 40,000 anonymous IP address; but unfortunately if somebody wants to get static IPs, then there is no option for them.
Additional Features
To provide smooth connectivity, they use OpenVPN connectors to apply TUN virtual network that is tunneling over 3 layers. In order to, start the IPVanish app at OS start-up and to remember user credentials the preference uses check marks.
For those subscribers who want to keep a check and balance on the availability of the services and the possible problems in the connection, a connection log is provided in the menu list that facilitates users to keep an eye on the usability of the service. Another helpful addition in IPVanish client menu is "IP Address Checker"; it facilitates users to check their IP address anytime they want to get connected with the new server, just to ensure whether the connection is perfect or not.
Throttle-free Gaming Experience – IPVanish & Lag Assassin Partnership
Lag Assassin is renowned gaming acceleration service which connects users' with best routing channel that assist in minimizing 'LAG' hence providing you with competitive advantage and ultimate gaming pleasure. IPVanish established a partnership with Lag Assassin; both services own Tier-1 Global Network which ensure faster network connection, minimize disconnection and advance lag spike. This partnership enables IPVanish subscriber to avail better online gaming connection then ISPs. Since their routing channel is shorter and transition systems are much faster there will be minimal throttle in the service.
Uninterrupted connection which runs in the background allows subscriber to dominate on their opponent through greater speed and stealth. Few of the popular games supported are World of War Craft, Diablo, Tera, EVE Online, League of Legends, World of Tanks, Guild Wars, Aion, Star Wars, many more.
Here are some tricks of trade to experience better gaming performance: User Location, Website Location, Number of Users on the Server, Encryption Protocol used and the Route which connects you with Gaming Server – these factors matter a lot. You can do anything about your location but select IPVanish server which is closer to your current location. Select the server which not overloaded with members (if possible) and instead of OpenVPN or SSTP use PPTP protocol – it is fastest among all because of 128-bit low encryption level.
Whereas, it has been noticed that it does not work 100% perfectly because at times it is observed that it shows our original IP address once we connect it to VPN. However, we checked it through online portal we found ourselves somewhere between VPN and the 3rd party IP checking devices displaying IPVanish VPN's IP address; hence we recommend you to keep an eye on IP online with VPN connection software you prefer to use. In actual, the software has potential to use some polish in the U.I and U.X areas in order to perform good function with applications.
IPVanish Software Client
IPVanish offers dedicated software for Windows, Mac, Ubuntu (Linux), Chromebook and Routers (DD-WRT and Tomato) platforms. Also they have dedicated apps for Android, iOS (for iPad & iPhone) Windows Mobile. You can download the setup (around 7.1 MB) directly from IPVanish website; it won't take more than 3 minutes (depending on your internet speed). Once the downloading is finished, click on the executable file to start installation. You have to provide administrator's password for installation, once the installation is completed click on IPVanish VPN exe created on your desktop.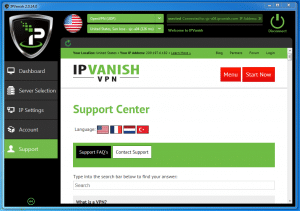 IPVanish VPN client is simple and light. It is primarily divided into five sections; Dashboard, Server Selection, IP Settings, Account and Support. Click on 'Connect' at the right hand top corner. You can select desired protocol and server from the top of client software. Diagnostic and Setting tab are available in dashboard. Multiple options like port of OpenVPN, authentication and startup options are available in settings tab. In server selection subscriber can choose fastest server, gaming and media streaming according to their requirement. Periodic IP change and OpenVPN driver installation options are provided in IP Setting tab. Account information, user profile, billing and subscription options are available in account section of IPVanish client software. FAQs and Contact Support option are provided in multiple languages in the Support section of client.
Is it all bright and white about IPVanish..?
Although, we are satisfied with functionality and application aspects of IPVanish VPN, but sometimes we find disappointment in it when it takes more than usual to start. Their software almost takes 10 to 20 seconds to start on a decent computer; it is a complete reboot time.
We looked into the matter and tried to figure out that why it takes this long to begin the process. It order to resolve the issue and find its solution we used a packet analyzer tool known as Wire Shark and finally we noticed that IPVanish VPN software is sending a number of ICMP requests to every VPN server to show the status and connectivity time. Further, it is worth-mentioning the IPVanish VPN software that is responsible for providing VPN server based on ping is very simple for the users to choose the VPN server that is near to their location depending upon the routing and network status around.
The ping response is recommended for great connectivity because it is not always necessary that the router that is near to your location works well whereas the quality of services is more important.
Setting up IPVanish VPN Connection
We gone through other users' review on IPVanish VPN to note whether to start up with a new VPN connection is difficult or not; but, luckily we found out that IPVanish facilitates its customers with useful guidelines comprised of step by step instructions. These instructions help subscribers to acquire and use the new VPN connection with convenience.

The automatic software download made our job further easier as the software was compatible with Mac OS,Windows, Android and iOS platforms. Apart from the automatic software, IPVanish website also provides manual instructions for the new users, which were available for several platforms including, iPad, iPhone, Ubuntu and others.
IPVanish VPN Setup for Windows 7 PPTP | L2TP
Press the 'Start' menu or 'Windows' button that is present on the lower left portion of your desktop screen. Now, locate 'Control Panel' in the list and click on it.
In the 'Control Panel' find 'Network and Internet' and open it by clicking.
Now, open 'Network and Sharing Center' from the available options.
From 'Change your Network Settings', Click on 'Setup a New Connection or Network'
Choose the third option 'Connect to a Workplace' and Click on 'Next' appearing on the lower right portion of this panel.
Be informed that this option will only appear if have previously configured a custom connection through 'Network and Sharing Center'. Otherwise move on to next step or select the label 'No, Create a New Connection' and continue by Clicking 'Next' button.
Select 'Use my Internet Connection (VPN)' from this panel and click.
In the 'Internet Address' field, put IPVanish hostname which you choose from list of available host from IPVanish Website. Remember the default address in that field is not valid and must be replaced. In 'Destination Name' input any suitable name according to your will; this is description of the setup connection.
Now, from three options provided below, 'Check' only the last one which says 'Don't Connect now, just set it up so I can Connect later'. Then click on 'Next' button.
From the confirmation email sent from IPVanish team, check your 'User Name' and 'Password' and enter both in the respective fields. Tick mark 'Remember this Password' if you wish to avoid re-entering password again and again. Leave 'Domain' field as blank and Click on 'Create' button present at the lower right corner.
Now click on 'Close' button at the lower right corner and click to continue.
Again go to the 'Network and Sharing Center', at the left side of panel you will find a 'Link' second at the sidebar on the top 'Change Adapter Settings'. Click on this link.
Lookout for the connection you just created, right click on that icon and select 'Properties'.
Confirm that the hostname is correct and move forward by clicking on 'Security' tab which appears at the top of the panel.
Click on the drop-down which says 'Type of VPN', and select 'Point to Point Tunneling Protocol (PPTP)' OR select 'Layer 2 Tunneling Protocol (L2TP)'. You don't need to configure anything else on this page except the label 'Allow these Protocols' button confirm that only 'CHAP' and 'MS-CHAP V2' option are checked OFF.
Now, in the 'NETWORKING' tab, uncheck 'TCP/IP v6' and 'File and Printer Sharing for Microsoft Networks'. Click on 'OK' button at the lower right side of the panel.
In order to test your 'Login Credentials' and 'Settings', go to 'Notification Area' and find an icon of 'Computer with a Cord and Plug' and click on it. Locate your Connection you just made and click on 'Connect' button.
After clicking 'Connect' button at the left bottom of the Panel, wait for 30 seconds and confirm your connectivity status by opening the 'Notification Area' which popped-up in taskbar.
Now you are CONNECTED – browse the net with optimum freedom and complete security.
In case of any issue with the connection you will be notified through this Pop-up. You can contact customer support of IPVanish for resolution of any issue.
IPVanish VPN Setup for Android – PPTP | L2TP
In your Android device open 'Settings' by tapping over it.
Find 'Wireless & Networks' option in Setting menu and tap on it for next step.
Locate 'VPN Settings' option in 'Wireless & Network' and tap on it to move forward.
Now press 'Add VPN' to create new VPN account.
Select the protocol of your requirement; 'Add PPTP VPN – Point-to-Point' or 'Add L2TP/IPSec' on this screen.
Input a descriptive title for your new VPN Connection in the 'VPN Name' field.
Select a server from the list available on IPVanish website and press 'Set VPN Server' option. You have to enter the chosen address in this field. Remember, the default hostname is invalid and only for example. Also, tick on 'Enable Encryption' option and continue.
You have just finalized the settings, find 'Save' and tap on it. In case you have selected L2TP/IPSec you have to enter IPSec key that is 'ipvanish' by tapping over 'Set IPSec Pre-Shared Key'. Click 'OK' to continue.
Your device will take you to previous screen of 'VPN Settings' once you have saved the configuration. Your newly created VPN Connection would be listed here, test your connection by tapping over it from 'VPN' category.
Once login dialog appears, enter your login credentials received from IPVanish email. It includes your 'User Name' and 'Password' that is required for login. Enter both and tick on 'Remember User Name' if you wish your device to remember it.
Now tap on 'Connect' button. It will take around 30 Seconds to connect with IPVanish Secure Server. In case of any error re-check your settings and login credentials, if issue persist contact the customer support division of IPVanish for resolution.
'Connected' message will be displayed below your Connection Name. To check your VPN session swipe down and go to 'Notification Area'. Find a Key shaped icon and locate connection name. Your current status will be shown after it; counter here will indicate the duration of VPN session.
Now, you can freely browse the internet – your online activities are hidden from hackers, spammers and monitoring agencies.
Conclusion on IPVanish Review
IPVanish VPN truly excels at everything; starting from managing their own Tier-1 VPN network, it offers wide range of VPN servers strategically distributed throughout the world. Their speed is phenomenal especially on high-end encryption protocol like OpenVPN.
They offer dedicated apps & client software for all popular platforms Windows, Mac, Linux, iOS, Android, etc. plus IPVanish subscribers can manually setup VPN on any device with the help of tutorials provided on official website. Also, they offers 7-days money back money guarantee which ensures that you got ample time to evaluate their performance by yourself.
The pricing is really good.
IPVanish have a wide network of servers and IP addresses
Plus, the speed is beyond expectations.
We highly appreciate that IPVanish services allow us to stay connected with 5 VPN connections at a time with the same account.
The startup instructions given on the website are of great help.
As per our experience with IPVanish software, we think that the software needs some improvements.
PPTP implementation does not work up to our expectations. In our understanding, the whole focus of the service providers is on OpenVPN implementation, while they do not pay attention towards the testing and proper functioning of PPTP.
Our rating of IPVanish services is 8/10, while in comparison to other VPN providers we are pretty much satisfied with its good features. We hope that after going through this IPVanish review, our readers will gain good understanding of their VPN services.