Today, I'm going to dismantle and analyze IronSocket VPN piece by piece to help you make an informed decision before committing to a subscription. Before we dig into the pricing model, the following quickly summarizes this affordable VPN service:
Pros
Proxy server connections at no additional charge
Seven-day money-back guarantee
Three simultaneous connections
Cheap pricing
Allows peer-to-peer (P2P) and BitTorrent traffic
Cons
P2P and BitTorrent traffic severely limited to a small set of servers
Inconsistent speeds across different locations
Lacks advanced features
Bottom Line
IronSocket offers efficient pricing with abundance of features for improved connectivity and online privacy. DNS Proxy, Socks5 and P2P optimization summed up to make IronSocket a preferable choice.
How Much Does IronSocket Cost?
IronSocket VPN has a pretty attractive pricing model, costing less than most other providers. While it isn't the cheapest VPN on the market, the monthly plan is surprisingly affordable. Typically, I recommend staying away from monthly subscription plans, because they don't offer any savings and can be quite expensive. However, IronSocket is so cheap that even the monthly plan is practical.
The following outlines the pricing model for IronSocket VPN: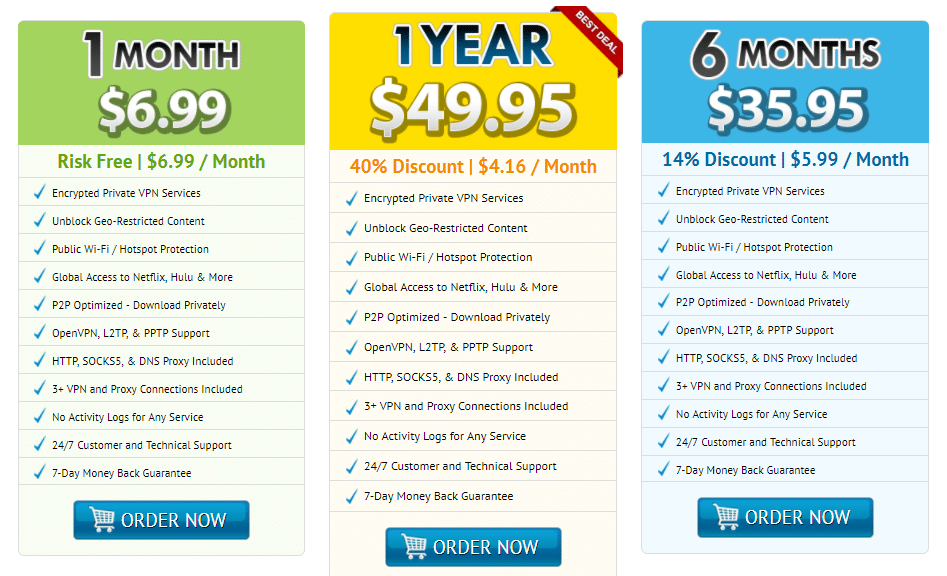 Some providers offer monthly plans that cost around $12.00 per month. However, IronSocket VPN has a monthly plan that's even cheaper per month than many other providers' monthly cost even when discounted annual subscription rates are taken into account. For example, the monthly cost of ExpressVPN's annual plan is $8.32, whereas the single month plan for IronSocket is a mere $6.99. Furthermore, IronSocket VPN has an annual plan that's approximately half of ExpressVPN's annual plan.
Unfortunately, IronSocket does lack a free service and a free trial. Like many other VPN services, IronSocket makes do with a seven-day money-back guarantee. That's nothing to write home about, but it is better than nothing, and gives new users a week to try out the service risk-free.
IronSocket Features
While other VPN providers offer tiered service levels with different features, IronSocket simplifies its subscription model by giving every plan the same set of features. As such, the only reason to choose one plan over another is based on the amount of time you'd like to subscribe, and how much money you want to save. Some of the features listed on the website, however, aren't really special, since every other VPN service has the same functionality. A few examples of these common features include:
Encryption
Ability to unlock geo-restricted content
Public WiFi protection (due to encryption)
Ability to connect to sites like Hulu and Netflix
No online activity logging
24/7 customer support
Also, note that IronSocket VPN allows up to three simultaneous connections. That's neither exceptional nor poor, though increasing numbers of VPN providers are upping the amount of simultaneous connections permitted. Many service providers now offer up to five concurrent VPN tunnel connections, while IronSocket offers just three.
It should also be noted that IronSocket VPN offers more than VPN connections – it also throws in three different types of proxy connection for free. This gives users plenty of flexibility and the ability to reduce overhead by opting for faster (albeit less secure) proxy alternatives. The different types of connections offered with any subscription include:
OpenVPN
Layer 2 Tunneling Protocol (L2TP)
Point-to-Point Tunneling Protocol (PPTP)
Hypertext Transfer Protocol (HTTP)
Socket Secure (SOCKS5) proxy
HTTP web proxy
Domain Name Service (DNS) proxy
It was refreshing to see all of these connection options rolled into one subscription. Some Smart DNS and Smart VPN providers are nothing more than proxy services, don't offer encryption, and cost more than IronSocket VPN. I can't imagine why anyone would sign up with a Smart VPN service instead of IronSocket, since it offers the same connection types but includes encrypted VPN tunnel connections.
The last feature I want to discuss is support for P2P traffic. Even though IronSocket does permit P2P and BitTorrent traffic, those types of downloads are severely limited to a small number of servers. Right now, IronSocket hosts servers in 39 countries, which is perhaps a few more global locations than the average provider. Unfortunately, IronSocket currently only allows P2P traffic on servers in nine locations (less than 25% of total locations), excluding the United States. The following lists the locations where P2P traffic is permitted:
Cyprus
Indonesia
Luxembourg
Netherlands
Romania
Romania
Russia
Taiwan
Ukraine
All other locations do not permit P2P traffic. I suppose it's not such a big deal, since people often terminate VPN tunnels outside of their home country to protect traffic as it crosses national borders. Still, I wish that BitTorrent traffic wasn't so heavily limited. It seems that IronSocket is simply trying to protect itself from liability and copyright infringement.
How Fast is IronSocket VPN
The speed test results sent me mixed signals, to say the least. The Hong Kong connection was phenomenal, and I had to pick my jaw up off the floor after seeing such a drastic improvement in download and upload bandwidth. Perhaps part of the reason the Hong Kong connection was so good is because that's where the company is based.
The USA speed tests, on the other hand, were dismal at best. The VPN tunnel to the US dramatically choked my bandwidth through a bottleneck, like sand through an hourglass. It didn't impress me in the least. I ran several speed tests on different servers in the same area to see if it was merely a fluke, but continued to get approximately the same results.
The IronSocket VPN speed test results were as follows:
Thailand to Hong Kong (no VPN)

Thailand to Hong Kong (with VPN)

USA-West to Thailand (no VPN)

USA-West to Thailand (with VPN)

While I was pleased that the Hong Kong location performed admirably, I couldn't stand the US-West connection. The connection was almost unusable by today's standards, and I noticed a significant impact on my ability to browse the web and download simple HTTP webpages. I couldn't feasibly download YouTube content either – it was intolerable.
Even though the Hong Kong connection was spectacular, it was overshadowed by the awful US-West connection. In summary, I think I'd give IronSocket two out of five stars with regards to speed.
IronSocket Customer Support
Overall, I thought that IronSocket's customer support was set up pretty well. It is gated and lacks a live chat feature, however, which makes it much more difficult to reach out to the support department with inquiries regarding this service's features. Even though I was disappointed by the lack of live chat, users do have the ability to submit a ticket via an online support form.
I have to hand it to the support department – they did a fantastic job filling out the support page with easily navigable, accessible, and easy-to-follow guides. The guides come with high quality images that detail every step of the process, which is fairly common. What I was particularly impressed with was how extensive the guides were. The guides show you how to set up just about any VPN connection or proxy configuration on almost any platform imaginable.
In fact, IronSocket went as far as to create guides that show users how to terminate VPN tunnels on their routers. I don't often find that VPN service providers have such detailed guides for non-standard platforms like routers, and have individual guides created for all the major manufacturers including Linksys, D-Link, Netgear, Belkin, DD-WRT, Tomato, TP-Link, and more. Thus, even though there isn't a live chat feature, I still have to give IronSocket four out of five stars for such an extensive and well laid out knowledgebase.
Is IronSocket Private?
IronSocket's privacy policy was mostly good, but there were a few small things that I didn't like, and a couple that surprised me. Let's start with the good news. First of all, IronSocket VPN is a "logless VPN provider," meaning the service won't log or track your online activities through the VPN tunnel. However, IronSocket does collect some information, which is actually pretty typical among comparable services.
One point in the privacy policy struck me as a little odd, since I don't often see it in competitors' privacy policies. It essentially bars users who are under 18 years old:
"If you are under 18 years of age, please do not use the Site or the Services. If you are a parent or guardian and believe that your minor has provided personal information to us, please contact us so that we can delete the information."
Furthermore, I thought the website itself collected a little too much information, though it wasn't anything so invasive that it would scare me away. The website collects:
The pages you viewed on the website (which is common)
How a visitor came to the site (which is common for marketing and linking purposes)
Your IP address, operating system, browser type and time of visit (which I thought was a little more information than needed to be collected)
Again, there's nothing here that's really a deal breaker, and the raw data collected about VPN tunnel usage is pretty standard. More specifically, the VPN servers log the following data types:
Timestamps for server connections and disconnections
Which servers an account connects to
Your true IP address
Total data transferred
If you're worried that IronSocket VPN collects too much data, remember that almost every VPN provider collects this data to monitor network and server performance. The bottom line here is that none of your online activities are monitored, so you can browse the web with security and anonymity.
IronSocket VPN: Conclusions
Overall, I was pleased with IronSocket and would recommend it to others. I think IronSocket is an ideal fit for those looking for a cheap VPN provider that offers a decent level of service. I really only had two big complaints. The first thing I didn't like was the restriction on P2P traffic, though that's easily circumvented by selecting one of the nine locations that permits P2P downloads.
My second problem was the awful US-West speed test results, which were consistent across several repetitions of the test. If you're trying to download content that's exclusively available in the United States, I'd look for another provider. Still, I do have to give credit where credit is due, and was blown away by the results of the Hong Kong test.
Finally, remember that IronSocket doesn't have advanced features, like a VPN kill switch. It's not really a necessity, but if you download a lot of BitTorrent files, it's nice to have. If your main concern is finding a low cost provider with decent global locations and strong encryption, then I'd recommend IronSocket. If, however, speed is of the utmost concern, I'd shop around for another provider.