Pros
Dedicated Apps: Android & iOS
SmartDNS Proxy Available
7 Days Money Back Guarantee
3 Simultaneous Connections
24/7 Live Chat & Email Support
No Activity Logs
Bottom Line
IronSocket offers efficient pricing with abundance of features for improved connectivity and online privacy. DNS Proxy, Socks5 and P2P optimization summed up to make IronSocket a preferable choice.
IronSocket offers a highly cost-effective pricing plans for VPN seekers. In a world where every second VPN provider is offering target audience the world on a silver platter, IronSocket stands among the few that are delivering true value for money. This IronSocket VPN review will give you a tour of everything that the provider has to offer and the hard facts about the VPN provider that is growing rapidly.
Only $4.16 a month / 7-Day Money Back Guarantee
The Standard IronSocket Package
There is only one package that you will find on the IronSocket website, and that one package contains every feature that you can possibly desire. You don't have to spend hours poring over different packages or punch numbers to figure out how much it will cost you to switch between packages in the middle of the month. The IronSocket all-systems-go package is a complete and comprehensive set of options, features and benefits.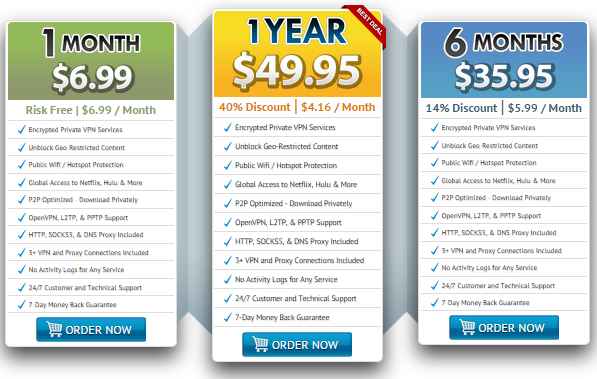 As an added advantage, the IronSocket VPN package is available in the form of three pricing plans. Each pricing plan is of a different time-length. Currently there are 1, 6 and 12 month plans, with the average cost per month decreasing as you increase the size of the plan.
IronSocket VPN Pricing Plans
The 12 month plan is the best deal you will find at IronSocket. It comes for a total cost of $49.95, which brings your monthly cost to $4.16. Considering the fact that all IronSocket plans include the multi-login feature, the cost of one VPN connection actually comes down to half of the price tag!
The 6 month plan is the one-size-fits-all deal at IronSocket. It is available for a total cost of $35.95, which comes to a monthly average cost of only $5.99. It has all the same features as the 12 month plan and has no strings attached.
The 1 month plan comes for $6.99. This might seem like the most expensive plan when you compare it to the 6 month plan and the 12 month plan, but it is actually very cheap when you compare it to the price tag that other established VPN services place on their 1 month plans.
Only $4.16 a month / 7-Day Money Back Guarantee
Free Trial & Money Back Guarantee
IronSocket is not offering a free trial at this time. However, there is a very nice money back guarantee that applies on all plans. In fact, the money back guarantee more than makes up for the absence of a free trial.
All IronSocket plans come covered in a neat little 7 day money back guarantee. Normally, VPN providers don't offer more than a day or two, while some don't offer a money back guarantee at all, so it was very pleasant to see a nice decent 7 day refund policy after so long.
7 days is more than enough time to try out a service and to resolve all issues (if any come up) by contacting customer support. If you are not satisfied in a week then IronSocket will understand your concern and refund you your money. Simple, straightforward and sincere!
IronSocket VPN Server Network
IronSocket currently has more than 50 VPN servers deployed in 36 countries around the world. With more servers added every month, the IronSocket VPN network is steadily growing into an encryption and tunneling tool that you can confidently rely upon. Number of secure servers, especially their location matters a lot when you acquire VPN to access geo-restricted regions.

Monitoring IronSocket VPN Servers
Visiting the 'Network' page on the IronSocket website will show you the exact number of servers that are active as well as their exact locations, P2P statuses (allowed/not allowed), and configurations (for users who want to setup IronSocket VPN manually). In addition, the 'Network' page also tells you details about the protocols that specific servers offer. You can browse through the full range of IronSocket's OpenVPN, PPTP, L2TP, HTTP, SOCKS5 and DNS Proxies on this page.
Only $4.16 a month / 7-Day Money Back Guarantee
You will find VPN giants that boast about VPN servers in over a 100 countries and over 500 VPN servers, but the amazing part is that IronSocket manages to pull off all of that with no more than half the resources. Anybody who has been using VPN for a few years will tell you that this is the classic sign of a tier-1 VPN provider that is bound for greatness in the near future.
Full Scale Compatibility
IronSocket is the most device/platform friendly VPN provider you will ever find. It runs on almost all commercially available versions of Windows, Mac, iPhones, Android, Routers, and Smart TVs.

There is a very long 'Setup' page on the IronSocket website that contains a menu of the tutorials for each individual device and platform that IronSocket supports. Setting up IronSocket on the device of your choice will not take more than a minute or two – and the support team is always on standby to help you get your IronSocket account up and running.
Payment Methods
IronSocket accepts payments through almost every payment method known to man. This includes all kinds of credit cards, online money merchants, gift vouchers, etc. However, a sensible approach would be to contact the support team and confirm the status of your preferred payment method before making a payment – to any VPN provider let alone to IronSocket.

Also, don't forget that your payment will be covered and secured with the 7 day money back guarantee, so you have nothing to fear.
Verdict
A flood of VPN providers has swamped the internet in the last few years. This has made it very difficult to separate the good Samaritans from the bad eggs. Luckily, there are a handful that has chosen to exercise complete transparency and sincerity in service delivery. IronSocket is one such service and the desire to deliver quality and reliability to VPN users is clear in all aspects of the service.
The cost is great, the server network is very nice, the compatibility is comprehensive, and the availability of features is unrivaled. It would be fair to bring this IronSocket VPN review to an end with the verdict that the provider qualifies as one of the best VPN providers available online – for all kinds of internet users and for all the purposes of online security, anonymity, accessibility and internet freedom.
Only $4.16 a month / 7-Day Money Back Guarantee