Pros
Split Tunneling Option
OpenVPN (TCP, UDP)
Support P2P File Sharing
5 Multi Logins
'No-Log' Policy
7-Days Money Back Guarantee
Cons
No Free Trial
Slow Customer Care Response
Bottom Line
Ivacy grabs attention with its low end pricing structure, plus their server spread is impressive. Although, not among the fastest or most reliable VPN provider but holds minimal trial risk due to its economical price.
In the highly competitive market of VPN providers; Ivacy VPN holds a dignified place offering 250 servers in 100 different locations along with brilliant new add-ons in its latest debut in 2015. This is the first VPN Company to propose the feature of split tunneling. Hence, eventually gaining trust of online freedom lovers with its relaunch offering cool add-ons to enhance security and privacy over the internet!
Subscription Plans:
Ivacy VPN is offering the cheapest subscription plans to its consumers if compared to its amazing services along with sparkling discounts. There are three plans proposed by Ivacy with the services remains same for each plan but differing only in time period and there cost consequently!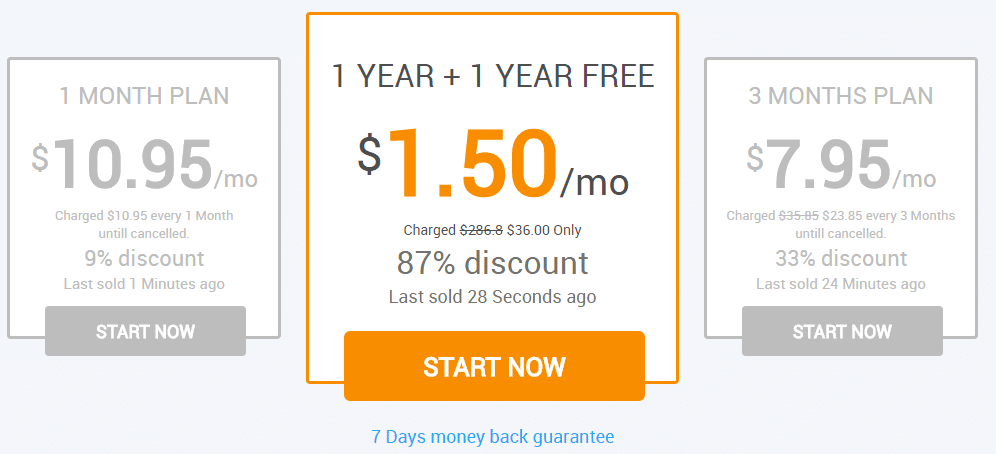 For those who need a VPN for a short period can avail the 1 Month Plan which costs $10.95/month with 9% discount offer. However, the most recommended plan by Ivacy is the Annual subscription plan. It gives you a discount of 86% discount with monthly cost reduced to as low as $1.50 that sums up to $36 annually!
Each subscription plan comes with 7-days money back guarantee. Although, 3-days free trial by Ivacy are sufficient to test the VPN services but Ivacy recommend their customers to try out the services on various devices and make full use of 7-days, keeping in mind the policy that you don't exceed the limit of 500 MBs value bandwidth!
Different Payment Methods
With excellent subscription plans, Ivacy currently offers six easy online payment methods for their subscribers to pay easily from anywhere around the world using one of the different modes:
Credit card
PayPal
Bitcoin
Paymentwall
Perfect Money
Web Money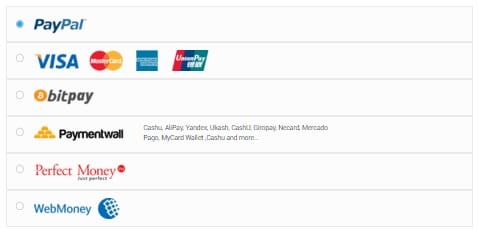 These payment methods are widely accepted all around the globe so the Ivacy subscribers only need to go to the billing page; choose a plan, create login credentials and finally select the payment method.
Wide Spread Servers Optimized For P2P File Sharing:
Ivacy VPN servers are located in 4 continents and network widely spread throughout the most important regions around the world. It offers 250 servers in 100 different locations which mean there are hundreds of thousands of IP addresses to connect with so as to anonymously browse blocked contents and geo-restricted websites.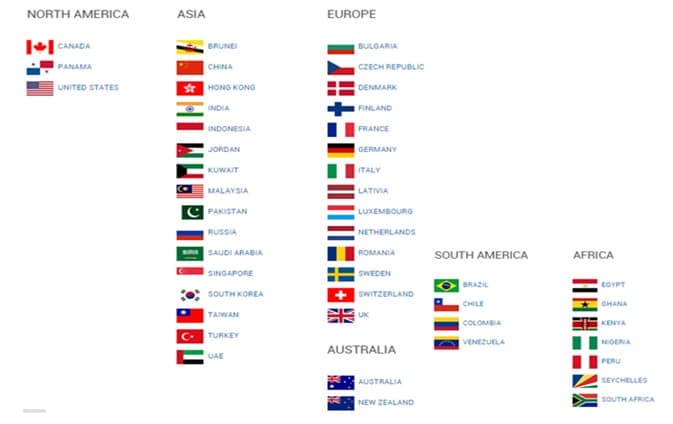 The overall upgraded infrastructure of Ivacy has come up with great improvement specifically, P2P file sharing by high speed servers. This means Ivacy user' can now enjoy torrenting facility with complete security and privacy!
With Ivacy VPN you can unblock websites like Hulu, Netflix, Pandora, BBC iPlayer and stream various other channels. Moreover, countries like China and Turkey with internet censorship can also be accessed with Ivacy VPN as the server location includes Germany, Turkey, Australia, China, US, UK, and more.
Cool Add-Ons of Ivacy VPN
Ivacy VPN has revamped its design to add more security and privacy of their users. One does not have to pay more for add-ons after the recent debut of Ivacy. The additional features of Ivacy include:
This feature allows users to tunnel the sensitive data through Ivacy VPN and save bandwidth of your internet while letting other remaining unimportant data to run outside the VPN.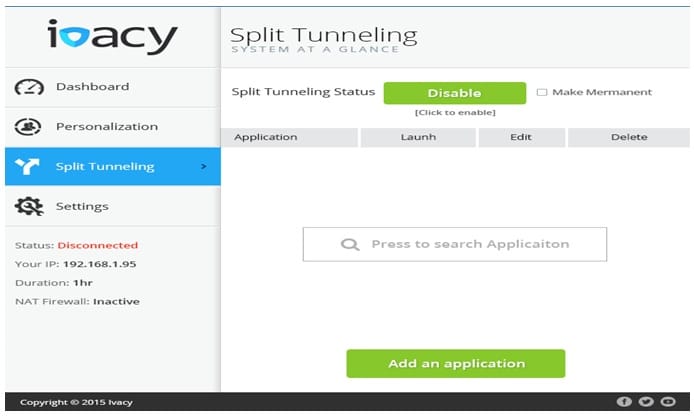 1
This add-on is designed to provide "leak proof" security over the internet. It actually works like a "kill switch" because all of your internet activities get closed when either you lost your VPN connection or your VPN fails to work.
Another welcomed feature is NAT firewall which is an additional layer of protection for blocking all unrequested traffic that might harm your devices by filtering your network.
Distributed Denial of service (DDoS) attack is an attempt to make a machine or network resource unavailable to its intended users, such as to temporarily or indefinitely interrupt or suspend services of a host connected to the Internet. With new DDoS protection add-on, all the incoming data traffic will get filtered and you will be free from DDoS attacks!
Identity Theft Protection:
Ivacy VPN gives you high-graded encryption and masks your identity keeping you anonymous and super-safe from cybercriminals.
Yes! You can login to 5 different devices with single account simultaneously with Ivacy VPN. We were pleased to see this feature in Ivacy VPN as not many VPN providers offer this multi logins.
Device Compatibility:
Device compatibility has become priority when purchasing a VPN as many VPNs fail to work on different devices due to low compatibility. Ivacy compatibility is above average as compared to its older version of service. It is compatible with all major devices and operating system including:
Windows (XP, Vista, 7 and onwards)
Mac OS X
Linux OS
Blackberry devices
Android
iOS devices
The new brand is also compatible with smart TVs, gaming consoles like PS3, PS4 and Xbox and various routers. In addition to these, Ivacy offers exclusive apps for Android and iOS devices and VPN software for Windows and Mac OS.
Privacy and Security:
Ivacy has chosen its Headquarters to be in Hong Kong where there are no mandatory data retention laws so that the company has no obligations to store your metadata or to keep an eye on users' online activities. Instead, online privacy and security is the most important concern for Ivacy.
Secure Protocol and Encryption support:
Ivacy provides top-notch online security over the internet offering four different tunneling protocols to escort your private data.
PPTP
L2TP/IPSec
SSTP
OpenVPN (on either UDP or TCP)
For fast streaming and browsing, PPTP is a better option but security wise it is unsafe! Therefore, if security is your priority then we recommend using OpenVPN which is the most trustworthy protocol providing absolute security and privacy. So, with Ivacy VPN you can enjoy full online freedom as you desire!
Along with secure protocols, Ivacy look forward to provide their customers with high-graded data encryption offering 256-bit encryption algorithm. This high functioning algorithm shields all your data traffic from cybercriminals and snoopers from snooping sensitive and private data.
As part of privacy and anonymity, Ivacy holds "zero activity logs" policy. It clearly states that it does not track or log their users' online activities. The only information they have is the users' connectivity time frame with one of their servers and the assigned IP address.
Also, Hong Kong based company has no strict internet rules and free from data retention law so Ivacy is not legally bound to retain users' information.
Therefore in its latest version Ivacy shows serious concern about their customers' online privacy with this no log policy. Yet! Still finding ways to enhance privacy policy, and secure browsing to foot strongly in VPN industry!
Customer Support:
Ivacy VPN provides multiple ways to contact, 24/7. The most direct way to contact is via Live Chat. Users were found satisfied by the assistants' immediate responses to their queries providing clear details and information about the product and resolving the issues on live chat.
Further, it also provides you with email and ticketing system but these methods takes relatively long time in receiving a response. But help via telephone and skype call is also available for more detailed information in their customer support service! Social accounts are also available for feedback including Facebook, twitter, Google+ and YouTube
Company also provides extensive setup guides and detailed FAQs. Even there address is publicly available on their websites as they invite users to personally visit them in Hong Kong which is really exceptional thing among various VPN giants!
Ivacy VPN Review – Conclusion:
Reviewing for Ivacy's recent debut, we were pleased by the improved version, bundled with more advanced features for enhancing security and privacy as compared to its predecessor. However, it still needs improvement in certain areas but as it is new in the market of VPN so it deserves some space of errors.
On the whole, Ivacy is a good VPN service providing over all great performance and making it a strong contender in VPN industry. Therefore, we recommend our readers to just give it a shot and enjoy the additional features to get secure connection and privacy over the internet!