Pros
Unmetered Bandwidth
3 Multi-Logins
No Data Logging
3 Days Money Refund Policy
Multi-Lingual Website
Access Blocked Poker/Casino Sites
YouTube Channel
Liberty VPN, which has served 8 years in the VPN industry, is headquartered in Marshall Islands in the Pacific Ocean. This gives a cutting edge to this VPN provider that it is free of any US laws and regimes. As its name implies; Liberty VPN provides a total online liberty over the web.
You can get amused on 3 different devices with the multi-login facility. Besides this, Liberty VPN possesses other various amazing features for which we endeavored to write this Liberty VPN Review to make you well-known with all that you can get from this wonderful VPN service provider. Read out the detailed review of the service provider on VPN Analysis before jumping to purchasing decision.
Pricing Plan
While writing this Liberty VPN Review, we were not fully fascinated with the prices that Liberty VPN offers on each of their plans. We find it partially tilted towards the pricey side. However, if you have a look over the features they provide, you will never mind losing some extra Dollars for the sake of getting a full online liberty on the web.
Liberty VPN offers 4 plans to subscribe to their VPN services. All the plans provide same services in terms of protocols, encryption, bandwidth etc. The difference lies in the prices of each which is based on the duration of how long you want to subscribe to their services. These subscription plans include:
• Yearly Plan
As any other VPN provider, Liberty VPN also believes in 'the longer you subscribe, the cheaper you have to pay'. Keeping this in mind, Liberty VPN has set the yearly plan as the most affordable of all other plans. This is the reason why it is the most popular package among the VPN users. It costs up to 8.99 USD per month making a total for 12 months i.e. 1 year up to $107.99 yearly.
• Half-Yearly/ Six Month Plan
The Half-Yearly, or in more simple words, Six Months Plan is available for half of the year with a price up to 11.33 USD per month. This makes a payable amount of $67.99 after every six months. It also provides an unmetered bandwidth with which you can stream your favorite channels without any worries.
• Three Month Plan
The Three Month Plan can be beneficial for the expats who happen to travel to a country full of censorships for a short period of time. It is available at a price of 12.66/month i.e. a lump-sum amount of 37.99 USD after every three months.
• Monthly Plan
The Monthly Plan is mostly subscribed by the people indulged in a wide spread business or those who wish to go abroad for business meetings or other business activities or tours for a month. The Monthly Plan will cost you $14.99/month with all popular protocols available to connect with.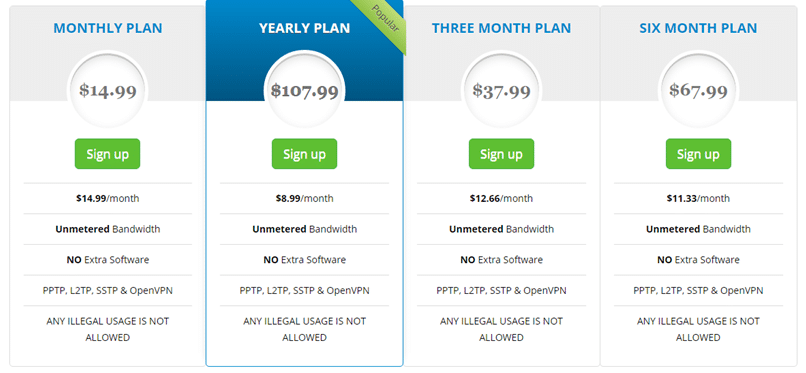 Money Refund Policy
The money refund policy of this VPN provider is very simple with some limitations over the bandwidth. They have a 3 day money refund policy; however, they state on their official website, if you are not fully satisfied with their services then you can ask for your 100% money back via an email within 5 days after the subscription/contract. Plus, for this money refund, you must meet their requirement of bandwidth usage not more than 50MB.
Payment Methods
They provide an ease to all its customers in this regard by accepting all the secure online credit cards. These credit cards include MasterCard, Visa, PayPal, Wire and Check. Although, the most anonymous Bitcoin payment method is not available but the other available options also assure a secure payment method that are trusted round the globe.
Servers & Their Locations
Any information regarding the number of servers is not stated on their official website. However, the number of countries where their servers are situated is stated on the homepage. They have their servers located in 3 continents viz. Asia, Europe and North America.
They look forward to further increase the server spread in other areas as well. Till now, they have servers scattered in 9 different countries. These countries include the United States of America, United Kingdom, Hong Kong, France, Germany, Switzerland, Singapore, Netherlands and Canada.

No any servers are optimized for torrenting or P2P filesharing. The service can be cancelled at any time if they find any P2P traffic from your IP address or on any of their servers. You can connect to any of their servers without any hassle but the point to note over here is that there is no unlimited server switching permitted. Thus, you have to stick to the server you have chosen.
Features
Although Liberty VPN is yet a small VPN provider but it proffers exceptional cum amazing features and specs to trust their service. It is by far very fast, reliable and secure VPN which is capable to get you a key for a total liberty over the web.
• Access Blocked Websites
The all-time famous websites such as Skype, Facebook, YouTube, Google+ and Twitter have been censored in many countries. Besides these social media platform, there are a number of streaming websites that are found blocked in most of the regions. Using Liberty VPN, you can circumvent these geo-restrictions and get access to all those blocked websites with an ease!
• 3 Multi-Logins
Before clicking on the buy button for any VPN, the multi-login feature must not be overlooked.  Liberty VPN gives a pretty good number of simultaneous connections. You can connect up to 3 devices simultaneously with a single VPN account and enjoy your desired content on 3 screens at a time.
• Unmetered Bandwidth
For binge-watchers who are fan of streaming, Liberty VPN provides you unmetered bandwidth. That is to say, you can watch, stream and listen to your favorite music, videos, movies etc. without worrying about the bandwidth consumption.
• Easy To Use Software
The software of Liberty VPN is very simple and easy to use. It does not contain any hectic setup and is user-friendly in a real sense. You just have to spend a few minutes setting and configuring it up into your device. Once you are done setting it up, you are free to connect and roam over the internet the way you want.
• YouTube Channel
Unlike other VPNs, Liberty VPN has created a YouTube Channel which contains helpful guides regarding your VPN usage. There are setup tutorials for Windows and Mac. They also incorporate other issues like how to switch from one protocol to another.
Compatibility
Liberty VPN is found to be compatible in all major platforms and mainstream devices. Their compatibility list contains Windows (XP, Vista and Windows 7), Mac OS and Mac OS X, Android, iOS and Linux.No matter, you use a desktop, tablet, laptop, smartphone, iPad, iPhone or any PC, you just have to connect the Liberty VPN and get around the geo-restrictions.

You can access the blocked channels like Netflix, ABC, CTV, BBC iPlayer,Hulu, NBC and FOX etc. and websites like Facebook, Twitter, Skype and YouTube etc. from anywhere by just spoofing your actual IP address.
Security and Privacy
The security and privacy criterion is the first primary concern for a VPN user as well as provider. While creating VPN service software, a VPN provider keeps in mind what their customers will desire to have in their VPN.
• Protocols & Encryption
Liberty VPN prides itself for providing 256 bit bank-graded encryption with the most popular protocols like PPTP, L2TP, SSTPand OpenVPN. Depending on the protocol you wish to choose, you will have different levels of encryption to route your entire online traffic from the specialized VPN tunnel.
• Privacy Policy
The privacy policy of this VPN provider is crystal clear saying that they don't log any of the service usage information or online activities of their customers. However, they can use the site usage information as an aggregate.
A plus point with Liberty VPN is that they are based in Marshal Islands which means that they are not bounded by any data retention or mass surveillance laws or legislations like that in US or any other country.
Customer Support
While exploring about this VPN for our Liberty VPN Review, we were little disappointed by not seeing the Live Chat option on their website. However, they have covered their customer support category by providing a basic setup instructions and troubleshooting guide which helps you configuring Liberty VPN on your respective device and making correct the main VPN errors.
There is a section of FAQ which contains all possible questions that might pop up in your mind. If you don't find your required information then you can also contact their agent by support ticket whose maximum response time is 24 hours.
• Website
The website is comparatively appealing and lively providing clear information about the privacy policy, features, refund policy and other areas. It provides a multi-lingual platform available in a number of different languages including Greek, English, Arabic, Chinese and Turkish.
Conclusion
Now, after going through our Liberty VPN Review, you have good information about this VPN provider and would surely have made up a clear image of Liberty VPN. Overall, Liberty VPN is a decent VPN service provider with amazing features and multiple pricing plans to choose from. Sorry to the Torrent Freaks, as they does not support any illegal P2P filesharing from any of their servers. All in all, Liberty VPN can be a good choice if you are privacy and anonymity concerned VPN user.