Pros
P2P Optimized Servers
8 Multi-Logins
DDoS Protected VPN Connections
Modulating IP VPN Servers
Zero Logs
Liquid Lock
Unlimited Server Switches
Unlimited Port Switching
Special Network Topologies
Unlimited Torrenting
LiquidVPN is relatively new in the VPN space and yet strived to gain a leading position in the market. It was founded in the earlier half of 2013 by Dave Cox and is headquartered in Michigan, USA. LiquidVPN possesses many different eye-catching ad-on features like number of simultaneous connections and modulating IP addresses etc. All these features ultimately makes this VPN provider far unique than many other rivals in the industry. This LiquidVPN Review on VPN Analysis is to scoop up more about this VPN provider in order to gain fairly handy information about its services.
Pricing Plan
The pricing plans of LiquidVPN are categorized under 3 unique and attractive names viz. Sidekick, Road Warrior and Ultimate VPN Plan. Each of these 3 plans is available for a monthly as well as yearly subscription. They have sorted out their packages depending upon the number of simultaneous connections ranging from 2 to 8. The more your multi-logins, the more you have to pay.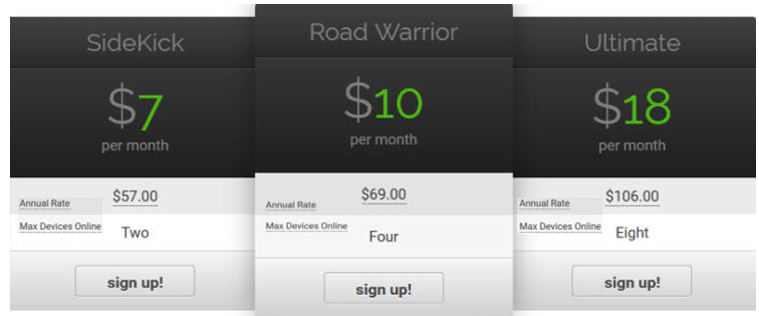 • Sidekick Plan
The Sidekick Plan is available for 1 month as well as for 12 month at a price of $7.00/month and $57.00 every year respectively. If you choose to buy it for a year then it will charge you $4.75/month which is comparatively cheaper than opting only for a month. This package comes with an offer of 2 multi-logins. No matter you have subscribed to the Sidekick monthly plan or the yearly one, you can connect 2 devices at a time.
• Road Warrior Plan
The Road Warrior is the popular-most plan among the three. If you wish to subscribe it for 1 month, it will cost you an amount of $10.00/month. However, for 12 month subscription, you have to pay $5.75/month i.e. a lump sum amount of $69.00 a year. Using Road Warrior Plan, you can connect up to 4 devices concurrently through a single VPN account.
• Ultimate VPN Plan
The Ultimate VPN Plan is named as it offers the highest number of simultaneous online connections i.e. you can connect a maximum of 8 devices online. This will charge you $18.00/month and$106.00/annum i.e. $8.83/month if you subscribe it for a year.
Money Back Guarantee
The money refund policy of LiquidVPN is similar to most of the VPN providers in the industry. They provide 7 days to test their services and its efficiency. If you find yourself unsatisfied or discontented for one reason or another, you can ask them to refund 100% of your money within the given time period of a week.
The usage limit which makes you eligible for the refund is less than 5 GB. If you exceed from this figure, you will not be able to get your money back. In addition to this, they have clearly stated in their Terms of Service that they don't refund cash and crypto currency payments.
Payment Methods
If we talk about the payment methods, LiquidVPN provides a good variation for paying for their VPN service. LiquidVPN accepts payments via PayPal, the most anonymous Bitcoin payments, Cash, credit cards viz. Discover, MasterCard, JCB, Visa, American Card, Diners Club and ENRoute.

Servers & Their Locations
The server network of LiquidVPN is not quite widespread. This VPN provider believes to proffer their customers with quality more than quantity. LiquidVPN has located their servers in around 10 countries including USA, UK, Canada, Germany, Romania, Netherlands, Sweden, Singapore, Russia and Switzerland.
They have set up their servers in countries considering the laws of that particular region and keeping their goal to deliver the best connectivity through every data center. LiquidVPN has 50+ servers that are spread in the most major areas round the globe.
They are looking forward to expand their server network with the passage of time. All of the servers work dedicatedly with 1 to 10 Gbp sports of network connection.  Among these servers, some of them are optimized for DDoS protections which are suitable for business and gaming purposes.  While, others are optimized for P2P traffic which are specially built for P2P and torrent lovers.
With 50+ servers, they provide 400 IP addresses out of which there are dedicated, shared, dynamic and modulating IPs. No matter, LiquidVPN has a small server network but they have everything for everyone within their small business.
The privacy as well as infrastructure of LiquidVPN is soon to be integrated with a network security monitoring engine, Suricata. This will enhance the network's security and privacy plus it will provide IDS, IPS protection, intrusion detection and more advanced IP modulation.
Exceptional Features
With all the remarkable efforts and hours of hard work, LiquidVPN has emerged up with some smart features which IT minded people will love to explore and experience. These features are exceptional and are found in no other VPN service all in one. Let's have a look into what they have come up with:
• Modulating IP
The IP modulation feature comes up on the screen as a big plus for the LiquidVPN making it a win-win for the company. This feature works by automatically and continuously changing your IP address within the same session of the VPN connection.
Using IP modulation feature, your server remains the same as to avoid any poor stability or disconnections. It is well-appreciated by the privacy-oriented folks as it blocks the ways of numerous hackers and cyber-intruders making them unable to trace you in anyway.
• Liquid Lock
The liquid lock of LiquidVPN is almost similar to the internet kill switch. This establishes an advanced, effective and integrated firewall rules which are tailor made with your requisite. It will protect your IP address if your connection with the VPN is terminated for any reason. As soon as the connection is re-established, all your internet activities will be resumed.
Moreover, it can prevent you from WebRTC, IPv4 and IPv6 leaks. You can even allow/block certain IP addresses or local or specified online traffic enabling the liquid lock. It is important to mention in our LiquidVPN Review that this liquid lock feature is only available for the LiquidVPN client users that have desktop PCs i.e. Windows and Macintosh users.
• Comodo Firewall
For the people who are not using the LiquidVPN client and still want to get a full-fledge firewall protection, then this is a suitable feature for you. The Comodo Firewall is a combination of VPN kill switch and firewall.
It is a free firewall which blocks all your online traffic and passes it only through the servers defined in the VPN server zone. It is also capable of protecting you from any DNS leaks by allowing the DNS requests via your approved DNS server list.
• Smart Streaming
You can stream your favorite channels using LiquidVPN with an ease of mind. Even if the site is a victim of DDoS attacks, you can easily continue to stream using LiquidVPN as it is capable of reducing these attacks at 10,000 Mbps without halting your internet speed.
• P2P Everywhere
LiquidVPN has established servers that are specially optimized for torrenting and P2P usage. There are no limitations on the bandwidth so, you can upload or download torrents freely.  With unlimited server switching, you can connect to a different server every time. Be wise in server selection as choosing a server located in a country with strict copyright laws can lead you to worse cases.
Network Topologies
LiquidVPN supports four distinct VPN tunnel topologies which can only be used by the customers using OpenVPN protocol. These topologies are based upon different types of IP addresses. These are the Public, Shared, Modulating and Static IP Topology.
• Public IP Topology
The public IP topology is usually recommended for gaming, P2P downloading, VOIP and other general uses which requires fast speed. This topology does not provide any NAT firewall to support your device. Hence, it is not suitable to use over smartphones or other handheld devices.
• Shared IP Topology
The shared IP topology is the default one which is assigned to you when you connect to the VPN using any of the supported protocols. Using shared IP topology, you are free of many cyber-threats as you are protected by firewall; thus you are unable to get traced. The IP address is shared between several users which may obviously cause the tracker to get confused in tracing a particular person.
• Modulating IP Topology
Modulating IP topology works in a different way to protect the user. The modulating IP addresses are mostly available in EU and US locations. This is the best way to access broken sites which may suspend your access after longer session with the same IP. Modulating IPs is advantageous for getting high anonymity especially for deep web users. It is only available for OpenVPN users.
• Static IP Topology
The static IP topology is not yet available on all plans and can only be used by the OpenVPN users. This topology assigns you the same unique IP address every time. The static IP topology allows you port forwarding for some specific traffic and this tunnel is traceable which you may desire to stay connected to a business setup remotely.
Setup for Windows
• Download the LiquidVPN App for your respective version of Windows.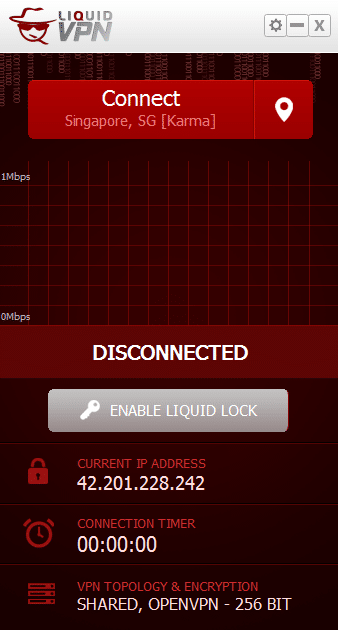 • Click 'Connect', a window will appear asking for the username and password which will be provided by the VPN provider on your email.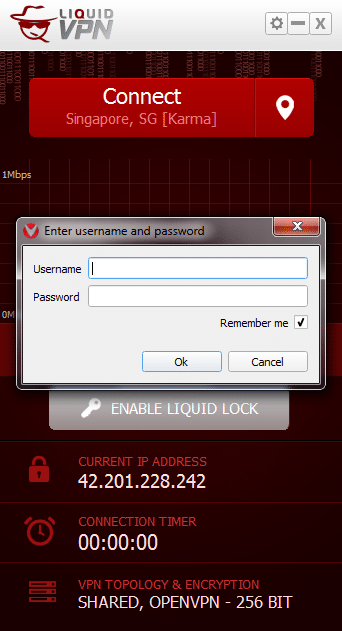 • Select the protocol and the server you want to connect with.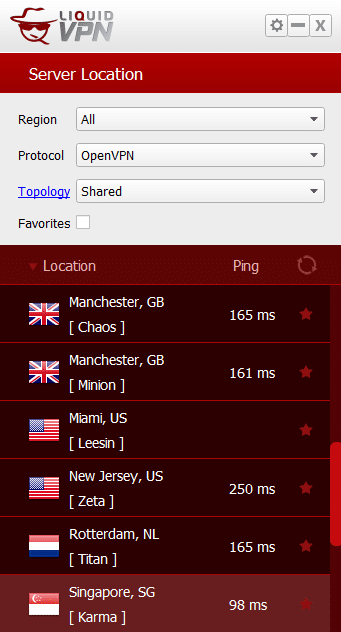 • Enjoy unlimited access to the digital world!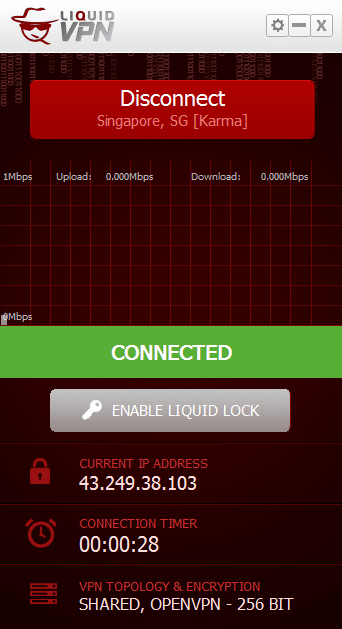 LiquidVPN Client
The LiquidVPN client is full featured software which can be used to connect to the VPN using any of the protocol i.e. OpenVPN, SSTP and L2TP. It has an easy user interface having regular updates and the newest server lists. With the smartest features, liquid lock and additional firewalls act like an icing on the cake with this VPN software.
Compatibility
The compatibility range of LiquidVPN is found to be pretty limited. LiquidVPN offers their custom client for Windows (Win XP, 7, 8 and 10) and Macintosh OS X only. Recently, they have introduced new Android VPN software for Android Smartphones and OS. Plus, LiquidVPN for iOS and Linux are to be released in the coming future.
The compatibility list of LiquidVPN also contains DDWRT and tomato routers. In spite of no particular apps for Linux and iOS, you can still connect to LiquidVPN by manual VPN configuration. They have provided helpful instructions and tutorials in their Setup Guide section where you can get your VPN connected using any device or OS.
Security and Privacy
LiquidVPN provider has set their goal as 'quality not quantity'. So they have worked over it well but still, there is room for further improvements in some areas. Let's gain some more information in our LiquidVPN Review about their encryption level and privacy policy.
• Protocols & Encryption
The protocols which are supported by LiquidVPN are L2TP/IPSec, SSTP, and OpenVPN. The SSTP VPN tunnel uses AES protection to get you around the strongest firewalls.
L2TP/IPSec also uses AES but the most recommended for all uses is the OpenVPN (UDP and TCP) which uses CBC 256-bit AES cipher encryption to protect the customers and can limit up as high as 2048 bit RSA key encryption which vary with the technology.
• Privacy Policy
LiquidVPN is headquartered in the country US. This is considered as the most difficult area to cope up with as USA possesses the most strict privacy laws and jurisdictions. The privacy policy of LiquidVPN is still clear and they stick to what they say. They have a zero log policy and do not maintain records of users' online activities.
They only keep the usage statistics and the server ID of the users' session. They have the right to ban or cease the account of anyone who is found doing abusive or detrimental activities against anyone, the country or the company.
Customer Support
There is not much to say in this LiquidVPN Review for their customer support. Browsing a VPN providers' web, one might look first for the Live Chat support, if any… Unfortunately, LiquidVPN support agents are not available directly through the live chat. However, they have a fast and responsive ticket system for resolving your queries.
The support agents are quick and very helpful in providing the answers to each of your questions. They even have remote assistance and do remote sessions on your device if you still not get to solve your problems regarding the setup or configuration.
The official website of LiquidVPN looks impressive but is saturated with information about everything. There is a Knowledgebase, Setup Guide, Blogs and FAQ section. They have provided much information about every aspect on their website so that you will probably find the answer to your question while roaming over there.
Conclusion
LiquidVPN is neither the largest nor the oldest VPN provider in the VPN industry. However, Dave Cox has managed to make it stand among the top-most VPN providers. LiquidVPN offers many exceptional features which have not yet seen in any other VPN provider bundled all in one.
The security is top-notch and you will be much pleased with their services. Although, there is a margin to develop more into some areas and improve in some aspects, still, LiquidVPN provides some special features which can truly make you anonymous over the web.
The IP modulation feature often results in slow speed but is totally beneficial for deep web users. All in all, we have tried to mention every possible feature, pros and cons in this LiquidVPN Review, now it's up to you how you see this VPN provider as your personal VPN service.