Pros
Unix-Based Fast and Stable Servers
FREE Anti-Malware
FREE Ad-Blocker
FREE NAT Firewall
Unbeatable Pricing
7 Days Refund Policy
24/7 Live Chat Support
Cons
P2P downloading not promoted, but not disallowed as well (This can be counted as a pro keeping in mind the legal issues associated with P2P platforms).
Not optimized for online gaming as of yet.
Mac and iOS Apps are missing.
Bottom Line
OneVPN offers fastest and reliable speed connectivity over the internet. It is an ultimate solution to ditch spying agencies and get seamless streaming access to all the restricted foreign content without hassles.
This OneVPN review will cover all the crucial details of the VPN provider including the speed test, features, server locations, add-ons and more. The VPN Company stepped into the highly-competitive market in May 2016, with the objective to provide everyone a one-stop-solution towards a faster, safer and boundless internet world. Though the VPN service is a new entrant, it has already shown so much potential, thanks to its highly experienced and hard-working team that works on a 24/7 basis at OneVPN headquarters. There definitely are some flaws in the service too that we won't overlook and definitely discuss in this review.
Pricing Plan of OneVPN
The USP of OneVPN is its price. While its monthly and semi-annual packages are also super-affordable, the special Buy 1, Get 3 Years FREE Package takes the top spot. This special plan offers OneVPN for $1/month, complementing the VPN's name "One" VPN. We have compared the prices with other VPNs, and it appears that nobody else is offering OneVPN's price. So OneVPN does have something unique to offer to their users.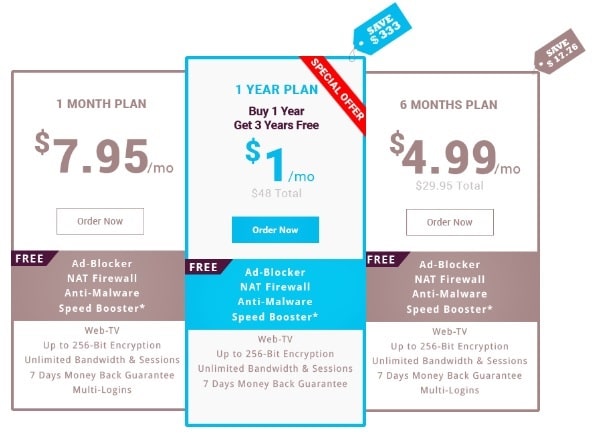 The Monthly Package costs $7.95 and the Semi-Annual Package costs $29.95. The best part is that all the packages come with FREE Add-Ons including NAT Firewall, Anti-Malware, Ad-Blocker, etc. OneVPN can be bought through all major payment methods including Credit Cards, Debit Cards, PayPal, BitPay, Gift Cards and more. OneVPN also offers FREE Trial on Android for an unlimited period. There is, however, a bandwidth cap of 3 GB on Android accounts and trials aren't available on other platforms.

Money Back Guarantee
OneVPN also offers a 7 Days Money Back Guarantee. Though most VPN providers these days offer a money back guarantee, what matters is whether or not the refund actually works. We asked a team member to buy an account and then request a refund to find out about OneVPN's response to it. To our surprise, the VPN provider did not show any annoyance and refunded us immediately. So the Money Back Guarantee is pretty good and worthy for OneVPN users.
Server Locations
OneVPN's servers are spread across the globe. The Unix-based VPN Servers are strategically placed in 18 countries from where most of the content can be accessed with the best speeds no matter in which part of the world a user is. Currently, OneVPN is offering servers in the following countries and promises that more servers will be added on a regular basis:

OneVPN Speed Test
We thoroughly tested OneVPN using different protocols and servers. OneVPN claims super-fast speed so we wanted to figure out if they were right about their claims. Here are the results of tests we conducted on OneVPN's Netherlands and Singapore servers using PPTP, L2TP and OpenVPN protocols on a 10Mbps connection: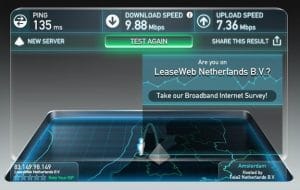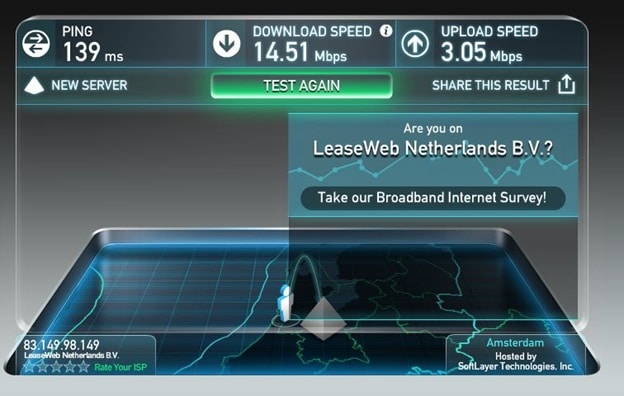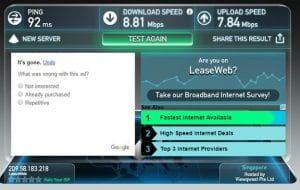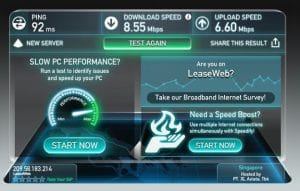 The results were pretty good on almost all the servers and protocols we tested the service. The speed was high and we were able to browse and stream effortlessly without having to wait for the videos to buffer. All in all, the speed and stability looks good and suitable for most purposes especially online streaming of live events.
Customer Support
This is one of the key factors for every user who consider buying a OneVPN account. The Customer Support offered by OneVPN can be compared to just about any of the top customer service team in the VPN industry, thanks to the 24/7 live chat support, e-mail support and contact form.
OneVPN support team will not only give answers to all of your questions no matter how technical they are, but you'll also get step by step configuration help from the support too! The customer support is also offered in multiple languages, so the user-friendliness level is very high.
Device Compatibility
We tested OneVPN on a number of devices and it not only was supported on all the major devices but also worked flawlessly. There is a wide range of protocols to choose from so users have the power to pick and choose and alter whenever they like. Windows, Mac, iOS, Android, Routers, Apple TV and Gaming Consoles are some of the many devices OneVPN is supported on. We, though, noticed that the Android App wouldn't respond when launched without an active internet connection. Rest is fine.

Privacy Policy
OneVPN is a Hong Kong based company, which allows it to offer its users a zero-logs policy. The zero-logs policy means that OneVPN will not keep any kinds of user logs be it activity logs, communications or anything else. Not a lot of VPN providers these days offer  a zero-log policy because they are supposed to keep some logs, if not all, in case they are asked by the government or other authorities to turn certain information in.
OneVPN has a transparent privacy policy that is simple to understand and in users' favor whichever way you look at it. OneVPN claims that whatever you do online while having OneVPN connected will not be recorded or disclosed to anyone. We really hope that they are truthful about this, just like they are honest about rest of the things they claim.
Encryption
Encryption is an integral part of a VPN service, and OneVPN seems to realize that pretty well. Our concern while analyzing OneVPN was mostly about the security it provided, and it turned out to be pretty decent with the encryption modules it provides.
The VPN provider is offering encryption of up to 256 bits that seems to be enough to protect a user's communications and sent/received data. As there are various protocols to choose from while using the VPN service, users can handpick the most suitable settings keeping their desired security needs in mind.
Protocols
A number of VPN protocols are supported with OneVPN that allow users to pick and choose the ones that suit them the most. The protocols currently offer include PPTP, L2TP, OpenVPN TCP/UDP and VPN over SSL (ocserv). Some protocols are currently missing which could have been there for a better compatibility and options for various users with specific needs.
Discounts and Promotions
OneVPN seems to be a fan of special offers because they have already thrown a number of super-awesome, too-good-to-be-true deals at the masses that have been accepted with open arms. Super Weekend offer, Buy 1 Get 3 Years FREE, and Streaming VPN Discount Offers are some of the mentionable deals that the provider has recently offered to the users.
OneVPN Review – Conclusion
All in all, OneVPN is a strong, feature-rich and cost-friendly VPN service. Though it has it flaws being a new entrant in the market, it still offers so much that other VPN gants don't offer such as the Ad-Blocker, Anti-Malware, and all of that for FREE. They need to release iOS and Mac Apps as soon as possible to attract more VPN users. The existing Windows and Android Apps are working flawlessly and with great stability. OneVPN is highly recommended to users who are particularly interested in anonymous streaming and data security. Every user must give OneVPN a try, especially while their Buy 1 Get 3 Years FREE Offer is around, though they offer various good offers from time to time.