Pros
Seven-day money-back guarantee
Servers in 25+ countries
Great security
24/7 customer support
Kill switch
Bottom Line
Private Internet Access offers complete online security at a very reasonable price. Strong encryption and other security features ensure user privacy, while thousands of servers worldwide mean you can change location to just about anywhere you desire. We recommend PIA as a trustworthy, economical VPN provider.
Private Internet Access (PIA) has grown significantly since it first launched in 2012. It has thousands of satisfied customers around the world, thanks to following a simple formula: great service at a great price.
PIA continues to expand, adding new servers regularly and constantly improving its software, thereby ensuring that you have no shortage of location options while staying secure online. Continue reading our detailed PIA review below to learn more about this great service.
How Much Does It Cost?
Private Internet Access VPN is a service that offers reasonable prices, which they discount depending on how long you subscribe for. Prices start at $6.95 for one month, if you wish to trial the service a little before committing for a longer period. If you're content with what they have on offer, it is possible to subscribe for either $5.99 per month on a six-month plan, or $39.95 in total for a one-year plan (which is a bargain at $3.33 per month). Although we understand that this isn't nothing – and everybody's circumstances are different – it is an incredibly cheap deal for what is on offer.

For people who want to test the service, there is a seven-day money-back guarantee. Considering how cheap the contracts are, this is a real bonus that definitely complements the enticing prices that Private Internet Access offers.
Payment may be made in a number of ways: major credit cards, Paypal, cash, or even Bitcoins (which allow you to sign up with anonymity, if you wish). In addition, PIA accepts a number of online payment options such as Amazon Payments, Discover, Ripple, OK Pay and Pay Garden (amongst others).
What Do I Get?
Private Internet Access VPN has 3,269 servers in 36 locations across 24 countries. Those servers are incredibly well placed throughout North America, Europe, Asia, the Middle East, Australia, and New Zealand. This is a really good selection that will definitely allow users to unblock most things they want to see. Furthermore, subscribers may use PIA VPN on five simultaneous devices. This means that they can be private on a laptop, PC, tablet and mobile phone all at the same time if they wish: good stuff.
On its website, PIA provides an excellent server locations page that shows server counts per country, locations, and bandwidth stats – a nice feature. If you are sold already (I wouldn't blame you if you did zip off now to test the service, because it's pretty bloody amazing) then click on the button below. Alternatively, stick with us to discover some more about Private Internet Access VPN's security options.

Logs and Location
PIA is a owned by London Trust Media Inc. Despite this, Private Internet Access is based the US rather than Britain. Some may find its US origin disconcerting, because of the NSA and agreements like 'Five Eyes.' However, we were encouraged by the fact that PIA is very transparent about being based in the US (some VPN firms try to hide their origin and make it terribly hard to discover the location of their headquarters). This increases trust right away, and from our experience good privacy policies are always enshrined with honesty. A good start.
Another bonus of Private Internet Access is its zero logs policy. However, it is worth noting that PIA does clearly state that if it is approached with a government court-order for user data, the firm would comply to the best of its ability.
That said, because they don't keep anything to begin with this means that they can't actually give the authorities anything. Proof of this is evidenced by the fact that when the FBI did approach PIA with warrants the firm had to say:
"We are unable to provide any data that was never stored."
Of course, we admit that there is an element of faith involved with subscribing to any VPN service. However, PIA has a proven track record and is held in high esteem throughout the VPN industry for its levels of service, privacy policy and transparency.
Using Private Internet Access
Private Internet Access is available for a wide range of platforms including Mac, iOS, Android, Linux, Microsoft Windows, and DD-WRT and Tomato routers. Most important of all is that PIA provides the same level of details about setting up those different platforms, with excellent FAQ support and guides for each and every one of them.
Signing up to PIA is nice and simple. Simply register, select a payment option, and proceed to the download area.
For this review I tested PIA's Windows and Android apps.
Windows
When it comes to the Windows client, Private Internet Access can be considered exceptional because of the level of native features that it provides. It might not be particularly dazzling in the looks department, but all of the features are easily accessible. Furthermore, PIA has designed those features to give users instant access to customizable privacy and security levels.
Clicking the Simple/Advanced button in the bottom left corner allows users to open or minimize the advanced settings when they need them. When the settings are minimized, users just see a drop-down menu of server choices. Clicking on Advanced reveals the fully featured VPN options of: encryption options, port forwarding (useful for P2P but somewhat less secure), a kill switch, and DNS leak and IPv6 protection.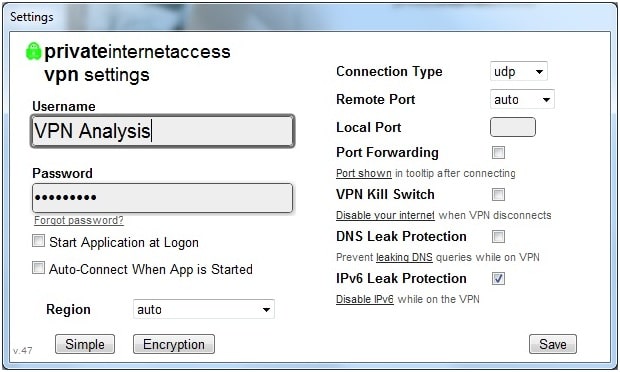 Once a user selects the encryption options and features desired, all they need do is click save and once again minimize the options to continue with connecting the VPN to the desired server. This really is an excellent VPN client.
Android
The Android app for PIA is just as superb as the Windows client and offers all of the same features. The encryption options are still available (which on many VPNs they aren't). Plus users can toggle the kill switch, auto-connect and SSL.
In addition, users can choose between TCP and UDP (OpenVPN protocols), which are handy when connecting to public WiFi. We love the auto-connect, which forces your smartphone to connect to the VPN as soon as you turn it on – great feature.
During testing we found the VPN connection speeds on Android to be just as good as on Windows. Both streaming and browsing on soundcloud and YouTube were fine.
Encryption
Private Internet Access VPN has really excellent security measures and offers plenty of encryption options. Subscribers can choose from PPTP, L2TP/IPSec, or OpenVPN. Of the available options, OpenVPN is by far the most secure. As such, using any of the other protocols would be pretty silly.
What is really encouraging is the implementation levels of the encryption. Users may opt for up to AES-256, authenticated with SHA256, and a handshake with RSA-4096. That is very strong implementation, though admittedly such a strong handshake choice will slow you down a little (and may be considered a bit 'overkill' for most people's purposes).
We also really appreciate PIA's excellent guides, which explain how to use the encryption options, including explanations about various settings for different purposes.
Speed and IP Leak Tests
Connection speeds are really impressive with PIA. We noticed little drops in average connection speeds when compared to speed tests with the VPN switched off. Obviously, because I tested from Europe, there was a little drop in speed while testing the US server. In fairness, however, this was due to geo-proximity rather than a lack of VPN performance.
I ran each test five times. The screenshots show the best download result.
UK test server, no VPN (control):


UK test sever and UK VPN server:


US test server, no VPN (control):


US test server, US VPN server:


In terms of DNS leaks, I tested the service thoroughly with ipleak.net and found there to be none. In addition, I used test-ipv6.com and found there to be no IPv6 leaks either. Finally, I encountered no WebRTC leaks (a leak that is quite often found, but that didn't trip up PIA).
Website Usability and Aesthetics
Private Internet Access is well laid out, isn't overly boastful and provides a lot of valuable information to both new subscribers and existing clients alike. The banner at the top has all the necessary navigation links and getting around the website is intuitive.
At the bottom of the page visitors are given a more detailed selection of links, and legal details relating to the privacy policy and service.
In addition, users will find a link to the Private Internet Access VPN blog, which is updated regularly with articles written by PIA's founder (and founder of the Swedish Pirate Party), Rick Falkvinge. This blog is highly recommended. It is a valuable resource that shows the strength of privacy-minded affiliations that PIA has.
Customer Support
Perhaps one of the only drawbacks with PIA is a lack of 24/7 live chat support. Instead, users have to get by with a ticket system that is answered by email. On a more positive note, however, PIA has excellent step by step video guides for just about anything from first setup to more high level stuff like setup for DD-WRT and Tomato routers. All in all, users are treated to around 300 articles! In addition, the email service is good and the team's representatives are highly knowledgeable.
Should I Subscribe to PIA?
There are about 1,000 subscriber VPNs on the market, all fighting for users' business. In such a climate, there is a tendency for over-advertising and false claims. For this reason, we really appreciate Private Internet Access' honesty and simplicity. The firm focuses on providing a simple and reliable VPN service that provides users with privacy.
This is achieved with a great zero logs policy and strong encryption implemented well. It does this through log-less policies, rigorous encryption, and fantastic, fully featured client software. With such cheap prices on offer, there is really no way to hold the lack of live chat support against PIA. A highly recommended VPN service.
Yay!
Outstanding, customizable encryption options
Same level of options on different platforms
Zero logs
Accepts Bitcoin
Bargain prices
Seven-day money-back guarantee
Nay!
A bit meh
Some performance fluctuations on certain servers at times
Have to wait for support responses by email