Pros
Seven-day money-back guarantee
More than 500 servers in 121 countries
Long-established company
Available for Windows, Macs, Linux, iOS, and Android
Service for China
Cons
Slow speeds on some servers
Service can be patchy in some countries
Some technical problems
Bottom Line
A Hong Kong-based company that has plenty of experience battling through the Great Firewall of China
After beginning work on its VPN service in 2006, GZ Systems launched the resulting product in 2007. The Hong Kong base of the company attracts plenty of attention from potential users in China, as well as those who intend to travel to the People's Republic. However, the authorities in the country are so adept at foiling VPNs that no service is regular there. Users report that the VPN service frequently drops, particularly on mobile and WiFi connections.
PureVPN Cost
VPN companies offer a range of subscription periods. The one-year offer is usually the best deal. However, a number of providers have begun to offer a super-cheap two-year deal. PureVPN is one of these, and they are so confident that it is a winner that they don't bother with the one-year plan any more. The website has a clever trick to instill urgency in potential buyers – it shows messages on how recently a purchase of a particular plan was made. A stack of pop-up messages in the bottom left of the screen tells the visitor how many two-year plans they sold that day, and how many people are browsing the site at that very moment. It's very exciting, and kind of makes you think you had better hurry up and buy before they run out. Oh, wait a minute…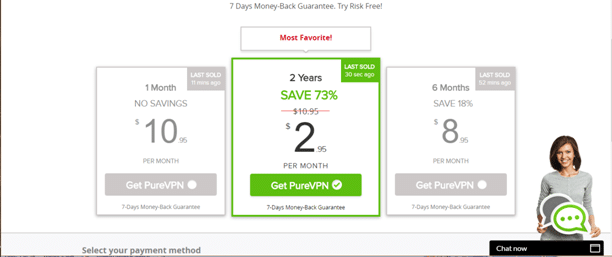 As you will see at the bottom of each plan price, the company offers a seven-day money-back guarantee.
PureVPN accepts a dazzling variety of payment methods, including bitcoin through BitPay. You can also pay with Alipay and PayPal. However, I couldn't find credit card options on the site. Do you see them?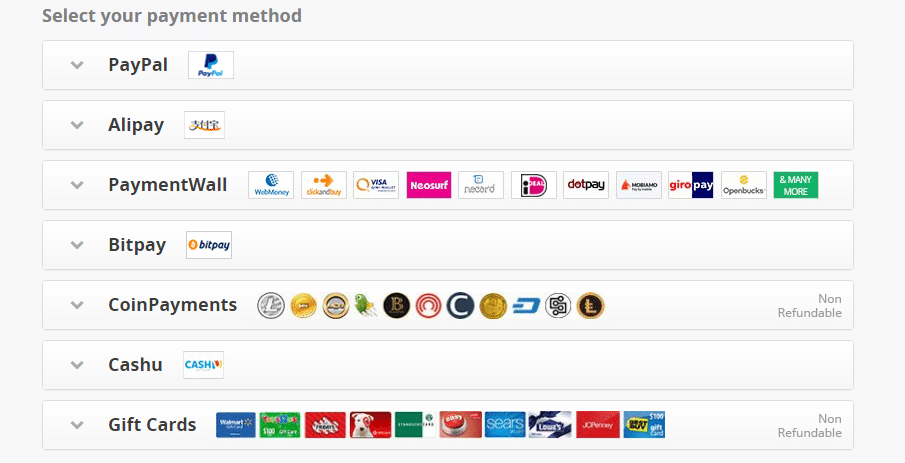 The word "Visa" appears in the PaymentWall line, but when I expanded that option I didn't see anything about Visa. So, rather than make a mistake, I decided to access PureVPN's live chat support. I clicked on the lady with the speech bubbles at the bottom right of the screen. The operator was a young sales executive named Andrea. Unfortunately, she didn't seem to know much when it came to PureVPN payment options.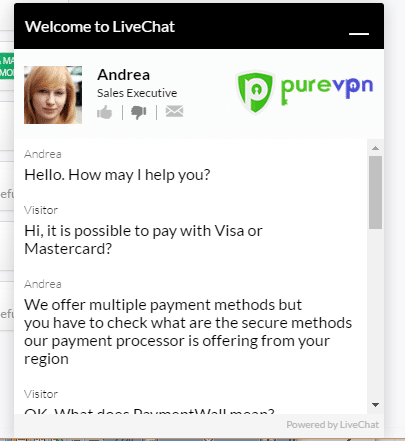 As you can see, Andrea's advice in response to my question about paying with Visa or Mastercard was that I should check. I kind of thought that was what I was doing by contacting her. It should be called "barely alive chat."
In response to my question about what PaymentWall is, she told me that it is a payment method. I asked her what coin payments were, and she told me they were a payment processor. I thought that maybe this would be where I could get a Visa or Mastercard payment through. Andrea's response: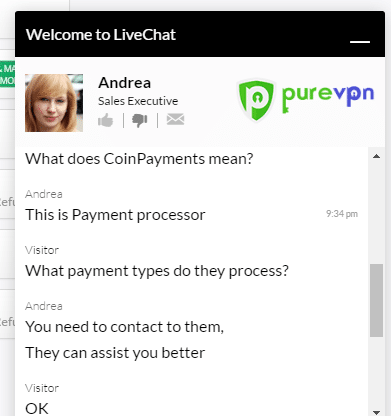 Say what you like about Andrea, but at least she's aware of her limitations – she's only there to tell you that you can get better advice somewhere else.
Fortunately, I have PayPal.
Features
PureVPN has a range of security features, including IP leak protection. Here is a list of the features of the VPN service:
• More than 500 servers in 121 countries
• Up to five simultaneous connections allowed
• Choice of VPN protocols or an automatic protocol selection feature
• Optional constant WiFi protection
• DNS and IPv6 leak protection
• A pool of more than 80,000 IP addresses
• Internet Service Provider (ISP) detection-avoiding stealth protection
• Version available for routers
• Optional kill switch to prevent unprotected connections occurring
• Unlimited server switching
• Unlimited bandwidth
Security Protocols
You may have read in some reviews that PureVPN does not offer OpenVPN. However, this is no longer the case. If you are accessing the service in China, you may want to avoid OpenVPN, because the authorities have particularly focused their counter-VPN measures on blocking communications that use that protocol.
The company also offers Layer 2 Tunneling Protocol (L2TP) and Internet Protocol Security (IPSec), Point-to-Point Tunneling Protocol (PPTP), Secure Socket Tunneling Protocol (SSTP), and Internet Key Exchange version 2 (IKEv2) VPN protocol options. They have stealth features to protect against detection, but they may not be good enough to defeat the Chinese authorities. The application has an automatic protocol selection feature for those who don't know much about the various benefits of each protocol, or who simply don't care.
Logs and Location
The service's location in Hong Kong is a bit of a worry. Although the former British colony is meant to be administered as a separate country, the long arm of the Chinese government is known to reach there.
The company states that it manages all of its own infrastructure, so there is no chance of third parties tracking your activities and handing over logs to the government. Although they state that they don't keep activity logs, they do keep session logs, in order to support an improvement of service. That's a bit suspicious, given that the service is so lousy.
To be safe, don't get up to anything that the Chinese government wouldn't like while you are in China, even if you have PureVPN turned on.
Signing up
As explained above, I had no chance of working out how to pay with a credit or debit card. However, PureVPN takes PayPal, so I went with that. When you click on your preferred payment option, the subscription form drops down.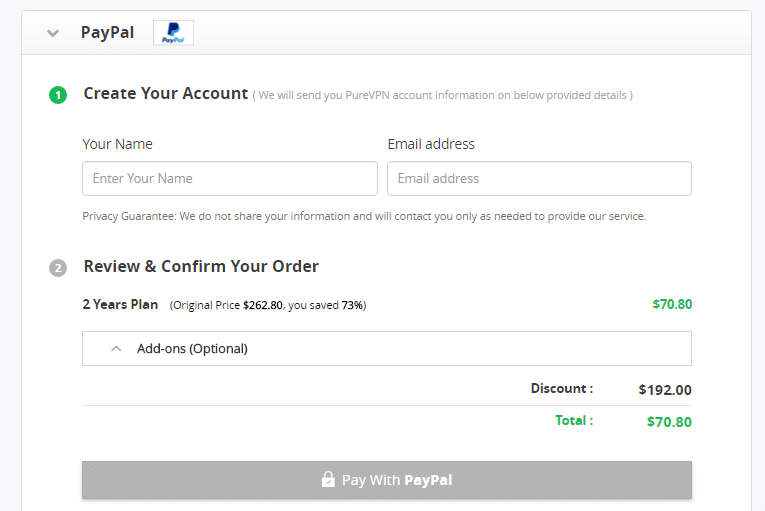 Take a moment to learn about the add-ons offered during the checkout process. The firewall option is fairly self-explanatory. The dedicated IP is a little more complicated. When you log in to the VPN service, it controls your internet traffic. To avoid identification, PureVPN will replace your actual IP address with one of its own. It has a pool of 80,000 of them. If you want to be identified by the same IP address every time you connect, you should select this option.
The third service is a little technical in nature, and if you don't know what a distributed denial of service attack (DDoS) is, you probably won't need this option. Ordinarily, you would need to be an evil corporation that has provoked the ire of Anonymous by putting something nasty about Julian Assange on your website in order to require this protection. Here is how the company explains the purpose of the DDoS protection: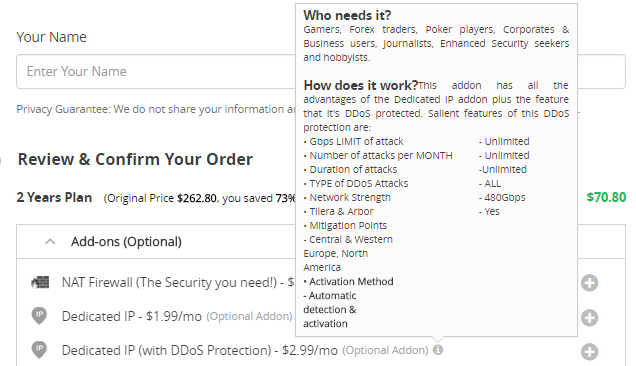 Interestingly, this service seems to be available only in Central and Western Europe and North America. It isn't offered in Latin America, Africa or Asia, where most internet-blocking dictators operate.
The company sets up a recurring payment, so if you opt for the one-month service, you will find yourself billed again for another month once that period expires. If you sign up for the two-year plan, there is a danger that you will forget all about it and be surprised by money being taken out of your account for another two years of service.
Installing PureVPN
You won't find a login link on the main site. Wait until your payment has been processed and open the email they send you. You will see that the secret site for members only is the deceptively-addressed my.purevpn.com.
You should see these instructions on screen after the purchase completes. You should be taken to the members' site and be shown your account and payment details. However, I got this:

When entering the members' area, you have to fill in your email address and password, and then write out one of those annoying Captcha things in order to get in. In the dashboard, click on "Apps" in the left-hand menu to get to the software. The site will automatically detect your operating system and offer you the app for it. Click on the big green button to start the download.

Click on the downloaded file to get the install wizard up and running.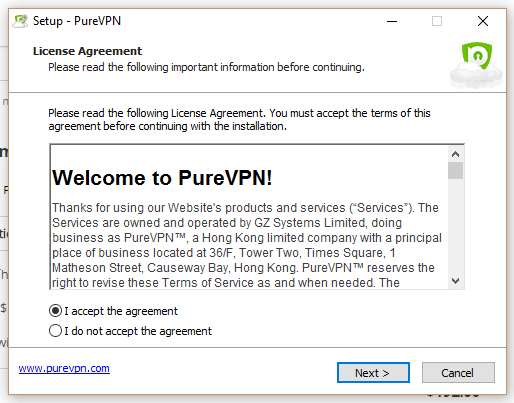 You have to accept the terms, otherwise you will have to check out the refund policy, because you can't install the software without complying. "Next" your way through the screens. You will also have to click on a pop-up to install a couple of service programs. This is a bit annoying, because each of the installs gives you a message box that stays on top and won't go away while the installation progresses.
After all that, you're still not ready, because then it wants to install Microsoft Visual C++ library. Once again, you have to accept.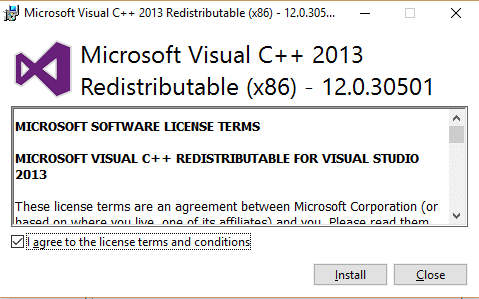 Most VPN users get shirty about stuff being installed on their computers, so I would imagine that a lot of Secret Squirrels get panicky while this endless installation procedure is going on. The PureVPN software takes a lot longer to install than the apps of other VPN services, so you have to wonder what on earth they are doing to your computer.
When the install finishes, double click on the PureVPN icon on your desktop to get it to run.
The first time the app opens, it will tell you to sign up. However, keep calm and click on the LOGIN link.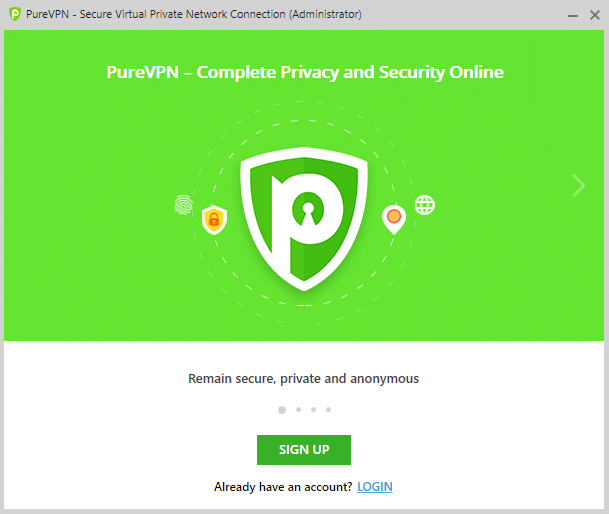 Reinstalling PureVPN
Unfortunately, the app kept telling me that my username and password were wrong, which they weren't, so I had to go back to the lovely Andrea for help. She passed me on to another sales executive named Arthur. Arthur reset my password, which got me into the members' area. However, I then found that the app wouldn't open again, so I had to uninstall it. Arthur gave me a link to another version to download from a third-party site.
Setting up
When I first logged into the app, it kept telling me that my username and password were wrong. This puzzled me, because my email address and the password that the company sent me in the welcome email got me into the members' area, so they couldn't be wrong.
Support desk Arthur explained this to me – the username and password for the application are different to the ones that you use to get into the members' area. You need to look for a second email, which explains your account details, in order to get the username and password for the app. Both the username and password are long strings of random characters, making them difficult to remember, so I just copied and pasted each into the relevant login fields. The app still told me I had got them wrong. Arthur suggested that I typed them in instead of copying and pasting. That worked.
The random character sequence on both the username and password makes them impossible to remember. You can change the password to something meaningful in the Account Details section of the members area. However, you can't change the username.
PureVPN has a feature that no other VPN service provides, which is a preset system of session settings according to the goal of your internet surf. This is a little like those equalizer presets on a music system.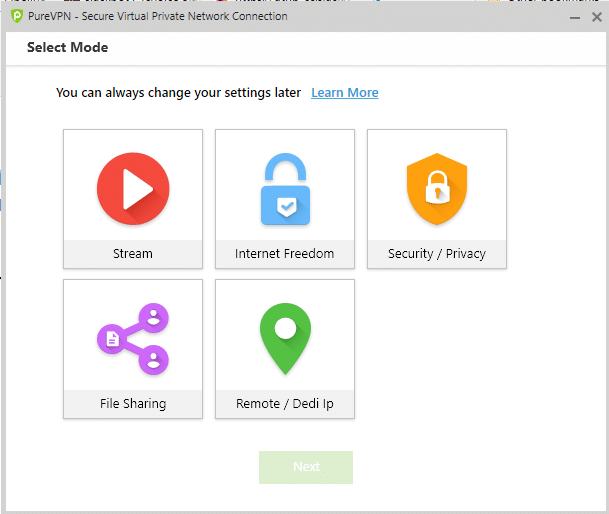 Although this is unique, it is also a little annoying. What if I want to do all of those things while I am connected? What if I chose the wrong one and would have got better performance with another option? Techies will be annoyed by this, because they will probably want to adjust settings individually.
The design of the app is very appealing. There are few options to play with, which makes it easy to use.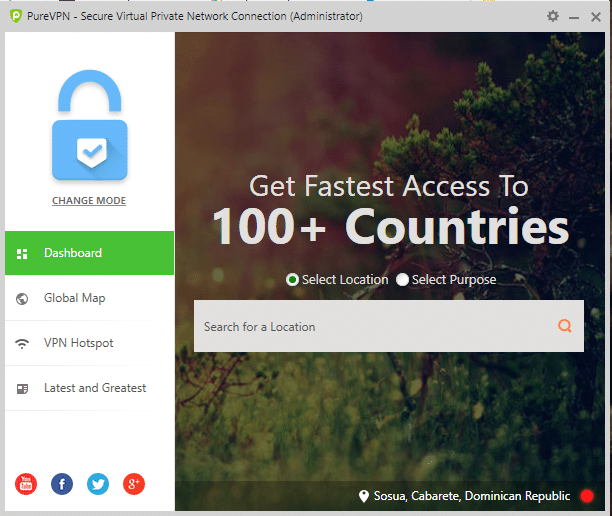 The cog on the top frame of the window gets you access to the settings menu. This is where you can specify which VPN protocol you want to use.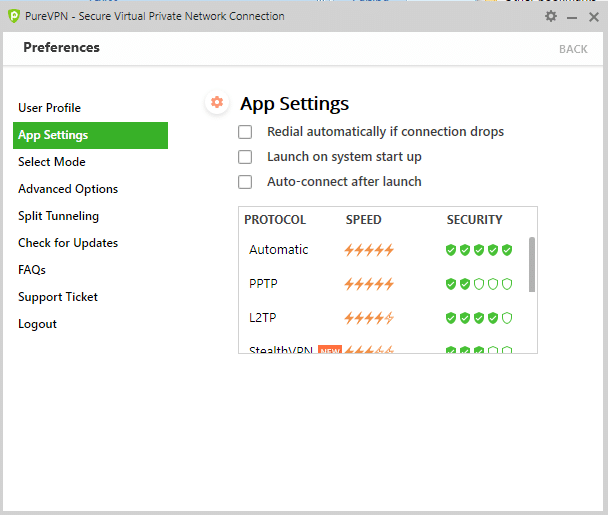 You can also play around with the security settings here or raise a support ticket.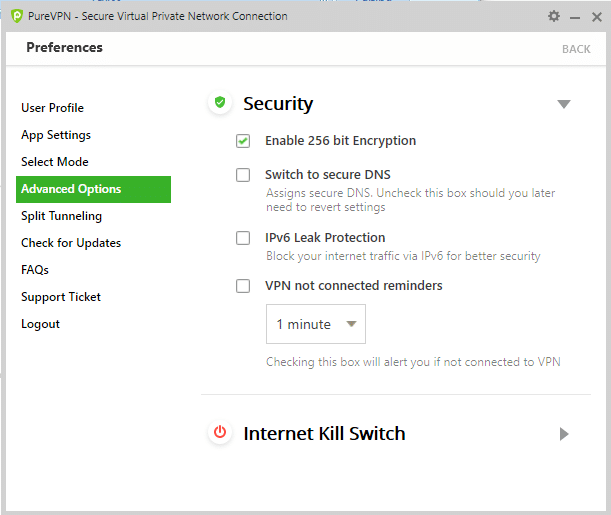 You can specify whether you want to connect to a particular country, or choose a purpose for your connection, allowing the system to select the best server location for you.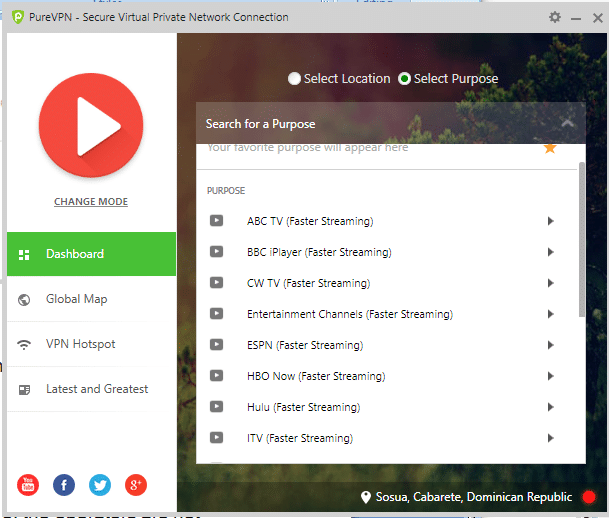 Overall, the interface allows those with specific aims to get to exactly what they want, while also giving those who want to customize their experience access to security settings options.
The interface works very well and is one of the best I have ever seen.
Support
As documented above, the support system is live, but some of the operators are not that snappy. I was lucky to have been passed on to Arthur in my terrible ordeal of trying try to get into the app, because Andrea wouldn't have been any use at all.
You have more support options back at the members' area when you click on the "Help Desk" option in the left-hand menu.

In addition to the live chat support, you can browse through the company's knowledge base by clicking on "Support Center." Submitting a ticket for help involves filling out a standard web form.
Speed test
PureVPN has servers in many countries, but not every country. However, if you are located in a repressive country, you are better off accessing a server overseas. Also, if you are trying to get around location access blocks on media sites, you need a server in that country rather than your own.
I found the speeds offered by PureVPN highly variable, ranging from acceptable to spectacular.
I accessed the service from the Dominican Republic in the Caribbean – a country with a lousy internet service. Here are the speeds tested on a connection to a server a few miles down the road:

That performance was not so good. Here is a connection to Miami, without a VPN:

These are the speeds I got connecting to the UK from the Dominican Republic, without a VPN:

After selecting the PureVPN server in the USA, I checked my new IP address and found that it was in New Jersey. Connecting to the server down the road, I discovered that the ping was not so good, but the download speed had actually been improved:

Connecting to the server in Miami, got me far better results than I achieved without the VPN:

I then tried the connection to London again, with the VPN server in New Jersey still connected. These speeds are comparable to the results of connecting to London without a VPN.

However, when I switched to the VPN server in London and tried the test again, I got much better results. I repeated the test several times and (mostly) the download speed was between 2.5 Mbps and 3.5 Mbps. That is the kind of performance that anyone living in the Dominican Republic would welcome. However, one test returned with download speeds in excess of 5 Mbps, which is a spectacular performance.

Cancelling Your Subscription
In order to cancel the service for a refund, you need to go to the knowledge base in the Support Center and search for the document, "What's the Cancellation Process?" then follow the link through to the cancellation form.
Your username will be filled in automatically. You then have to answer a series of questions in order to cancel the service.
Over at my email Inbox, I received an auto-response mail straight away. Within an hour, I got a blocking response to my request for a refund. I had commented about the problems I had experienced in getting into the service as part of my report on why I wanted to leave. Rather than confirming my imminent refund, they sent me a link to the Beta version of the software and told me this should solve my problems. I replied telling them that I wanted a refund anyway. One hour later, they offered me a discount on my next invoice if I stayed. Again, I told them that I just wanted my money back.
After my third appeal for a refund, the money arrived back in my PayPal account within 15 minutes.
Should I Get PureVPN?
The application looks good and it is easy to use. The feature that optimizes the connection for different purposes may appeal to some, but it generalizes settings, which may annoy the technically minded and confuse those who don't have a specific goal for a connection. The service gives very good speeds on intercontinental connections, and would be great for gamers and downloaders.
The difficulty getting the service to work, and the unchangeable, complicated usernames, may put you off. Users in China should be cautious.
Yay!
• Seven-day money-back guarantee
• Top notch technical support
• Option of private IP address
• Kill switch, IP switcher and IP leak prevention
• Choice of VPN protocols with automatic selection as a default
• Servers in 121 countries
• High speeds for streaming, downloading and gaming
Nay!
• Very difficult to install and might not work first time
• Complicated username and password procedures
• Initial purchase confirmation failure
A little bit meh!
• Some live chat customer support operators know nothing
• Service patchy in China
• Security in China could be questionable