Pros
256-bit SSL Encryption
User Friendly Client Interface
24/7 Live Chat and ticking support
Unlimited bandwidth, Unlimited Speed
Unlimited location switching
Apps for Android and iOS
Chrome Extension
Non US Based Company
Cons
Servers available in just 24 countries
No visual guides on website
Bit pricey
The VPN industry is being populated by new and better players; with improved speed and enhanced security features they are competing for market share. However, the odds favors the best provider, usually a blend of both swiftness and anonymity is preferred by clientele.
SaferVPN lately hit the market with it ultra-fast speed and optimum privacy protection. Internet users' always fancy to go anonymous while they are surfing or especially when they are making financial transaction, ditch hackers and cyber-goons. This desire is fast becoming a necessity after Snowden's press release which stated that security and intelligence agencies are legally authorized to monitor activities of internet user. Honestly speaking who doesn't want protection from snoopers, hacking attacks, identity thieves and stockers like government agencies; the solution lies in this very write-up of SaferVPN review on VPN Analysis.
Pricing Plan
SaferVPN caters the requirement of individuals who are willing to acquire VPN service as well as small sized companies. There flexible pricing plan are not just affordable but adequate for all type of users i.e. single user, family and small business. Plus, not to ignore the discounts on annual subscription; you can save minimum 45% and maximum 50%.

SaferVPN is offering $4.99 per month for single user with annual subscription, which will give you 45% discount from original $7.50per month. The multiple connection for up to three '3' users are offered at $7.50 per month on annual subscription, allowing to avail 50% discount from original monthly price of $14.99 – this plan is ideal for family or friend circle. The last pricing plan is for small business which can cater up to seven '10' simultaneous connections; it is available at $16.67 per month on annual subscription providing 45% discount on original price of $29.99
Payment Method
Simple and easy; you can pay the company through Online Transfer or with your credit card using services of MasterCard, Visa, American Express, Amex, JCB, Wire Transfer and Discover. Other than that there are plenty of options to pay for your desired subscription plan involving third party payment services: PayPal,Paymentwall, AliPay, Skrill, and WebMoney, Wallet. However, if you prefer complete anonymity SaferVPN also accept payments via Bitcoin, leaving no traces behind.

Free Trial and Money Back Guarantee
SaferVPN offers a free trial for users' who are eager to evaluate the services before selecting specific subscription plan; this trial account have limited validity of 24 hours starting from the time you signed up on the VPN account. They also give you a fourteen (14) days money back guarantee, which is amazing and rare in the industry. Normally, VPN providers either offer free trial or money back guarantee but SaferVPN gives you both leaving you at no risk. So, after purchasing any plan you can cancel within 14 days' time; no questions asked.
The VPN Game
I think before digging deeper into SaferVPN, it is better to understand how SaferVPN works or in fact how a VPN works & hide your identity. Virtual Private Network or simply VPN protects your privacy which is certainly not a crime, by creating a secure tunnel within your internet connection. Obviously, there isn't a physical tunnel but virtual, which cannot be (easily) traced or tracked back to subscriber. Once you are connected through SaferVPN application, it will hide your original IP address and original location by replacing it with the one of your selection. For instance, you select a server deployed in LA-USA; you IP will be replaced from the regional pool of Los Angeles and so as your location. Remember that said IP will be assigned from the dynamic shared IP pool acquired by SaferVPN service.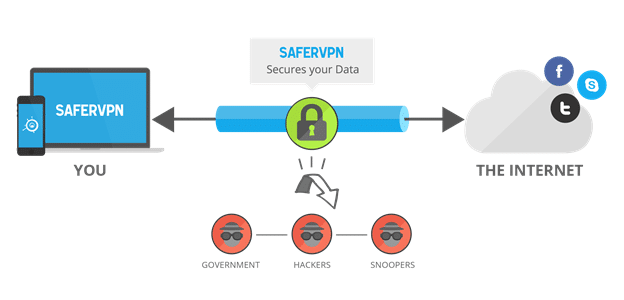 Browse Securely & Roam Blocked Website with SaferVPN
This SaferVPN review will cover the advantages as well as drawbacks of acquiring the services of SaferVPN – Our tech team at VPN Analysis evaluated this service provider after it started to gain prominence in the industry. The company is based in Israel and provides servers in six continents offering you unlimited accessibility to all geographically restricted content and media.
SaferVPN assist their subscriber to maintain their online privacy by offering complete anonymity and premium security. It is worth mentioning in this SaferVPN Review that the provider gives you ultimate liberty by unblocking all kind of geo-restrictions and allowing you to freely access your favorites sites, content streaming media, torrents and what not. So whether you intend to render protection from unwanted spam mails, gain anonymity or access blocked content from anywhere around the globe – SaferVPN; equipped with modern technology, is here for you.
Benefits of Acquiring SaferVPN Services
What benefits can you gain from it..? Now this is interesting, apart being hidden from hackers, snoopers and government agencies you can gain freedom to access all geo-restricted content. It grants accessibility to all blocked sites and streaming media like Netflix, HBO, BBC iPlayer, ABC, NBC, Pandora and plenty more. General advantages include unlimited access to torrents and social media – for instance, you are visiting or residing in a region where torrent is blocked, Facebook & Twitter has NO or limited access (like People's Republic of China) SaferVPN will award you unlimited accessibility along with complete anonymity.
Another major advantage comes in the form of ditching limited bandwidth from your ISP, your internet service provider track your bandwidth usage from the assigned IP address, once your IP is replaced with the fake one there will be no tracking of your consumed bandwidth.
Glowing Features
We can't call it a comprehensive analysis without including the main feature in this SaferVPN Review. SaferVPN commits to offer you stable, continuous and ultra-fast connection speed – at present level and our evaluation, they are fulfilling their commitment. Most of their services and offering are similar to other VPN providers in the industry except bank level encryption i.e. 2048 bits, equally feasible for individuals, family or friend circle & small business, risk free assessment through free trial & 14 days money back guarantee, subscriber can remain completely anonymous by making transaction via Bitcoin.
Global Presence and Server Locations
Strong geographical coverage is necessary for a VPN provider to stand among the best service providers list; seems that the management of SaferVPN well understood this, as they have placed servers' at all key locations across the globe. Presently SaferVPN has 100+ dedicated servers for VPN clients whereas the server spread is across six continents.
Their server locations are enough to provide desired liberty to subscriber; they can easily access blocked sites & content, they can stream media by-passing geo-restrictions and they can maintain complete anonymity – also, remember that subscriber can connect to VPN client from anywhere, all they need is an internet connection. Overall there are 24+ countries where SaferVPN has deployed their dedicated servers. You can connect or switch between servers (and location) through the provided SaferVPN application. Just select the preferable location and start secure surfing.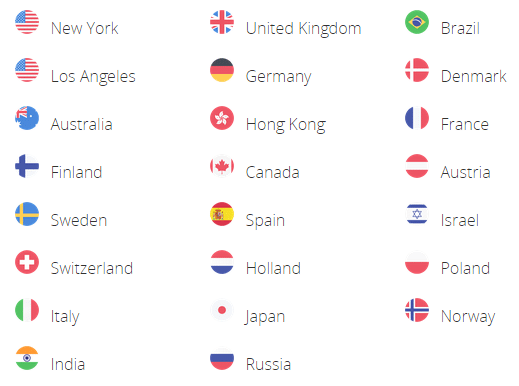 In North America, numerous servers are placed at multiple location of United States (Los Angeles and New York), in addition they have servers in Canada. Europe is also well covered; United Kingdom, Germany, Finland, Sweden, Switzerland, Italy, Spain, Holland, Denmark, France, Austria, Poland and Norway. They have placed servers in Asia; Russia, Hong Kong, India (Sub-Continent), Japan and Israel. Numbers of servers are placed in Australia and Brazil (South America) also to cater the requirements of different clientele.
Compatibility – Operating System & Devices
Most the VPN providers in the industry are now offering support and compatibility of almost all popular and in-demand operating system for desktop, laptop, mobile, tablets, other handheld device and routers. SaferVPN cannot take the risk to compete with industry giants with anything lesser; so they did the obvious. They are compatible with Windows, Mac and Linux operating systems.

List of supported devices includes iOS, Android, Chromebook, and BlackBerry; manual configuration is needed to setup the application on iPad, iPhone and BlackBerry devices. Also DD-WRT routers are supported by SaferVPN app. They had recently redesigned alltheir apps to make it more user friendly. Dedicated apps for Windows, Mac, Android and iOS have been released. On top of that, addition of Chrome Extension is like a charm of having an additional device as only a few VPN providers offer Chrome Extension.
How to Setup SaferVPN – Windows | Android
Windows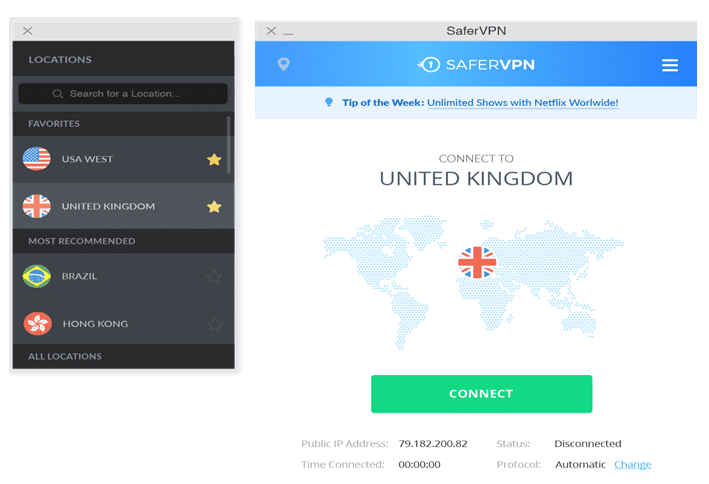 After downloading the installation file from SaferVPN website, run the exe file to install its client application
Select preferred location and bits system type (32 bits or 64 bits)
After completion of installation, launch the SaferVPN application
It will ask for 'User Name' and 'Password', which you have received from SaferVPN team on your provided email address.
Once you clicked on 'Login' after entering correct user name and password, you will see the available server options. Select one of your choice (remember you can change it later as per your requirement).
Hit 'Connect' – establishing a secure connection would take around 15 to 25 seconds
And you are done..! To make further changes, click on 'Settings' option available on upper right corner.
Android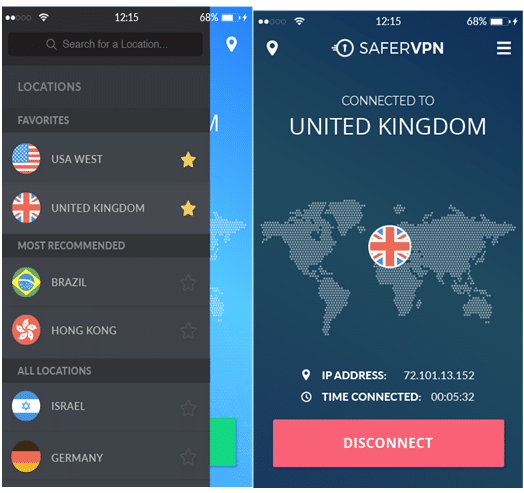 After downloading and installing the client application for Android from SaferVPN official website or Google Play.
To setup PPTP, L2TP/IPSec, or OpenVPN go to 'Settings' on your Android device
Tap on 'More Settings' and press 'VPN'
Now add 'VPN Network' and tap on 'type' from the drop-down menu
Select protocol of your choice 'PPTP, L2TP or OpenVPN'
Enter preferred 'Name' as the name of your VPN connection
Enter preferred server in the 'Server Address' field. (Server list is available on SaferVPN website)
Tap 'Save' and go to newly setup connection.
Enter you provided 'User Name' and 'Password' and hit 'Connect'.
Encryption Protocol
All famous and popular encryption protocols are available on SaferVPN application; it supports PPTP, L2TP/IPSec and OpenVPN. As the name narrates, SaferVPN greatly emphasis on providing hard-core encryption to secure incoming and outgoing data from user end. The VPN application connects you automatically through OpenVPN but subscriber can switch to PPTP or L2TP according to their requirements. For instance, when you intend to stream media like Netflix, BBC iPlayer, HBO, NBC, ABC or other use PPTP for seamless streaming – in case of accessing blocked content or geo-restricted websites use OpenVPN which is extremely secure and would ensure your anonymity. Wondering how strong is their encryption algorithm..? You can forgot about being hacked or snooped once you are connected to SaferVPN client app; they incorporate highly advance, bank level encryption algorithm to make sure your security and anonymity won't be compromised i.e. 2048 bits.
Customer Support
Nothing can't beat a responsive and skilled customer support team; SaferVPN provides live chat round the clock throughout the week i.e. 24/7 all year. This provides them with a cutting edge advantage. Although, their website is pretty user friendly in terms of finding what one is looking for, objectives are clear & focused, information is displayed straight forward, all setups are ; but to deal with the exceptions they offer Live Chat option or you can create a Ticket (Email) to contact their help desk. In addition to provided options, they recently updated the knowledge base section that isavailable on their website to include more information on protocols and encryption.
Privacy Standard
The privacy policy of SaferVPN is somehow questionable – the firm running the operations of SaferVPN is Safer Social Limited. Although it strongly claims that they don't transfer, trade or sell the information of their subscribers to any party. Following data is collected by SaferVPN in accordance to their Privacy Policy:
Original IP used by subscriber to connect with VPN server
IP address of the particular VPN server(s) used by subscriber to get connected
Time duration: Since subscriber connects till disconnects from their VPN application
And the total amount of transmitted data (both download & upload) during the session
Remember, that these basic connection log are collected by almost every VPN provider; these are necessary to maintain and improve their operations. In order to become completely anonymous you can opt the Bitcoin option to purchase their subscription plan; leaving behind no risk of being traced back. Plus, your activity log is not maintained by the provider so there will be no record of the websites you have visited or transactions you have made. Also, the good thing is the company doesn't store any credit card information as they are handled via third party payment processors.
Quote from the 'Book of Wisdom'
Interested in acquiring VPN services – protect yourself from hackers & snoopers, hide your activities from government agencies, access blocked content & media, go beyond geographical boundaries, unlimited torrenting and live streaming of Netflix, ABC, CBC, HBO, BBC iPlayer and many more THAN this is the ideal time to render the services of SaferVPN. Why..? Because with fewer users, newly deployed servers and relatively lowered prices by the service provider to grab market share – you can attain the best VPN service, complete anonymity and internet freedom at highly feasible rates.