Pros
Secure traffic encryption
Compatible with all Major OS
Full support for BitTorrent, P2P, Skype
Unlimited broadband connection
Ultra fast servers
Excellent technical support
PPTP/L2TP, OpenVPN Support
Cons
Complicated Pricing Plan
No Apps for iOS, Android, Win & Mac
Just Google it..! One of the most popular phrase in modern days, which can also be referred as the technology era. There was a time when internet is only privileged to tech experts but now everybody spend some part of the day browsing the web. No matter you are researcher, student, teacher, even plumber, mechanic or just bored web is the most convenient option for assistance as well as entertainment.
In short the internet has become the need of time but unfortunately, so as the security and privacy over the web. You have probably heard of online thefts, unauthorized access to private systems, millions stolen by cyber criminals, unwelcomed monitoring by security & intelligence agencies – sadly, the open platform of internet has paved the path for hackers. However, there are numerous ways to secure your internet connection and remain anonymous; the most feasible & economical turnout to be Virtual Private Network (VPN).
SecureVPN.pro Overview
In recent years various providers of VPN service came into the industry; blended with different features – few are common while some are catching. SecureVPN.pro, a comparatively new comer brings one of the optimum feature of VPN that is Security. Privacy, security and complete anonymity are the core reasons for more than half customer who purchase VPN services. Strong focus on privacy protection and premium security features of securevpn.pro help them stand prominent in the crowd.
All of us are probably aware of the leaked videos & photos that shocked cloud and other virtual space users – it also raises a big question mark on standard of privacy offered by concerned companies but as they update & promote their security; hackers and cyber criminals also increase their technical level to breach it. One of the most viable and cost effective solution is to render the services of a trustworthy VPN service like secureVPN.pro who can ensure privacy protection by providing you complete anonymity. We will discuss more features, benefits as well as drawbacks later in this SecureVPN.pro review.
Pricing Plan
SecureVPN.pro offers flexible package in accordance to need of customers; you can render different services only for number of days that suits your requirement for instance 1 day, 7 days, 30 days, 60 days, 90 days, 180 days and 365 days. Almost all other VPN providers in the industry offer 3 pricing plan; for a month, 6 months, and yearly plan but secureVPN.pro seven (7) different pricing plans select from. Also, don't miss the discount offered on big plans like semi-annual and annual pricing plan.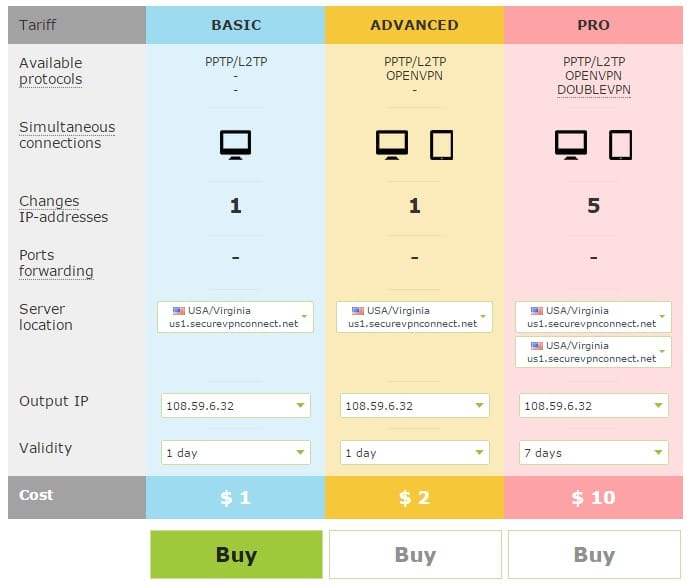 SecureVPN.pro also provide you with multiple options to purchase their VPN plans which PayPal, Perfect Money, Webmoney, RoboKassa. If you wish to remain completely anonymous you can acquire the services of secureVPN.pro through Bitcoin. Bitcoin is among very few services who doesn't require you to provide your credentials while purchasing making it the most secure channel to opt a VPN connection. There are three different offerings by secureVPN.pro suitable for personal, family circle and small businesses; namely Basic, Advance and Pro.

The basic pricing package is for individual user who requires initial protection from cyber criminals and monitoring authorities. It offers secure connectivity through PPTP/L2TP protocol on WiFi hotspots, enables you to by-pass geo-restrictions by connecting to regional server. You can purchase it for just $1 for a day (ideal for service evaluation). However, you can attain huge discount on 180 days and 365 days which are $50 and $86 respectively. With basic account you can switch or change between servers and IP addresses for infinite time on 2 months and above pricing plans.
Second one is advance package; which caters more professional users as it will provide you with OpenVPN protocol along with PPTP/L2TP. Be informed that OpenVPN is considered as most secure protocol for VPN based connections. Along with other benefits provided in basic account you can connect two (2) simultaneous devices at a time through advance plan of SecureVPN.pro – you can avail these benefits for a day for just $2. However, for 6 months package is for $84 and yearly pricing plan is available for $144.
Pro is the most advance, feature enriched plan for high end users. It offers Double VPN technology which implies encryption of data at dual level. With double VPN scheme different users' IP address are used at input and output server ends; also encrypted data will pass via dual servers instead of one which provides additional security. The best thing about double VPN structure is minimal decrease in transmission rate of data while offering premium level of enhanced security. This plan allows you to avail handsome discount on semi-annual and yearly purchase i.e. $126 and $216 respectively. Users' are allowed to connect 2 devices simultaneously on Pro pricing plan and also have provision to change IP address & server locations for infinite times at 2 months package and all above.
Features of SecureVPN.pro
This secureVPN.pro review will cover all amazing features offered by the service provider. Starting from the optimum level of security presented; the highly technical architecture of secureVPN.pro is designed by expert developer and infrastructure specialist which enables you to enjoy high performance and maximum usability, yet keeping your privacy protected all the time. Plus, there is nothing as bandwidth restriction on secureVPN.pro – once you are connected to VPN you have unlimited accessibility.
Multitude of benefits can be attained by opting the VPN solution by secureVPN.pro – top of the list is data encryption and privacy protection. VPN creates a secure tunnel to transmit & receive your data ditching the hackers, malware, spammers, intelligence agencies and even your ISP to track down your activities. SecureVPN.pro allows you access your account from anywhere around the world, all you need is an active internet connection.
Added Benefits and Advantages
You wish to watch your favorite shows, movies or any sport event online but sadly, victimized by geographical restriction as you are not presently in the native region. Don't worry secureVPN.pro has the perfect solution; with number of servers available in all region and different continents, which enables users' to connect with one attain regional IP and enjoy the streaming as the native of that region.
How secureVPN.pro ensures seamless connectivity and minimum decrease in internet speed..? They have deployed high performance server in large data center on different location; which allows user to get connected with ultra-fast speed of 1 Giga-Bit – thus enabling you to experience not only 99% service up-time but also negligible decrease in speed provided by your ISP.
Browse Anonymously with SecureVPN.pro
Many of us are worried about cyber-crimes and activity monitoring; and shouldn't we..! Especially after Snowden's disclosure of continuous monitoring by intelligence and security agencies like NSA, GHCQ, etc. SecureVPN.pro offers you complete peace of mind by transmitting & sending you data through secure tunnel which by-pass all threats. It replaces your original IP address and real location with the one of the server you selected, making it almost impossible for hackers and monitoring agencies to know your original identity. Plus, the virtual firewall created by your VPN connection prohibits malware and spamming attacks; through secureVPN.pro you can freely browse the web, make any financial transaction without worrying about identity thefts and activity monitoring.
Server Location and Countries
SecureVPN.pro allows you to connect with seventeen (17) different servers which are deployed in eleven (11) different countries in four (4) different continents. Seven (7) high-end servers are deployed in United States of America, enough to handle hundreds of users simultaneously; Virginia, St. Louis, New York, Phoenix, Los Angeles, Seattle and Las Vegas.

In Europe, they have servers in United Kingdom, Austria, France, Germany, Netherlands, and Spain. While in Asia secureVPN.pro have deployed servers in Russia, Ukraine and Hong Kong. For users' intended to connect with Australia, they provide a server in Australia too. Once the user is connected with a specific server, an active dynamic shared IP is allocated to him which belongs to the same region. Hence, said user appears like he's accessing the website or other web portal from that specific region.
Encryption Protocols
With secureVPN.pro you are allowed to use the most renowned encryption protocols used in the VPN industry. Point to Point tunneling Protocol (PPTP), which is very easy to setup and provide ultra-fast connectivity but gives you very basic level of security. Next they have Layer 2 Tunnel Protocol (L2TP) which is not very hard to setup and provide you advance level of security. The most secure and widely popular is OpenVPN protocol; it is comparably a bit challenging to configure (need assistance from tutorial) but hardest to crack. OpenVPN is an open source which requires third party software for configuration but offers large range of encryption algorithm to select from, plus they can also by-pass firewalls.

SecureVPN.Pro Support
Their technical and friendly support through email is available 24/7. Although, they have FAQ section on their website to cater clients with common queries and issue but if you need assistance in some specific area, you can always email them & they ensure prompt response.
Tutorials to setup secureVPN.pro is available in the instructions section of their website. You can setup PPTP, L2TP and OpenVPN on popular Microsoft Windows platform; Windows 7, Windows 8, Windows Vista and Windows XP. Also, said three protocols are available to be setup on Mac OS X, Linux OS, iOS and Android based devices.
Conclusion
It is evident from the SecureVPN.pro review that this service provider is worth trying. Including other common features provided by leading VPN providers of the industry, secureVPN.pro offers a unique selling proposition; Double VPN scheme, which gives you increased anonymity and enhanced security by enabling you to send & receive data through chain of two servers and IP address – ideal for advance users and especially small businesses.