Pros
14 day money back guarantee
25+ amazing server locations
Keeps no logs
Has a free Plan
Offering PPTP, OpenVPN, LT2P/IPSec protocols
Cons
No 24/7 online chat facility
Bottom Line
With Shellfire VPN, you can bypass geo-restrictions with rather ease. The service is also great for those who want to stay safe from hackers, and offers more than 25 server locations to its customers present throughout the globe.
Germany is home to many special things, like beautiful landscape, amazing rivers and cities that of extreme cultural significance. The country itself has also bedazzled the world by offering some of the greatest scientific technologies and minds that have changed. Surely due such facts, whenever any global citizen sees the "Made in Germany" tag, one of the first thoughts that come to the mind is quality.
Well, it is no hidden fact that the country also hosts some of the best computer-based technologies that any person can opt for, one of which is Shellfire. As you will find out in this Shellfire VPN review, the tool is a great choice for all those who demand the finest in online security. It also allows you to bypass geo-restrictions, thereby giving you access to the content of your choice.
Some Interesting facts
Let's look at some basic facts about the service. This Shellfire VPN review readers should note that it was founded in 2002 by Max Behr and Florian Gattung. It is located in Bad Vilbel, Germany. The utility presents itself as an ideal tool for all those who want to protect themselves from hackers, and want a solution that is easy to get used to. It also states that it has helped 200,000+ people just in the past few years – with their data protection efforts.
Pricing Plan
Here is their pricing plan: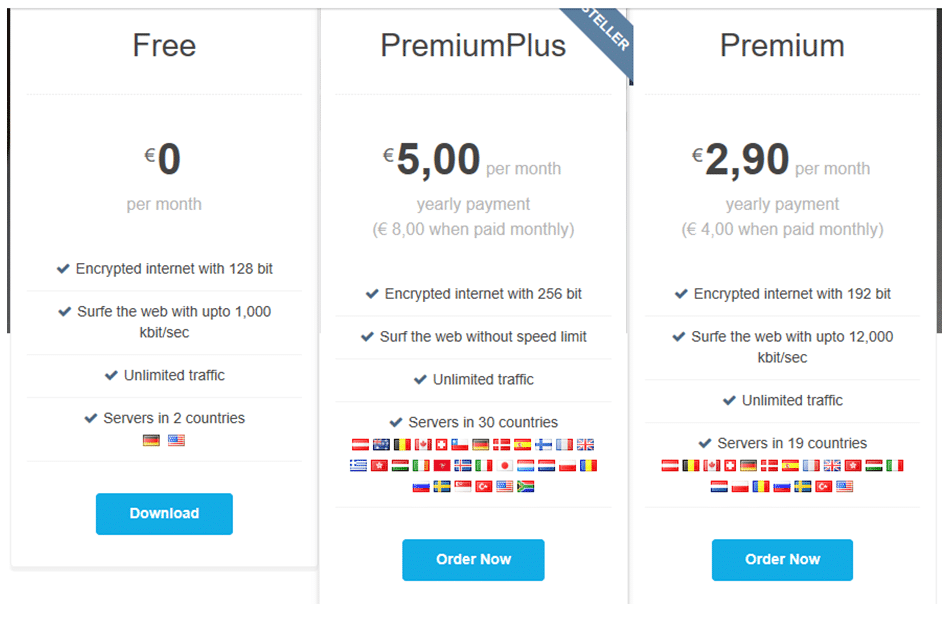 Surely, people admire the PREMIUM PLUS package. But new VPN users should opt for the FREE plan. It will give any person an idea to what is up for offer. A wonderful thing about all packages is that they all have the unlimited traffic feature.
Payment Methods
With the service, you get many payment options, as shown below.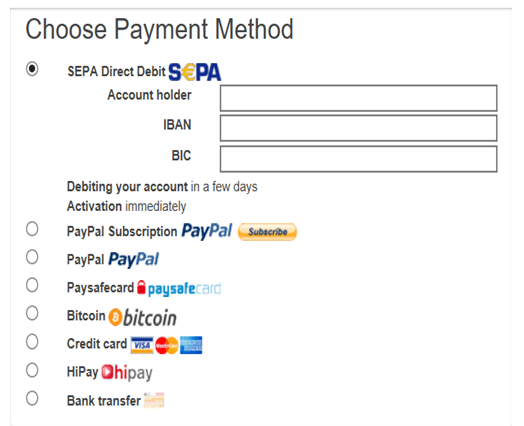 Features
The service has several interesting features that greatly entice the potential worldwide customers, these are:
Servers & their Locations
The service has servers located in more than 25 important countries such as the U.S, U.K, Canada, Germany, Belgium, Greece, Austria, Ireland, Chile, and Russia.

This Shellfire VPN review readers will be happy to know that the company offers a helpful 14-day money back guarantee.
The service claims all of its servers offer Shared IPs.
The service offers few dynamic shared IPs on couple of servers.
Additional Features
The service offers an amazing Shellfire box. This item is defined as a small device that protects a users' online data.
Its makers claim that it can secure any device by allowing the user to overcome those often annoying censorships, and it also safeguards from spies.
Compatibility
Shellfire works with today'smost used technologies such as Windows, Linux, iPad, iPhone, MAC OS/X, and Android. With such amazing compatibility, the service has made itself useful many consumers that prefer to have a flexible VPN tool.
Security and Privacy
No doubt,one of the primary reasons why a lot of today's internet users utilize a VPN tool is because they want safety of their private information. Well, if you are this person, you will be happy to note that the utility offers some of today's most popular protocols, such as:
The tool offers at least 128-bit encrypted internet to its users, which is available on its free package.
Logs & Terms and Conditions
Readers of this Shellfire VPN review will be glad to note that the service claims to keep no logs at all. Surely,this is great news for many as a lot of leading VPN services keep them.
On their website, the service has put forth a complete page of Terms and Conditions.
Customer Support
This is one of the strengths of the VPN. It offers to you:
Live chat
Help database
Email
The online live chat facility is not available 24/7. But when it is not available, you can leave a message and they will get back to you.
Setup Tutorial (OpenVPN for Windows 10)
The setup of Shellfire is divided into four steps.
Required data and files
Importing OpenVPN config files
Connecting / disconnecting
Checking your connection status
Required data and files
Setting up OpenVPN connection to a user's Shellfire VPN on Windows works as follows.
As a user, you require the following data from your VPN details,which can be attained in your Shellfire QuickAccess customer center:
– the downloaded configuration package – click "download"
User also need to download and install the OpenVPN client software. Simply choose "Windows Download" and make a default installation of OpenVPN. Know that the configuration package contains certificates for authentication. These are required for highest connection security.
Note: How to find your VPN details
Shellfire Website
Log in to using your customer id or your e-mail address and your password
Open the QuickAccess customer center bar
Click on your VPN id (sfxxxxx)
Your VPN details show up with the required data and your configuration package can be downloaded
(Be warned: Username and password for your OpenVPN connection are not exactly dimilar the ones for your Shellfire website account!)
(Be warned: In case your VPN is not currently set to OpenVPN, first you have to change the VPN type to OpenVPN from your customer center)
Importing OpenVPN config files
You need to unzip all files from the download package into the "config" subdirectory of your OpenVPN Installation folder. With a default installation of OpenVPN, this should be:
C:\Programme\OpenVPN\config             (german 32 Bit Windows)
C:\Program Files (x86)\OpenVPN\config               (international 64-bit Windows)
Now, your OpenVPN configuration is already set.
Note for Windows Vista and 7 users:
In order to set up your OpenVPN connection correctly, you have to start the programm with administrator rights. To do set this up permanently, you can right-click your shortcut to the OpenVPN GUI (Start -> all programs ->OpenVPN ->OpenVPN GUI), choose "Properties" and go to the "Compatibility" tab. Here, set the "Run this programm as an administrator" option.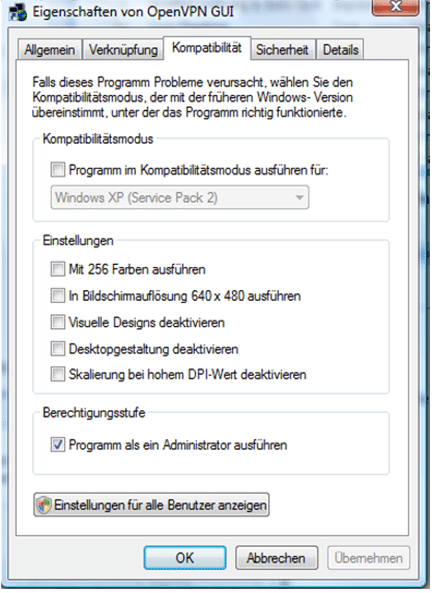 Connecting / disconnecting
After being disconnected from the internet or after rebooting your Computer, the VPN connection usually disconnects and has to be reconnected.
To connect, follow these steps:
1) Start -> All Programs ->OpenVPN ->OpenVPN GUI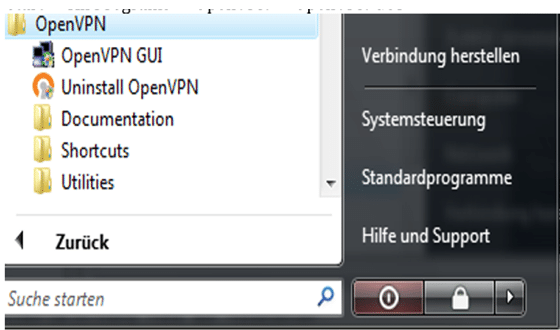 2) Windows Vista and Windows 7 users are asked for their permission to run the programm as an administrator. Confirm this.
3) On the lower right of your screen, you will now see the OpenVPN symbol:
4) Right-click it and choose "connect"
5) In case you get the message "client is now connected" along with green lights in the try icon, you have successfully connected to the VPN.
6) To disconnect, right-click the icon again and choose "disconnect".
Checking your connection status
If the VPN connection to the Shellfire server has been correctly set up, your IP address on the web is replaced by the IP address of the VPN server.
You can check this by following these steps:
1) Make sure the VPN connection is disconnected (step 4)
2) Visit http://www.whatsmyip.org/ and note your IP address.
3) Now, connect to the VPN server (step 4)
4) Reload the page and check your new IP address.
In this example, the first IP address is 123.123.123.123 and the second IP address is 111.111.111.111. Since both IPs are different from each other, you can tell that your connection is working nicely. If you get the same IP addresses with and without VPN, you need to check your settings or contact our support.
Unique Selling Proposition(s)
Gamers beware – the service offers you the following:
Teamspeak sever.
Mumble server.
Conclusion
Shellfire VPN review readers should note that the brand is a trusted name worldwide. It has good pricing plans, offers high-level security thanks to powerful protocols, and features a terrific 14 days money back guarantee. Although, it should've had 24/7 chat support.