Pros
5 Simultaneous Connections
Unlimited Server Switches
Dedicated Desktop & Mobile Apps
SurfEasy Private Browser
Easy To Use Software
Unlimited Data Transfer
7 Day Money Back Guarantee
Portable USB key
Cons
Live Chat Not Available 24/7
SurfEasy VPN – as the name indicates provides an easy and smooth surfing over internet. This VPN provider was founded back in 2011. It is headquartered in Canada and has now become an Opera Software Company i.e. a part of the Opera Browsing Family. SurfEasy VPN offers dedicated apps for every platform either it is desktop or mobile.
You can use SurfEasy VPN on 5 devices simultaneously covering an extensive range of compatibility over devices as well as OS. This SurfEasy VPN Review on VPN Analysis is an attempt to enlighten the brilliant features provided by this VPN provider in every aspect.
Pricing Plan
The pricing plans of SurfEasy VPN will look a little costly for people having a short pocket but after knowing what they provide in return, you'll never mind paying some more bucks for it. They offer their services for 3 subscription plans categorized according to the time duration you want to commit with them. All the 3 packages offer the same services with a difference in prices and subscription time period.

• Yearly Pricing Plan
The most popular package among all is the Yearly Plan which is available for USD 6.49 per month which takes your yearly bill up to USD 77.88 after a discount of 46%. This is the recommended most option as if you want an all-time VPN connection then you can have it in, comparatively, a cheaper price than the other two.
• Half-Yearly Pricing Plan
The Half-Yearly Pricing Plan will cost you for USD 8.99 per month taking the total to USD 53.94 for every 6 months allowing you to easily do upload/download torrents without being afraid of getting traced.
• Monthly Pricing Plan
The Monthly Package charges up to USD 11.99 for a month. This is inclined a little towards pricey side but this is beneficial if you wish to be anonymous on temporary basis for executing any bank dealings or doing some online financial transactions.
Payment Method
SurfEasy VPN offers limited payment procedures. Of them, there is PayPal which is relatively a safer and faster payment option. SurfEasy VPN looks forward to introduce the most anonymous Bitcoin payment method very soon.They currently provide the following payment options and intend to further increase it in the near future:
• Visa
• MasterCard
• PayPal
Money-Back Guarantee
SurfEasy VPN provider allows a seven day free trial experience to fully discover & extract their features and services. It even includes an option to cancel the purchase at any time and ask for your money back if in any case you find their service confusing or dissatisfying.
Servers & their Locations
Presently, SurfEasy VPN provides a significant number of servers about 1000+ in around 13 locations. Although, possessing a small server network yet it covers all the main locations to set their VPN servers. Among the 13 countries there are United States of America, United Kingdom, Australia, Canada, Germany, Italy, Netherlands, Norway, Spain, Brazil, Japan and Singapore.
SurfEasy VPN provides an unlimited server switching so that you can connect to any of these servers regardless of the number of times you shift from one server to another. These servers are highly optimized for providing ultra-fast services and seamless streaming.  Using these servers, you can unblock your favorite channels like Netflix, HBO Go, BBC iPlayer etc. at any time anywhere irrespective of your area.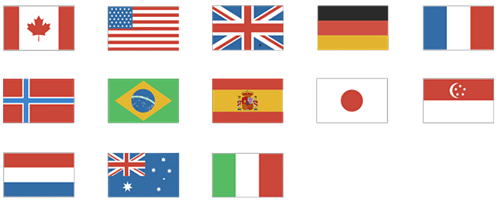 Video Review
SurfEasy has couple of videos on their website describing potential customers about how they work to serve best to their clients.

Features
SurfEasy VPN provides a number of specialized features which will never leave a chance for any gumshoe or an eavesdropper to lay his hands on your personal and credential information.
• Wi-Fi Security
Public Wi-Fi is no more than an open threat for you. Connecting to a Wi-Fi without any security preventive measure can be risky whether it is airport, gym or a coffee shop. SurfEasy VPN provides you a safe track; even if you are connected to a public Wi-Fi, you are free from any data thefts.
• Identity Protection
SurfEasy VPN helps protect your identity from the ever-snooping eyes of cyber-criminals and governmental agencies. It simply switches your true IP address with a false one; hence your identity can not be seen by anyone even by your Internet Service Provider.
• Secure Torrenting
Torrenting and P2P file sharing is prohibited in many countries. Plus, many VPN providers are seen to deny the P2P connections. With the revival of the services of SurfEasy VPN, they have allowed a secure and anonymous torrenting at fast speeds without exposing your IP or location.
• Online Freedom
SurfEasy VPN provides an anonymous browsing without getting stuck up with the geo-restrictions, content filtrations or censorship barriers.Using SurfEasy VPN, you are at the safe side with no any hacker or tracker to reach at your end.
• 5 Simultaneous Connections
With easy to use software, SurfEasy VPN provides 5 simultaneous device connections which simply mean that you can connect to their services at 5 different devices with a single VPN account. That's pretty awesome as mostly VPN providers offer 2 to 3 multi-login facility to their customers.
Ad-on Features
SurfEasy VPN provider offers fantastic ad-on features which no other VPN provider proffers their customers. They have introduced new ad-ons to provide a service better than others.
• SurfEasy Private Browser
The SurfEasy Private Browser refers to a micro-USB through which you can browse safely and anonymously without getting afraid of being logged. As on a usual Chrome or Firefox browser, your history is always being stored. Even if you have disguised your original IP address, the history is still saved. However, using the SurfEasy Private Browser, you stay secure as in the sense that whatever you do will remain in your own knowledge. This wallet-sized USB is obviously portable guarded with 256-bit encryption with a riskless search engine controlling unwanted things from reaching you.

• Ad-Tracker Removal
Ad- tracker or a cookie is a small informative piece of data which is stored while you are browsing over internet. This information is retrieved when you visit that particular website again, identifying your previous activity. This feature helps you to prevent you from the interruption of an annoying advertisement, cookie or ad-tracker that appears unwelcomed on your browser screen.Through SurfEasy VPN, you can minimize and even remove the ad-tracker on the SurfEasy Private Browser.
• Dedicated Desktop & Mobile Apps
With the addition of the evolutionary features like SurfEasy Private Browser and Ad-Tracker Removalin our SurfEasy review, SurfEasy VPN provides dedicated apps for Desktop computers and Mobiles. The apps are easy to install and use. It includes only 3 steps…
Download the app for your respective device.
Set-up a SurfEasy VPN account.
Enjoy smooth surfing at high speed!
Compatibility
We were partiallysatisfied with the compatibility side of SurfEasy VPN provider. They haveto work over it to expand their device and OS compatibility range. SurfEasy VPNsupports a notable variety of major OS and devices.For operating systems, SurfEasy VPN supports Windows XP, 7, 8, 8.1, 10, Windows Vista, Mac OSX 10.7 and upwhile Linux is out of the list of compatibility. While, if we talk about the device compatibility, we find here the iOS 7and up versions of iPhone and iPad and Android 4.0 and up version smartphones. Moreover, the SurfEasy extensions can work over the Opera 29 & above and Chrome 42 & above browsers.
Security and Privacy
The security and privacy means a lot for a VPN user when buying a VPN in the market. If your VPN provider does not support multiple protocols for a number of purposes, then you need not to proceed further. SurfEasy VPN provider is found to be sound in this category.
• Protocols & Encryption Level
In our SurfEasy review, we would like to mention every pros and cons of the VPN provider to help you make up your mind easily. SurfEasy VPN knocks out all popular protocols i.e. PPTP, L2TP/IPsec etc. and comes supporting only OpenVPN protocol. This is due to the reason that OpenVPN is the only reliable, secure and fast VPN protocol and is the most recommended one also. It provides bank-graded 256-bit SSL encryption to route your online data traffic from the VPN tunnel.
• Logs & Privacy Policy
A VPN is meant to assure you a complete online privacy without any data logs.  SurfEasy VPN states a transparent privacy and log policy keeping no logs of your online data or other browsing history. However, they maintain a record for an aggregate bandwidth rate to avoid throttling issues and other troubleshooting purposes.
Customer Support
The SurfEasy VPN provider has a support desk offering a number of ways to contact them i.e.  Email system, Ticketing system, Live Phone call but these are only available at their business hours. I would like to rate their telephone service as 5-star, while the Email was average and the ticketing system is the slower of all.Moreover, they have uploaded many Videos to instruct their customers about setting up the VPN. Plus, they have provided Knowledge base on their official website guiding the customers about their services, setup tutorials and other technical issues.
• Live Chat
We find the Live Chat of this VPN provider a little disappointed. Customer support of any VPN is created to establish a 24/7 contact between the customers and the VPN provider. Although, SurfEasy VPN agents are not available 24/7 on their Live Chat yet, when they are available, they are quite helpful answering to the questions with complete guide. Their Live Chat timings are:
Mon – Fri: 8am to 8pm
Sat & Sun: 9am to 5pm
Conclusion
We found SurfEasy VPN gaining a prominent position in the VPN industry with brilliant features. We are truly impressed by the cool ad-ons provided by this VPN provider. Especially the SurfEasy Private Browser is beyond one's desires! Although, there are some downsides of this VPN i.e. the customer support is not available all the time and a lack of server locations but still, when we talk about the service and features they provide, these dark aspects are left behind entirely. All in all, after reading our SurfEasy review, you must have cleared your mind to proceed further. Go for it!