Pros
1,600+ servers in 50 countries
Can be used in conjunction with the Tor anonymity network
Awesome add-ons, like 10Gbps premium network access and distributed denial-of-service (DDoS) protection
Can add simultaneous users for an extra $1 per month
Fantastic security features like deep packed inspection (DPI) bypass
Based in Panama
Bottom Line
TorGuard is our recommended VPN service for Torrenting geeks. It offers unlimited downloads plus unlimited bandwidth at great speed and reliable torrent client connectivity. They keep no activity logs and provide stealth servers to bypass DPI firewall.
I'm still a huge fan of the Tor network (with a few caveats and strings attached), but the network was compromised in the past by the FBI. Nevertheless, it does still add value to your personal security. Using Tor in combination with a VPN tunnel can magnify the security and anonymity benefits of IP address masking and encryption, thus providing an extra layer of security. Today, we're going to be looking at the TorGuard VPN service to see if it's good, bad, or mediocre.
How Much Does TorGuard Cost?
TorGuard has a pretty favorable pricing plan, which is less expensive than the majority of its competitors. It's much cheaper than services like ExpressVPN and Buffered VPN, though the greatest savings discounts are offered with the six-month and annual subscription plans.
The following outlines TorGuard's pricing model for its anonymous VPN service: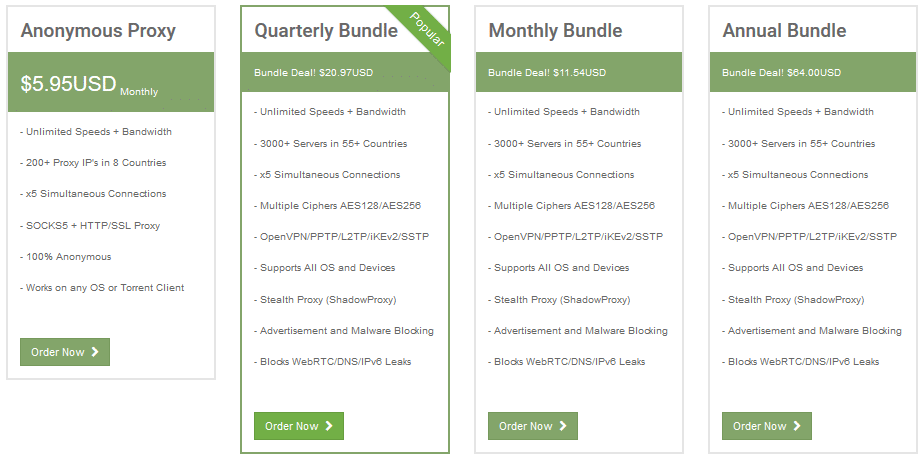 I was a little disappointed that there weren't any real savings advantages with the annual subscription plan over the six-month subscription plan. That said, both long term plans offer a $4.99 monthly rate, which is pretty inexpensive when compared with the rest of the industry.
I'd also like to mention that TorGuard used to have a tiered payment system, whereby each service level had different features. However, these days each TorGuard subscription plan has the same features (simultaneous connections, encryption protocols, and so forth).
I also thought it was brilliant marketing to allow extra add-ons to accommodate users with specific needs. Unlike most VPNs, you have the power to add extra simultaneous-use connections for $1 a pop at the last checkout page. It's also possible to purchase a static IP address per country for $7.99. Perhaps one of the most interesting and unique add-ons is premium network access in the US, Canada, and the Netherlands. It's rather expensive – $19.99 a month – but will give you access to a 10Gbps network, as opposed to a 1Gbps network. This feature will make domestic connections one heck of a lot faster.
Lastly, TorGuard even has a DDoS protection feature, though it does have limitations. You can only get a DDoS-protected IP address for $11.99 per month, and it's only available in Canada and France. I'm not sure why that feature isn't available in other locations.
The following summarizes the extra add-on features that lie outside of the standard packages:
Dedicated IP addresses: $7.99 per month
Extra simultaneous-use connections: $1.00 each, per month
10Gbps premium network access: $19.99 per month – only available in USA, Canada, and the Netherlands
DDoS-protected IP address: $11.99 per month – only available in Canada and France
What Features does TorGuard have?
Now that TorGuard doesn't use a package system, all of the different subscription options have the same features. I have to say, I was impressed by how many features are included, especially since the price is so affordable.
First and foremost, let's talk about the size of its network. TorGuard strategically located over 1,600 servers in 50 countries, which is more than the average provider. It's more common to see smaller services with servers in fewer than 20-25 countries, though some larger services, like ExpressVPN, have servers in over 90 countries.
Additionally, I was very happy to see that TorGuard permits up to five simultaneous connections. This allowance means you can easily share a single account with family members, or simply secure your phone, tablet, mobile devices and computers all at the same time. Naturally, like every other VPN service, TorGuard claims to offer the fastest VPN on the internet (we'll see if that's true in the speed test section). It also claims to provide unlimited speeds, bandwidth and data – which it does, but so does almost every other VPN service.
What really excites me is TorGuard's exceptional security features. Most VPN providers do a good job of offering strong encryption protocols. TorGuard is no exception, since it offers connections using OpenVPN, Point-to-Point Tunneling Protocol (PPTP), Layer 2 Tunneling Protocol (L2TP), Internet Protocol Security (IPSec), and Internet Key Exchange version 2 (IKEv2). Users have access to AES-128 (Advanced Encryption Standard) and AES-256-bit encryption, which still can't be cracked by today's most powerful computers.
TorGuard adds security features and enhancements on top of its strong encryption, such as support for AnyConnect (which is Cisco proprietary) and OpenConnect Secure Sockets Layer (SSL)-based VPNs. But here's my favorite part: TorGuard includes a stealth VPN feature that allows it to bypass deep packet inspection.
DPI is a special capability, which is often performed by firewalls and security appliances. It can drill down into protocol header information to intelligently gather more information about the payload. Fortunately, TorGuard VPN has a feature that adds an extra layer of security by preventing this type of inspection.
Furthermore, TorGuard helps secure your internet transmissions by preventing Domain Name System (DNS) leaks and Internet Protocol version 6 (IPv6) leaks. It even has a feature that helps block Web Real-Time Communication (WebRTC), and can help block malware and ad tracking (though most other VPN tunnels achieve the same goal through firewall policies and IP address masking).
Is TorGuard Fast?

TorGuard VPN had relatively good performance during the speed tests. I wouldn't say this is the fastest provider I've ever tested, but it certainly isn't the slowest provider, either. Interestingly enough, in both tests, my upload and download bandwidth was improved when I connected to the VPN server in Hong Kong.
The results of the speed test are as follows:
Thailand to Hong Kong (no VPN): 85ms, 5.51 Mbps download, 0.23 Mbps upload

Thailand to Hong Kong (with VPN): 90ms, 7.47 Mbps download, 0.51 Mbps upload

Los Angeles to Thailand (no VPN): 202ms, 40.98 Mbps download, 18.06 Mbps upload

Los Angeles to Thailand (with VPN): 224ms, 38.25 Mbps download, 8.11 Mbps upload

TorGuard Customer Support
 One thing that really amazed me about TorGuard's support was its live chat feature. I'm a huge fan of live chat, since it eliminates tedious email ticketing systems and boring phone queues. What I really liked was that the live chat feature showed me what my position was in the queue, and estimated how much more time before an agent would be available.
The support department is 24/7, and you can access an agent via phone, email or live chat. There is also a forum that you can use to find answers to your questions before contacting support. The website has guides that will aid you as well.
The website hosts a ton of useful tools, such as a DNS leak test, WebRTC leak test, and an IP address checker. Overall, I thought TorGuard's support department was better than the average provider's technical support.
Is TorGuard Private?

TorGuard has a pretty standard privacy policy, and won't ever log your online activities. As per the privacy policy posted on the website:
"TorGuard.net does not store or log any traffic or usage from its Virtual Private Network (VPN) or Proxy. TorGuard collects personally identifiable information from Users through online forms for ordering products and services. We may also collect information about how Users use our Web site, for example, by tracking the number of unique views received by the pages of the Web site or the domains from which Users originate. We use "cookies" to track how Users use our Web site."
Given that the service is based in Panama, and doesn't track any online activities, downloads or user data, there's nothing to worry about.
TorGuard Conclusions
Would I recommend this VPN service? You bet I would, I think it's fantastic! While personal preferences are always subjective, pricing models are objective. Since it's possible to get this service for as little as $4.99 a month, it's cheaper than most other services. In summary, the following lists the features that I loved the most:
Five simultaneous connections
Fantastic privacy policy
10Gbps premium network option
Advanced security options that avoid DPI
Inexpensive
I do wish it had a free trial, but unfortunately no such trial exists. However, if you're still unsure, then I highly recommend signing up for the service and testing it out. If worse comes to worst and you don't like it, you can get your money back within the first seven days.