Pros
Stealth Servers
Optimized Servers for Torrenting and P2P File Sharing
5 Simultaneous Connections
Zero Log Policy
Supports Bitcoin
Anonymous Email Service
Cons
No Free Trial Available
US-based Company
Bottom Line
TorGuard is our recommended VPN service for Torrenting geeks. It offers unlimited downloads plus unlimited bandwidth at great speed and reliable torrent client connectivity. They keep no activity logs and provide stealth servers to bypass DPI firewall.
TorGuard VPN has been the favorite VPN service for torrent lovers since launched on 15 November, 2012. This US based company aims to deliver good security and anonymity while using BitTorrent. Valuing the customers' privacy, the company stands out to hold no logs of users along with offering a refund policy of 7-days in case of any dissatisfaction.  In this Torguard VPN review you will learn more about its excellent customer support, Stealth Servers to breach firewalls of China and UAE (Iran and Syria) and other details which will enlighten you much about this product.
Affordable Torguard Pricing Plans
Torguard offers ample range of options to get their services with each package comes along with fair pricing plans and discount offers in accordance with as long as you sign-up to their services.
• Anonymous VPN Service
Torguard basic monthly VPN package comes at a price range of $ 9.99 which is quite economical when compared to its quality services. It also offers Quarterly, Semi-Annually, Annually and biennially ranging in between $ 19.99 to $ 119.99 per month, offering greater discounts on longer terms.
However, we do recommend their yearly package that cost up to $59.99 which means you are getting free Anonymous VPN Service for 6-months by paying just $ 4.99/month. Not only this, you get free 10MB storage encrypted email account in all their VPN plans and free Viscosity software license.
• Anonymous Bundle Service
The most ideal package which is the blend of both VPN and proxy can be obtained under Torguard Anonymous Bundle service. So you can anonymize your torrent activity by using proxy support along with having complete security and privacy with the VPN service.
Bundle Package costs up to $ 11.54/month. Keep in mind that before subscribing to this package you will have to buy Anonymous proxy first and then Torguard will redirects you to buy Anonymous VPN and then ultimately both the services will be combined in your invoice.
• Anonymous Proxy Services
Torguard also offers anonymous proxy service with 4 different pricing plans on a single proxy package. Monthly basis proxy service subscription charges are $5.95 while yearly subscription is just $ 46.95. It means with yearly subscription you are paying only $ 3.91 per month which is like using free proxy services for 4 months.
Although proxy service is much cheaper than VPN package but note that it will not provide you security and privacy while browsing online. So we recommend users to sign-up for Anonymous Bundle offer if they are willing to use BitTorrent because that package along with anonymity gives you secure, encrypted and private connection while torrenting as well over every online activity!
• Anonymous Email Service
With OpenPGP protocol, Torguard VPN provides it's users with anonymous email service by encrypting their emails from snooping eyes of hackers, your ISP or other agencies. However, the exchange of messages can only occur if OpenPGP supports is available to both sender and email reciever.
This paid service can be attained for $ 6.95 a month while yearly package can be subscribed at the rate of $ 49.95. Breaking down this yearly amount at monthly basis and you will actually get Anonymous email service for $ 4.16/month which is quite profitable! Also you are already getting complementary 10MB free email storage with all the VPN subscription plan.
Payment Method and Refund Policy
Torguard offers more than 200+ payment channels that are globally accepted so that none of their customer faces any issues while subscribing to their services. Recently they have added 76 new global payment methods in August 2016.
The included options are Subway, iDeal, Boleto, CVS gift cards, Union Pay, Bank Transfer, AliPay, Paysafecard, Webmoney, OKPAY and manymany more.

They also accept payments from the users via alt coins, MasterCard, Visa, Paypal, GoogleCheckout, LibertyReserve, CashU, Discover, American Express and Bitcoin which is considered  the most safest and anonymous payment option.
Although, there is no free trial offered by Torguard but they do have 7-day money back guarantee in case if the customer is not 100% satisfied with any of the package. From their 7-days refund policy it appears that Torguard has full confidence in its services who recommend itself to their clients to make full use of 7-days before giving their product a shot. However, keep in mind that this policy is applicable within 7 days of purchase and also the user would not have exceeded 10 GB limit.
Torguard VPN Server Network
Torguard has scattered server network with 1600+ active servers in over 50+ countries providing you an array to connect to any location you wish to. Torguard VPN servers are capable of high speed streaming, anonymous web browsing, torrenting and P2P filesharing. They have their servers running in almost all major countries like China, Turkey, UAE, USA, UK, Germany, Canada, Indonesia, Australia and many more.

Each of their servers has good port speed and supports port forwarding. Some of their servers are optimized for P2P filesharing while others are for torrenting or streaming services. So in this Torguard VPN review we have recommended location of servers optimized specifically for torrenting of P2P filesharing. Check them out!
Canada, Netherland, Romania, Switzerland, Norway, Costa Rica, Denmark, Finland, Indonesia, Malaysia, Czech Republic, Egypt, Luxembourg, Mexico, Panama, Moldova, Portugal, Russian Federation, Tunisia, Sweden, Turkey and Iceland.
Torguard Additional Features
We were so amazed by the excellent range of features offered by Torguard that we thought how to cover all in our Torguard VPN review. Therefore we have mentioned below some of them that gives you a complete package to secure your internet connection and make your privacy intact.
1. Internet Kill Switch
Torguard is much concerned about their client privacy and how to keep their internet activities safe from prying eyes of hackers, snoopers or other intelligence agencies. With its 'Kill Switch' feature it assures all your on-going internet activities remained safe in case of network disconnection. For instance if you are using public Wi-Fi using Torguard VPN along and suddenly the network got disconnected, then this embedded Kill Switch feature will shut down all your internet activities keeping you safe from each eye snooping over you.
2. IP Leak Protection
Windows security vulnerabilities popped out with time for exposing true IP addresses which was even faced by many VPN users as well. Therefore, Torguard gives you overall protection from all 3 types of IP leaks like DNS Leaks, WebRTC leak and IPv6 leaks. . It utilizes its own no logging DNS servers looking over all DNS requests which mean no involvement of 3rd party for keeping web history. However, not only is this feature good for Windows but all other platforms as well.
3. SmartDNS Service
SmartDNS Service of Torguard gives you lightning speed accessibility to all the blocked sites and services like Hulu, Netflix, Pandora and Amazon Instant Video etc. by overcoming legal censorships. So you can go 100% anonymous with this SmartDNS feature preserving no log history of users and works with almost any device including computers, Wi-Fi routers, Tablets, Smartphones, Xbox, PS and more.
4. Five (5) Simultaneous Connections
Torguard offers their clients 5-multi login feature with which you can simultaneously connect to 5 different devices using a single VPN account in any country from anywhere on any of your device. You can connect to UK, USA, Netherland, Switzerland, Romania, Russia or Canada on your laptops, routers, Desktops, tablets and phones simultaneously. This sounds pretty good as you get accessibility in all major countries on any of your chosen device using the same account at the same time.
5. Stealth Servers
Torguard VPN offers stealth VPN server option on their Torguard client app with luckily no additional charges. These Stealth Servers guarantees complete access to all websites in countries specifically China and Iran imposing heavy censorship for their netizens.
Thus, you can bypass those stupid DPI (Deep Packet Inspection) firewalls or VPN blockage with these Stealth servers which fool these firewalls by emulating the VPN traffic into normal http traffic making it unencrypted and legitimate.
New Torguard Update 2016
Torguard believes in evolving their platform with consistent updates and this year it brings tons of amazing new features, improved visual user interface and a major update in Stealth VPN technology. Check them out!
Torguard has made a visual user interface much easier and intuitive to use for their clients in the Torguard VPN client of all operating systems.
The improved visual update provides good reading accessibility and clearer content definitions. Thus users can now easily see visual icon of connection or status notification right in front of the client's main page.
A Torguard has wide range of server options so it might be sometimes difficult for you to choose the best server to your location or requisite. Torguard with its new update brings "Server Filtering" feature which will provide you the filtered list of servers based on your selection of options like Normal, USA, Stealth, Asia, Europe, and others.
Previously Torguard designed the Stealth VPN servers to combat internet censorship and Deep Packet Inspection (DPI) in strict regimes like Singapore, Malaysia and China. But recent Torguard update expanded the Stealth VPN technology in all of their servers so users can get optimal speed, connectivity and security in all of the 50+ countries.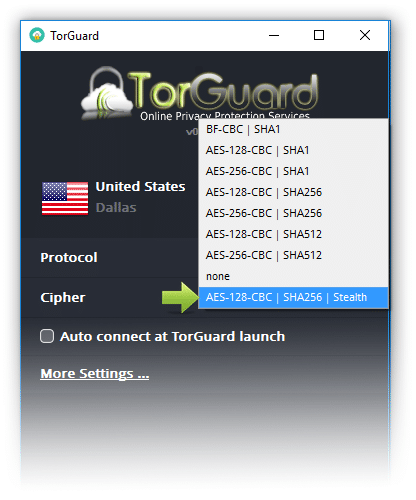 However for accessing Torguard new Stealth VPN servers, choose the Stealth AES-128-CBC / SHA 256 option from the "Cipher" drop-down list. In case you don't see Stealth in the Cipher settings then go to setting and select "Restore Defaults" and restart the Torguard app. Stealth VPN option will now appear on all the offered 1600+ servers.
Torguard VPN Softwares
Torguard offers two VPN client softwares viz VPN Lite software which much easier to use and ideal for non-technical users who just want to get anonymous while feature enriched VPN Viscosity Client beneficial for tech savvy users.
1. VPN Lite Client
This is Java-based VPN software for which you first need to install Java Runtime prior to downloading this lite (lightweight) client. It has custom build VPN dialer and allows OpenVPN connection with all pre-shared servers' directory. It is available for Windows, Linux and Mac OSX users with a good package of features including built-in Kill Switch app and Stealth VPN connection that will breakdown the DPI firewalls in heavy censorship prevalent countries like China and UAE.
2. VPN Viscosity Client
Viscosity (OpenVPN client) is an advanced version for those looking for more customization but available only on Windows XP SP3 or latest and Mac 10.5 or further. This OpenVPN client is fully featured enriched and modern than lite client specifically offering more servers' locations and protocol selection. Free licenses are provided by Torguard to all Viscosity clients (generally $9) providing reliable connection and user-friendly VPN platform as compare to other competing VPN platforms.
OS and Device Compatibility
Torguard VPN offers their services on all major platforms including Linux, Mac OSX and Windows operating systems with easy to use VPN client. Also, there are custom apps for android, iOS and Chrome Web Browser. This way anyone can utilize Torguard services in their respective devices and OS.

Additionally, Torguard have router stores to sell VPN routers that comes up with pre-configured and ready to "plug and play". These include DDWRT, Tomato routers, Roku, and Apple TV units. Thus any one can have complete security from Torguard VPN in their respective devices.
How to Setup TorGuard VPN on iOS
How to setup TorGuard lite on Mac
Security and Privacy
Torguard believes in building strong relationship with their customers by delivering them with good services and great security plus privacy. It leaves no loophole for hackers or snooping agencies that are seeking ways to dent your online privacy. Let's have a deeper look of Torguard VPN security and privacy.
• Supported Protocols by Torguard
Torguard security service is very impressive offering a modest set of security tunneling protocols inclusive of PPTP, L2TP/IPSec, OpenVPN (TCP, UDP), IKEv2, and SSTP. The company offers OpenVPN 256-bit key encryption for every device except to devices in which OpenVPN protocol is not supported so PPTP 128-bit encryption is provided in that case. But PPTP gives low encryption and is only good for fast streaming in comparison to L2TP/IPSec which is relatively better choice to have good security and speed.
Additionally supported protocols by Torguard VPN are SSTP, IKEv2 which is less common in other VPN providers but no doubt they are also amazing. SSTP is ideal protocol for Windows users for bypassing most firewalls. While IKEv2 works suitably well for mobile devices having capability to auto-reconnect quickly delivering good speed (not better than OpenVPN) and considered much stable and secured protocol.
• Logging and Privacy Policy
Torguard VPN privacy policy is clear is crystal clear and keeps their users fully aware about what information they hold and for which purpose. Since the company is US based so all the US laws are applicable to Torguard. However, only users' personal information while sign-up process is maintained and they also claim to use cookies to track users' web activity for promotional considerations.
In case you are kind of security oriented user then Torguard also offers Bitcoin or other anonymous facility to keep yourself completely anonymous while payment online.
Responsive Customer Support
With time, Torguard has improved their customer support especially their Live Chat support is very responsive, courteous and professional. Clients can also get help over email from their 24/7 support desk and ticketing system. While information enriched Knowledgebase are also available but the most efficient effort they had made so far is by providing a forum for users to throw their ideas there, containing section like tutorials, users concerns and latest industry news so as to be in continuous contact of their users' affairs.
Unique Selling Proposition
Availability of multiple subscription plans with each offering reasonable price plans is the strongest and unique selling proposition of Torguard VPN. Not only have they offered Anonymous VPN package but their services also deals with Anonymous Proxy and Anonymous Email service.
We have seen that many VPN providers discourage their VPN clients from torrenting and P2P filesharing. However, Torguard thinks broadly when it comes to customers' needs and desires. It gives you a passage to securely and privately do whatever you like; may it be torrenting or P2P filesharing or else communicating via end-to-end encrypted emails.
Therefore, whatsoever your goal maybe, Torguard VPN gives you complete freedom and support to either secure your connection, bypass geo-restrictions or to engage in torrent activities with their impressive packages.
Our Thoughts
Torguard VPN is an ideal choice for those who are willing to use BitTorrent anonymously along with getting complete security and privacy over the internet. With multiple packages offered by Torguard VPN you can sign-up to their services and get benefitted with features like; Kill Switch, IP leak Protection, Smart DNS service, Stealth VPN servers and much more that will always keep your privacy intact.
Hopefully this Torguard VPN review will be a complete guide for you in which we have tried to cover up all aspects related to this product. Feel free to comment below to share your experience with us!