Pros
3 simultaneous connections
Zero-monitoring
Unlimited bandwidth
Automatic Wi-Fi security
30 days money back guarantee
Torrenting, P2P file sharing allowed
Free life-time offer with a limited server collection
99.99% Uptime
24/7 active customer support
TotalVPN is US based service provider, launched in late 2015 setting up a pace among the huge market of VPN providers by offering great services to VPN lovers. Although, initially they don't have extensive range of servers yet still covers the most important areas to enjoy online freedom. TotalVPN values their customers' privacy as a priority so they keep no log of their users browsing activities. This TotalVPN review will cover all aspects pertaining to their speed, performance, security and connection stability.
TotalVPN provides paid subscription package with a 30 days money back guarantee along with its attractive features. Their services are compatible with all major OS platforms including Mac OSX, Windows, Android, and iOS. To elaborate the admirable features of this service provider; we are publishing Total VPN Review after their assessment report by our tech team, to provide our users' with clear picture of their software.
Attractive Subscription Plan:
We are totally impressed by the TotalVPN effective pricing plan. Three attractive cum economical subscription packages. The most striking is the biennial plan with exclusive discount, available at just USD 4.99 per month. Subscribers can save USD 29.71 opting this two years' plan. This plan also includes a 30 days' money back guarantee; along with unlimited bandwidth, unlimited data transfer, 3 simultaneous connections, access to torrenting and P2P file sharing servers and availability of 30+ server locations.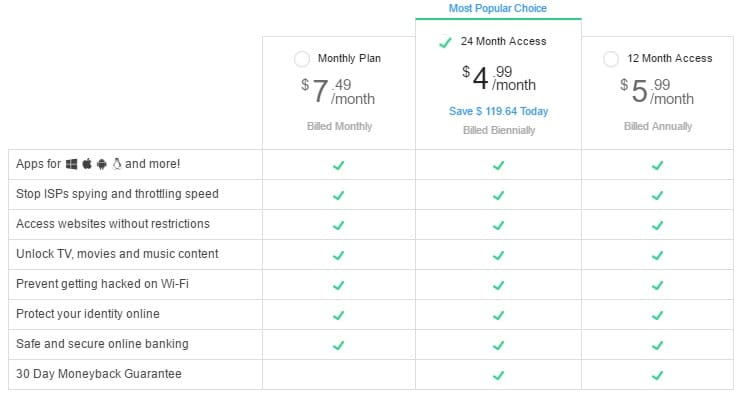 Monthly plan of Total VPN is available at USD 7.49 with features including protection, security, anonymity, geo accessibility and all, except money back guarantee. Annual package comes along with features including 3 simultaneous connections at single account and unlimited bandwidth which can be purchased as low as $6.95. This paid subscription plan comes with 30-days money back guarantee so that users may get fully known by their service with-in 30 days. Although TotalVPN is very confident about their efficient services but still it recommends potential users to think wisely before giving a shot to their services.
Payment methods:
Coming up with two excellent packages, Total VPN provides its users an ease of payment methods. It does not restrict its users with only one payment procedure or a certain payment currency instead they accept multiple payment currencies viz. US dollars, AUS dollars, CA Dollars, Euro and Pound Sterling. They presently offer 4 different payment methods so that customers can easily pay irrespective of currency problems.
• Visa
• MasterCard
• Amex
• PayPal
Servers and locations:
Although they are new in the market, TotalVPN server list includes 17 countries at 30+ locations worldwide; more importantly all servers are located in regions of high demand – North America: USA and Canada, South America: Argentina, multiple locations in Europe: United Kingdom (England & Ireland), France, Belgium, Germany, Spain, Italy, Sweden, Poland, Austria, Switzerland and Romania. Secure servers are also located in Australia, Israel, China, Japan, Singapore, Russia, Iceland and etc.
Check out TotalVPN's server's highest load in 6 continents and eventually grabbing more customers by providing quality services:
• North America (Chicago) highest rating up to 8%
• Europe (Moscow) highest rating up to 11%
• Asia (Tel-Aviv) highest 26% server load
• Africa (Johannesburg) 17%
• South America (Buenos Aires) 11% server load
• Oceania (Sydney) with 1% server load
Apart from this, it has server located in China, Germany which are the most geo-restricted areas till now due to strict internet laws. You can sign up with any of the secure server offered by TotalVPN in different parts of the world after choosing your paid subscription plan.
Mentioned VPN server spread ensure to deliver you complete security along with integral anonymity. You can bypass all geographical barriers and unblock hundreds of streaming media by connected to these server locations. Plus TotalVPN server count is increasing at fast rates so you may expect a prominent addition in their server spread within few months. Next on this TotalVPN review will be device and operating system compatibility of the service provider.
Compatibility:
Device compatibility is one of the major concerns while shopping for best VPN. If your software is not compatible with all of your devices then it's good for nothing. Let's say, if it is only compatible with laptop and PC but not with your smart phones then your smartphones might be exposed to vulnerabilities.
TotalVPN promises compatibility with different devices. You can configure it on devices like Smartphones, Computers, Kindle, Blackberry etc. Furthermore, Total VPN supports Windows, Mac OS X, Linux, Android, and iOS so that you may experience their services on any device anywhere.
Security And Privacy
Considering the security and privacy element, TotalVPN is not behind any other service provider. It offers a secure connection between you and TotalVPN server, you are connected to. It defends you from the ever-spying cyber criminals and third parties and protects you to be a victim of governmental surveillance, data thefts, hacking and tracking.
They have a zero log policy which clearly says that they only keeps a record of the IP address with which you are connected via VPN tunnel, plus the time period that you were connected with VPN. Most importantly, especially from privacy point of view it is worth mentioning in TotalVPN review that they keep no logs of users browsing history. TotalVPN provides a strong 256-bit encryption enabling a secure tunnel while browsing. You can connect to the world of internet with your Total VPN application through the following protocols:
• PPTP
• IPSec
• OpenVPN
• IKEv2
Features:
Although, this service provider has various features to offer, we have covered the most prominent and noticeable features in this TotalVPN review.
Multi-login:
You get 3 simultaneous connections at a time on a single account with TotalVPN's Premium package. Hence, with the same username and password on all of the 3 devices within the same country you can get access to single account.
Unlimited Bandwidth
Bandwidth throttling is one of the major issues while choosing an appropriate VPN service provider. You may not know that your ISP keeps a limit on your bandwidth. Using Total VPN is reliable as it provides unlimited bandwidth enabling you to upload and download files without any worry.
Zero monitoring policy:
Privacy is an important concern of TotalVPN of their valued users. Like few other good service providers, Total VPN also does not keep log of any kind of activities that users does online. It gives you space to enjoy online freedom by following zero monitoring policy.
Protection from cyber criminals:
Total VPN provides you automatic Wi-Fi security. It masks your actual IP address and assigns you a false one so that you can surf safely and anonymously. You can even connect to the public Wi-Fi with the peace of mind. Even your ISP won't be able to monitor your online activities.
Unblock Favourite Websites
TotalVPN is capable of avoiding any censorship and bypassing the geo-restrictions over websites. Using a Total VPN you can unblock the most popular websites such as Netflix, Hulu, BBC iPlayer, HBO and many more. You can enjoy your favorite content over your favorite sites on a single click!
Customer Support:
Total VPN team seems quite keen to resolve their customer's issue. They provide multiple ways to contact them for any query. They offer:
• Live chat
• Knowledge-base
• Telephone line
• Email
• Help Centre
• Support ticket
Total VPN has a 24/7 customer support desk where they are always ready to answer and resolve your issues. They have an active Live Chat window which is found to be the most effective as it is the most direct option to resolve your queries. Other than this, they have provided a knowledge-base on their website containing important setup guides, basic articles, tutorials and FAQs regarding TotalVPN and their service. We have contacted their customer support for our TotalVPN review. The support ticket consumes a little longer as compared to the telephone line, but their overall customer support is relatively efficient..
TotalVPN Review – Final Verdict
In this TotalVPN Review, our team at VPN Analysis provides thorough assessment of features, performance, speed test along with their pricing packages, it can be said that it is one of the best VPN with advantages and services. It provides strong security and reliable connection offering 256-bit encryption and a passport to unblock your favorite sites. Though, it initially offers only 30 servers but still you can get access to geo-restricted locations as the provided servers are located in most important areas. With all of these things that you may desire, you are left with no excuse to give it a go to Total VPN and enjoy its effective services!