Pros
No Log Policy
Unlimited Bandwidth
Torrent/P2P Support
1 Click Install & Run Software
10 Day Money Back Guarantee
3 Simultaneous Connections
Bitcoins Accepted
AES 256-bit encryption
Cons
Unavailability of 24 hours Support
Bottom Line
Trust.Zone as the name suggest is a trusted VPN service that promises their clients to provide anonymous web surfing, great security, throttle-free network and safe accessibility to geo-restricted areas.
Trust.Zone is a fresh contender added in the world of VPN providers. Although it's a new company but it has already established noteworthy network combined with pro-user services. Fair pricing and special consideration for user privacy are its salient features, on the other hand their encryption levels need improvement. In this review I'll try to shed light on Trust.Zone's services, Pros and Cons.
Pricing
Smart VPN providers always set their prices at the lowest possible to lure in as many users as they can. Trust.Zone has also maintained their rates fairly low which makes it compatible in the crowded VPN market. Like most VPN providers Trust.Zone also offer 3 different packages based on duration with similar features.
Monthly Package
Monthly packages is priced at $6.99. Which is more suitable for users who wish to avail VPN account for a short period of time such as those who are travelling to a country having high internet censorship.
Quarterly Package
Quarterly package is priced at $4.95/ month and can be acquired for 3 months with a one-time payment of $14.85. This offer gives you 30% discount as compared to the monthly package.
Annual Package
Annual Package is priced at $3.33/ month and can be acquired for a year with a one-time payment of $47.88. This offer gives you 50% discount as compared to the monthly package. This is Trust.Zone's best offer and delivers maximum discount and is most viable for users planning to acquire VPN account for a longer period of time.
Free Trial
Trust.Zone also offer a free trial of 5 days for usage up to 5GB. This offer give users a chance to analyze Trust.Zone services. However it limits server access and allow only one simultaneous connection.
Money Back Guarantee
Trust.Zone doesn't stop at free trial, it goes further and offer a 10 day money back guarantee as well. If after subscription you are not satisfied with their services then you can ask for your money back within 10 days. With the money back guarantee users can test Trust.Zone services to the extreme and then decide whether to keep it or not.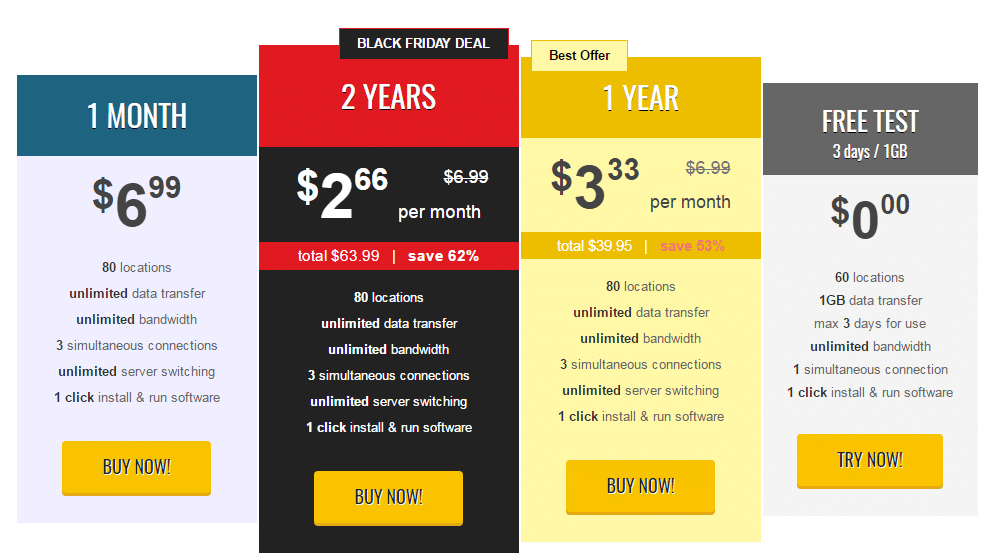 Signup Process
Signup process for subscribing with Trust.Zone is simple and straight forward. Users who want to register are required to fill email and password along a Captcha. However some payment options can require more information such as address and phone number. For users who want to remain anonymous, Trust.Zone support payment options such as BitCoin with a perk of 10% over it
Payment Options
Trust.Zone support a variety of payment options to enable users chooses the one which suits them best. Users can also pay via e-commerce service PayPro; other payment options include Visa, PayPal, QIWI Wallet, WebMoney, and Alipay. Bank transfers are also supported. And for users who want to remain 100% anonymous BitCoin is also amongst supported payment options that will provide users with 10% discount.
Servers and Locations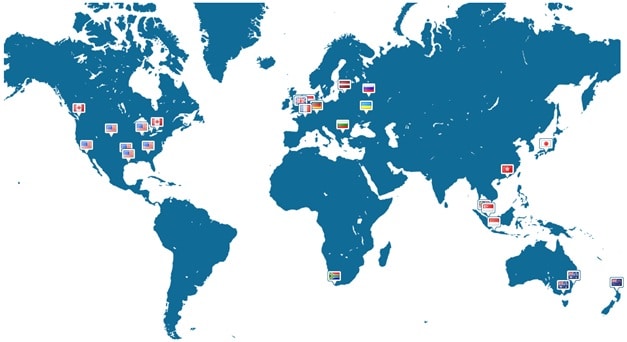 For a relatively new VPN provider Trust.Zone has a fair server network. Trust.Zone offer 68 speed optimized servers based in different regions and 45 different zones over the globe. This server network allows users to circumvent geo-restrictions quite effectively. Because of the minimum load on these servers, they provide higher speed which is favorable especially for activities like online streaming and Torrent downloading. One should also keep in mind that because Trust.Zone is a new VPN provider, its server base is expected to expand rapidly in coming years.
Security
Trust.Zone secures its accounts with L2TP, OpenVPN and Trust.Zone (Trust.Zone's self-devised protocol). For encryption Trust.Zone uses standard AES 256 bit encryption. Trust.Zone recommends L2TP/IPsec which for handshaking utilize pre-shared key, for data authentication SHA-1 and for data stream it utilize 256 bit AES encryption. While OpenVPN with AES 256 bit encryption will be considered better option to make your connection secure.
Windows client offered by Trust.Zone use its own self-devised protocol and there is no way we can judge its effectiveness which is alarming. Their fore I must caution security sensitive users to consider these details. On the other hand these details should not scare users who utilize VPN for streaming only as streaming doesn't require optimum security measures.
Privacy & Log Policy
Trust.Zone is based in Seychelles, which is amongst the favorite locations for VPN companies because Seychelles have no mandatory data retention laws. Hence Trust.Zone keeps no log which is most favorable for users as any activity by Trust.Zone subscribers cannot be traced back to them. Trust.Zone also offer peer to peer sharing which comes very handy for downloading. Although Trust.Zone caution users not to indulge in illegal sharing, but because of its no log policy, any such sharing can't be traced and tracked.
Costumer Care
Costumer Care is one of the most important aspects of any online service, hence a VPN provider should take extra care of this aspect of their service. Trust.Zone offer costumer care via its website, Live Chat and Contact Support which is responded through email. FAQs provided on website also help users to find relevant answers. However Trust.Zone costumer care needs improvement.
Trust.Zone Website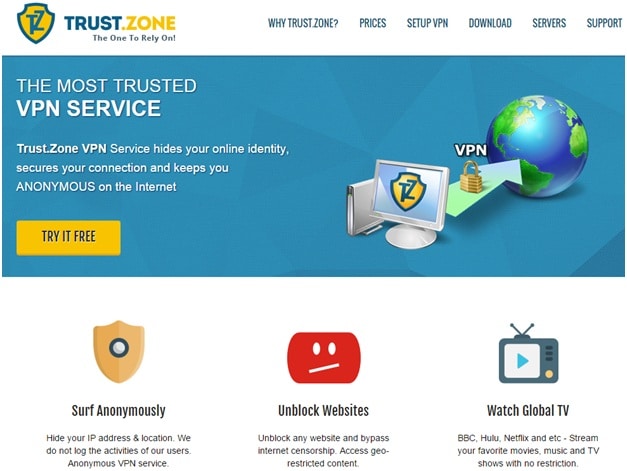 Website always play first in providing information about a product. Trust.Zone,realizing this, offers an informative and straight forward website. Its website offers ample information about its features, protocols, pricing, network and other services. I would suggest user to visit Trust.Zone website in case they need extra information about Trust.Zone and its features.
Live Chat & Email Support
Trust.Zone offer Live Chat and Email support for solving individual problems. However this support is not 24/7, it is available Monday to Friday, 6:00 to 4:00 pm GMT. Iwould highly suggest Trust.Zone to expand their online support to 24/7 at the earliest in order to offer maximum user satisfaction. I also think Trust.Zone Customer Support Representatives need more training as per technicalities.
Features
Trust.Zone VPN Client for Windows
Trust.Zone offers a user friendly client for Windows. Server selection process is easy, you can connect to any server or switch between servers quite rapidly. Connection and disconnection through VPN client are also very simple, you can connect by clicking on the shield icon and can disconnect via Exit button.
Some handy features are also included in VPN client i.e. Internet kill switch, port selection (default port is set at 443 HTTPS) and option to launch VPN connection automatically.
Device Compatibility

A good VPN service must offer wide spread compatibility in order to appeal as many users as possible. Trust.Zone also understands this as it offers compatibility for a number of leading OS and devices. Trust.Zone is compatible with OS like iOS, Android, Windows, Mac and Linux. It is also compatible with devices like iPhone, iPad, Android based devices, Laptops etc. wide compatibility make Trust.Zone service very effective for a huge number of users who use these devices and OS.
Speed
Speed is amongst the most important aspects of a VPN service that every user should look at. A VPN connection with slow speed destroys the whole experience hence providing a satisfactory speed is a must for every VPN provider. Trust.Zone offers unlimited bandwidth and speed to ensure a lag free experience. In order to test Trust.Zone speed claims I test tits speed via speedtest.com using OpenVPN and here are the results.
Trust.Zone Speed Test without VPN

Trust.Zone Speed Test with OpenVPN

It was a surprise for me that ping actually improved, however there was a drop in download speed but this drop is normal and will not create unbearable lag. But speed may vary server to server and users should try different servers to know which works best for them.
Windows 8 Client Setup (Client also works for XP, Vista, 7 and 10)
Download VPN client for Windows. Trust.Zone will ask you for your Username and Password before downloading.

Go to "Downloads" folder > Right click on Windows client setup file and click on "Run as administrator"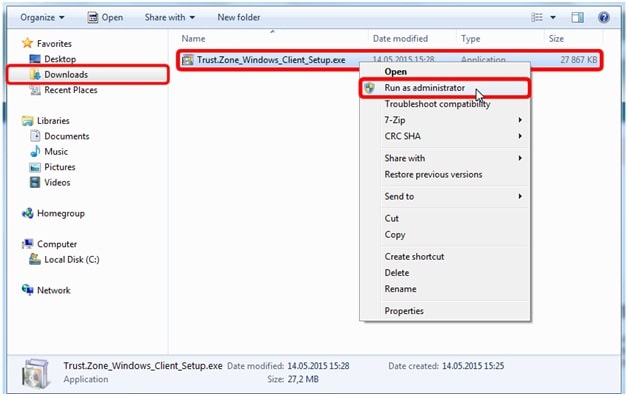 Trust.Zone VPN setup wizard will commence. Click on "Next" > Choose the location you want to install Trust.Zone at and again click "Next"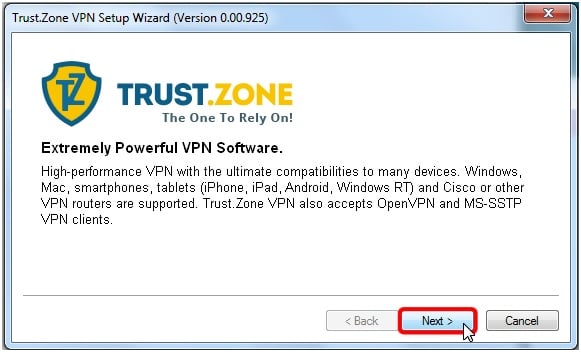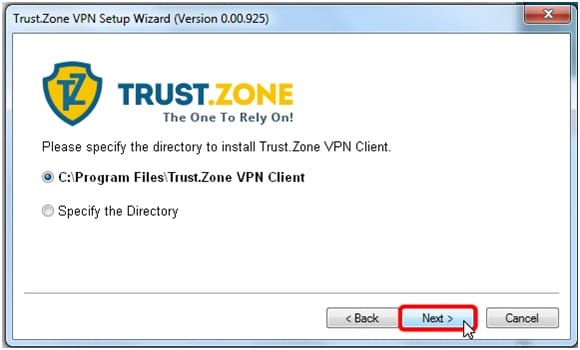 Now click on "Finish"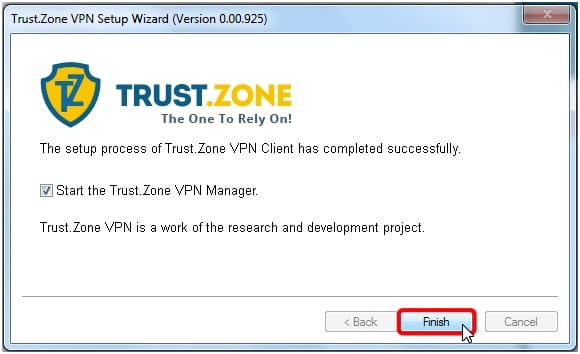 After this Trust.Zone Windows Client will establish a new "Virtual Network Adapter for Windows". This will take some time depending upon the speed of your system.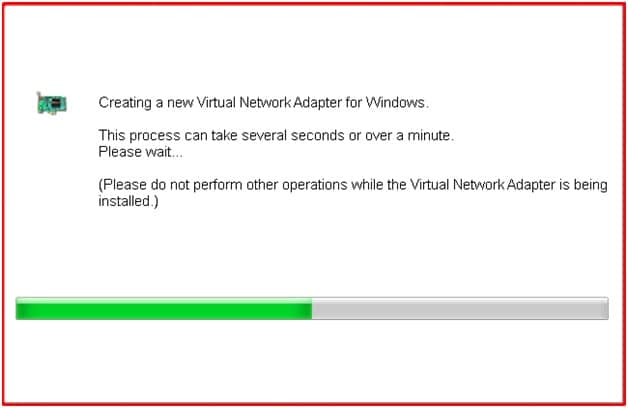 Now you'll be asked to select a location for the new network. Select "Public Network"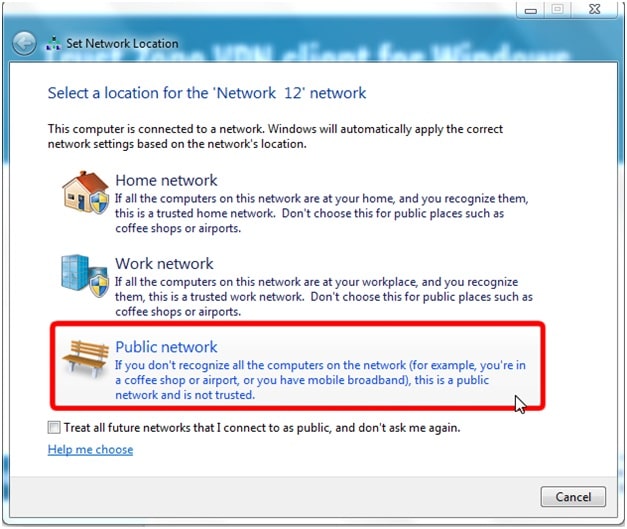 A dialog window will appear, click on "Close"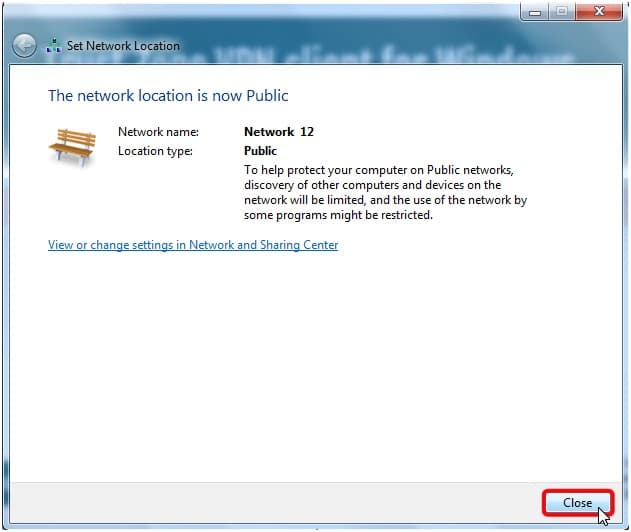 To connect to Trust.Zone server, click on Servers icon on Trust.Zone client interface.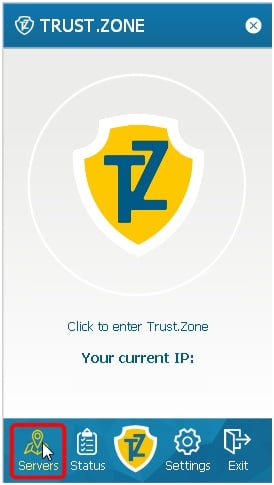 Click on "Connect" button placed next to your desired server.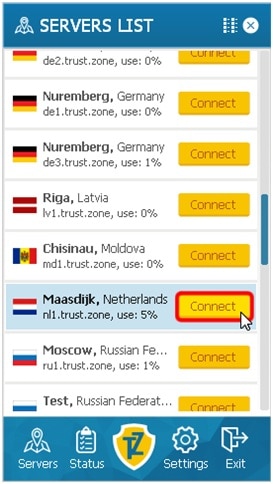 Trust.ZoneClient will initiate connection process. when connected Trust.Zone icon will turn green and IP will change revealing that you now are connected to server of Trust.Zone.
You can double check whether you are connected by visiting Trust.Zone website.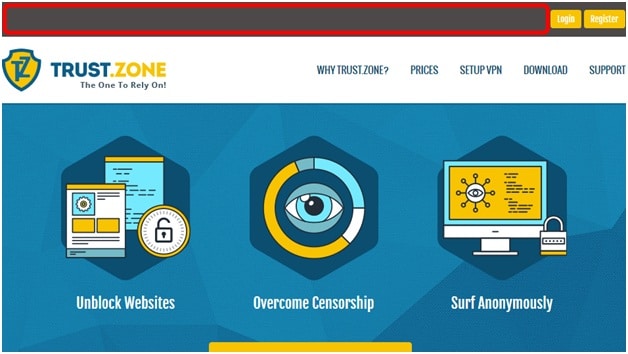 Congratulation! You are now connected to Trust.Zone VPN. Enjoy hurdle-free surfing and downloading.
Other Platforms
Trust.Zone at the moment only offer a VPN Client for windows. Trust.Zone connection can be established on other platforms through setup guides available on Trust.Zone website. Trust.Zone website offers easy to follow setup guides for Mac, iOS, OSX, Android and other platforms. I'll, however, advice Trust.Zone to come up with Mac, iOS and Android clients as soon as possible.
Simultaneous Connections
Simultaneous connections offered by VPN providers are amongst most attractive features as any additional simultaneous connection work as free connection because we pay for one account and with simultaneous connection feature we get additional connections for free. Trust.Zone offers 3 simultaneous connections which is quite good as per my opinion.
DNS Leak and Web RTC Leak Protection
DNS leak protection and WebRTC leak protection are also included in Trust.Zone packages. Trust.Zone through its WebRTC and DNS leak protection obstructs your ISP from knowing your IP address and online activities. These services are very effective in shielding users from surveillance and spying and ensures maximum anonymity.
Conclusion
Overall experience of using Trust.Zone is quite satisfying. There was a drop in the internet speed but not enough to create annoying lag. This makes Trust.Zone a viable candidate to unblock streaming websites like Netflix and Hulu. Ease of payment through Trust.Zone's various payment options is also a prominent feature which attract users. 3 simultaneous connections also lure users, I tested this feature by connecting Trust.Zone on 3 different devices concurrently and they performed well, no error messages or disconnections. Server number and locations are enough but improvement will make it even better. Online support needs expansion while website performs its job well.