Pros
6 Simultaneous Connections
Secure Proxy Browser Add-On
VPN Clients For Windows, Mac And Android
No Activity Logs
ECC Support
Multiple Protocol Support
No Speed Limits
Self-Hosted DNS Servers
Internet Kill Switch
IPv6 Leak Protection
No Bandwidth Throttle
Cons
No VPN Client For iOS And Linux
No Live Chat
The Romania based VPN provider, VPN.ac, was launched in the VPN industry in late 2012. It is backed by highly skilled IT professionals that have 15 year of experience in cybersecurity. Although, it's a VPN provider that we've seldom heard reviews about but, when we started discovering their service and its wonderful features, it urged us to make an attempt to write a VPN.ac Review. Let's look into it in more detail.
Pricing Plan
The pricing plan seems to be a little costly, keeping in view that most of the premium VPN service providers have pricing similar to it, but there are discounts offered that will definitely make the plan simply worth it. There are four pricing plans depending on the length of the subscription. The Monthly Package cost up to $9, the 3 Months Plan charges $8/month i.e. $24 after every 3 months with 11% discount.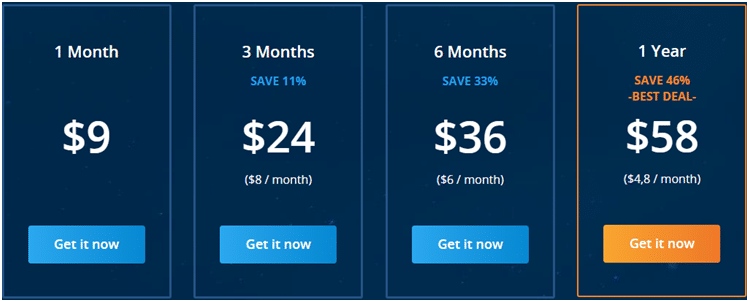 The Half Yearly or 6 Month Plan is available for $6/month i.e. $36 for every 6 months. Subscribing to this plan, you can save your money upto 33% discount. The most popular and the best deal of all the 4 plans is the Yearly Plan offering the least amount to pay i.e. $4.8/month with 46% discount. All the 4 plans offer the same features and services with 6 simultaneous connections and money back guarantee.
Payment Methods
VPN.ac offers numerous payment options including many region-based payment methods such as Alipay, Webmoney, Unionpay, Ideal, Sepa Direct Debit etc. Other than these they also accept Debit/Credit Cards, Prepaid/Voucher Cards, the leading payment service PayPal and the most anonymous and secure – the Bitcoin payment method is also acceptable
Free Trial Or Money Back Guarantee
VPN.ac does not offer any free trial. However, the company provides two options to test their services. These options include either subscribing to any of their regular package and avail 7 days money back guarantee in case of dissatisfaction,or else you can get connected with their VPN services by subscribing to a paid trial for 7 days i.e. a week at the cost of $2.
Paid trial comes with limited services with 3 simultaneous connections on a single VPN account. As compared to this plan, if you subscribe to a regular package, then your money will be refunded within the same time period i.e. 7 days, but you will be allowed to use 6 simultaneous connections on a single VPN account.
Servers & Their Locations
The servers deployed by VPN.ac are in the most major locations which a VPN user desires first. There are 50+ servers among which some are specially optimized for torrenting and P2P file sharing. These servers are located in 20+ countries including USA, UK, Germany, Romania, Japan, Hong Kong, Singapore, Canada, Spain, France, Switzerland, Italy etc.
There is a unique China-only server list specifically for the VPN users who wish to bypass the Great Firewall of China. Connecting to those China specific servers, you can use Facebook, Twitter, YouTube and Skype within the Chinese boundaries.
VPN.ac uses physicalas well as virtual servers on their VPN nodes. The dedicated servers consist of mostly the E3 and E5 Xeons with hardware crypto acceleration. Their main focus is to provide a quality service to their users without any bandwidth or speed issues.
Features
Backed by extremely proficient IT professionals, VPN.ac has done a brilliant effort of making a decent VPN service. Although, it has to go little bit further in improving and enhancing the service, but at present, there are many noticeable features of VPN.ac that are worthy of an applause..
• Secure Proxy Browser Add-On
VPN.ac provides a secure proxy browser plug-in which can be added to Opera, Firefox and Chrome Browsers. This proxy extension permits you to browse freely by connecting to 5 different locations viz. USA, UK, CA, JP and DE.

Using proxy plugin, you can save yourself from the DPI,hackers, the ever-snooping eyes of surveillance agencies and can even bypass the Great Firewall of China and get access to any geo-restricted website.
• DNS Security
They use their own private DNS Resolvers to solve all DNS queries to protect the customers against third-party DNS monitoring such as Google Analytics. These DNS queries are not logged in any way and any third-party cannot monitor your online traffic or online activities. The DNS queries you send to their self-hosted DNS Resolvers are encrypted with AES 128-bit and you are fully protected from any DNS leaks, wiretapping or MitM hijacking.
• Shared IP Addresses
VPN.ac does not provide dedicated IPs and do not even plan to do it in the future. The dedicated IP is one which is solely dedicated to a single user so they believe that using dedicated IPs can give hackers a chance to trace you.
Thus, they only prefer to assign shared IP addresses which mean that a single IP is shared between a number of VPN users on the same node of VPN. Using shared IPs is a clever choice as it is difficult for one to figure out an individual from a pool of different VPN users.
• 6 Simultaneous Connections
The multi-login facility of VPN.ac seems to be exceptional as a very few of the VPN providers are found to offer more than 5 simultaneous connections VPN.ac offers their customers 6 simultaneous connections from a single VPN account so that you can enjoy an easy access to your favorite websites on any device of your choice.
Compatibility
Compatibility matters a lot while making a purchase for a VPN provider. Most of the VPN users expect the compatibility list to contain all the mainstream devices and operating systems. Being comparatively new in the market, VPN.ac has built up their compatibility list very well.
VPN.ac has established their VPN client software apps for 3 of the major platforms viz. Windows, Mac OS and Android. The native VPN.ac app is easy to use and supports all Windows versions (Win 7, 8, 8.1, 10), Mac OS (version 10.7 and up) and Android.
They are looking forward to launch their VPN client for iOS and Linux in the near future. However, VPN.ac can be installed by using 3rd party VPN software or OS specific built-in settings for operating systems which are not in their compatibility list.
Security and Privacy
VPN.ac possesses a privacy policy that protects its users from the spying eyes of cyber criminals and other hack-attacks. The protocols and encryption level is top-notch as VPN.ac is one of the few VPN providers which proffers its customers with the best ever security features and truly respects their privacy.
• Protocols & Encryption Level
VPN.ac works with all VPN protocols i.e. PPTP, L2TP/IPSec and OpenVPN. The encryption standards are different for each protocol. PPTP uses 128-bit MPPE encryption which is considered insecure and is not recommended for sensitive or confidential data transfer.
The L2TP/IPSec and OpenVPN provides both AES 128-bit as well as 256-bit encryption depending on what OS or device you are using. For the AES (128 and 256 bit) VPN.ac uses RSA 4096-bit authentication and Elliptic Curve Cryptography for Key Exchange (ECDHE)support with Secp256k1, Sha512 HMAC and PFS.
• Logs & Privacy Policy
Although, the company is registered in EU, but data retention is not supported and stated as 'Unconstitutional' by the Romanian Constitutional Court in July, 2014. However, if there are any monitoring laws or policies, then these does not apply for VPN users ad are only for the ISP and Telecom operators.
Since, VPN.ac is headquartered in Romania; there is no threat to users' online privacy. Hence, they don't have to follow any strict logging or surveillance laws and possess no log policy to keep up the trust of their dedicated customers. Although they maintain the connection logs and remove it upon daily basis but no record for online activities is kept for any reason.
Customer Support
The customer support is worth mentioning in this VPN.ac review as they have worked over it very well. Their online support consists of Ticketing System, Email, Tutorials, Knowledgebase and FAQs. The Knowledgebase and FAQs contains all the essential information regarding the general info, compatibility, billing, security and privacy.

• Online Support
Sadly, the online support of VPN.ac lacks a 24/7 Live Chat option. The live chat is only available from 7 am to 10 pm GMT. However, there are other very responsive options to contact them online that you don't feel need of the live chat every time. The Ticket system is fast and their customer support agents replies in detail within minutes.
Most importantly, they can also be contacted on Skype Chat for direct conversation about VPN queries. Last but not the least; VPN.ac is even available on Remote Assistance via TeamViewer in case you are badly stuck up in any problem.
Website
The VPN.ac official website is really smooth,following  a navy blue color theme. It incorporates all the information regarding every aspect of the VPN service. The FAQ section is better than any other VPN provider answering every possible question that one needs to ask for.
The most attractive area which we found to be different is the VPN Node Status at the top right corner. This section indicates the server load information and the bandwidth usage over each of their VPN server.
Setup Tutorial
The setup tutorials can be found over the official website of VPN.ac for their 3 major clients; Windows, Mac and Android. The setup is of no hassle. It requires a few simple steps to be followed and you are done setting up VPN.ac in your respective device or operating system.

If you are a Windows user, then you can scroll down for the easy Windows setup guide:
How to Setup VPN.ac onWindows
Download the VPN client software for your respective Windows version (7, 8, 8.1 or 10).
Draw out the software client to a folder on the desktop or pin it to the task bar.
Click 'Run'. For OpenVPN protocol, you have to install the TUN/TAP driver in the PC.
If the TUN/TAP driver is not installed in your PC, go to 'data\Tap\' subfolder for driver installation kit.
Now insert the VPN username and password received by VPN.ac provider through an email.

Select the server location, protocol and port with which you want to connect.
Click 'Connect' and you are ready to surf freely over the web.

VPN.Ac Review – Conclusion
VPN.ac is relatively a new VPN service, serving the VPN users since 2012. Within a very short time period of 4 years, VPN.ac has emerged in the VPN market with the top most security features and an outstanding VPN service with no log policy. The customer support is very quick and excellent, plus the high-class encryption level makes it a cutting edge among other VPN rivals in the industry.
VPN.ac provides features and add-ons which come in handy for keeping you anonymous and private while browsing over the internet. All in all, VPN.ac is worth your money and you can give it a go without second thoughts!