Pros
Great Customer Support
No log policy
3-Day Free Trial and 7 Days Money Back Guarantee
Tier-1 VPN Service
No DNS Request Logging
Unlimited Server Switches
Fast servers and connection
Torrent-Friendly VPN
Stealth VPN Mode
4 Simultaneous Logins
Firewall & VPN Kill Switch (Windows And Mac)
Cons
Flash Router not supported
Bottom Line
Afnan homework
In this VPN.asia review, we will discuss about the advantages, disadvantages, don't get confused by the name VPN.asia, as it's not necessarily only meant for Asian users (It kind of sounds like that, but it's not).
They started with a beta version in 2012, but officially launched in 2014 (as personally confirmed by the representatives of VPN.asia). Vpn.asia is proudly a part of the Virtual Performance Group Inc. and is a company based in Belize, North America. VPN.asia guarantees 100% anonymous browsing over the internet so our team at VPN Analysis decided to check on their claims by doing a thorough VPN.asia Review.

Pricing Plan
The subscription packages offer pretty fair prices. Starting from $9/month for the Monthly Package, they take the prices down to $45 per 6 months i.e. $7.5/month for the Bi-Annual Plan and $69/yeari.e. $5.75/month for the Annual Plan. All the three packages are categorized by the difference in the prices and duration of subscription; yet, they provide the same services.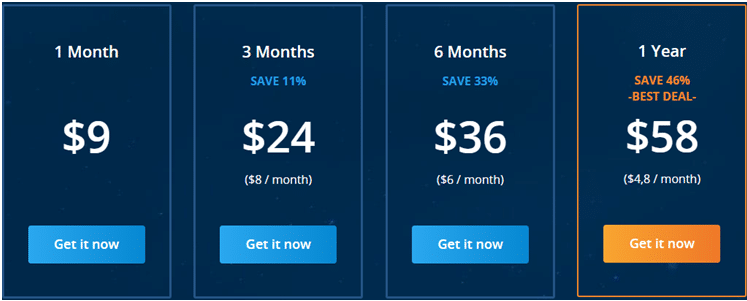 The Annual Package is far more popular than the other two plans as choosing the Annual Plan; you might get the largest discount up to 36%. The Bi-Annual Plan can make you save up to 15% over discount while the Monthly Package offers no discount.
• Payment Methods
You can pay to subscribe through the Credit Cards via American Express, Master Card, Discover, Visa, Diners Club International or through Payment Wall, or a more secured one; PayPal. They also provide an option to pay via Bitcoin Payments that is considered the most anonymous of all.
• Money Back Guarantee
Before opting a VPN, just check over its money refund policy so that you might not get stuck up with poor service and lose your money without getting any benefits. VPN.asia provides 7 days money back guarantee availing you to analyze the service leisurely within a week's span of time.
Servers & Their Locations
Although VPN.asia is not as older as many other VPNs in the market, but as compared to them, they have established a strong infrastructure proffering the most anonymous VPN service to their customers. They have currently good server counts that are deployed in 3 continents yet in about 30 countries.
VPN.asia provide a Tier-1 VPN service to its customers with 140+ servers and 24,000+ IP addresses to make your browsing faster and safer. Apart from it, you can switch the servers as many times as you want and even use all of them for the torrential activities and Peer-to-Peer filesharing.
VPN.Asia Features
VPN.asia has been serving the VPN users for 4 years; although it is not considered as one of the feature enriched VPN provider but what it provides is worth noticeable.
• 3 Days Free Trial
Unlike other VPN services, VPN.asia offers 3 days free trial which requires to sign up for the VPN service entering your username, password, email address, country etc. The free trial do not need any cancellation, it simply expires after completing the 3 days' time duration.
This free trial avails you to access 10+ servers with 10+ dynamic IPs in 3 countries so that you can get an idea of their connection stability and fast speed. The only thing you have to be limited with is the 50GB bandwidth usage for secure browsing.
• Stealth VPN Mode
The Stealth VPN Mode is for bypassing firewalls and deep packet inspection. It simply makes the VPN traffic looks like normal https:// connections so that none would be able to see that you are using a VPN.
Even the most restrictive firewalls such as The Great Firewall of China don't attempt to block the simple HTTP traffic as such type of connections are necessary for transmitting secure data (passwords, bank account number etc.) Thus, it's safer and even better to turn on the stealth VPN mode and work freely.
• Tier-1 VPN Service
VPN.asia is although not the one and only Tier 1 VPN service but being among the Tier 1 VPN providers, VPN.asia proves to be reliable and more secured than any other VPN in the market. They possess a wide VPN network and do not need any third party to control or look after their VPN business.
• The Best Bit…they actually blog!
Just recently, most of the VPN providers have started to realize the true power of the shareable content. And we're glad to know that VPN.asia do actually blog. Their blog contain news and alerts about the latest and upcoming mega events and happenings round the globe.
Compatibility
VPN.asia is found to be compatible with most of the mainstream devices and operating systems. The custom apps or VPN.asia client is available for Windows, Mac,iOS and Android. If you wish to connect VPN.asia on any device or OS other than those which are listed above then you can set it up manually on any system which supports OpenVPN.
These devices may include Linux, Chromecast, Chromebook, KindleFire, Nook HD, wireless routers like Sabai, Asus, DD-WRT, Tomato, media streaming consoles like Apple TV or your gaming consoles like Roku, PlayStation, Xbox etc.
Security and Privacy
In this VPN.asia Review, we tried our best to shed some light over the air-tight security provided by this VPN provider. VPN.asia outshines in the VPN town regarding this aspect.
• Protocols & Encryption Level
While talking about the protocols, VPN.asia runs over any of the three popular protocols viz. PPTP, L2TP, OpenVPN (TCP or UDP). Using the most recommended OpenVPN protocol, you will be secured with 256-bit AES encryption combined with the SHA-256 hash authentication & 2048-bit RSA. This way you will be able to save your neck from the governmental surveillance agencies and the ever-snooping eyes of the cybercriminals.
• Logs & Privacy Policy
It does not matter that VPN.asia is based in Belize, North America; but they own a very strict privacy policy with no logs at all. It means that neither they log any of your information nor do they maintain any record of users' online activities.
Customer Support
In this VPN.asia Review, we would like to give VPN.asia 5-stars for an excellent, quick and responsive customer support especially the live chat is superb. We happened to stuck up in some technical issues and every time we reached up to their agents, they were always glad to help us and try to solve the problem.
Apart from the live chat, they have ticket system for which they reply within 20 minutes. You can even email them and get your queries resolved. There is an FAQ section which contains some basic answers to the most common questions. And the Remote Desktop Assistance via TeamViewer is also notable.
Setup Guide
No worries! If you own a device which has no custom software to install VPN.asia then you can follow the step-by-step setup tutorials for your required system and get connected with it. They provide setup guides for the following devices and operating systems:
• Windows
Luckily, VPN.asia has the Windows VPN software/client to install VPN.asia.
Download the Windows VPN client for your respective Windows version. You will get to see the following window on the screen:

Insert your VPN username and password which you will receive by an email from the VPN provider and click 'OK'.
Select one of the protocol (OpenVPN – most recommended) and server with which you want to connect.

Congratulations! You are connected with VPN.asia and free to surf anywhere.

Conclusion
Overall, VPN.asia looks like a good VPN service with fast speed and stable connections. Although the server locations are limited up to 30 countries but the number of servers and IP addresses cover it up very well. The prices as well as logging policy stands out crystal clear promising an anonymous access over the internet to all its' customers. So, opting VPN.asia as your own VPN service is no doubt a wise bid for you!