Pros
7 day money back guarantee
300+ server locations
No logs
Unlimited access
Lightening speed
Cons
No 24/7 live chat support on the website
Bottom Line
VPN Unlimited has its ups and downs, yet the benefits outweigh the fallacies. Overall, it is a fair buy for those wanting no logs, fast speed, as well as additional services. The tool comes in the form of various affordable packages.
Nowadays, it seems that life is incomplete without a good VPN tool. Just ask any tech geek or someone concerned about online privacy, and the person will surely tell you of the risks of data theft and hacks. Naturally, such concerns have propelled internet users to opt for the finest VPN tools that are available today. Here, one tool that seems to be getting the attention of many netizens is VPN unlimited.
Note that VPN Unlimited presents itself as a viable option to all those wanting to protect their online security. This is why a great number of internet users are thinking of it as a way to safeguard their personal data, and access geo-restricted content. But is the tool really as good as it seems?
Well, this VPN Unlimited review will be your guide as it will give you a thorough analysis of what the tool has to offer.
Pricing Plan
No doubt, the pricing model discussed in this VPN Unlimited review will excite fans of the service. As mentioned below, the tool offers varying varieties of packages that will surely suit the needs of almost any potential user. We personally liked the Vacation and economy packages as not only they are affordable, but are meant to give a good idea to any new user what the service has to offer.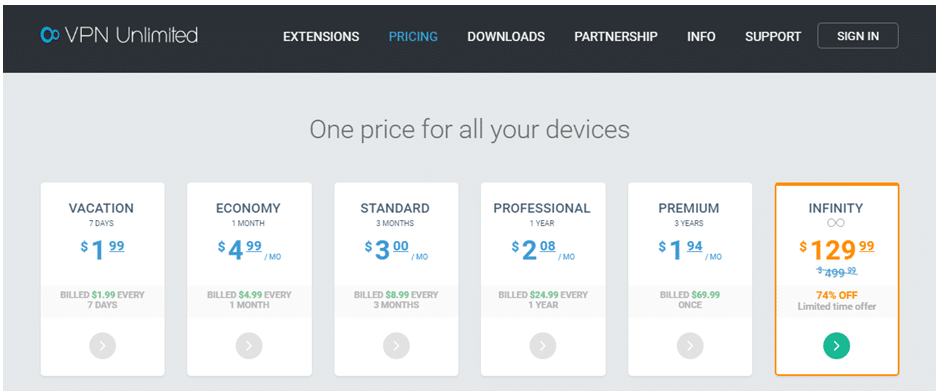 Besides this, the Premium and Infinity packages are not bad either.
To all the experienced VPN users reading this VPN Unlimited review, we advise to go for the Standard and Professional packages.
Payment Method
The service accepts Credit Cards, Bitcoin, PayPal and Amazon. Besides this, the option of iTunes and Google play in-app-purchases are also present. All such varieties will certainly benefit VPN users of varying categories, no matter where they are in the world.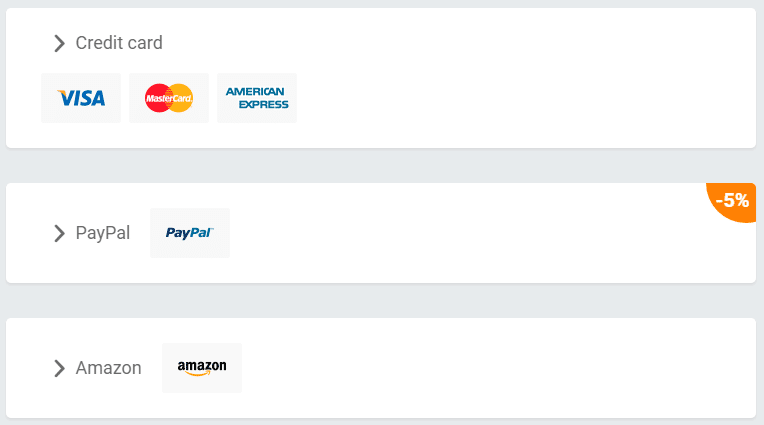 Servers & their Locations
VPN Unlimited review readers should note that the service claims to be in charge of servers present in 50+ locations that are spread around the world, and has 300+ servers. This includes in-demand countries such as the United States, United Kingdom, Canada, Germany, Australia and France.
Countries & Cities
Some of the countries & cities where the service is available are: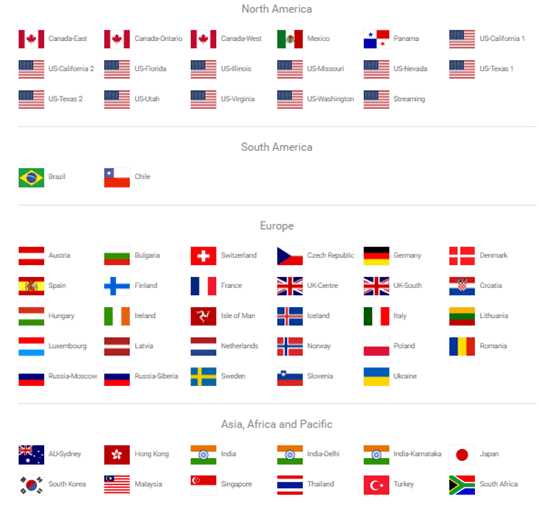 While writing this VPN Unlimited review, we believe that the service should've given more options regarding UK and South America.
Additional Services
As per the company's website, they are doing the best they can in order to ensure that the highest levels of security are offered. Relating with this, they also offer additional extensions to the most demanding of the users. For instance, offering Personal IP, and the option to set VPN on the user's router.
Free Trial or Money Back Guarantee
This VPN Unlimited review readers interested in the tool will be glad to note that the service offers 7 day free trial. Additionally, users' purchase is refundable and they can get their money back within 7 days – in case they don't like the service.
Compatibility
The service claims to be compatible with all major operating systems, such as Windows and Mac. It also offers mobile apps for iPhones as well as Droids.

We went through many of the service users' comments and found out that majority of users of different devices (handheld and desktop) are satisfied with the way the VPN is compatible.
Security & Privacy
All that we get to know is that they don't run OpenVPN. This is why it will be safe to assume that they are utilizing 128-bit strength encryption. Also, it would've been helpful if VPN Unlimited could've provided accurate details regarding its protocols and encryption levels.
Logs & Privacy Policy
This VPN Unlimited review readers must note that the tool doesn't tracks or keeps logs of users' activity. So now, any person's anonymity is guaranteed.
Customer Support
The website doesn't offer any live chat support. Perhaps this is a big drawback as there are many potential VPN users who demand a chat support.
The service do offers email as a way to communicate regarding queries, but our analysis found that their response was not as good as it should've been.
Setup Tutorials
Installing VPN Unlimited is fairly simple. As a case study, here is a look at a setup tutorial for Windows 10:
Firstly, go to the following page for download, then opt for Sandalone Version.

Save file on your system then initiate the download installer.

In case User Account Control is enabled, you can receive this alert:

Click "Yes" to follow installation process. Now, choose the path to install the tool, then click "Next"

Select folder name in your Start menu, or leave the pre-defined name, then click "Next"

For desktop shortcut, tick the checkbox. Click "Next" and then "install"

After installation, for quick launch, right-click on the VPN Unlimited shortcut, then select "Pin to Start."

Unique Selling Proposition
Users that have 5 or more devices, and who want all of them to get connected just need to subscribe to the services' extended VPN protection. All that one needs to do is to choose the requited number of additional devices.
Conclusion
This VPN Unlimited review readers must note that the tool is not the best in the brightest out there. Yet it has some wonderful features that are attracting a great number of potential VPN users. And if you want more details on what the service has to offer, just visit the "info page" at their website. There is tons of information there that will be of great help to anyone.