Pros
Encrypt Wi-Fi
Supports Windows, Linux, Android, iOS, Mac
'ZeroLogging' policy
Supports Business and White Label VPN
24/7 live Chat
Bottom Line
The widespread server network of VPNSecure allows you to stream your favorite channels and experience fast torrenting and P2P filesharing from any of their servers. In short, VPNSecure can worth your money and deserves to be given a try to their VPN service.
VPNSecure being one of the most prominent services in the VPN industry providing aggressive features for its users in a very affordable price. The vast range of Servers and 'ZeroLog' policy makes it a key player in the market. VPNSecure offers 24/7 live chat where you can get answers of all our queries in one go by their technical support team. Another outrageous attribute of this VPN is that it supports almost every OS you are using along with thatit supports to the corporate and white label VPN users.
Pricing Plan of VPNSecure
VPNSecure offers you with three types of packages. Monthly, Semiannual and yearly package, with the increase in subscription time per month price would be reducing. For example if you choose for one month it would cost you 9.95 USD and if you choose an advance subscription of 6 months or a year it would cost you 6.65 USD and 5.41 USD respectively.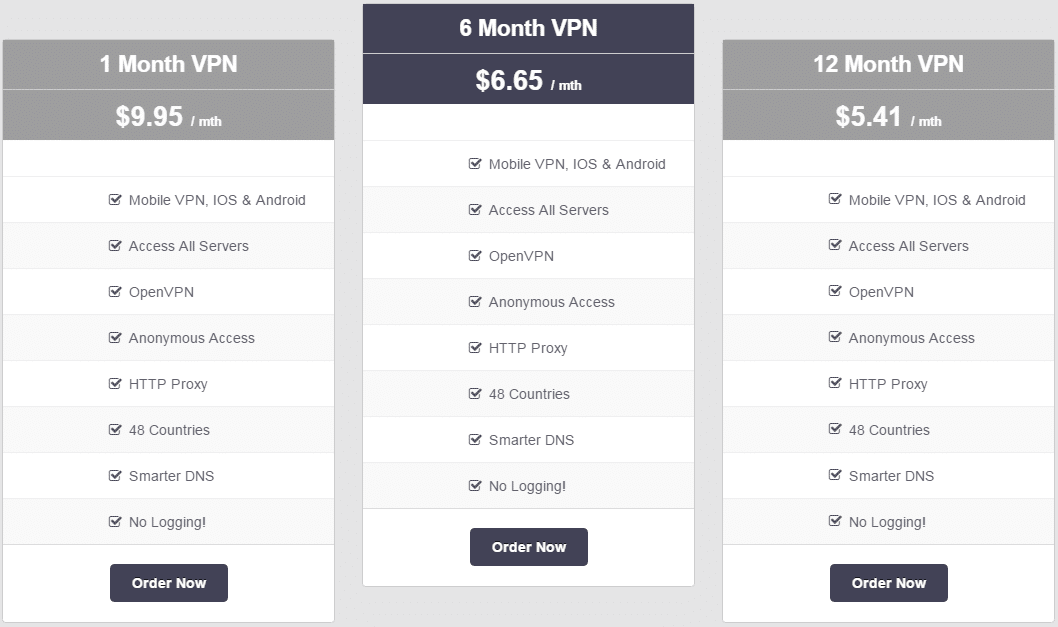 All the three packages include the ultimate features provided by VPNSecure. Which Includes VPN for iOS and Android as well, access to all servers with an open VPN for anonymous access to any site or forum.  Along with that features such as HTTP protocol, Smarter DNS and without logs access to 48 country servers are its part in the subscription.
Payment Method
Perfect Money, Bitcoin, PayPal, Credit Card, Payza and Cashu are all accepted currencies to purchase your VPN account. Pay with your own convenience with your own choice of method.
Money Back guarantee
The money back guarantee provided by VPNSecure is based on the service flaw not on any support issue with some specific, site, channel or server. VPNSecure providing the longest refund time of 90 days for a valid account, but account must be active for 90 days for that. Before the refund request the customer must have to follow the troubleshooting and other solution follow-ups suggested by the team.
Servers and Locations
Nine in USA
Four severs in Australia
Three in Japan
Three in UK
Two in Canada
Two in Germany
Two in India
Two in Netherlands
Two in New Zealand
Also it has servers in Austria, Brazil, Chile, Costa Rica, Czech, Denmark, Egypt, Finland, France, Hong Kong, Iceland, Indonesia, Ireland, Isle of Man, Israel, Italy, Latvia, Luxembourg, Malaysia, Mexico, Moldova, Panama, Poland, Portugal, Romania, Russia, Singapore, South Africa, South Korea, Spain, Sweden, Switzerland, Taiwan, Turkey, Ukraine, UAE, Vietnam.
'No Logs' Policy
The amazing and most required feature for a user is that the VPNSecure itself would not store any records and activity logs of users. It is state by the provider that they don't and would never track the records and history of the users. They claim that they can even change location of their registrations, if the local government laws would bind them, to keep logs to secure their users.
Free and Paid Trial
VPNSecure offers a free trial version of the VPN service with a 2 GB bandwidth for whole of one month, but in this version you would only be able to use the US servers. You can check all the applications, features and uses of the software without any flaw on US servers only.
On the other hand they also offer a paid version for trial which is for $2 and valid for only 2 days. The difference is that it is the full version of the software that you can enjoy for two days with unlimited bandwidth and all the servers on the VPN.
Features
Using VPNSecure you make your Wi-Fi connection secure and uninterrupted by any external threat.
Due to end to end encryption the data bundles are not tracked while any kind of activity. Anyone trying to approach your Wi-Fi connection to make it insecure could not do it as he would not be able to follow the Wi-Fi address due to encryption of the VPNSecure. Not even VPNSecure is supposed to interrupt the access at any point.
VPNsecure can bypass all the geo-restrictions put on the users based on location. Also you can access the website by the interface of some other country from the list we have our servers in. It can also help you to watch your favorite programs on any channel of your choice from the server of your choice which is allowed to access that website.
Multiple Protocol Support
It provides one of the most appropriate VPN solutions for your daily usage. Different protocol supports could be used at a time which would make your connection more private and secure. Open VPN, HTTP, Proxies, SSH Tunnels or PPTP all are on the list to provide you a secure connection without any third party interruption.

This feature would enable users to create more secure connection point to point and site to site connection via bridged and routed settings. An edited system security protocol is used which changes SSL and TLS. It would enable the authentication of certificates, usernames, and other credential to use specific sites with controlled policies.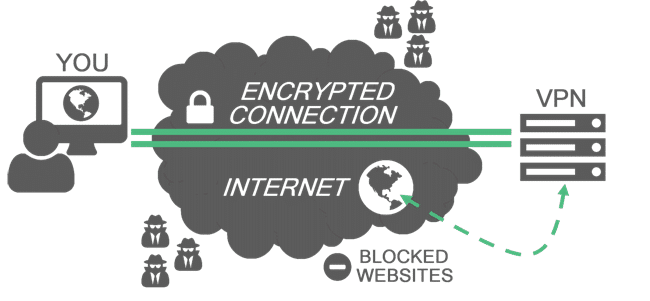 Simply it promotes client to server relationship to access the internet via server. Once a client is connected to a server he can access all of internet with the help of server without any interruption. One must make sure the website or content he is using must be allowed to be accessed by the server base.
It is a very popular feature which is very rare and authentic in its work standing. Coming to the actual working with a SmartDNS system a user can connect to any video sharing region which is locked in the user geography. It helps to connect to the website without indulging any VPN server or proxy who ultimately reduces the packet carrying time and increase the speed of the activity.
Chrome HTTP Proxy is widely acceptable and demanded by users usually. There is a huge user base of chrome which is applying proxies on the browser to make themselves secure and free of any restriction.
It would provide a proxy station for your chrome settings that would directly connect you to the servers supported with the google chrome. You would not need any other inputs or passes once you have setup the solution as VPNSecure.
It is a type of proxy that will secure your activities in a web brower by using a SSH tunnel. This is a platform where specific traffic of application pass by the tunnel to the server and from server on the last end.  Further the traffic from that point is forwarded to the general internet. In simple words passing by on point to another and passing it from tunnel would make the activity more anonymous and secure.
How to Setup VPNSecure
VPN usage has been increasing day by day and a large number of people are aware of it. But still there are some people who don't have any idea about VPN activation. Since the process was a bit technical in the early stages but now VPNSecure has come up with a very easy process just in few clicks.
The website of VPNSecure contains a clear cut process and guides you about the installation process. Also they have an option of live chat by which can help you in any sort of difficulty you face at any step of installation.
Conclusion
Summing up to the VPNSecure Review, it could be concluded that they are providing a sophisticated deal. Provision of so much features along with an affordable price making it prominent in the market.  Also if you notice they are providing option of trial version as well where you can use the product and get an idea if the product is worth purchasing.
The only backstage issue with the VPNSmart is that its money back guarantee doesn't agree on support terms of users. But at the same time they are providing a 90 days refund policy on their terms and conditions which are also reasonable.
With a promise to never save logs no matter what goes and come this feature could not be neglected at any point and time. Overall a fair deal is offered by VPNSecure, interested people must visit them and try to get a fair deal for their never ending need of a VPN.