After the demise of KickassTorrents and ExtraTorrent, could these two massive shutdowns spell the end for The Pirate Bay in 2018? In this article, we list the most popular torrent sites still working in 2018.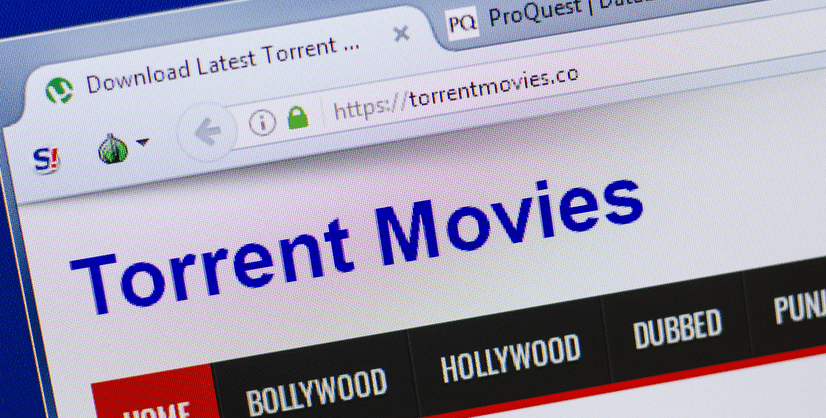 The best torrent sites to use in 2018: Summary
Here's a list of our recommended torrent site alternatives. For more in-depth information on any of the sites, click the links below:
Please note: In the UK, Australia and other territories, you won't be able to access the sites above without a VPN due to ISP blocks. To bypass these blocks, all you require is one of the best VPN for torrenting and then simply visit one of the sites listed above.
The massively popular torrent site is having issues staying afloat and available to users. It remains to be seen whether this is simply temporary downtime with Cloudflare errors or something more serious such as a potential countrywide ban in New Zealand and Austria.
I'm going to give you my ranking of the best torrent sites in 2018! First, let's do a brief recap of the big changes to the torrent scene over the years.
2016 was undeniably a big year for torrents and file sharing, with the most significant development occurring when the world's most popular torrent database, KickassTorrents, was shut down by the authorities. Another big blow came when Torrentz, a torrent search engine giant, unexpectedly closed its doors. These sudden closures left two big holes in the torrent community.
In 2017, ExtraTorrent also joined the list of torrent sites that have permanently shut their doors. I've updated this list to also include some alternatives to ExtraTorrent.
The 5 best torrent sites that still work in 2018
An excellent torrent site for beginners who want to download movies and music

RarBG started off as a BitTorrent tracker in 2008, and has risen to provide torrent files and magnet links to over 300,000 users a day. The website stands out for being easy to understand for beginners, while a huge community also regularly posts feedback on torrents. This site is particularly good for Movie and music torrents.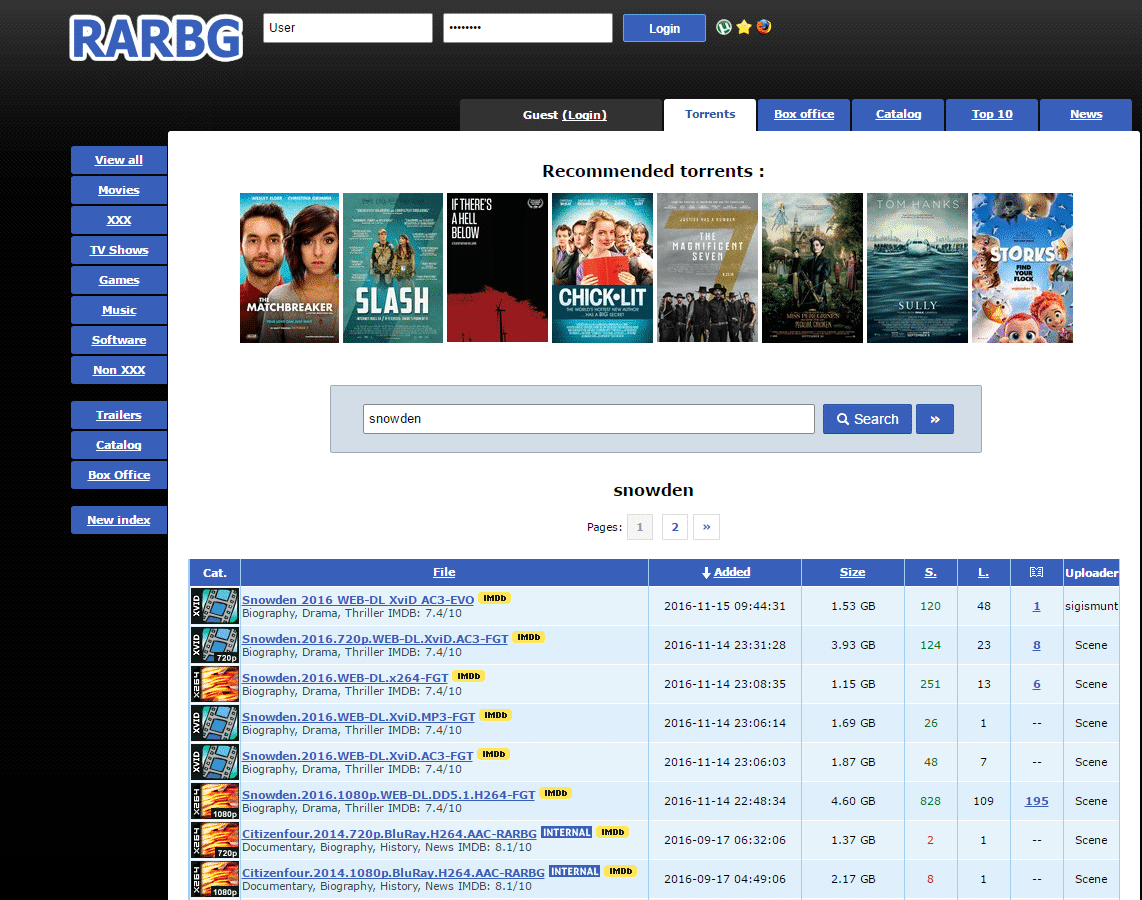 Originally hosted in Bulgaria, RarBG has had to do some hopping around to evade the authorities. Unfortunately, some countries have banned RarBG altogether, including Saudi Arabia, the United Kingdom, Denmark, Portugal, and India. However, using a VPN for torrenting while in these countries will allow you to bypass these bans and access RarBG!
Great for HD movies torrents
YTS.ag is another BitTorrent tracker, although slightly different from TPB and RarBG, with a heavy specialization in movies. Visitors get to enjoy YTS.ag's smooth interface, which is perhaps my favorite on this list. There are also an impressive number of movies in high-def 720p, 1080p, and even 3D.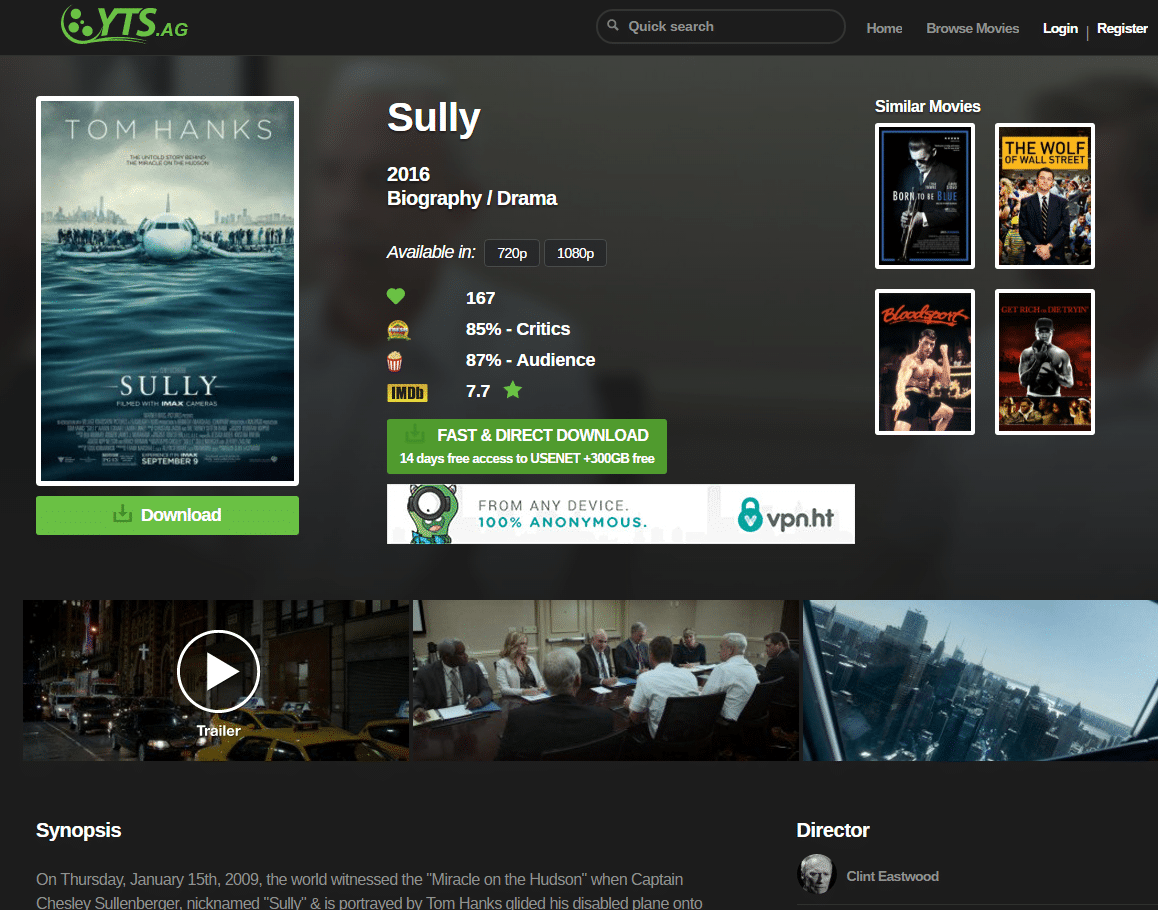 The ability to choose movie quality is unique among torrent sites. Low bandwidth users certainly appreciate this option. It's important to remember that YTS.ag only provides movie torrents – those looking to torrent software or games are better off using some of the other sites on this list.
Fantastic for gaming torrents
1337X is another torrent site that has recently emerged following the demise of KAT and ExtraTorrent. Founded in 2007, a full revamp of the 1337X site brought a massive jump in traffic. With a new, clean index page and a wide range of movies, TV, and games, 1337X is a powerful torrent site that gets all the important things right. Perhaps reinforcing this is the fact that Google bans the site from Google Search!
While 1337X might not have the same user base or ad-free experience as some of the other sites I've mentioned here, the overall look and feel of the site oozes class. Once again, the one small knock on 1337X are the heavy doses of ads scattered throughout the site.
 Excellent for TV shows

Zooqle is a newcomer to the peer-to-peer (P2P)/torrenting scene, (although one can hardly tell with the awesome and highly intuitive interface). You can create an account on the site (you will need an email address, username, and password to sign up) to manage subscriptions to your favorite TV shows and movies. With over 1,300 TV shows and 30,000 movies to choose from, Zooqle is an excellent way to satisfy TV cravings and binge watching.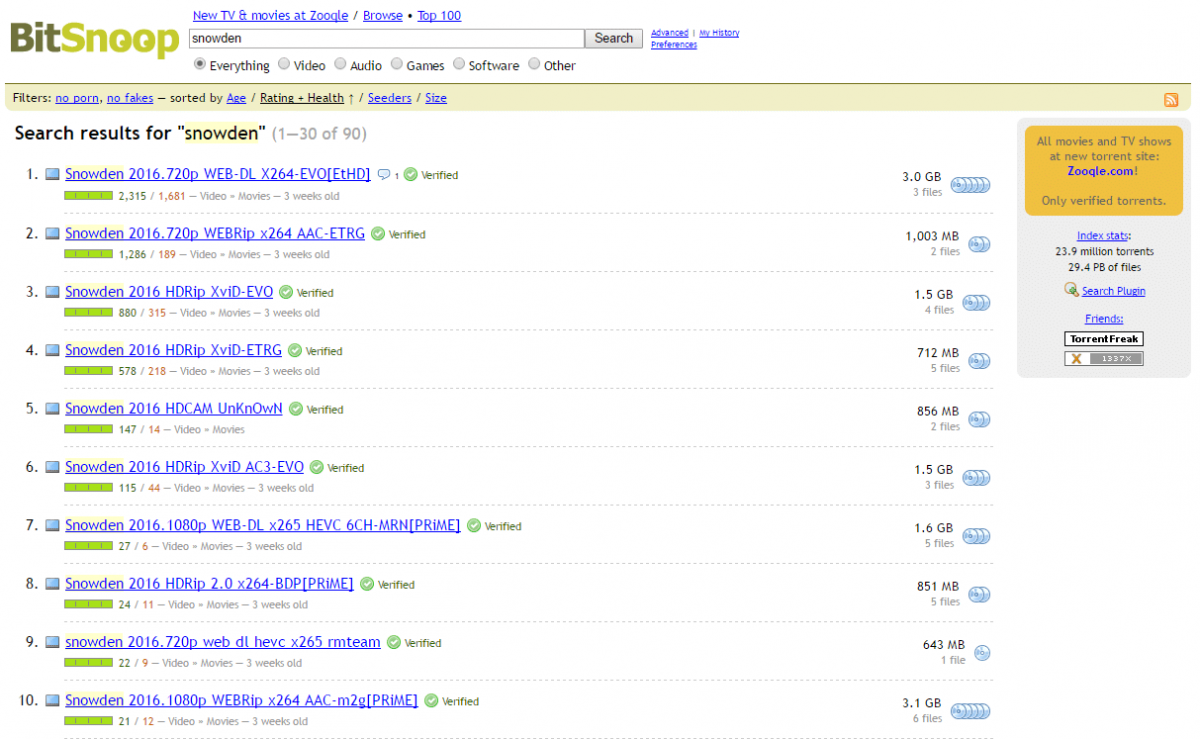 Another nice touch with Zooqle is the absence of aggressive advertisements and popups (like on ExtraTorrent). While the Zooqle torrent database isn't as large as the other big names on this list, the overall quality and feel of the site does inspire confidence with this new torrent site.
Torrenting FAQs
What Is the Difference Between Public and Private Torrent Sites?
While searching for a high-quality torrent site, you've probably noticed that there are public and private sites. The big difference here is that a private torrent site will require either some form of payment (subscriptions aren't uncommon) or an invitation from a current member. Private sites tend to have faster releases when it comes to new movies, TV shows, software, E-books or music torrents. Download speeds also tend to be much better within these private communities.
Public torrent sites, on the other hand, are free and open to the public. They mainly rely on adverts to cover their costs. An excellent example of a public torrent site was the aforementioned KickassTorrents (KAT), which had about one million daily users when it was shut down in July 2016.
With these shutdowns and arrests shaking up the torrent scene, millions of people were left scrambling to find alternatives that could fill the void. Luckily, there are some new faces out there that have emerged as viable replacements for KAT and Torrentz. Below, I'll highlight five of the best torrent sites for 2018.
What Is a VPN and Will It Keep Me Safe When I Download Torrents?
Downloading copyrighted content could get you in trouble with the authorities. A Virtual Private Network (VPN) encrypts any data received (downloads) or sent (uploads) from your computer. A VPN when torrenting is practically essential, as it makes it near-impossible for an Internet Service Provider (ISP) or copyright holder to trace internet activity back to a specific user.
Torrenting is a great way to save money and watch your favorite TV shows and movies. Invest a couple of dollars in the best VPN for torrents could greatly reduce your risk of getting fined or (worst case scenario) doing jail time!
An alternative to torrenting is to use streaming sites. However, it's equally as important to use a VPN on particular services. For more information, check out our guide to unblocking all cartoons with a VPN.
Conclusion
2016/2017 were big years for the world of torrents and the P2P community. Website shutdowns, police investigations, and increasing media attention have cast a big spotlight on the community.
With governments and copyright holders ready to battle against torrent sites, 2018 is shaping up to be another exciting year for torrenting. Will heavy hitters such as The Pirate Bay or RarBG join KickassTorrents on law enforcement's growing list of shuttered torrent sites?
If you want to watch movies, download music or play games for free, downloading them via torrent is illegal and Law enforcement everywhere is coming up with new ways to detect and punish individuals who violate copyright law. The best way to avoid them is to use a VPN when torrenting. Receiving a simple copyright infringement notice in the mail is one thing, but having to pay thousands of dollars in fines or even doing jail time is a whole different matter. If you want to use popcorn time check out our best VPN for popcorn time.
Do you have a favorite torrent site that you use? Please let us know in the comments below!