Pros
Offers a free trial, no credit card required
Warrant canary policy
No logs
Affordable pricing ($6.66 per month with an annual subscription)
Based in Malaysia
Cons
Free trial only lasts for 24 hours
Bottom Line
A transparent provider with decent speeds and reasonable prices
It seems like new VPN providers are popping up every few weeks. The market has become saturated with competing services. There are so many these days that I doubt you've heard about every service. This makes it nigh on impossible to know whether you're getting good value or not. Instead of blindly throwing a dart at a dartboard and trying to land a bull's eye with a random VPN provider, it's a safer bet to read a review first.
Today we're going to be looking at BolehVPN, which is a quality service that keeps up with the top dogs in the industry. BolehVPN has matured into a dependable service, and celebrates its tenth anniversary this year. Clearly BolehVPN is doing something right if it has managed to survive and grow in a highly competitive industry since 2007.
But is it the best choice to suit your needs? I'll help you decide. Let's start with an outline of its pros and cons before moving on to the details of its pricing model and free trial.
How Much Does BolehVPN Cost?
Overall, BolehVPN has pretty attractive pricing. It isn't the cheapest VPN provider on the market, but it's a far cry from the really expensive providers. If you're looking for something cheaper, I would point you in the direction of PIA VPN, which only costs $3.33 per month with an annual subscription.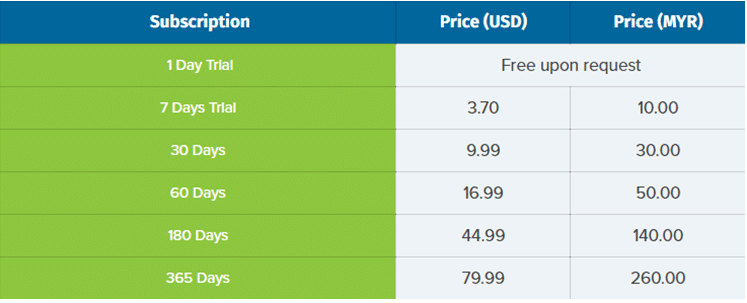 The following outlines BolehVPN's pricing model:
• One day: free!
• Seven days: $3.70
• One month: $9.99
• Two months: $16.99 ($8.49 per month)
• Six months: $44.99 ($7.49 per month)
• One year: $79.99 ($6.66 per month)
I was rather impressed with BolehVPN's granular payment terms, and pleased to see that the savings discounts for longer term subscriptions were significant. Sometimes providers will only knock off a fraction of dollar per month for the annual plan, but BolehVPN slashed the monthly cost by 33% for annual subscribers.
Furthermore, I was happy to see that BolehVPN includes subscription terms for short periods. It's far more common for a VPN service to offer only monthly, six-monthly, and annual plans. If you're going out of the country on a business trip or taking a vacation, I see a lot of value in the seven-day plan. That way you don't have to be locked into a subscription term for longer than you need.
Also, BolehVPN provides a free trial. They claim that it's for "new users only," but I don't see why you couldn't simply register under a new email address if you wanted to test it out for more than one day.
BolehVPN Free Trial
It was incredibly simple to register for the free trial. You only need to supply BolehVPN with a desired username, email address and password.
Upon receipt of this information, BolehVPN will send a confirmation email with a link embedded that will activate your account…and that's all there is to it! After following the activation link, you will be directed to a page that hosts the client downloads and configuration files.
It was so easy, the whole process took less than five minutes, but that's not the best part. I was astounded to see that there weren't any credit card detail or payment requirements. A lot of digital services use free trials as a kind of bait, and force users to enter payment card details during the registration process. That way, if the user forgets to cancel their service within the specified time frame, they are automatically billed for the next subscription period.
It's quite a dubious practice, but BolehVPN doesn't engage in those kinds of questionable marketing activities. I do wish the free trial lasted longer than 24 hours, but kudos to BolehVPN for making the free trial quick, easy, and painless.
What Features Does BolehVPN Have?
In addition to cheap pricing, BolehVPN has a well-rounded feature set that's continually improving. In December 2016, BolehVPN decided to update its policy to allow three simultaneous connections instead of only two.
BolehVPN also has a number of different server locations around the globe, with its number at 13 and counting.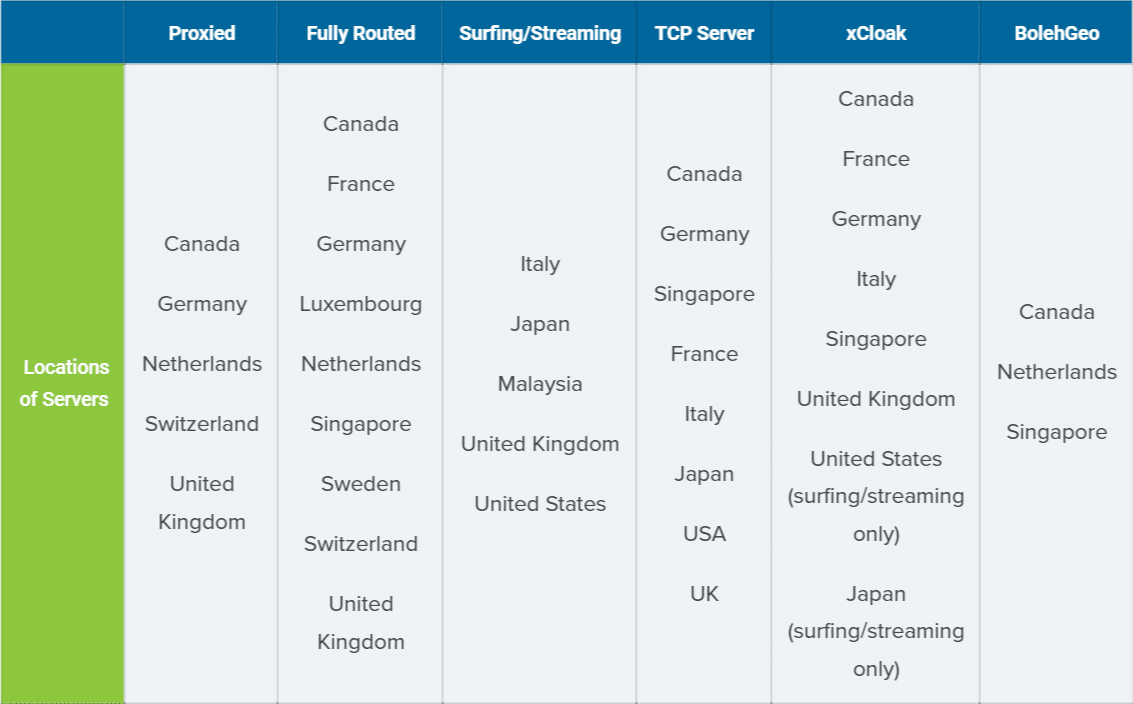 These countries include Germany, Singapore, United States of America, Italy, Sweden, France, United Kingdom, Canada, Japan, Luxembourg, Malaysia, Netherlands and Switzerland.
BolehVPN Customer Support
I'm sorry to announce that there isn't a live chat feature on the site. I love live chat options because they're the exact opposite of blood-pressure-spiking phone queues. Even though BolehVPN lacks a live chat feature, its support seems reasonably well organized. There are ample troubleshooting guides to help with problems without needing to engage the support department.
Support is only initiated through email and a web form. You can add attachments when you open a ticket, which is handy for sending screenshots and log files. There's also a forum section. I've seen some support forums that are chock full with tons of useful, user-generated content. In concept, it's a good idea, but rarely seems to work.
Nevertheless, the BolehVPN forum is incredibly active, and has thousands of posts, responses, and comments under a variety of topics like installation support, FAQs, troubleshooting, positive feedback, product enquiries, general discussions, and more.
However, BolehVPN's Community Help page doesn't seem to be working well at all…perhaps BolehVPN isn't even promoting it. Under the Community Help page, all I could find was a single post that's four years old titled "Cannot download VPN?" The page has a grand total of four followers, and the only response to the single post was to contact the support department, which defeats the purpose of the page.
It seems that the Forum has overtaken the Community Help page, so I'm not sure why BolehVPN hasn't removed that page from its site. If you run into technical problems, I'd recommend starting by searching the forum for a solution to your problem. After all, the forum could produce a solution that's immediately gratifying, as opposed to having to reach out to the support department via email.
Is BolehVPN Private?
BolehVPN has a great privacy policy, and I really like its warrant canary policy (discussed next). As stated on the BolehVPN website, it won't log any user activities. As per the privacy policy:
"We do not log individual usage or bandwidth though we do monitor general traffic throughput and speeds of our servers to ascertain loading and view traffic patterns. In the event we notice any unusual loading or abnormal traffic pattern of the server, we may investigate on a more detailed basis to ascertain whether abuse is happening or excessive use."
Basically, it's reserving the right to investigate suspicious, malicious, or potentially illicit activities. But just about every other provider does the same thing. It seems as though BolehVPN is just trying to cover its bases in the event of a DoS, DDoS, or other form of attack that leverages the BolehVPN servers.
BolehVPN Warrant Canary Policy
Two of the most important aspects of a VPN service are its terms and conditions and its privacy policy. Both contain legal information and provisions that are largely affected by where the company operates. For instance, US-based VPN services are going to need to adhere to different laws and regulations than a company based in Switzerland – and the privacy policy usually reflects local legislation.
Nevertheless, BolehVPN is an interesting VPN service because it, unlike many of its competitors, has a warrant canary policy. What's a warrant canary policy, you ask? In short, it's a policy that allows a company to "sing like a canary" to inform customers in the event of clandestine governmental involvement. For instance, the US government created legislation, such as subpoena laws outlined in the USA Patriot Act and 18 U.S.C. 2709(c), that imposes criminal punishments on a company should it warn any third party of a warrant's existence.
The solution is rather amusing, because a warrant canary policy simply informs third parties when there hasn't been any secret subpoenas, which is technically legal. If the company fails to update their customers for a day (or other, pre-defined period of time) to say that there were no secret subpoenas, the customers can assume that subpoenas were indeed issued. The bottom line is that BolehVPN is highly transparent, and wants to do right by its customers by informing them of warrants and subpoenas.
Is BolehVPN Fast?
I performed the speed test on OpenVPN connections to two different servers. The first test was on a local server, both with and without the VPN tunnel connection. The second test was performed on a server on the other side of the world to look for any long-distance latency problems. All in all, things went pretty smoothly.
The results of the speed test were as follows:
Thailand to Thailand (no VPN): 3ms, 5.22Mbps download, 1.00 Mbps upload:

Thailand to Thailand (with VPN): 66ms, 4.71Mbps download, 0.93 Mbps upload:

California to Thailand (no VPN): 232ms, 4.72Mbps download, 0.91 Mbps upload:

California to Thailand (with VPN): 213ms, 4.88Mbps download, 1.00Mbps upload:

There was a small issue with the California test, but it was nothing more than a hiccup. After the tunnel claimed to be up, I noticed that I couldn't pull up any webpages. I pinged Google's DNS servers at 8.8.8.8 and didn't get a reply. I'm not sure what happened. Perhaps it was server maintenance or I had a local issue on my computer that prevented successful tunnel operation.
At any rate, I disconnected the tunnel, reset my Ethernet interface, and reconnected to the California site. After that, everything worked smoothly. Browsing standard webpages didn't seem significantly slower, and I was able to stream video without having to wait on annoying buffer problems. All in all, while not the fastest VPN connection I've ever seen, it was above average.
Should I Get BolehVPN?
Overall, I was pleased with BolehVPN. I think one of its greatest strengths and selling points is privacy, and I love how transparent it is with regards to governmental pressure and warrants. I'm partial to VPN services that aren't located in the United States, so the fact that it's based in Malaysia is a big selling point for me.
The features were slightly above average, the speeds were decent, the prices were reasonable, and I liked the transparency. If you're looking for a good, mid-range VPN service that doesn't cost an arm and a leg, BolehVPN is a great option. Also, if you're specifically looking for a service that isn't based in the US, Canada, or the UK, I'd highly recommend considering BolehVPN.
Lastly, if you're still not sure, I'd recommend taking advantage of the free trial. You've got nothing to lose, it only takes a minute to register, and it's completely risk-free. Try it out for yourself and see what you think.
Yay!
• Reasonably priced
• Decent speeds
• Provider transparency
• Three simultaneous connections
• Free trial
• No logs
• Good encryption
Nay!
• Nothing really
A little bit meh!
• Small server network (only 13 countries)