The UK has a long and proud history of freedom. In the modern age, citizens enjoy civil liberties, free press, and nearly unrestrained access to digital information. The internet in the UK is the complete opposite of the internet in Asian countries, which are often bound by harsh censorship initiatives that block and filter websites.
However, things aren't completely rosy in the UK, and there is a wide range of security threats, as I'll discuss shortly. On the whole, however, a Virtual Private Network (VPN) tunnel isn't needed to circumvent governmental censorship or internet filters, since they aren't prevalent. In fact, Reporters Without Borders ranked the United Kingdom 40th out of 180 countries in a freedom of information index.
Despite this, there are still several reasons to use a VPN within the UK, most of which relate to personal security. For example, whenever you connect to a public WiFi network, you're vulnerable to an attack by a hacker. Hackers can initiate attacks, such as a session hijacking attack or a data collection attack, over the local wireless network. A VPN will encrypt your communications so they aren't accessible to a hacker.
Furthermore, many websites and marketing companies track what you do online. Their algorithms are so sophisticated that they can tell what products you like, and inundate you with ads that match your interests. Online advertising and online tracking are incredibly invasive, but a VPN tunnel will anonymize your internet connection.
Oh, and let's not forget BitTorrent. Peer-to-peer (P2P) technologies are inherently dangerous because your computer makes connections with tens, or even hundreds, of strangers' computers in a single download. You can bet there's a few bad apples in the bunch, lurking in the corners of the internet just waiting to launch an attack against your true Internet Protocol (IP) address. Yet again, a VPN will help keep you safe. It will hide your real IP address, even when downloading BitTorrent files.
There are also some governmental reasons to use a VPN, as we'll discuss next.
Security Concerns in the UK
UK citizens have been growing increasingly distressed by the government's power to perform surveillance measures. These measures were created in the name of safety. However, many people feel like they're simply being spied upon, and many are now calling the UK a surveillance state.
It's all due to the Investigatory Powers Act. The act was passed in late 2016. It grants the government the power to employ surveillance techniques that can invade privacy in ways unthinkable to the average internet user. Some components of the act contain truly frightening allowances for surveillance, such as the ability to collect browsing records.
This may seem like so much doom and gloom, but the ugly truth is that the government has ways to collect information that most internet users don't want it to possess. The good news is that a VPN tunnel can massively improve the protection of your privacy and anonymity. Take caution, though, when connecting to a VPN server located in one of the Five Eyes nations of Australia, Canada, New Zealand, the UK, and the US.
Whatever your choice of VPN, I would recommend sticking with AES-256 encryption. It's so powerful that it still can't be cracked, even with the world's most powerful supercomputers running brute force attacks 24/7. In fact, even with the most powerful modern computers, scientists and mathematicians theorize that it would take over one billion billion years (not a typo, it's really that long) to crack a single encryption key. Such a level of security should put your mind at ease with regard to governmental snooping as you browse the web. Believe it or not, our sun will have long since burnt out and died before the key would ever be found…at least with today's technology!
With that understanding, let's get down to business and take a look at the best VPNs for the UK.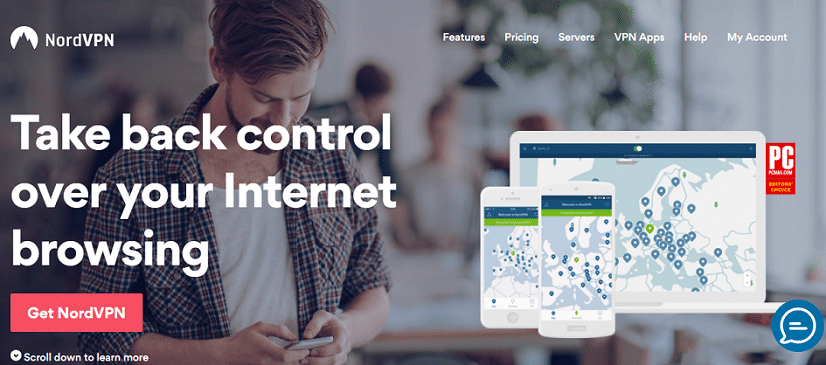 NordVPN is the best VPN for the UK for several reasons. Firstly, it isn't based in a Five Eyes country. NordVPN is based out of Panama, far from any potential domestic surveillance or coercion from the UK government. The second reason NordVPN is so great for UK users is because it's loaded with extra security features that aren't often found with other providers.
For instance, the double data encryption feature adds an extra layer of security by running your transmissions through the encryption process twice in a row. In addition, NordVPN was designed to prevent deep packet inspection by internet firewalls and other networking devices. This will help elude any wiretapping or eavesdropping initiatives by the authorities.
NordVPN's network of servers is larger than the average provider, too. Right now it hosts over 1,000 servers in 59+ countries, giving users a plethora of options to choose from outside of the UK. Oh, and did I mention it's ridiculously cheap? You can get NordVPN for as little as $3.29 per month with a two-year subscription, though that is a limited time promotion.
NordVPN pros:
• A whopping six simultaneous connections per account
• Advanced security features
• Avoids deep packet inspection (DPI)
• Double data encryption
• Based in Panama
NordVPN cons:
• Monthly pricing is a little rich for my taste

VyprVPN is another great alternative for users in the UK. The service is owned by a parent company named Golden Frog, which is based in Switzerland. It operates servers in the UK, and altogether operates over 700 servers in 70+ countries.
What I really like about this service is its extra security features. The software client comes with a kill switch, which helps protect downloads in the event of a tunnel disconnect. Also, VyprVPN comes with a network address translation (NAT) firewall feature for an extra layer of protection, as well as a feature that prevents DPI by internet firewalls and security appliances. Plus, if you want to test things out, you can take advantage of a three-day free trial.
Lastly, be aware that you can use either three or five simultaneous connections, depending on which plan you sign up for.
VyprVPN pros:
• 700+ servers in 70+ countries
• 200,000+ IP addresses
• Based in Switzerland
• Very hard to block this VPN due to anti-DPI technology
• NAT firewall feature
• P2P and BitTorrent friendly, and includes kill switch
VyprVPN cons:
• The basic plan doesn't include the anti-DPI feature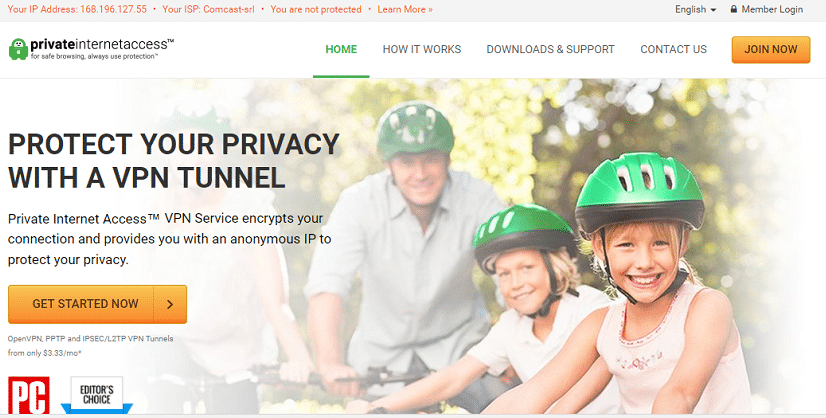 I had to include PIA VPN as one of the best VPNs for the UK for several reasons. First of all, PIA VPN hosts servers in English locations such as London and Southampton, which is great for accommodating UK citizens traveling abroad. Secondly, I wanted to include a low cost provider for people from the UK who are price sensitive. Sometimes people just want a solid VPN connection at a low price, and PIA doesn't disappoint.
In fact, it's one of the cheapest services on the market when you opt for the annual subscription. It's possible to subscribe for as little as $3.33 per month, and the company hosts servers in 25+ countries. Furthermore, even though it is extremely cheap, PIA VPN still permits up to five simultaneous connections, making it one of the cheapest options for securing several personal devices at the same time.
The software client is rather basic and leaves a little to be desired, but it does include Domain Name System (DNS) leak protection. Unfortunately, the service is based in the US. Despite that, it is still one of the most cost effective ways to stay safe online.
PIA VPN pros:
• Costs as little as $3.33 per month
• Up to five simultaneous connections
• Servers in the UK
• Includes DNS leak protection
PIA VPN cons:
• Based in the United States
• Servers in only 25 countries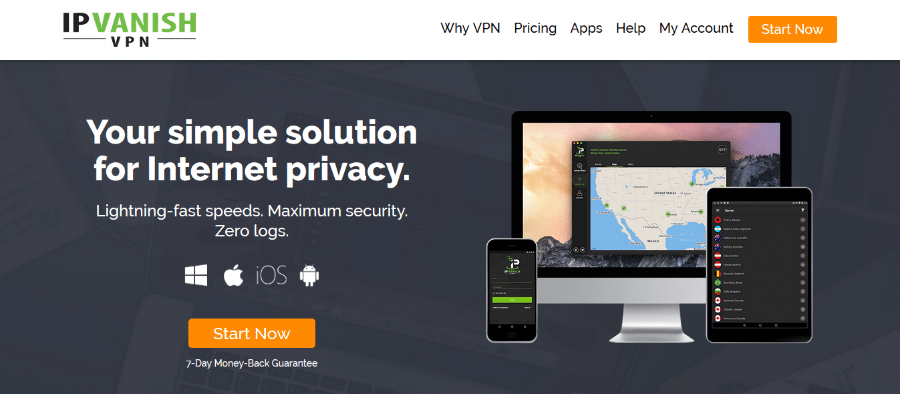 IPVanish is another strong candidate for one of the best VPNs for the UK. Currently IPVanish VPN hosts over 850+ servers in 60+ countries. This includes UK servers in Glasgow, Liverpool, London, Manchester, and Nottingham. It isn't the cheapest service, but it isn't the most expensive either. You can get IPVanish for as little as $6.49 a month with an annual subscription, and that price even includes a free proxy service bundled into the VPN subscription.
Not only is the price reasonable on its own, you can connect up to five devices to a VPN server at the same time for no additional charge. In addition to strong AES-256 OpenVPN encryption, which is so strong it's appropriate for military and banking applications, it also comes with IPv6 leak protection, DNS leak prevention, and a kill switch feature. Sadly there is one aspect of this service I don't like: it is based in the United States.
IPVanish VPN pros:
• Hosts servers in the UK
• Free proxy service packaged with the VPN
• Five simultaneous connections
• Kill switch built into the client
• IPv6 leak protection and DNS leak prevention
• 850+ servers in 60+ countries
IPVanish VPN cons:
• Based in the United States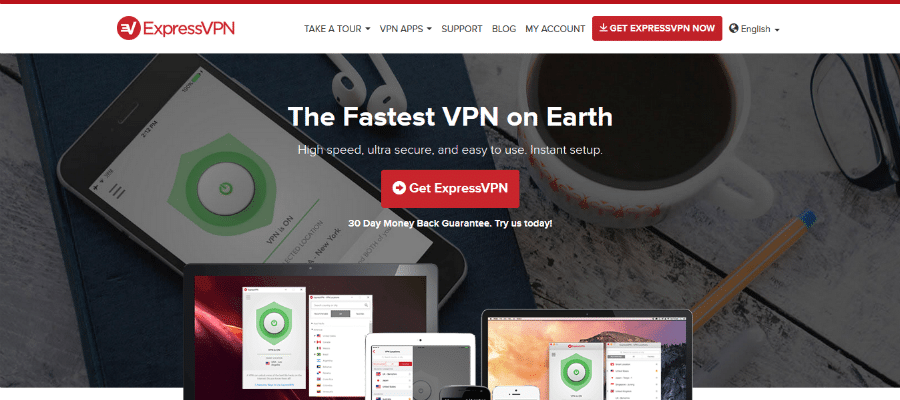 ExpressVPN is a clear leader in the industry, and a great choice for users in the UK. I picked ExpressVPN as the last of the five best VPNs for the UK since it is based in the British Virgin Islands, and users who are most fearful of surveillance prefer services based outside the reach of their government, even if the service is based in a territory.
Nevertheless, ExpressVPN offers plenty of global connection options in 93+ countries, including the UK. Users can connect up to three devices at the same time, which will secure most individuals' personal devices (phone, tablet, and computer). ExpressVPN is known for providing reliable connections and fast speeds, as well as 24/7 customer support.
There are a couple things about this provider I'm not too crazy about, though. For one, there's no free trial, although there is a 30-day money back guarantee. Additionally, it's a little bit expensive compared to other services: you can get it from $8.32 per month with an annual subscription.
ExpressVPN pros:
• Servers in 93+ countries
• Servers hosted in the UK
• Three simultaneous connections per account
• 30-day money-back guarantee
• 24/7 customer support
ExpressVPN cons:
• Rather pricey compared to other services
• No free trial
Best VPN for UK Conclusion
There's a myriad of reasons to use a VPN tunnel in the United Kingdom, including unlocking content that's only accessible in foreign nations. More and more international governmental agencies are performing surveillance in the name of thwarting international terrorism, which can make it feel like someone is watching over your shoulder every time you open a web browser.
By using one of the five best VPNs for the UK, you can encrypt your sensitive information and make your data invisible. Plus, you'll be able to access websites without being tracked, thus protecting your privacy and anonymity. I'm a strong believer in personal security measures, and think that everyone should use a VPN tunnel.