For that reason, everyone who uses the internet needs a Virtual Private Network (VPN) tunnel. This is just as true for users in France as it is for those in the US, or in other countries. It's easy to be lulled into a false sense of security when connecting to the net in a country that maintains liberal internet and information freedoms. Reporters Without Borders favorably ranked France
39th out of 180 countries
in its latest Freedom of Information survey.
That puts France ahead of the US and the UK, according to the ranking index. While that's all well and good, French users still need to take advantage of one of the five best VPNs for France, or risk incurring serious consequences.
Why Use a French VPN?
You might be wondering why anyone in France would use a VPN if the internet infrastructure is so free and open. After all, the French government doesn't really inhibit free speech or engage in ugly content censorship programs that restrict basic freedoms. There are actually several reasons why a user in France needs a VPN tunnel. These include:
To connect to foreign resources that block incoming connections based on geographic region (such as Netflix, HBO, BBC iPlayer, Pandora, and so forth)
To connect to the French internet infrastructure securely to access personal or work data
To circumvent local network restrictions that limit bandwidth (such as a university campus or public network)
To block ads and targeted advertising
To protect their anonymity while participating in peer-to-peer (P2P)/BitTorrent downloads
Of these reasons, I think the most prevalent needs for a VPN tunnel revolve around BitTorrent security and the ability to unblock foreign content. You see, even though the French government doesn't tightly control or censor the internet, foreign servers frequently block connections from Internet Protocol (IP) addresses that don't reside in the country in which the server is hosted.
For example, if you wanted to access Pandora from France, you'd be out of luck. Currently, Pandora blocks connections that originate from French IP addresses due to complex regulations and licensing agreements. A VPN tunnel allows you to borrow an IP address from a country that's allowed to connect to your desired service or website, thus allowing you to unblock content from France.
With that understanding, let's go ahead and take a look at the five best VPN tunnels for France.
1. VyprVPN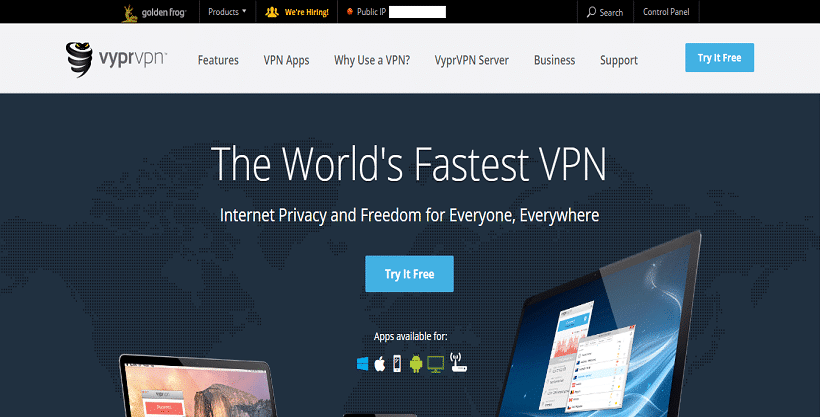 VyprVPN is a tried and tested service that has fast and reliable servers. Naturally, it has servers in France, and since it is based in Europe, the company has a strong European server presence. The parent company, Golden Frog, is based out of Switzerland, which is favorable if you dislike digital service companies being hassled by the government (such as the NSA in the US). Currently VyprVPN operates servers in over 70 countries, which is far more than the average provider, giving users plenty of flexibility when searching for a nearby server to terminate a VPN tunnel.
Furthermore, VyprVPN is hard for digital services to block completely due to its staggeringly large bank of 200,000+ IP addresses. The basic version only allows three simultaneous connections, but the premium version allows up to five, and only costs an extra $1.67 per month. Last but not least, note that while there is no refund policy, you can take advantage of a three-day free trial to give it a test run.
VyprVPN pros:
Servers in 70+ countries around the world
Parent company is based in Switzerland
Hard for websites to block
Large bank of over 200,000 IP addresses
Servers in France
VyprVPN cons:
2.NordVPN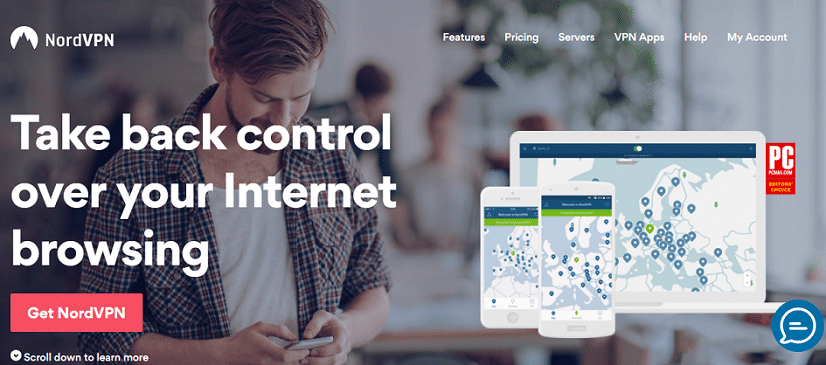 NordVPN is another fantastic VPN for French users. Its pricing blew me away. In fact, I think it has better pricing than any other provider or promotion that I've seen in a long time. Right now you can get NordVPN for as little as $3.29 per month, if you take out a two-year subscription.
The company boasts 18 servers in France, which helps provide high capacity. Right now, NordVPN also hosts about 1,000 servers in over 59 countries, giving users plenty of other connection options.
There are two features of NordVPN that really impressed me. The first is the fact that users get six simultaneous connections per account, which is more than the majority of other services. Secondly, there is a double data encryption feature, which, as the name implies, runs your data through the encryption process twice. It essentially encrypts data that has already been encrypted, to provide an extra layer of protection. Lastly, however, there is one thing I dislike: the monthly plan is a bit of a racket and should be avoided if you want to save significant amounts of money.
NordVPN pros:
Double data encryption
Special feature avoids deep packet inspection
The company is based in Panama
Six simultaneous connections
NordVPN cons:
The monthly plan cost is a little ridiculous ($11.95 per month)
3.IPVanish VPN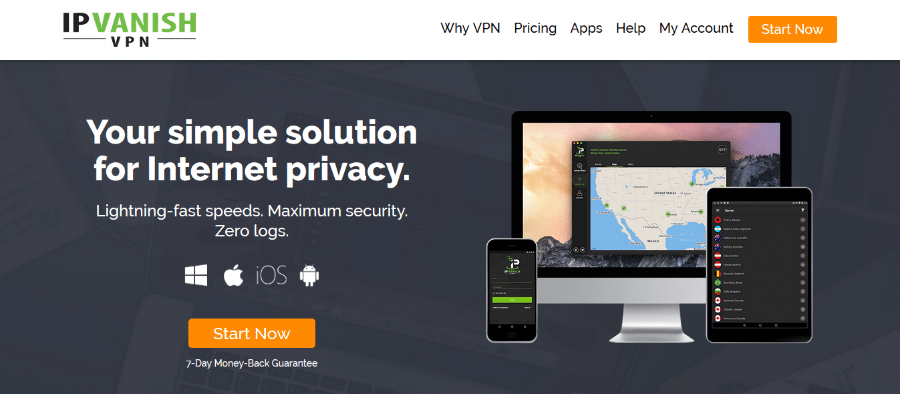 IPVanish is the next best alternative for French connections, though before we dig into the benefits I really like, I have to clear the air. There is one thing I do not like about this service, which may be a deal-breaker for users who are fearful of subpoenas and governmental data acquisition. IPVanish is based in the US, putting it under the control of the US federal government and the NSA.
That said, note that IPVanish doesn't log user activities, so the risks are virtually non-existent (to be fair, we all take a risk every time we drive a car or turn on our computers). Nevertheless, IPVanish has some fantastic security features, such as Internet Protocol version 6 (IPv6) leak protection and Domain Name System (DNS) leak prevention. Oh, and I love how the software client comes with a built in kill switch, so you don't need to download a third-party application.
Users can enjoy up to five simultaneous connections per account and, as you would expect, IPVanish hosts servers in France. In fact, it currently hosts 13 servers in France, which provides French users with tons of server capacity. Last but not least, note that IPVanish offers pricing only slightly above average when opting for the annual subscription ($6.49 per month).
IPVanish VPN pros:
Strong security features including IPv6 leak protection and DNS leak prevention
Includes a kill switch built into the client
Bundles web proxy servers for free with VPN tunnel
Five simultaneous connections per account
Servers in France
IPVanish VPN cons:
4.ExpressVPN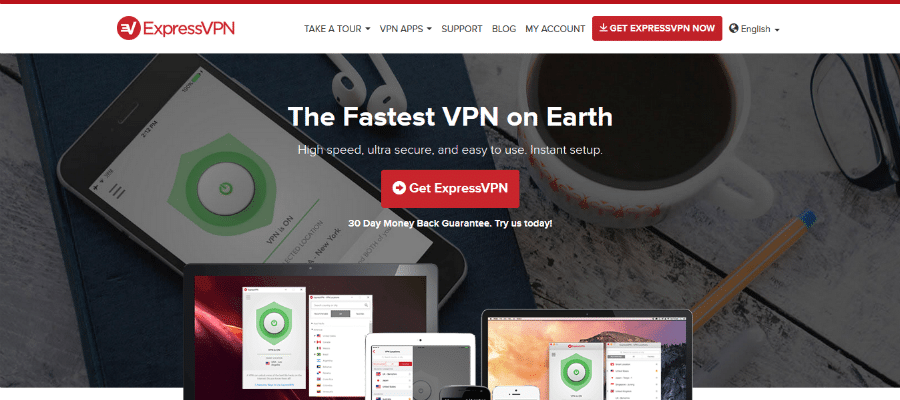 ExpressVPN is one of my favorite providers for a whole host of reasons. Two of the biggest reasons are its large network and its consistently fast and reliable servers. To date, ExpressVPN operates servers in 94 countries, though it seems to be continually bringing new servers online to meet the ever-changing demands of its base of users. Not only does ExpressVPN host servers in France, but it has Europe pretty well blanketed by a network of VPN hosts.
Unfortunately, there are two things I don't really like about this service. First of all, there isn't a free trial. However, in lieu of a free trial, ExpressVPN makes do with a 30-day money-back guarantee. Secondly, ExpressVPN is a bit pricier than most other competitors. I suppose you get what you pay for, and with the annual subscription it only costs $8.32 per month.
Users can connect up to three simultaneous connections per account, which is reasonable. Last but not least, I am pleased to inform you that ExpressVPN isn't based on US soil – it is based out of the British Virgin Islands.
ExpressVPN pros:
Servers in 94 countries
Servers in France, and a strong European presence
Generous, 30-day money-back guarantee
Fast and reliable servers
Three simultaneous connections per account
ExpressVPN cons:
No free trial available
Rather expensive
5.PureVPN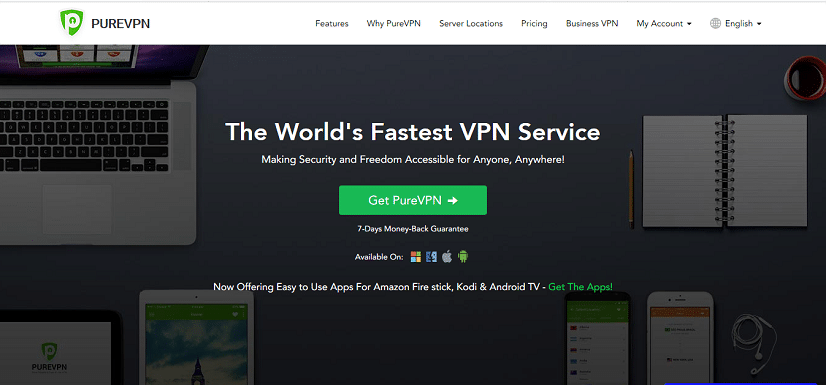 The last of the five best VPNs for France is PureVPN, and there are two things I absolutely adore about this service. The first aspect I love is its pricing model, because you can subscribe for as little as $5.90 per month. While that may not be the cheapest pricing, it's nowhere near the expensive end of the spectrum, and it provides good value considering its features.
Secondly, I love how vast PureVPN's network of servers is. Right now, PureVPN operates servers in about 141 countries. This provides connections to just about any country that the majority of users would ever want to connect to. Furthermore, PureVPN hosts 249 servers in Europe alone, including servers in Paris. Unfortunately, there isn't a free trial, but there is a seven-day money-back guarantee, and users can connect up to five devices at the same time.
The client has above average security, in addition to the raw VPN and encryption technologies, such as IP leak protection and an internet kill switch. Last but not least, the company is based out of Hong Kong, far from the prying eyes of the NSA and Five Eyes countries.
PureVPN pros:
Servers in 141 countries
Servers in France and most of Europe
Great split-tunneling feature in the software client
Extremely low cost
Five simultaneous connections per account
Seven-day money-back guarantee
Internet kill switch and IP leak protection
PureVPN cons:
The monthly plan is a bit too pricey
5 Best VPNs for France: Conclusion
If you want to unblock content from France, ensure that government agencies aren't eavesdropping on your data transmissions, and stop hackers from assaulting your computer and data, it's time to get a VPN tunnel.
Though the aforementioned VPN providers are the best VPNs for France, there are a number of other options that you may like as well. Feel free to check out more VPN reviews if you didn't see a provider here you liked.
Lastly, I strongly advise you to at least sign up for a free trial. You don't have anything to lose, and the security provided by a free service or free trial could make all the difference in the world.