The iOS operating system is the platform that runs on all of those Apple-produced gadgets that you carry around with you. These devices include the iPhone and the iPad. iOS is the mobile version of the OS X system that runs macApple Macs.
Mac users tend to be complacent about security, reasoning that almost all malware is written to attack the Windows operating system. This is true. However, there is nothing implicitly secure about the operating systems produced by Apple. It is simply that the Mac is often overlooked, because hackers can get much bigger returns by attacking Windows PCs.
However, the same is not true with the iOS system, which now runs on more than a billion devices all over the world. iOS users who play online games frequently find themselves subject to distributed denial of service (DDoS) attacks from rival players. In addition, your iPhone or tablet can connect to fake WiFi networks as you walk past them, even if it is in sleep mode. These hacker WiFi hotspots are specifically designed to sneak malware onto mobile devices, so your iPhone or tablet is constantly at risk.
Whether or not you worry about malware on your device, you are still vulnerable to snooping when you access the internet. In some countries, these weaknesses can have serious consequences. Some of your favorite apps are actually banned in many parts of the world – even WhatsApp!
You can evade monitoring and gain access to blocked websites by using a Virtual Private Network (VPN). A VPN disguises internet traffic so that your Internet Service Provider (ISP) doesn't know which websites you are accessing, and can't block the messages that pass through its system. Similarly, you can use a VPN to foil network bans on certain websites when you surf the web by connecting to the network at work, or at university.
There are many VPNs touting for the iOS market. Some of them are even free. While you may be tempted to just download the VPN that appears at the top of your search engine results page, hang on a moment. It is worth investigating the software you download onto your device to make sure it works properly and it isn't a fake. This review gives you a choice of VPNs to look into by recommending the five best VPNs for iOS devices.
1.IPVanish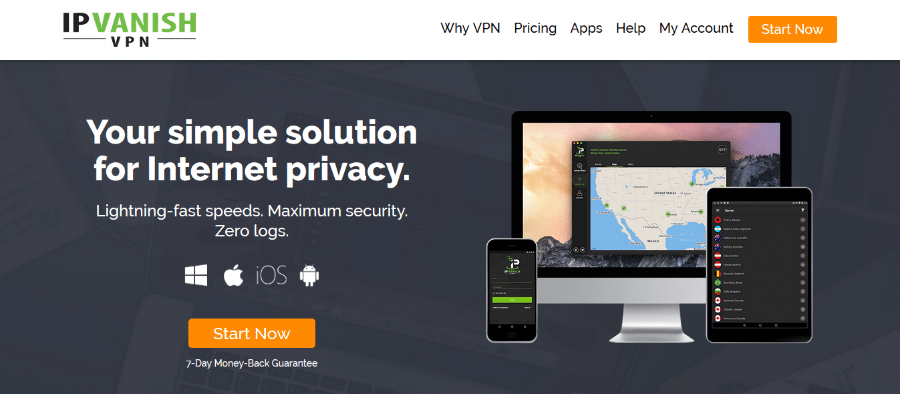 Battery life is a big issue for iPhone users. The iPad has a little more space for a bigger battery, but you are still not as well served as laptop users, who have a big bulky battery to keep them surfing for hours. Many apps drain your battery faster, and the full-on encryption procedures of standard VPN cryptography are included in this troublesome group.
IPVanish uses OpenVPN with 256-bit Advanced Encryption Standard (AES) encryption on its standard installations. However, you can adjust this setting to switch to the lighter Layer 2 Tunneling Protocol (L2TP). This will put a lot less strain on your iPhone battery. Some might argue that this step will reduce your security. However, L2TP is a fully-secure VPN standard.
IPVanish's base in the US worries those who like to use torrents to download entertainment for free. US lawyers are very active at the moment in their pursuit of copyright infringements, and they have even been known to go after individual downloaders. If you use a VPN when downloading, no one can trace you. However, the VPN might know what you are doing and be pressured by legal action to disclose your activities. IPVanish says it doesn't keep activity logs, so the authorities can't force it to hand over records that it hasn't got.
Advantages:
• Fast service
• Choice of VPN protocols
• Fully-owned infrastructure
• Tier-1 network
• Excellent user support
Drawbacks:
• Based in the US
2.ExpressVPN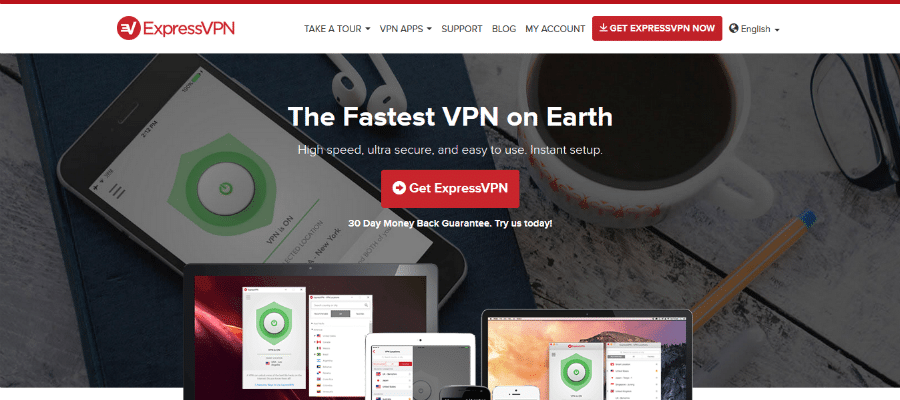 ExpressVPN is the most expensive service on this list. However, it reinvests in its service, so that money brings you the best VPN in the business. If you plan to use your iPhone in restrictive countries, such as China, Iran, or Pakistan, you really need the world-beating privacy that ExpressVPN offers. This service is just about the only VPN that gives continual service in China. Countries that ban access to certain websites also ban VPNs, so very few services can actually work in those places. ExpressVPN not only masks your activity, but it also masks the telltale signs of VPN usage.
The cloaking methodology of ExpressVPN is also important for accessing streaming sites overseas. Streaming services don't let people from other countries access their videos, and scan messages to check that they haven't been delivered by VPNs. The toughest VPN sniffing carried out in the streaming sector is implemented by Netflix. ExpressVPN can get past these checks, and that means that it can get you into any streaming service in the world.
Advantages:
• Largest server network on this list
• Very strong privacy procedures
• One-touch activation in an easy-to-use app
• Based in the British Virgin Islands
• Gets into Netflix and other streaming sites
Drawbacks:
• More expensive than the other VPNs in this list
3.NordVPN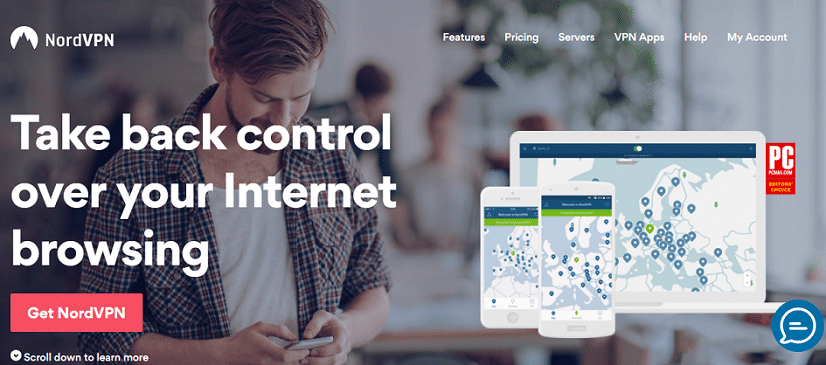 NordVPN has the cloaking capabilities of ExpressVPN, but at a much lower price. The company is based in Panama, which has no laws on data retention. That enables NordVPN to fully implement a no logging policy. These two factors make the VPN a great choice for those who want to access the internet while traveling nations where bans on apps such as WhatsApp and Facebook can really spoil your vacation. On top of that, the VPN can get around the proxy detection systems of streaming sites.
The company is fine with customers using the VPN to access peer-to-peer (P2P) networks. The app is easy to use and includes a list of servers in 58 countries to choose from. There are servers that are optimized for gaming and torrenting.
Although it is possible to opt for Point-to-Point Tunneling Protocol (PPTP) or L2TP to extend your battery life, only OpenVPN is available from within the app. If you want to switch to those other VPN protocols, you have to set up the VPN manually. There are guides to explain the setup process within the NordVPN website's knowledge base. However, it would be much easier to change the default protocol if the option to switch was built into the app.
Advantages:
• Servers in 58 countries
• VPN chaining option with double encryption
• Low cost two-year subscription offer
• Up to six simultaneous connections
• Accesses Netflix for the US, Canada, France, and India
Drawbacks:
• Not the fastest VPN on the list
• Alternative VPN protocols require manual setup
4.Private Internet access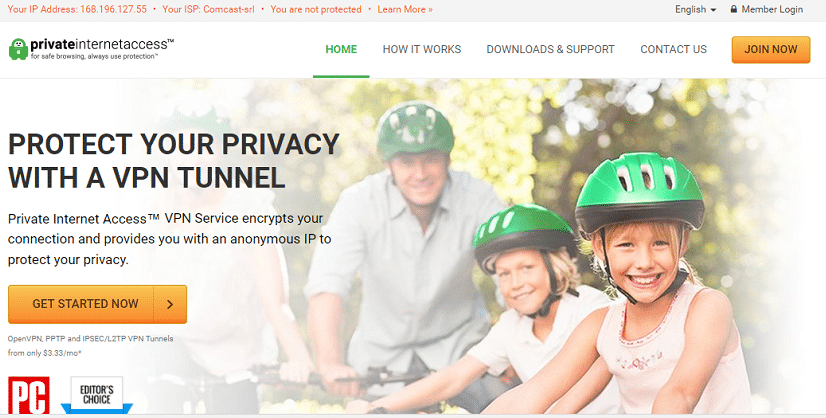 Private Internet Access (PIA) has a lot in common with IPVanish, our number one VPN for iOS. PIA has its operational base in the US, which might prove problematic for those who are worried about the activities of copyright lawyers. On the plus side, like IPVanish, this is a Tier-1 network, which means that the company's own cabling can reach all of the internet without relying on peering agreements to cross the networks of other companies. That technical factor makes this a very fast service.
PPTP and L2TP VPN protocols are available with this service, but you have to set them up outside the app. The website has a guide that explains how to use the iOS WiFi settings system to implement these alternative protocols.
The app for iOS is very easy to operate, with a list of servers and a big on/off slider. The service is a lot cheaper than IPVanish. However, there are reasons for the lower price – the server network is much smaller and the VPN can't defeat the proxy detection systems of streaming sites.
Advantages:
• Servers in 25 countries
• Absolutely no logs
• P2P allowed
• Up to five simultaneous connections
• Seven-day money-back guarantee
Drawbacks:
• Can't get into Netflix
• US-based
5.SaferVPN

SaferVPN is another service that has its operating base in the US. This is great news for those who want quality customer support, but bad news for those who worry about the influence of the NSA or copyright lawyers.
A really great feature of SaferVPN is that you can try it for 24 hours for free. If you decide to take up the service, you have a further 14 days after payment to cancel and get your money back. SaferVPN costs a lot more than PIA and it has a slightly larger server network, with a presence in 29 countries. You get a cheaper deal if you opt for the two-year subscription plan. However, this is still almost double the price of PIA.
SaferVPN includes automatic WiFi protection. This is important for iOS users because scammers sometimes set up fake WiFi hotspots. If your phone or tablet has WiFi access turned on, it could connect to the nearest available hotspot without you knowing. These rogue hotspots are built to sneak malware onto your device, so it is important to protect yourself against this security weak spot.
Advantages:
• Servers in 29 countries
• 24-hour free trial
• 14-day money-back guarantee
• Up to five simultaneous connections on the Premium plan
• Automatic WiFi protection
Drawbacks:
• Based in the US
• Can't fool Netflix proxy detection
>
VPN for iOS: Considerations
The ability to switch VPN protocols is an important factor for iOS users because of the drain on battery life that OpenVPN can create. Many popular applications run down your battery fast – Instagram, streaming, and WhatsApp are in this division – so adding the high-energy usage of a VPN as well could have you running for the nearest power socket.
As you will be taking your iOS device out and about with you, you also need to pay attention to WiFi protection. On a standard journey these days, you will pass countless WiFi hotspots, and you don't want your phone connecting to a rogue one while it sits in your pocket.
VPN for iOS: Conclusion
The small screens of tablets and smartphones mean that you need to get a VPN app with a simple design that has fingerprint-sized controls. All of the apps in our list have mobile-friendly features and work well on the small screens of iPhones.
If you are planning to travel overseas with your iOS device, consider your priorities for internet access and check out restrictions on websites in your destination. If you want to access streaming sites while you are away, make sure that you opt for a VPN that can get around the VPN detection systems and regional restrictions of your favorite services. Also, if you plan to travel to China or the Middle East, you should be sure to choose a VPN that has strong security measures and fail-safe cloaking systems.
Take advantage of the money-back guarantees of these services to try out their features before you fully commit. Don't be complacent about privacy when you use your iPhone or iPad. Devices running iOS are just as vulnerable to hacking and snooping as any other operating system that can connect to the internet.