Bypassing ISP throttling is one of the most important topics of interest for every internet use. No matter if you are a frequent downloader, torrent user, or a usual streamer you must have faced a sudden downfall in speed of your internet connection.
Speed cut by your ISP provider on a time when you are in the real need of it is the most irritating subject. Loading during downloads, buffering during streaming, hanging or some other interruption due to speed cut of internet is most devastating feature these days.
ISP providers have been trying to legitimize it by different tactics, like controlling bandwidth congestion and reducing network traffic issue. But the users should be sane enough to realize the actual cause of reducing speed to save internet provision in terabits by provider.
There could be many way outs for bypassing ISP throttling but the authentic and most accessible is VPN. It would encrypt your data and disable anyone even your ISP provider to identify the landing page or the target content.
How do an ISP control bandwidth throttling?
Internet speed throttling would be a key factor by which ISPs would be able to identify the activities of users and reducing their user usage of internet bandwidth. ISPs are very vigilant in saving costs on this ground by restricting speeds and putting slabs on them.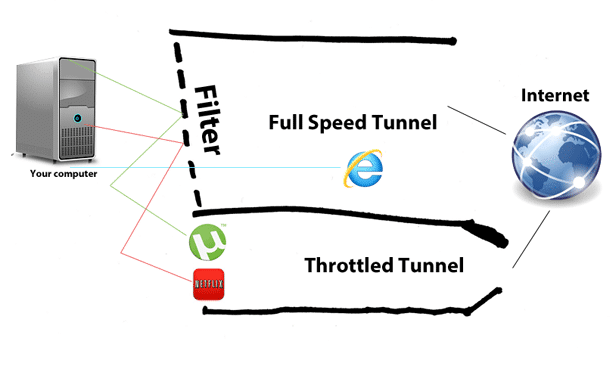 Usually ISPs put slabs on users who have high usage or prone to downloading or streaming online frequently. ISPs track the activities when the user is on a high usage of bandwidth speed they suddenly cut down the speed so you might even end up streaming or stop downloading at the moment.
Use a VPN to bypass bandwidth throttling
Using a VPN for ISP throttling is a common and most effective practice. A VPN would encrypt your internet traffic and will hide your activity from service provider. They would not be able to inspect your any activity on the internet when you are using a VPN. This is an authentic source which will enable you to watch, download or upload the content of your choice securely without any interruption.
A VPN is the cheapest solution to the ISP throttling and it is the only reliable source that enables you to enjoy the speed you deserved and promised for. You don't need to bother much because you also have a money back guarantee if you don't get the promised feature. Along with that there are different other added benefits of VPN as well.
It would bypass ISP throttling
Also will bypass geo-restrictions
VPN would also make your connection secure and safe from any threat
Any online payment could not be tracked due to VPN
Anonymity in almost all the user level activities
5 Best VPNs to Bypass ISP Throttling
How to identify that your speed has been limited?
There are different tools to check the speed throttling, the easiest and user friendly are being shared with you.
1.      Keep a check on your internet speed via Speedtest.net
Check your internet speed on daily or weekly bases and compares what has been the trend over the month and how has it been changing. You might notice a change in speed in particular time of the day or particular days of the month. Usually ISP providers control speed in the end of the month to save maximum of their bandwidth limit.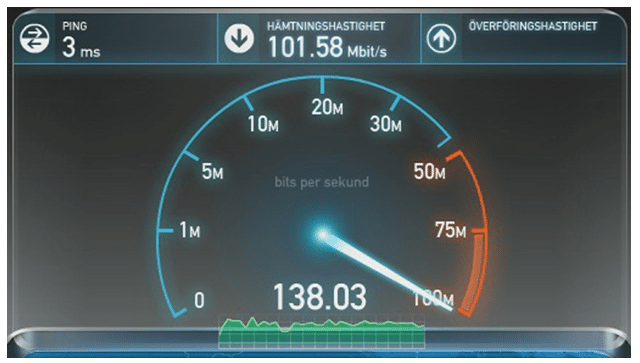 2.      Glasnost
It is a tool that measures the speed of your different activities on the internet. If you are streaming a video, downloading content, and surfing on Facebook all of the activities would be getting some particular speed. Glasnost will enable a user to compare if the speed has been limited for a particular domain or there have been any speed fluctuations and differences in between different domains.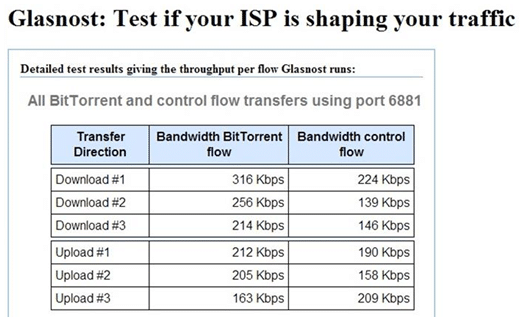 3.      Health test on Internet
With the help of its name one can easily expect its function of checking the stability of the bandwidth provided. ISP throttling could easily be identified by this tool as it would identify if any degradation has been done.
Codes from M-Labs help this software to identify the ISP throttling. It would send traffic on your device or from your device to the known designated ISP point of network to identify the fluctuations.
This is how this tool works for a user to identify speed limitations put on. Whereas multiple test at a single time would be very effective or a series of tests after a short span of time would help to capture the authentic result. Authenticity would increase with the number of tests conducted and the difference in the results would also legitimize the results more.
How to defeat ISP Throttling?
At times even if you are paying a high amount to your bandwidth provider still ISP throttling reduces your speed and discourages you to enjoy your paid service. But isn't there any way out to defeat ISP throttling?
Yes, there are different way outs to cope up with ISP speed limiting. The most prominent and successful way out to bypass speed limit is VPN. Peering is the term we use when two ISPs are connected and exchange traffic. Even though it is mutually beneficial under common circumstances but it causes issues when it comes to streaming popular sites like Netflix, Hulu, and HBO.
ISP throttling while streaming
A user faces a speed cut suddenly during streaming could most probably is an ISP speed limitation attack by provider. Most of the time it happens when a user is streaming HD or Ultra HD series or movie, and due to heavy byte consumptions provider starts throttling. At times when a user is a frequent streamer provider puts a ceiling on after tracking his activities after some time.

When a user agrees to pay a certain amount for a promised speed, both the party's provider and the customer are into a legal contract. Despite the entire ethical and legal stances are that the providers are very usual to reduce the speed than they have promised to the user. Most of them try to legitimize it but there is no strong excuse for that.
Looking at the users' part, it is an unethical act by the provider. Because the user is paying enough money for his average usage and the speed he has been promised. The provider is not fulfilling his own part of the contract to provide the settled speed.
ISP throttling while downloading torrents
Same goes for the downloading torrents. As soon as the provider come to know about the frequency of usage and puts a slab on it. Downloading on the user end is slowed down and could even face problems due to which a user might drop the downloading file.
Torrents and streaming users are very much keen about the downloading speed and are up to anything to improve it. We have concluded a solution for them to evade ISP throttling. Our technical team has summed up all the features that are required in 5 best VPN services to provide you a long lasting solution.