Speed is mandatory when it comes to streaming and torrenting. Although security and privacy are core reasons for acquiring a VPN service, connection speed is widely considered as the second most important factor. In this list of the five fastest VPN service providers, VPNAnalysis.com found you the best in the industry. We evaluated them at different internet speeds and from different physical locations, ensuring that they all offered lightning fast speeds, no matter what the conditions.
Read our in-depth analyses after the table!
Fastest VPN Services and Speed Test Comparison
Provider
Test Locations
Server Locations
Protocols
Downloading (Mbps)
Uploading (Mbps)
Ping (ms)
Price
Links
USA
UK
PPTP
88.09 Mbps
9.75 Mbps
21
$8.32/M
Get It Now!
USA
UK
L2TP
71.83 Mbps
10.56 Mbps
25
USA
UK
PPTP
86.89 Mbps
9.12 Mbps
27
$2.87/M
Get It Now!
USA
UK
L2TP
70.45 Mbps
9.50 Mbps
28
USA
UK
PPTP
87.09 Mbps
8.10 Mbps
27
$3.33/M
Get It Now!
USA
UK
L2TP
71.83 Mbps
7.90 Mbps
30
USA
UK
PPTP
84.93 Mbps
7.32 Mbps
31
$4.99/M
Get It Now!
USA
UK
L2TP
66.25 Mbps
6.69 Mbps
33
USA
UK
PPTP
85.11 Mbps
7.90 Mbps
27
$5.75/M
Get It Now!
USA
UK
L2TP
69.74 Mbps
9.29 Mbps
28
How We Evaluated The Fastest VPNs
To assess the speed of the VPN providers listed here, we did a few things. Firstly, we chose a handful of different supported locations – including North America, Europe, Australia, and South America – to test for consistency across servers.
Secondly, we tested the speed of our internet connection to these locations without a VPN. Afterwards, we recorded the speed of the internet connection with a VPN. Those who experienced next to no drop in speed were considered to be speedy and worthy of a spot on this list.
Speed Test Criteria
When doing speed tests, it is important to test all the VPN providers in the same manner. For this first set of tests, we tested the VPN providers' UK servers from a location within the US. We chose the UK because it is a considerable distance from the US, and because speed tends to slow down as distance increases.
We tested every VPN provider using their L2TP protocol, as it has more sophisticated encryption than PPTP, which tends to cause a reduction in speed. First, we tested our internet connection without having a VPN client turned on, so that we could use it as a comparison.
Below are our results without a VPN connection:
Download Speed: 95.64 Mbps
Upload Speed: 11.42 Mbps
Ping: 7 ms
Is PureVPN Fast?
With 500+ servers in 141+ countries and over a million users, PureVPN is definitely a service that should be included in this list. PureVPN has more servers in the US, UK and Canada than any other VPN provider on the market. What's more, PureVPN offers five simultaneous connections, a plethora of payment options, and a three-day money-back guarantee. But how does it do when it comes to speed? I performed a test of my internet connection with PureVPN and achieved the following results:
First Trial

Second Trial

My Location: United States
PureVPN Server Location: United Kingdom
Protocol: PPTP
Download Speed: 88.09 Mbps
Upload Speed: 9.75 Mbps
Ping: 27 ms

My Location: United States
PureVPN Server Location: United Kingdom
Protocol: L2TP
Download Speed: 71.83 Mbps
Upload Speed: 10.56 Mbps
Ping: 28 ms
Finding:
According to our trial and analysis, PureVPN ranks first on this list of the fastest VPN providers. We can conclude that PureVPN's effect on speed is next to nothing, and that users can enjoy a fast connection when using PureVPN.
Price: $2.87/month
Is ExpressVPN Fast?
ExpressVPN's server network is scattered in 100+ cities in 87 countries. Although ExpressVPN offers no free trial, it does offer a 30-day money-back guarantee, which is significantly longer than that offered by the majority of VPN providers. What's more, the lengthy full trial gives more than enough time to test all of the features of ExpressVPN – and they're formidable! They include three simultaneous connections, a kill switch, and very minimal logging. ExpressVPN has always been known for its electrifying connection speed so that, paired with its excellent features, means that it was bound to appear in our list of the fastest VPN services. The results of my Express VPN speed trials are as follows:
First Trial

Second Trial

My Location: United States
ExpressVPN Server Location: United Kingdom
Protocol: PPTP
Download Speed: 86.89 Mbps
Upload Speed: 9.12 Mbps
Ping: 27 ms

My Location: United States
ExpressVPN Server Location: United Kingdom
Protocol: L2TP
Download Speed: 70.45 Mbps
Upload Speed: 9.50 Mbps
Ping: 28 ms
Finding:
The difference between PureVPN and ExpressVPN is small, to say the least, so ExpressVPN's position as second on this list is well deserved. ExpressVPN's connection speeds are lightning fast and make for a premium VPN experience.
Price: $8.32/month – 35% off
 Is Private Internet Access Fast?
Private Internet Access is a premium VPN provider that offers 3342+ servers located in more than 35 countries. They also offer a seven-day money back guarantee, which gives users sufficient time to test the service. Private Internet Access (PIA) offers secure encryption to protect your privacy, as well as a zero logs policy to ensure that your data is safe from prying eyes. It even offers a generous five simultaneous connections, which means that all your devices can be protected! What about speed? To find that out, we conducted some tests while connecting to the Private Internet Access client:
First Trial

Second Trial

My Location: United States
PIA Server Location: United Kingdom
Protocol: PPTP
Download Speed: 87.09 Mbps
Upload Speed: 8.93 Mbps
Ping: 21 ms

My Location: United States
PIA Server Location: United Kingdom
Protocol: L2TP
Download Speed: 71.83 Mbps
Upload Speed: 9.56 Mbps
Ping: 25 ms
Finding:
Private Internet Access says that it provides a seamless, lag-free user experience, and our tests suggest that it lives up to this claim. Its position as third on this list is definitely well deserved!
Price: $3.33 per month – 52% off
Is TorGuard Fast?
TorGuard offers 1600+ servers located in 50+ countries – one of the largest server networks in the business! It's one of the oldest VPN providers in the industry and has always delivered a great user experience. With its support of torrenting and P2P, and its five simultaneous connections, it is a great option for watching content online (an online activity where speed is of the utmost importance!). It also boasts some excellent security features including a zero logs policy and acceptance of Bitcoin. It also does well when it comes to speed, as you can see from the results below:
First Trial

Second Trial

My Location: United States
TorGuard Server Location: United Kingdom
Protocol: PPTP
Download Speed: 84.93 Mbps
Upload Speed: 7.32 Mbps
Ping: 31 ms

My Location: United States
TorGuard Server Location: United Kingdom
Protocol: L2TP
Download Speed: 66.25 Mbps
Upload Speed: 6.69 Mbps
Ping: 33 ms
Finding:
Although TorGuard ranks fourth on our list of fast VPN services, it is anything but slow. Not only does it deliver some great speeds, but it works like a charm while torrenting, if that's a feature you're after!
Price: $4.99/month – 48% off
Is NordVPN Fast?
NordVPN has a server network of 700+ servers scattered across 50+ countries. Six simultaneous connections, a user-friendly VPN client and unlimited bandwidth are among its many excellent features. NordVPN's no logs policy promises a near-anonymous online experience. What's more, NordVPN offers a generous 30-day money-back guarantee. That's not to mention the fact that its one of the fastest providers on the market, as you can see from the tests below:
First Trial

Second Trial

My Location: United States
NordVPN Server Location: United Kingdom
Protocol: PPTP
Download Speed: 85.11 Mbps
Upload Speed: 8.10 Mbps
Ping: 27 ms

My Location: United States
NordVPN Server Location: United Kingdom
Protocol: L2TP
Download Speed: 69.74 Mbps
Upload Speed: 7.90 Mbps
Ping: 30 ms
Finding:
NordVPN is a topnotch VPN provider which, along with its user-friendly features, delivers super-fast speed. NordVPN finishes off our list of the fastest VPN providers in fifth – a well deserved spot!
Price: $5.75/month – 52% off
Benefits of Using a Fast VPN Service
While the benefits of using a speedy VPN service may be self-explanatory (who wants a slow internet connection?) we can think of several benefits that rank among the best when it comes to signing up with a fast VPN provider.
Learn About the Fastest VPN Protocols
The function of all VPN protocols is to make a secure, fast and reliable connection between two nodes. Different VPN protocols are optimized for different functions. We have mentioned below the strength and weaknesses of each protocol to make it easier for users to choose which one is best for them and their needs.
PPTP (Point to Point Tunneling Protocol)
PPTP is a commonly used and easy to set up protocol for maintaining a VPN. It is highly compatible and pre-installed in Microsoft Windows, Apple iOS, Android, Mac OS X, Linux, Tomato, and DD-WRT. It is also one of the fastest VPN protocols. That said, its encryption is pretty lousy and can leave you exposed to cyberattacks.
PPTP supports up to 128-bit encryption, which is much lower than that supported by other protocols. However, if you are looking for a fast streaming protocol and don't have much concern for encryption and security, then no other protocol beats PPTP.
L2TP/IPSec (Layer Two Tunneling Protocol)
Compared with PPTP, L2TP is a more efficient protocol for those looking for a secure and reliable connection combined with IPSec protocol to attain improved security. The prime reason for this is its strong encryption, which supports up to 256-bit session key. However, this session key can vary with the type of algorithm used.
L2TP/IPSec protocol is also a fast protocol but not more than PPTP (the fastest VPN protocol). It is compatible with Android, Microsoft Windows, Apple iOS, and Mac OS X, but not compatible with open-source routers. It is best suited for those looking for some improved security for their online activities, such as when making a financial transaction, a confidential data transfer, torrenting, or sending secure communication.
OpenVPN is by far the most popular and advanced open-source software application. It uses Open SSL library and SSL v3/TLS v1 protocols. It is highly recommended by tech experts due to its fast speed and providing of secure, reliable connections with a 256-bit session key. OpenVPN is a great blend of speed and security.
OpenVPN uses UDP and TCP ports in which UDP is much faster than TCP, but TCP is more likely to break firewalls. It is not supported by any platform natively. However, when installed via a third party software it can be used with Windows, Mac OS X, Linux, Android, and Apple iOS.
SSTP (Secure Socket Tunneling Protocol)
Secure Socket Tunneling Protocol is a VPN tunneling process which routes the L2TP and PPP data traffic through an SSL channel. It allows to surf safely and near-anonymously by establishing bidirectional HTTP layers over 443 TCP port. Secure socket tunneling protocol can't run over a Mac OS X or Linux. It was invented by Microsoft and can only run over Windows. SSTP is capable of bypassing any geo-restricted sites and content media. If privacy is your sole goal, then SSTP is a good option as it can bypass firewalls, which L2TP is not capable of.
Speed and Security Go Hand in Hand!
Folks might argue that speed is not as important as security, so security should always be considered and analyzed first. However, this depends on the situation. If you are downloading via Torrent, for example, then anonymity is vital for you. Security should also be your top priority if you are making transactions or exchanging sensitive information. However, the majority of VPN users use it for streaming and accessing online channels like Netflix and Hulu and not for performing sensitive activities, and in these instances speed would be the more important factor.
Fastest VPN for Streaming
If you are using a VPN service for the sole purpose of entertainment such as streaming and gaming, then speed should be your first priority, as these activities don't require a high level of security.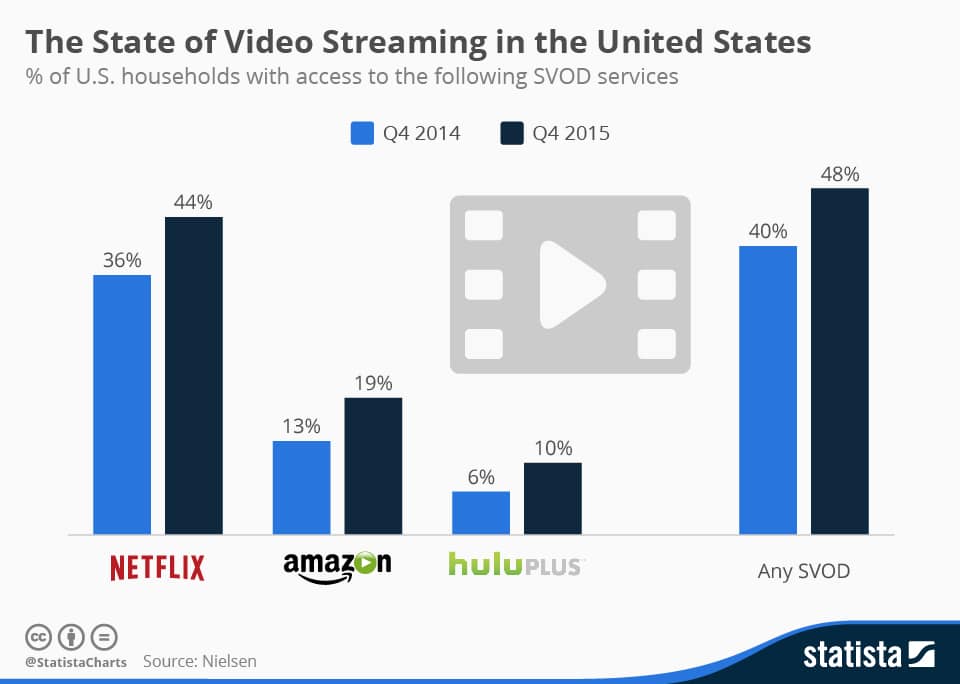 Chances are, you're reading this article for this exact reason. A survey conducted by Parks Associates in the last quarter of 2015 shows a prominent increase in video streaming in United States, when compared to stats from the last quarter of 2014. Numbers continue to rise with the years. Undoubtedly, watching videos online and content streaming is becoming a – if not the most – popular internet pastime.
Stats shows that your internet speed must be at least 5Mbps to stream Netflix, Hulu, HBO Go and other HD streaming media. Many of our suggested speedy VPNs have optimized servers, which offer unlimited bandwidth so that you can enjoy high-definition videos alongside the highest levels of data encryption.
How Can a Delay Created by a VPN Connection be Avoided?
Unfortunately the delay created by VPN can never be avoided. The increased level of encryption will always impact on internet speed. However, any of the providers mentioned in our list of the fastest VPN providers have minimum effect on speed. You can make your VPN experience even faster by making a good server selection.
Apart from encryption, location can also affect internet speed when connected to a VPN. Server load is another especially relevant aspect of a VPN service, which should always be examined by users. At times a server can get so crowded that its efficiency diminishes and anyone connected to that server will experience a noticeable decline in speed. To avoid this, users should always choose less crowded servers. Luckily, many VPN providers offer VPN clients which indicate less crowded servers. Alternatively, users can contact their VPN provider via online chat to inquire about less crowded servers. By using this simple precaution you can shield yourself from unnecessary lag.
Vital Factors for Fastest VPN Services
There are handful of key factors you must consider before acquiring a VPN service. The following elements will help you in assessing the performance of a VPN in terms of speed.
Downloading Speed: Download speed matters the most when you wish to receive data over different platforms like from a file sharing server, Torrents, media and movie downloads from websites, or when streaming your favorite shows and sport events online.
Ping Time: In simple words, ping time is the response from the main server – the time a data packet requires to reach the server after leaving your system. The faster the server responds, the better. Ping time is especially critical for real-time interactive sessions and gaming. Beneficial tip: a fast VPN service provides optimized servers with lowest ping rates to connect in order to receive the best response. Normally the server located closest to your physical location gives you the fastest connectivity and best ping time.
Uploading Speed: Don't neglect the upload speed of your VPN service provider if you wish to upload large files. Also, a fast uploading speed is required when you have to synchronize heavy data. Nowadays, almost all of us are using the services of cloud-based products like SkyDrive, Dropbox, Google Drive, Box, Elephant Drive, and so forth for data protection and easy accessibility from anywhere. If you are one of these, you should definitely evaluate your provider's upload speed.
BestVPN.com have a guide on how to find the fastest vpn server location from your chosen vpn provider and whether fastest is always best.
Fastest VPNs: Conclusion
The adverse effects of a VPN connection on internet speed are inevitable. However, you can minimize unnecessary lag by choosing one of our recommended speedy VPN services. Users using a VPN simply for streaming or gaming should choose a provider with an emphasis on speed, whereas those looking for security in addition to speed should look for a provider that prioritizes user privacy.
The above-mentioned providers for fast VPN connectivity have tailored their services to offer you the highest levels of speed and security to ensure that you don't have to sacrifice one for the other.