Introducing Fast VPN Services
The speed of a VPN service is an extremely important factor to consider before choosing a VPN for prolonged use. This is especially true for those interested in speed-reliant activities, such as gaming and/or high quality streaming.
If you're an avid gamer or streamer, you'll not only want a VPN – you'll need a VPN with fast server speeds. This can be a challenge at times, as many VPN providers will claim to offer high speeds as an advertising gimmick.
Whether they actually do is sometimes hard to figure out. Fortunately, that's where VPN Analysis comes in. Our team of VPN experts has taken the time to research and analyze the hundreds of different VPNs out there. Using the information acquired, we were able to select the top five fastest VPNs of 2018 out of the hundreds of VPNs analyzed. Here they are:
What are the fastest VPNs?
Read the summaries below for a detailed look at the best high speed VPN providers.
---

---
Subscription PRICE
1 month plan – $12.95 per month
6 month plan – $9.99 per month (billed $59.95)
15 month plan – $6.67 per month (billed $107.55)
---
ExpressVPN is a VPN provider based in the British Virgin Islands that offers an excellent service to its users. To start, ExpressVPN provides users with blazing fast speeds. They also offer excellent military-grade OpenVPN encryption, a strict privacy and no logs policy and DNS/WebRTC leak protection. Additionally, ExpressVPN offers 90+ server locations and "stealth servers" located in Hong Kong for additional privacy.
ExpressVPN also includes a free Smart DNS service in their package. If you have any issues with your service, ExpressVPN's dedicated 24/7 customer support will be there to help you in a very timely manner. Finally, ExpressVPN also offers a 30-day money-back guarantee for unsatisfied users.
Pros
Military-grade OpenVPN encryption
Strict privacy policy and no logs policy
3 simultaneous connections
Free Smart DNS service
24/7 customer support
Fast server speeds
90+ server locations
Cons
A bit costly (but worth it)
---


---
Subscription PRICE
1 month plan – $12.99 per month
2 year plan – $3.69 per month (billed $88.56 every 2 years)
3 year plan – $2.75 per month (billed $99.00 every  3 years)
---
CyberGhost is a VPN service based in Romania – excellent for maintaining your digital privacy. The CyberGhost VPN app is user-friendly and the 24/7 customer support is easy to reach if any issues come about. CyberGhost offers five simultaneous connections, an airtight privacy policy and no logs policy and 60+ server locations.
Additionally, CyberGhost provides excellent speeds on most servers – earning them a spot on this list. CyberGhost also offers a kill switch, P2P allowance on select servers, Bitcoin payment options and free browser add-ons. If you're still iffy on trying CyberGhost, you can always use their 7-day free trial or their 30-day money-back guarantee.
Pros
5 simultaneous connections
Based in Romania
Affordable
60+ server locations
Airtight privacy & no logs policy
P2P permitted
DNS leak/WebRTC protection
Works with Netflix and BBC iPlayer (+more)
Cons
Some servers are slower than others
---
IPVanish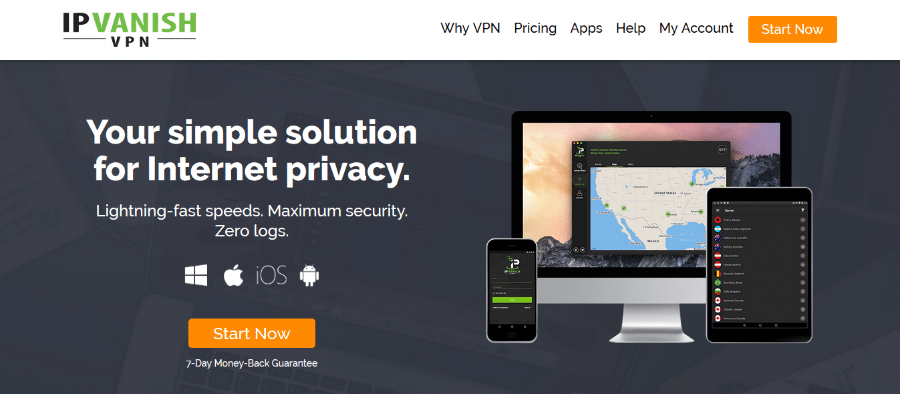 ---
Subscription PRICE
1 month plan – $8.00 per month
3 month plan – $7.20 per month (billed $21.59)
1 year plan – $5.20 per month (billed $62.39)
---
IPVanish is a VPN service that is based in the US – but makes up for it by exercising a strict no logs policy and an airtight privacy policy. They come in first for the fastest VPN services with their blazing fast streaming speeds. IPVanish also offers 60+ server locations, excellent military-grade OpenVPN encryption, 24/7 customer support and five simultaneous connections. Additionally, IPVanish allows P2P activities and provides users with a killswitch.
IPVanish also offers an easy-to-use cross-platform VPN app. Although IPVanish cannot get into Netflix US and (sometimes) BBC iPlayer, it can get into other streaming services like Amazon Prime. Finally, IPVanish offers a 7-day money-back guarantee for unsatisfied users.
Pros
60+ server locations
Military-grade OpenVPN encryption
Five simultaneous connections
Killswitch
No logs policy
7-day money-back guarantee
24/7 customer support
The fastest VPN
Cons
Can't get into Netflix
BBC iPlayer is so/so
Based in US
---
HidemyAss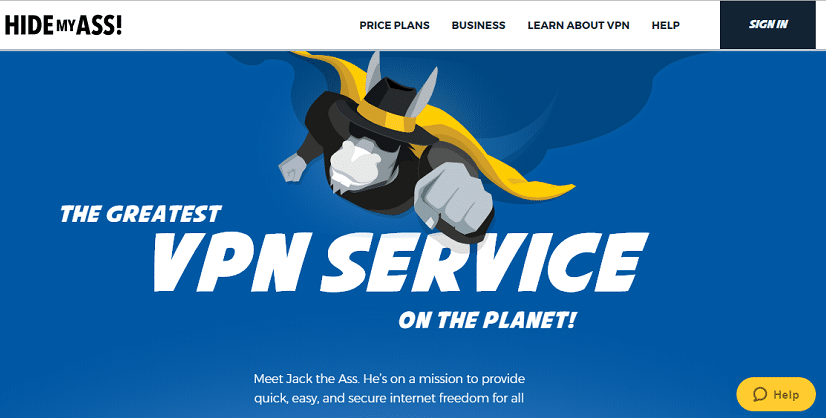 ---
Subscription Fee
Plan length – 1 month – $11.99 (billed $11.99 every month)
Plan length – 6 month – $7.99 (billed $47.94 every 6 months)
Plan length – 12 months – $6.99 (billed $83.88 every year)
---
HideMyAss is an excellent VPN service, with a large variety of servers and server locations (720+ servers in 320+ locations in 190+ countries). HideMyAss offers five simultaneous connections, fast server speeds for their hundreds of servers, secure OpenVPN encryption and an easy-to-use app.
HideMyAss does offer a 30-day money-back guarantee, although some users report restrictions and difficulties when trying to get a refund. A downside to HideMyAss is their location in the UK and their very clear NO to P2P use. Customer support can also be iffy depending on the questions you ask.
Pros
HUGE variety of servers and server locations
Easy-to-use app
Fast server speeds
Many streaming apps accessible
5 simultaneous connections
No IP leaks
Cons
30-day money-back guarantee can be iffy
Based in UK with past loyalty issues
P2P not permitted
Customer support is iffy
---
BufferedVPN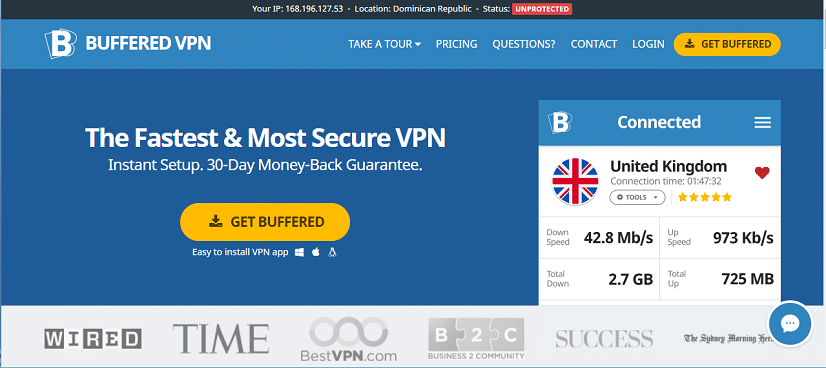 ---
Subscription Fee
Plan length – 1 month – $12.99 (billed $12.99 every month)
Plan length – 6 month – $9.99 (billed $59.94 every 6 months)
Plan length – 15 months – $6.60 (billed $99.00 every year)
---
Gibraltar-based VPN provider, Buffered, is an excellent VPN choice. First and foremost, Buffered offers crazy high speeds on their 40+ server locations. Moving on, Buffered provides users with military-grade OpenVPN encryption, 24/7 live chat customer support, a firewall based killswitch and five simultaneous connections.
Additionally, Buffered exercises a strict privacy policy and though some connection and data logs are stored, they're only stored for 30 days. If you're still skeptical, you can sample their service and request their 30-day money-back guarantee if you're still unsatisfied.
Pros
Extremely high server speeds
Good customer support
Easy-to-use
40+ server locations
Killswitch
30-day money-back guarantee
Cons
Data/Connection logs stored for 30 days
---
The Fastest VPN: FAQ
If you have any questions about the fastest VPN service providers and what they can be used for take a look at the frequently asked questions below.
What is a VPN?
A VPN or Virtual Private Network is a technology that provides you with security and privacy via encryption. A VPN at work will redirect your network traffic to the encrypted VPN server. When you're connected to a VPN, your information is secure. You can't be spied on. In other words: a VPN helps protect you from internet censorship and government/ISP surveillance.
For more information about what VPNs do, take a look at our VPN beginners guide.
Essentially, VPNs can be used to:
Hide your internet activity from third parties
Unblock Netflix, Hulu, iPlayer etc.
Avoid website blocks and other types of censorship
Download/Torrent securely in a safe online environment
Secure your connection on public WiFi hotspots
Additionally, VPNs are also used by businesses to secure data and offer overseas employees a sense of security/privacy during their travels. With that in mind, it's easy to see why VPNs are necessary in today's digital world.
What Do You Need a Fast VPN Service For?

VPNs are used for a variety of things – from enhancing your digital privacy and security to avoiding government surveillance and internet censorship. In this case, a fast VPN is necessary if you plan to access and stream geo-restricted content. Additionally, you'll also want a fast VPN if you're an avid gamer or an avid torrentor.
Without a fast VPN in these cases, you'll be left with constant buffering and lag. Nobody wants to deal with those issues in the middle of a good movie or a heated game. Fortunately, any of the five VPNs listed in this article will help you out.
Download & Internet Speed
Every single VPN – fast or not – will decrease your internet speed overall. A VPN at work takes time to function properly. Your security and privacy wouldn't be enhanced otherwise. That being said, the faster the VPN is, the less impact it will have on your internet speed as a whole.
This is why it's important to find a fast VPN service that still offers the best of the best. That way you can participate in your speed-dependent activities in a safe, secure and private environment.
Can a fast VPN Help With ISP Throttling?
Yes, a fast VPN can help with ISP throttling. It's not uncommon for ISPs to throttle your internet connection based on the activities you're participating in. It's also not uncommon for ISPs in certain locations to throttle your internet if they detect a VPN being used.
For this reason, it pays to not only find a fast VPN, but a fast VPN that offers cloaking technology or a "stealth mode". This lets you maintain a decent speed while using a VPN, regardless of your activities and/or location. It also lets you maintain your digital privacy and security without worry of ISP or government interference.
How to Find the Fastest VPN server
Finding the fastest VPN server is simple, though it can sometimes take patience. There are a couple rules to go by:
First, find the server closest to your location for optimal speed – and second,
If one server doesn't work, try another!
Some VPN servers tend to be slower than others. The key to finding the fastest VPN server is to try as many as possible until you find the fastest one. To test the speed of your VPN, visit http://www.speedtest.net/.
What The Fastest VPN Protocols?
The fastest (and best) VPN protocol is OpenVPN UDP. Most VPN services will include the OpenVPN protocol. If they don't, they are probably not worth the purchase anyway. Moving on, there are also other fast protocols available like Point-to-Point Tunneling Protocol (PPTP), Secure Socket Tunneling Protocol (SSTP), Layer 2 Tunneling Protocol (L2TP)/Internet Protocol Security (IPSec), and Internet Key Exchange version 2 (IKEv2).
How to Choose The Right High Speed VPN
When choosing a VPN for prolonged use, speed is not the only thing you'll want to consider. There are a variety of factors that go into a good VPN. Let's look at them:
A decent amount of servers & server locations
Fast server speeds
Military-grade OpenVPN encryption
Strict privacy policy
No logs
DNS leak protection
WiFi protection
A killswitch
Finding a VPN that offers all of the features listed above can be irksome. Fortunately, if you stick to one of our recommendations, you'll be all set.
If price is one of your main concerns, then I would recommend that you visit our cheap VPN guide for a full list of affordable VPNs.
Conclusion
Finding a fast VPN that is also a good VPN can be a difficult journey, but don't worry – VPN Analysis has got you covered. Any one of the VPNs on this list will serve you excellently, whether you're an avid gamer, a high quality streamer or a person that enjoys P2P activities. So what are you waiting for? Try one of the fastest VPNs of 2018 today!
High Speed VPN Comparison
| # | Provider | Rating | Price | Link |
| --- | --- | --- | --- | --- |