Many free VPN services can't give you what you need – which is excellent encryption, great privacy policies, decent speeds, no logs and enough monthly data to actually use the dang service.
That being said, there are several free VPN services that will work. Here are a list of the best free VPN services out there.
The Best Free VPN Downloads
ProtonVPN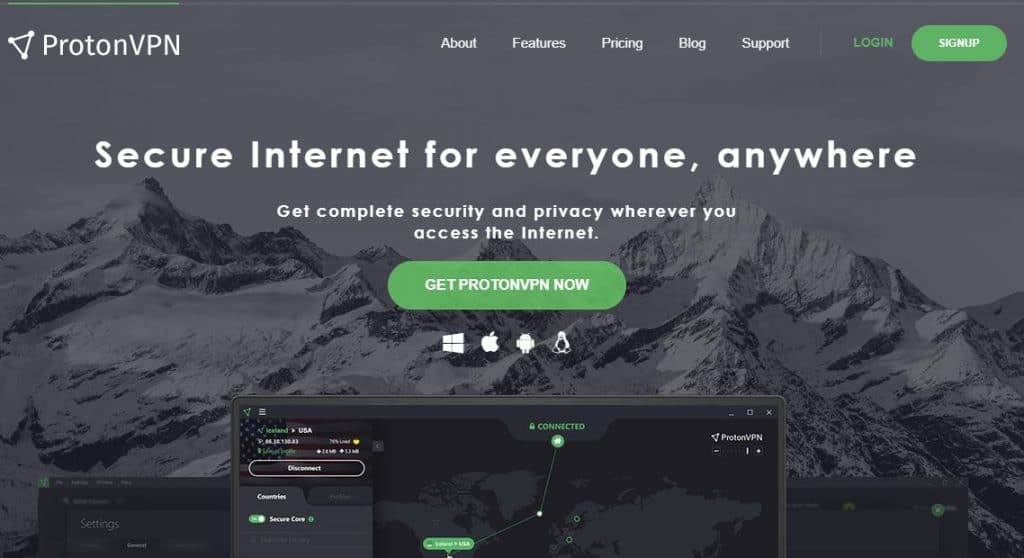 Free Download info
5 Free server Locations | No Data Limit
---
ProtonVPN is a free VPN service offered by the creators of ProtonMail, with 5 server locations and no data cap (although you will face some throttling). As such, ProtonVPN speeds come in at around 15 Mbit/s. This means if you're looking for a VPN that excels in streaming HD content, you'll have to look elsewhere.
ProtonVPN does offer a premium service with additional features and higher speeds. With the premium speeds, you can reach up to 104 Mbit/s. Ideally, ProtonVPN is perfect for unblocking websites or everyday online browsing.
Pros
Minimal logs
Excellent encryption
Additional features available
5 server locations
Cons
Unlimited free use
Throttling
---
Hotspot Shield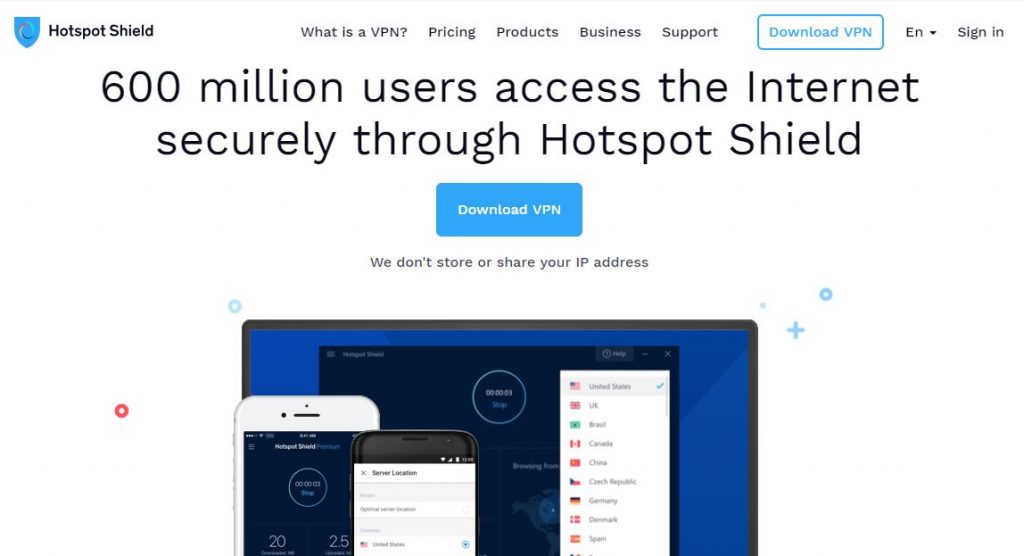 Free Download info
25 Free server Locations | 500mb Data Limit
---
Hotspot Shield is a free VPN service with fast connections, a free Chrome extension with ad blocker and cookie blocker, fast speeds and an easy-to-use application. Hotspot Shield also offers plenty of additional features with their free service.
This includes servers in 25 different countries, P2P allowance, five simultaneous connections and a multilingual app. The data limit for Hotspot Shield is 500 MB/day. Speeds can reach up to 40 Mbit/s.
Pros
Servers in 25 countries
Split tunneling w/ Chrome Extension
Multilingual app
User-friendly
Fast speeds
P2P allowed
Based in US
Cons
Doesn't unblock Netflix or iPlayer
Slow customer response time
---
Windscribe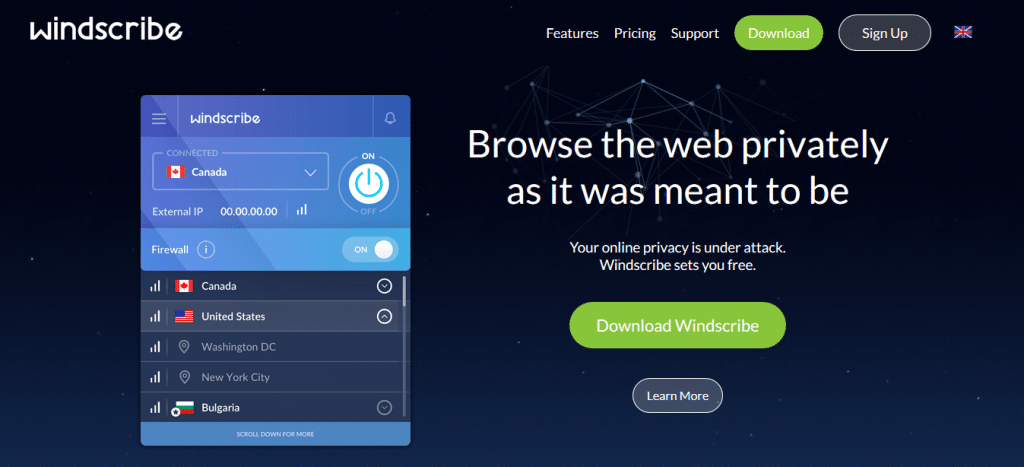 Free Download info
11 Free Server Locations | 10GB  Data Limit
---
Windscribe is a free VPN service that still offers great features for being a free service. Windscribe provides its users with strong encryption, an excellent privacy policy and 600+ servers in 11 different countries. Even more, Windscribe is an excellent choice for beginners, with an easy-to-use app and high transparency.
With Windscribe's free service, you get 10 Gb/month without throttling. You can expect the server speeds to come in around 30/Mbits per second – which is perfect for HD steaming. And despite Windscribe being based in Canada, they exercise a strict no logs policy – meaning they have no information to turn over, should the time ever come.
Pros
Strong encryption
Excellent privacy policy
No logs
User-friendly
10 GB data limit (without throttling)
Fast speeds for a free service
Cons
Not many support options
Usage capped
---
Tunnel Bear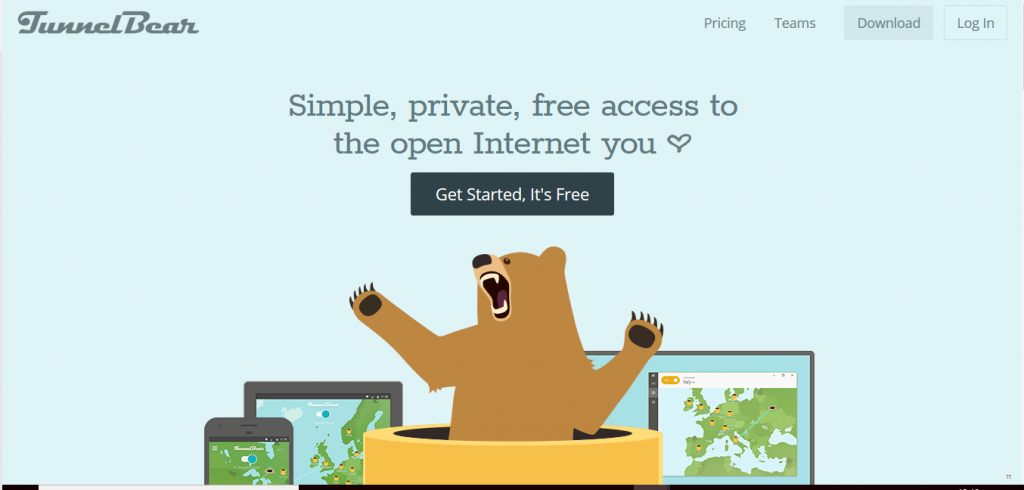 Free Download info
20 Free Server Locations | 500mb Data Limit
---
TunnelBear is yet another excellent free VPN service that offers an easy-to-use app with 20+ server locations, 5 simultaneous connections and 500/Mb per month. Despite TunnelBear being based in Canada, they do exercise a strict no logs policy that makes up for it. In fact, TunnelBear is so adamant on its enhanced security that it submitted its software for a third-party analysis last year.
Security researchers found TunnelBear to be as reliable and secure as they advertise. The average speed you can expect to get with TunnelBear is 25 Mbit/s. This isn't too bad for a free service – and 10x better than many other free VPN services out there.
Pro
Cute and easy-to-use app
Excellent encryption
5 simultaneous connections
500 MB of free data/month
No logs
25 Mbit/s speeds
Cons
No P2P permitted
Lacking on advanced settings
Usage capped
---
Hide.Me

Free Download info
3 Free Server Locations | 2GB Data Limit
---
Hide.Me is a Malaysian VPN provider that offers an awesome free service. Users get access to three server locations – Singapore, Netherlands and Canada – with 2 GB per month of free use. Better yet, Hide.Me has excellent speeds that can reach up to 80 Mbit/second.
Hide.Me is available on a variety of platforms and provides a user-friendly app. Its privacy policy is airtight and it collects no personal data or logs of its users. If you're not dependent on a US/UK server location, this free service is definitely worth checking out.
Pros
2 GB of free data/month
User-friendly
Zero logs
Excellent privacy policy
Great customer support
3 server locations
Fast speeds
Cons
Doesn't unblock Netflix US
No US/UK server location
---
What is a VPN?
A VPN or Virtual Private Network is a technology that provides you with security and privacy via encryption. A VPN at work will redirect your network traffic to the encrypted VPN server. When you're connected to a VPN, your information is secure. You can't be spied on. In other words: a VPN helps protect you from internet censorship and government/ISP surveillance.
Essentially, Free VPNs can be used to:
Hide your internet activity from third parties
Access geo-restricted content on Netflix, Hulu, etc.
Avoid website blocks and other types of censorship
Download/Torrent in a safe online environment
Secure your connection on public WiFi hotspots
Additionally, VPNs are also commonly used by businesses to secure data and offer overseas employees a sense of security/privacy during their travels. With that in mind, it's easy to see why VPNs are necessary in today's digital world.
Free VPNs vs. Paid VPNs
It's not a secret that (most) paid VPNs will provide a better service than free VPNs. If you want a VPN that excels in everything, be prepared to pay a little bit. Fortunately, there are usually a variety of payment options to fit your budget. You can pay monthly, semi-annually and annually.
That being said, the free VPNs listed in this article are excellent choices if you can't fit a paid VPN service into your budget. They might not offer the best of the best, but they at least offer enough to be worth your time and they're safe to use.
Conclusion
Before you give into a free VPN service, I want you to consider this: you could purchase a VPN service that costs less than that $5 cup of coffee you get (probably more than) once a month. You could purchase a VPN 6-month subscription at the cost of the McDonald's you bought for your family the night before. VPNs are not expensive. Take a look at our best cheap VPN services list for affordable VPNs.
If you're still adamant on a free service, make sure you at least take one of our recommendations. You're better off with a limited, free VPN service than no VPN service at all. And remember – all of these VPNs are free so you can "trial and error" all you want. One of them is bound to give you what you want and need.