Pros
Vypr DNS
30 Days Money Back Guarantee
700+ Servers | 50+ Countries
200,000+ IP Addresses
Cyphr Encrypted Messaging
Chameleon™ Protocol
Cons
Basic plan only supports PPTP
Bitcoin facility not available
Bottom Line
VyprVPN holds a credible name in VPN industry. With it trademark tools like Chameleon and Cyphr; plus Tier-1  VPN network, NAT firewall and 30 days money back guarantee, all summed up as added benefits.
VyprVPN is a product of Golden Frog and Giga News. Golden Frog is a renowned global online service provider founded in 1994, based in Switzerland. VyprVPN was launched in 2010; since then it keeps on growing and adding robust features to improve online security without compromising your internet speed.
Features, benefits, performance and flaws of the service provider will be discussed in this VyprVPN Review. VyprVPN provides accessibility to restricted websites, by-pass online censorship and protect users' online privacy by encrypting internet connectivity.
Vypr VPN Pricing Plan
VyprVPN offers three different pricing plans to cater all kind of user-base. Basic, Pro and Premium packages are available apart from Business Package exclusively for corporate subscribers. Our tech experts at VPN Analysis not recommend basic package due to ordinary security protocol (only PPTP) and two simultaneous connections. This is however available at the cheapest rates of US$ 5.00 per month on annual subscription.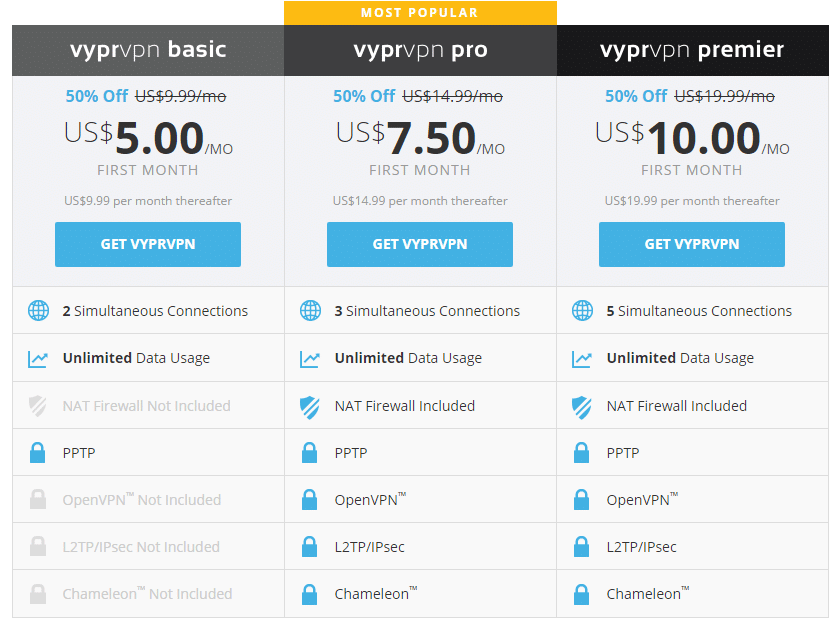 Their most popular one is 'VyprVPN Pro Plan' – it is available for US$ 7.50 per month on annual subscription. All popular high-end encryption protocols like PPTP, OpenVPN and L2TP/IPSec are available on Pro, plus VyprVPN's own 256-bits encryption protocol Chameleon is provisioned with this plan. Users' can connect 3 devices simultaneously and NAT firewall is also included in this pricing plan.
Our recommendation goes with Premium Plan which comes for US$ 10.00 per month on annual subscription. Unlimited bandwidth, unlimited server switches, complete anonymity and ultimate freedom to roam the internet. PPTP, L2TP/IPSec, OpenVPN and Chameleon encryption protocols are available on Premium Package. NAT firewall is also included in this pricing plan. Users' can connect 5 devices simultaneously on Premium Pricing Plan of VyprVPN.
VyprVPN Payment Methods
Payment methods of VyprVPN are somehow limited to just Credit Cards and PayPal. Normally VPN users' prefer Bitcoin payment method for complete anonymity, which is not available in VyprVPN case. You can acquire their services through common payment options like Visa, Master Card, JCB, American Express, Discover and few more. Let's dig deeper into this VyprVPN review highlighting its negative and positive features.
VyprVPN Features
VyprVPN has embedded its VPN package with attractive and more importantly free offers like VyprDNS, propriety encryption protocol Chameleon™ and NAT firewall security. We will discuss the benefits of these free add-ons and features in this VyprVPN review.
• Self-ManagedVPN Servers
Instead of rendering third party support VyprVPNincorporates self-managedVPN infrastructure both hardware and VPN network. You will find it very rare in the VPN industry that a company is completely managing their own VPN servers. It allows VyprVPN to provide reliable and speedy connectivity due to optimized global VPN network. Managing their VPN infrastructure also enables VyprVPN to offer complete privacy as are the only ones handling users' data from end to end.
• VyprDNS
VyprDNS comes free of cost with every plan of VyprVPN. It is developed by Golden Frog to improve user privacy and by-pass censorship around the globe. Self-managed VyprDNS also provide subscriber with zero-log facility as they don't have to rely on ISP based DNS servers. Most ISP maintain users' log of online activities even if you are using a VPN – with VyprDNS you can be sure that you ISP got nothing to record.
• Dump Truck Cloud Storage (Gone completely)
Previously VyprVPN was offering Dump truck storage with all the three plans for free but now they have other cloud storage providers that are SpiderOak and DigitalSafe. DigitalSafe is a Switzerland based provider that enables secure and private storage of documents under Swiss privacy law protection using high graded encryption. All your data will be in encrypted form in DigitalSafe which will be scanned for virus purposes as you back up.
SpiderOak provides encrypted "Zero Knowledge" sync, private back up and sharing which means that only you can have access over your data. It provides the facility to store data on number of devices plus users can also restore data anytime in case of any loss and supports all the versions of your respective file.
• Chameleon Protocol
VyprVPN offer their propriety encryption protocol Chameleon™ for increased protection and ultimate security. Their Chameleon™ technology implies unmodified OpenVPN which is of 256-bits – it prevents DPI, throttling and VPN blocking by scrambling metadata. Chinese great firewall is considered as the best and toughest to break through, due to their Chameleon protocol VyprVPN enables its users' to by-pass great firewall of China.
• NAT Firewall
If you are looking for additional layer of security, VyprVPN has NAT firewall. It provides complete online security by blocking all unrequested inbound traffic; you won't need any software or additional configuration once you are connected with VyprVPN under NAT firewall protection.
Vypr VPN Server Spread and Location
Server spread of VyprVPN is impressive; 700+ VPN servers around the globe, with clusters of server in every region including Europe, North America, Asia, South America and Oceania. Server clusters are beneficial as it seems to be a single server location but multiple servers are deployed in the cluster, users' are re-routed automatically to acquire maximum speed or avoid overloaded servers.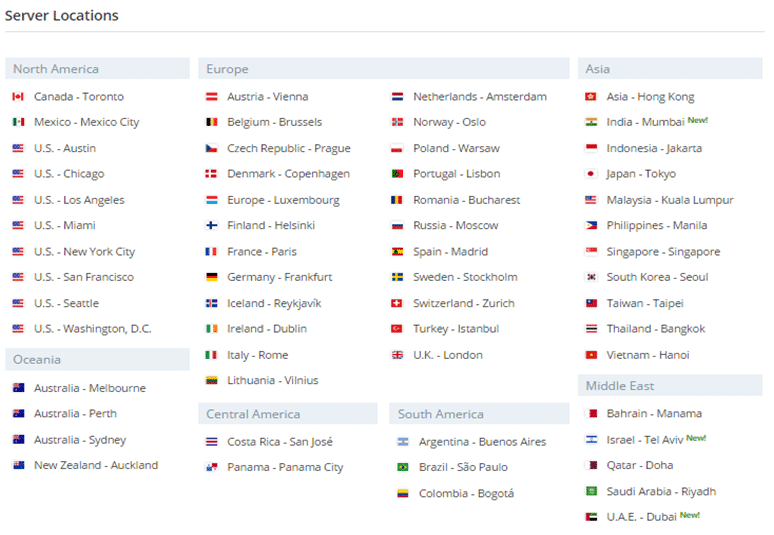 VyprVPN servers are deployed currently in 60+ countries providing reliable connectivity and consistent fast speed as they self-manage their VPN infrastructure. VyprVPN allows unlimited bandwidth as well as unlimited server switches on every plan. Although they don't offer dedicated IP but their dynamic IP pool possesses more than 200,000 active IP addresses. In order to prevent server unavailability or overloading VyprVPN also add the feature of dynamic server switching for uninterrupted connectivity.
Security Standards
VyprVPN stands tall when it comes to online security of their users; it is due to two major reasons. The backbone factor is they own, run and operate all their VPN infrastructure, hardware, and software from end-to-end. No involvement of third party means all sorts of users' data including credentials and activity log remains under custody of VyprVPN. This also gives them an edge to offer extremely fast VPN speed.
Secondly their embedded add-ons, VyprDNS Chameleon protocol and NAT firewall play an important role to enhance online security of their subscribers. Once you are connected via VyprVPN it ditches ISP based DNS which usually maintains online activity log even when you are behind a VPN. Their propriety protocol Chameleon prevents DPI, VPN blocking and throttling by scrambling metadata. Plus, NAT firewall also add additional security layer by blocking all unrequested inbound traffic.
Privacy Policy
Although, we are satisfied with security standards of VyprVPN their privacy is somehow questionable. VyprVPN is registered in Switzerland and operates from United States, neither they are liable under EU regulation nor fall within jurisdiction of NSA agency of US. However, they don't allow copyright infringement content to be shared on any platform (like Torrent) because of TOS. It is reported that few VyprVPN users' have received DMCA notices which lead to their service termination, you probably heard of all famous 'two strikes and you are out..!' term – so if you are opting VyprVPN for Torrenting or P2P file sharing you will be disappointed or may be charged by authorities.
Another serious issue is keeping logs for 30 days. Although VyprVPN states they collect logs for billing, troubleshooting and service evaluation purpose, but still most VPN user won't be comfortable to know that their logs are kept for 30 days. So if you are looking for a log-less VPN provider for ultimate privacy and anonymity, search further.
Encryption Protocols
VyprVPN offers both 128-bit and 256-bit encryption protocols for enhance security of online users'. While PPTP (128-bit) protocol is available on basic plan – VyprVPN provides PPTP, L2TP/IPSec (256-bit) and OpenVPN (256-bit) encryption protocol on Pro and Premium plans. These protocols encrypt your incoming and outgoing making it almost impossible for hackers and cyber criminals to exploit sensitive user information. Apart from these popular encryption protocols they include their propriety protocol Chameleon of 256 bits for premium security.
Supported Platforms & Device Compatibility
Every popular OS platform is supported by VyprVPN; including Windows, Mac, Linux, iOS and Android. You will find client software for Windows 7, Windows 8, Windows Vista and Mac OS X on their official website. Dedicated apps are also available for handheld devices and routers; you can directly download VyprVPN Android app from Google Play or iOS app from Apple store. Setup and guides are available on VyprVPN website for manually configure Routers and Linux based devices.
Customer Support
Customer support of VyprVPN is available 24 hours a day, throughout the year. We observed live chat representative can also assist in resolving minor technical issue. However, if you need further assistance, you can contact via email or launch a complain ticket. Their response time is 3-8 hours for email support on working days. Golden Frog also has a help center available on their website which includes sections like VyprVPN FAQs, Manual Setup Instructions and Troubleshooting for quick solution and additional info.
VyprVPN Money Back Guarantee
Golden Frog's VyprVPN allows you to evaluate its service quality, speed and performance via 30 Days money back guarantee. This feature is available on all pricing plans; Basic, Pro and Premium.
Due to this 30 days money back guarantee features users' are at minimal risk, they don't have to pay for complete annual plan unless they are satisfied with the performance.
Conclusion – VyprVPN Review
In this VyprVPN review, we have discussed the advantages and flaws in detail. It is observed that VyprVPN acts as your passport to browse geographically restricted content media while avoiding censorship issues. They offer enhanced and high-level security to protect your online presence.
You can be assured that intelligence agencies like NSA or GCHQ are not monitoring your online activities and you are completely anonymous while browsing the net. Easy setup, fantastic customer support, dedicated apps and client software for all popular devices and operating system add-up on the positive side of VyprVPN.
Try risk free..! Enjoy 30 days money back guarantee by signing up now.