Pros
Industry-leading Chameleon security technology
Plenty of connection options (L2TP/IPsec, OpenVPN, and PPTP)
Based in Switzerland
Speed tests were fast and reliable
Fast response times from the support department
Cons
Saves connection logs and metadata for 30 days (many providers do this)
Free trial only lasts for three days
Golden Frog works closely with US developers
No cryptocurrency payment options like bitcoin
No P2P support
Bottom Line
VyprVPN is a credible name in the VPN industry. This is thanks to proprietary software such as Chameleon and Cyphr, a Tier-1  server network, NAT firewall and a generous 30-day money-back guarantee.
If you've ever had misgivings about signing up for a digital service, don't worry, you're not alone. The cloud and internet are riddled with sub-par digital services, all vying for a crack at hooking you in. Today we're going to be taking a deeper look at VyprVPN to see if this service is worth your attention, or if it's just another lemon.
VyprVPN is owned and operated by a parent company named Golden Frog, which has its roots in a development team formed back in 1994. The business didn't incorporate until 2010, which is when VyrpVPN was made available for consumers. Golden Frog has developed several security and cloud services, though today it only provides links to VyprVPN and Cyphr encrypted messaging on its website.
VyprVPN is a great option if you distrust US-based digital services on account of past wiretapping scandals, such as those brought into public view by Edward Snowden. Though it does employ many developers in Austin, Texas (which is a hotbed of IT development jobs), VyprVPN is technically based out of Switzerland.
How Much Does VyperVPN Cost?
VyprVPN has a relatively simple pricing model. This is both a blessing and a curse. The good news is that you don't have to worry about contrived packaging models that try to upsell the most expensive version of the service. The downside, however, is that there aren't very granular pricing options.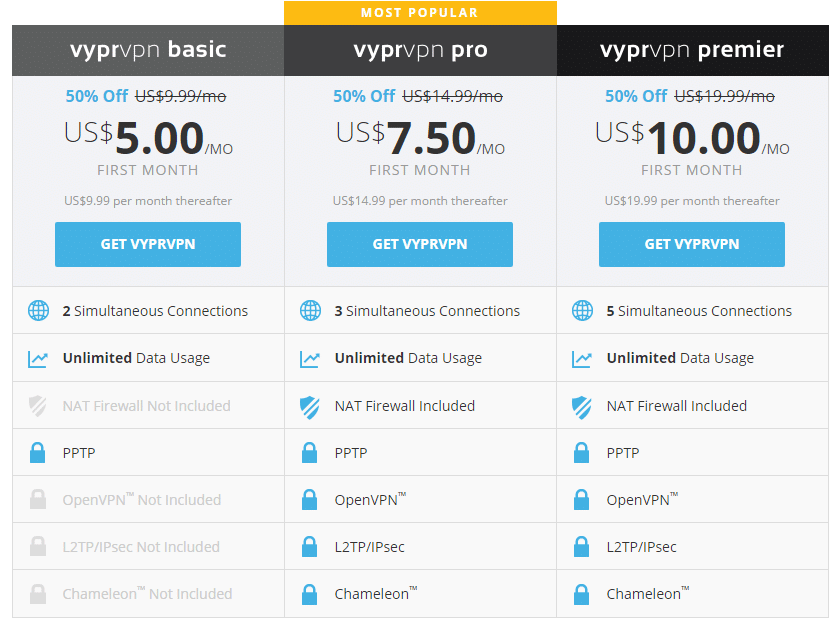 It's fairly common for digital services like VPNs and cloud storage to offer discounts based on subscription terms in monthly, three-monthly, six-monthly, and annual intervals. The longer your subscription, the more you'll save. However, VyprVPN doesn't offer these types of savings discounts, and only offers two different paid plans in the form of an annual subscription.
In addition to a three-day free trial, VyprVPN offers a standard service and a premium package, costing:
• $5.00 per month for the standard plan when billed annually
• $6.67 per month for the premium plan when billed annually
Personally, I think this is pretty reasonable pricing, especially when considering the features that come with the software (as we'll discuss next). To help put things in perspective, consider the cost of a provider on the high end of the price spectrum, like ExpressVPN, which costs $8.32 per month with an annual subscription. Conversely, cheaper providers like Private Internet Access VPN cost as little as $3.33 per month with an annual subscription.
As you can see, VyprVPN is somewhere in the middle, though I'm not certain that the standard plan offers a lot of value. Given that the premium version adds a lot of features and only costs an extra $1.67 per month, it's clearly the better choice.
VPN providers usually accept a smattering of different payment options, but I was surprised to see that VyprVPN doesn't accept as many as some of its competitors. That said, it does cover all the major payment options, including Visa, American Express, JCB, Discover, Alipay, and PayPal.
These payment options should accommodate the vast majority of customers, but I was disappointed to see that it doesn't accept bitcoins. More and more people are turning to bitcoins to purchase digital services anonymously, so it's a shame VyprVPN doesn't accept this form of cryptocurrency.
What Do I Get With VyperVPN?
The first feature that VyprVPN advertises under its subscription plans is "unlimited data usage." I feel this is a pretty lackluster "feature," because it is commonplace for providers to allow unlimited data. The only exceptions are free plans that rate-limit bandwidth or impose monthly data caps. None of the paid subscriptions for VyprVPN impose bandwidth restriction, server switching limitations, or monthly data limits.
I was pleased to see that even the standard plan offered up to three simultaneous connections. Many VPN providers only allow up to two simultaneous connections, and some providers further restrict those connections by limiting them to one computer and one mobile device. VyprVPN doesn't have such cumbersome limitations, and the premium version allows up to five concurrent VPN connections, which should accommodate most families.
The website also claims that VyprVPN is the "world's fastest VPN," though that claim is rather banal, and is claimed on just about every other VPN service provider's website. It's a bit like a diner claiming that it has the city's best pie or best coffee. Nevertheless, we'll analyze their claim in the speed test section.
VyperVPN Servers
VyprVPN has a widespread global network of servers. To date, VyprVPN operates more than 700 servers in 70+ locations scattered across six continents (sorry to anyone wishing to connect to Antarctica, you're out of luck). The VPN servers hold a bank of over 200,000+ IP addresses, so it's extremely difficult for a service or website to completely block this provider. Plus, it seems that VyprVPN is always adding to its network and expanding.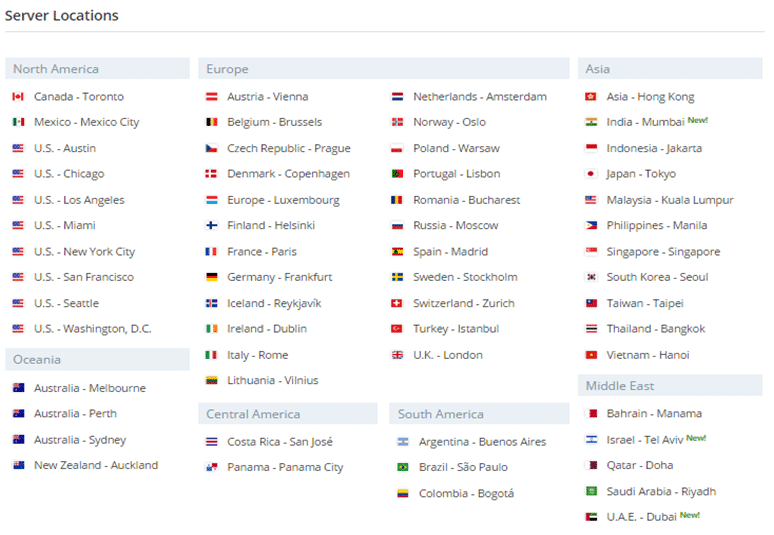 The software is loaded with security features. In addition to servers that use NAT firewalls, it comes with a ready-made VPN kill switch. I'm still not sure why a kill switch isn't a common and standard feature among competing providers. Kill switches halt downloads and other forms of traffic in the event of a VPN disconnect, which ensures that traffic isn't sent in an unencrypted format when the VPN isn't operational.
VyprDNS
To further bolster anonymity, subscribers get access to a VyprDNS feature. This proprietary DNS service helps prevent third parties (like ISPs and governments) from seeing which websites you visit. Not only is it discreet, but VyprDNS can even circumvent censorship in a manner similar to proxy servers. The only downside is that VyprDNS is embedded into the software, so it can't be separated and run as a stand-alone service on systems that don't use the VyprVPN client.
At any rate, it's nice to know that you have a private DNS service, and don't have to worry about big brother watching over your shoulder when browsing the internet. Plus, this proprietary DNS service is zero-knowledge and log-less, so VyprVPN won't ever record host-names or URLs of the websites you visit.
VyperVPN Encryption
VyprVPN goes above and beyond standard security practices with its Chameleon technology, as we'll discuss in the next section. In addition, it provides secure server connections using industry-standard protocols including PPTP, L2TP/IPsec, and OpenVPN.
I'd recommend sticking with OpenVPN and Chameleon connections when possible, because L2TP and PPTP aren't nearly as secure. While L2TP/IPsec does offer rock-solid encryption, PPTP only provides mediocre encryption and weak security. However, that's not to say it is useless. PPTP has less encryption and protocol overhead than alternative connections, which can make it better for accessing foreign video content or connections to real-time gaming servers.
However, PPTP is old, outdated, and antiquated. Believe it or not, there is actually software that can be used to crack PPTP keys, and it doesn't take a genius to operate. So, if the data you're transmitting is in any way sensitive or private, I'd highly advise using VyprVPN's OpenVPN option.
VyperVPN Chameleon
I'm a massive supporter of any security company that goes above and beyond industry standards. That's why I was impressed to see VyprVPN set the bar a little higher for their competitors by developing a proprietary security feature called Chameleon.
Basically, the Chameleon technology is a standard OpenVPN 256-bit encrypted tunnel that scrambles metadata. This helps it hide information from sophisticated firewalls. Some firewalls use a technology called deep packet inspection (DPI). DPI allows firewalls to search for protocol information in the packet header, and can help organizations like ISPs block tunnels or perform quality of service (QoS) operations to control or limit traffic based on criteria like source, destination, and data type.
The real value of the Chameleon feature is that it disguises tunnel metadata, making it even harder for firewalls to see what information is contained in the tunnel. Don't get me wrong – standard OpenVPN 256-bit encryption still can't be cracked, and a snooper won't be able to read encrypted data. However, Chameleon provides an additional layer of security by preventing third parties from seeing connection information, which isn't a feature typically offered by VPN providers.
Is VyperVPN Fast?
The results of the speed tests were encouraging, to say the least. To test, I measured the latency, download speed, and upload speed between my computer and the speed test server in the United States, as well as Thailand. The results are as follows:
Thailand to Thailand, no VPN (control):


9ms, 5.49 Mbps download, 1.00 Mbps upload
Thailand to Thailand, with VPN:

76ms, 4.62 Mbps download, 0.71 Mbps upload
California to Thailand,no VPN:

213ms, 5.10 Mbps download, 0.90 Mbps upload
California to Thailand, with VPN:

238ms, 4.51 Mbps download, 0.78Mbps upload
As you can see, the VPN connection did tack on some overhead in the form of additional latency, and I lost a bit of my download and upload bandwidth for both tests. However, this is to be expected. I was actually relatively pleased with the speed of the connection, and I only lost about 10% of my total download throughput. With the upload rate in both tests, I lost about 20% of bandwidth, which isn't too bad.
Furthermore, I was pleased to see that the additional latency was only 25ms when connecting to the US, which is halfway around the world. I tested the connection more by downloading some small files and streaming YouTube videos, and didn't have any problems. The files didn't seem to download at a noticeably slower rate, and the videos buffered smoothly and didn't hang. Perhaps VyprVPN isn't the fastest provider, but I didn't have any problems in terms of connection speeds. I'll give them 4.5/5 stars for the speed and reliability of their servers.
VyperVPN Customer Support
VyprVPN seems to have its ducks in a row in the support department. I should preface this portion of the review by mentioning that I'm a huge fan of live chat systems, because they provide direct access to the support department, and eliminate the need for horrendous wait times listening to bad music in a phone queue.
I couldn't help but quiz the support department to see how long it would take for a response. The live chat system first tries to match your inquiry with a help guide by populating all related knowledgebase articles, which I thought was a good idea. After I sent a live chat message to the support department, I received a response in just 12 seconds, which isn't too shabby. In fact, it's downright speedy!
The tech seemed knowledgeable about the different protocols as well. I also have to commend VyprVPN on the fantastic job it did fleshing out the knowledgebase. It's clean, well-organized, easy to navigate, and a great resource if you've run into trouble. The guides all have step-by-step instructions and high quality videos to guide you through any mishaps or problems.
If the knowledgebase doesn't have a solution to your problem, you can reach out to the support department via live chat, email, or an online contact form 24/7/365.
Should I Subscribe to VyprVPN?
In my opinion, VyprVPN is a well-rounded provider with great features, stellar security features, strong privacy, decent speeds, and a mid-range price. I can't say that I'm a huge fan of the standard package – I prefer the premium package.
Unfortunately, there aren't granular payment terms, and it seems that the nominal price difference between the basic package and the premium package is a method of up-selling to customers. Still, there's a lot to love about this provider.
Yay!
Plenty of encryption options
Great proprietary technology
Keeps no usage logs
Decent speeds
Worldwide server network
Nay!
A bit meh!
No P2P support
Mid-range price
Keeps connection logs for up to 30 days