Internet users in the United States have to beware of two powerful groups – lawyers and the NSA. The National Security Agency is a lot more active over the web than their much more visible crime-prevention counterparts, the CIA and the FBI. They have their secret monitoring system all over the internet, logging all traffic, which is stored for future ad-hoc scanning.
Copyright protection lawyers are gunning for the casual downloader and avid torrenter – someone has to pay for that content, and the government's ever-tightening range of copyright protection measures make it easier for companies to sue ordinary people for downloading movies.
[copyright]
Americans can be a little careless about privacy when communicating these days. No one thinks twice about putting together an important business deal over a cell phone while sitting in a bar, despite the fact that anyone within a radius of ten feet can hear every detail. Similarly, with more than half of all internet access now performed on smartphones, US citizens forget that the small device in their hand can easily be snooped upon, especially if they save on airtime by connecting to the nearest available WiFi network.
Internet users need to get smart and realize that they are laying themselves wide open to prosecution that could result in bankruptcy or a jail sentence. It's time to tool up and protect your internet activities with a virtual private network. Even if you are not a US citizen, you could still get into legal trouble if you access the internet without protection while you are visiting the USA.
VPNs for USA need the following Features:
No logs – if they can't trace you, they can't prosecute you
Cloaking methods to prevent the NSA from being alerted to your activities
Torrent support so you can download free stuff without worry
The ability to evade host systems' blocks on access to content
Methods to dodge location-specific restrictions placed by websites
High speeds to get the best out of gaming and streaming video
The USA is the home of the world's best entertainment, but it is increasingly becoming the lair of paranoid government agencies that prioritize their own rights to snoop wherever they like over the constitutional rights to free speech and privacy.
These factors make this review of the best VPN services for the USA essential reading. Save time by narrowing your VPN search to these five providers and hurry to get your privacy protection installed.
List of the 5 Best VPNs for the USA
Best VPNs for the USA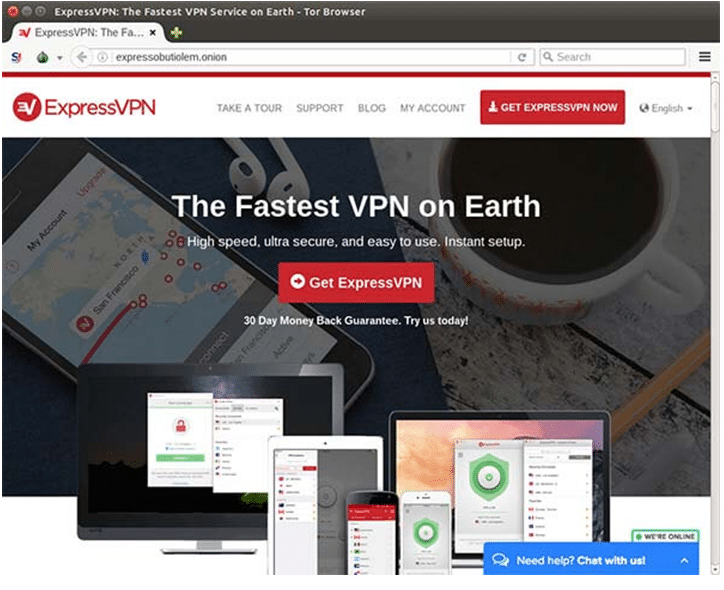 ExpressVPN is very easy to use. The app installs itself and you don't need to know about network technology in order to use it. All you have to do is select a VPN location and then connect the VPN. Once the VPN is operational any program that checks on your location will think that you are in the place where the ExpressVPN server you chose is physically located. The company has servers in 94 countries around the world and you are allowed to connect to the service three times over all at the same time.
You probably won't experience any technical problems with the service because everything usually works fine. However, if there is a special feature that you don't understand or if you need advice on how to perform a task, you can contact the company's Customer Support team on the ExpressVPN website through a live chat window. The team is very knowledgeable and available around the clock, so you won't have to wait to get an answer by email.
Advantages:
Thirty-day money-back guarantee
Servers in 94 countries
Strong security
Good speeds
Excellent help team available via live chat
Drawbacks:
Only allows three concurrent connections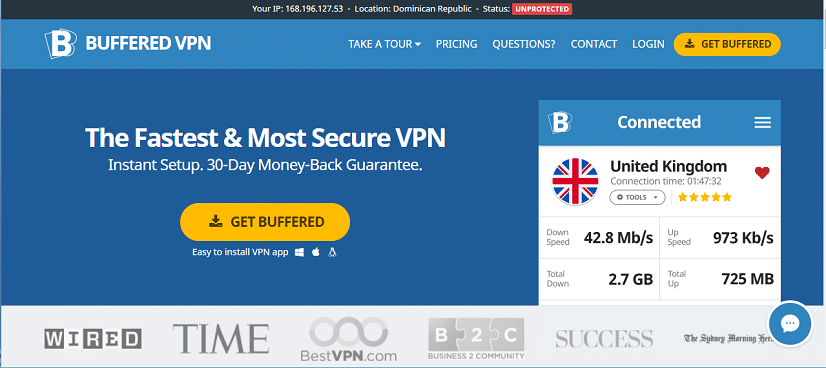 Buffered offers strong protection for torrenters. The company is based in Gibraltar and it keeps no logs, so copyright lawyers wouldn't stand much chance of tracing your activities through this privacy service. The company's server network is not as big as that of ExpressVPN. It only has a presence in 44 countries. However, there are lots of servers in the USA and so you won't face problems of slow speeds due to overcrowding.
One aspect of this VPN that beats the offer of ExpressVPN is that you are allowed five concurrent connections to the service. The company has optimized its servers to pass through video streams quickly, so this is a great option for watching video online and also from online gaming.
Advantages:
Thirty-day money-back guarantee
P2P downloading permitted
Allowance of five simultaneous connections
Servers optimized for video streaming
No logs
Drawbacks: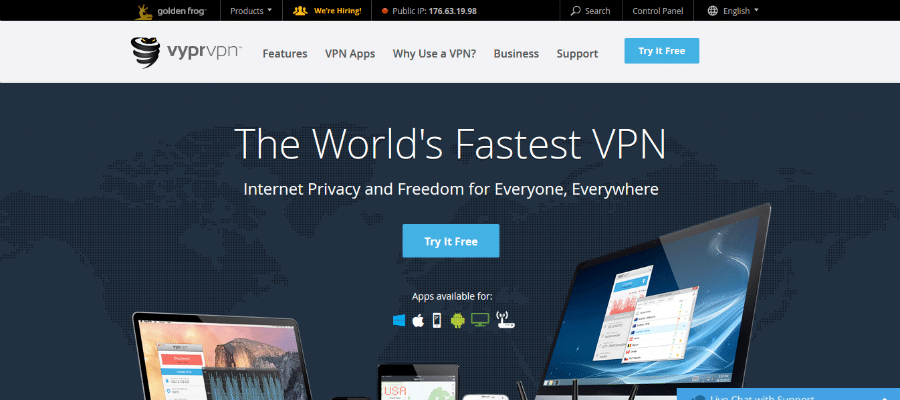 VyprVPN has two plans, which are a Basic package and a Premium service. The Premium plan is not much more expensive than the Basic option, so you would be better off going with that. The Premium package includes the use of a cloaking system called Chameleon. This is very good at hiding the nature of your connections and is pretty essential if you often travel to more repressive regimes, such as China, Pakistan, or Iran. On the downside, this service retains connection records for 30 days, so it is not a good choice for those who like to get entertainment though file sharing systems.
Like Buffered, VyprVPN gives you an allowance of five simultaneous connections. The app is very easy to use and fits well on the screens of mobile devices as well as on computer screens. You get a three-day free trial with this service and you have some useful payment options, which include Bitcoin.
Advantages:
Three-day free trial
Servers in 64 countries
Allowance of five simultaneous connections
Proprietary cloaking system
Easy-to-use app
Drawbacks: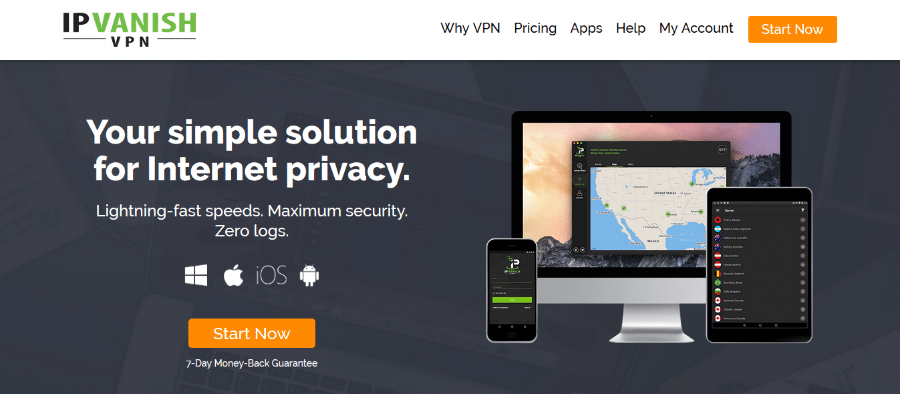 IPVanish is based in the USA. Although it's always nice to buy American, there are a few risks involved in using a VPN in your own country. This is mainly because it makes life a lot easier for copyright lawyers — they wouldn't need to contract in a foreign language local legal team to seize records from a VPN in an overseas jurisdiction. However, IPVanish keeps no logs at all. They say that if lawyers turned up with a court order, all they could walk away with is an empty disk.
On the plus side, IPVanish has a great service for the USA with servers in 17 cities. There is a total of 418 servers in the USA. The network of this VPN provider is very fast and is at its best within the USA. There are also servers in 59 other countries around the world.
Advantages:
Seven-day money-back guarantee
Very high speeds
Allowance of five concurrent connections
Servers in more than 60 countries
418 servers in the United States
Drawbacks:
Customer support  is not so great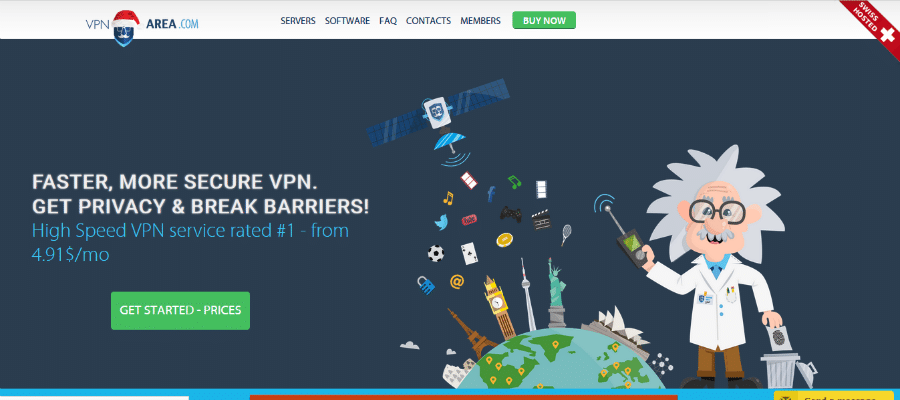 VPNArea is great at evading detection and it has very strong security. If you are likely to travel abroad, this is probably one of the best choices you can make because it is very good at getting into US video streaming sites from abroad. VPNArea runs specialized servers that are optimized for video streaming and online gaming. The company also has servers tuned for P2P downloading. VPNArea has no problems with people using its network for identity protection when downloading with torrents. The company has its HQ in Switzerland and its operational base in Bulgaria. There are no logs retained by the service so US copyright lawyers wouldn't get any information even if they booked themselves tickets to Bulgaria.
You get an allowance of six simultaneous connections with this service and VPNArea is unique on this list in that it allows you to share an account with a friend.
Advantages:
Seven-day money-back guarantee
Servers dedicated to video streaming, gaming, and torrenting
Allowance of six simultaneous connections
Account sharing allowed
Strong encryption
Drawbacks:
Customer support not online 24/7
VPN for the USA: Considerations
The United States is known as "the Land of the Free," but nowadays freedom of speech and freedom of access to the internet are both under attack from a range of sources. Universities and businesses now restrict the websites that people can access over their networks. If you blunder onto one that they haven't officially disapproved of yet, you might get thrown off your course or kicked out of your job just for your internet activity.
The government has a lot of power over ISPs in the country and you may not realize how heavily subservient internet service providers are. However, behind the scenes they are making it impossible for clients to access websites throughout the world, and many collude in restricting access to P2P networks.
VPN for the USA: Conclusion
The legal system in the USA is very accessible, and is known globally for the generous settlements that the courts award. Even if you connect to a service that feels it is on your side, you cannot trust that that company won't be subjected to pressure from lawyers or the NSA. In 2006, a torrenting site called LokiTorrent was shut down by the lawyers of copyright holders and forced to hand over all of its logs. That exposed everyone who ever downloaded files through the service to prosecution. That is the reason why all of the VPN services in this review take pride in keeping no activity logs. They can't hand over what they don't have.
Thanks to the Family Entertainment and Copyright Act, file sharers are liable to criminal prosecution in the United States. The crime of conspiracy to commit copyright infringement can get you thrown in jail, just for being part of a torrent swarm.
Copyright holders in the United States are becoming more forceful about prosecuting downloaders as their profits are eroded by people getting free entertainment through P2P networks. A team of lawyers, called the US Copyright Group, has brought several court cases against thousands of torrenters. Use one of the VPN systems on our list to make sure you don't lose your house or your freedom, just for downloading a movie.