Xbox is amongst the top ranking gaming consoles with a huge variety of World's Most Popular Games. The Xbox Live adds further advantages to it as it makes streaming and multimedia libraries available to you. Using your Xbox through a VPN connection can add further value to your already wonderful deal. As it makes you able to stream content from websites and gaming servers blocked for your country.
There are two basic methods of using Xbox 360 via VPN.
Method 1 – Sharing VPN connection of your Computer.
Method 2 – Setting up VPN connection on your Router.
But first you have to select an appropriate VPN for Xbox 360. This a list of VPN providers that are best to use with an Xbox 360.
#
Provider
Features
Rating
Price
Link

1

Thirty-day refund policy
Torrent/P2P allowed
Three concurrent logins
136+ VPN locations

35% Off

$8.32

PER MONTH

Visit SiteRead Review

2

Seven-day refund policy
Torrent/P2P allowed
400+ VPN servers
Five simultaneous connections

46% Off

$6.49

PER MONTH

Visit SiteRead Review

3

Thirty-day refund policy
IPv6 leak protection
Torrent/P2P allowed
Six simultaneous connections

52% Off

$5.75

PER MONTH

Visit SiteRead Review

4

Three-day free trial
Five simultaneous connections
60+ VPN locations
No usage logs

50% Discount

$6.67

PER MONTH

Visit SiteRead Review

5

Seven-day money-back guarantee
Six simultaneous connections
No logs
Unlimited bandwidth

49% Discount

$4.92

PER MONTH

Visit SiteRead Review
Benefits of Using Xbox 360 VPN Connection
• You can change your country of origin which provides you an option to play with the players of the country of your desires, resultantly increasing the number of available players for multi-player games.
• And if you use Xbox Live you can visit geo-restricted contents well, for instance, Netflix, BBC iPlayer etc.
• VPN connection will protect you from distributed denial-of-service (DDoS) attacks which are a common tool to eliminate competition by unfair means.
• As mentioned above you can access all the gaming servers that are blocked for your country. You can play all the services and gaming while cutting down on lagging.
Using VPN on Xbox 360
In this guide we will walk you through the process of setting up VPN on your Xbox 360.
After selecting a VPN provider first, you need to make sure that your VPN provider renders Xbox 360 VPN support. You can check this by going through VPN provider's router configuration setup guide. If router support is available you need to check out detailed router setup instructions. Plug and Play VPN routers are also made available by some providers.
A few Prerequisites
First you should gather following details from your VPN provider, these details will be necessary to setup VPN on Xbox 360.
• IP address of server
• VPN account and username
• Password
• Destination Name
• First Approach
Sharing VPN connection through your PC
Establishing Xbox 360 VPN without using a router requires you to setup a VPN connection on your Computer and then share it with your Xbox 360.
First connect your Computer to internet either through Wi-Fi or Ethernet.
Establish VPN connection on your PC
• Go to "Network and Sharing Center" and to do this either right click on your internet connection on the system bar and click on "Network and Sharing Center"Or go to "Control Panel" then click on "Network and Sharing Center"
• Now click on "Set up a new connection or network"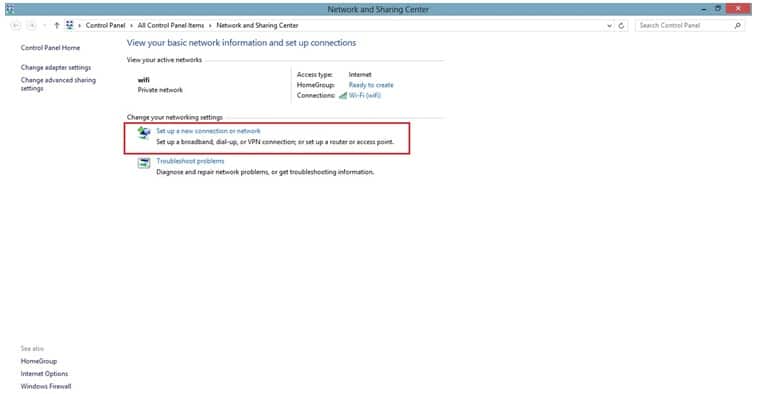 • A window of "Set up a new connection or network" will appear on your screen.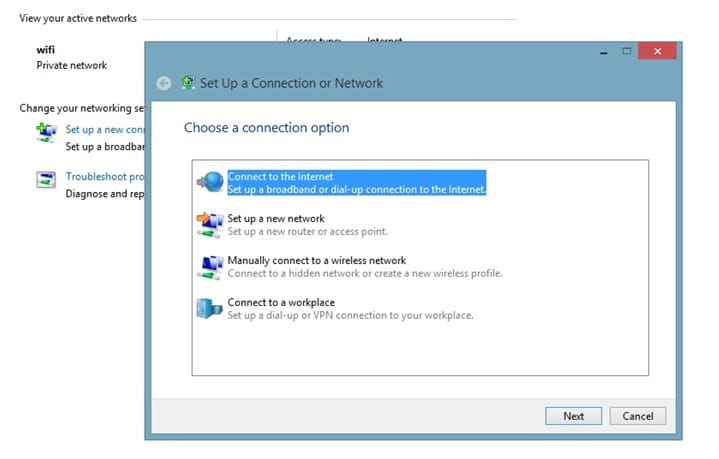 • Now click on "Connect to a workplace" and now click on "Next"
• Click on "Use my Internet connection (VPN)" and then click on "Next"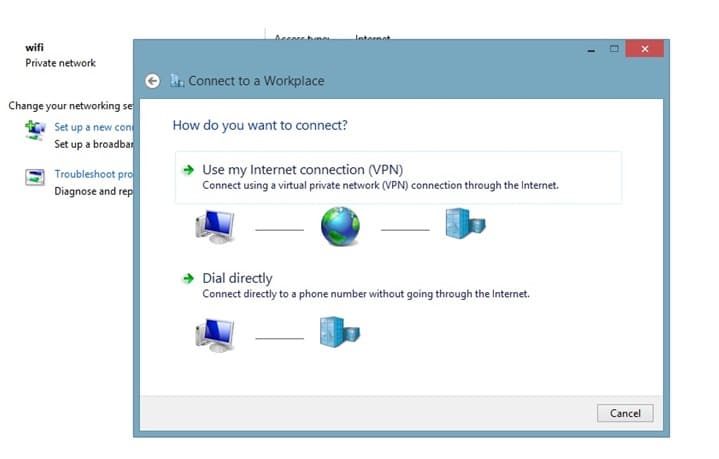 • "Connect to a workplace" wizard will now ask you the "Internet address" and "Destination Name" previously provided to you by your VPN provider. Fill in these details and click "Create"
• Next window will ask you for your "Username" and "Password". Fill in these details and click on "Connect" button.
Share Your Computer's VPN Connection with Your Xbox 360
• Bridge your Xbox to Computer via Ethernet Cable.
• IP settings and DNS settings should be "Automatic" (unless instructed otherwise by your VPN provider). To check, go to "Settings" then click on "System Settings" now go to "Network Settings" in your Xbox Menu.
• Now below Security tab, set "Data Encryption" to optional. Your VPN provider will take care of the data encryption.
• Below Authentication, select the "Allow these protocols" option. Now activate "Challenge Handshake Authentication Protocol (CHAP)" along with "Microsoft CHAP v2"• Now Go to "Network and Sharing Center"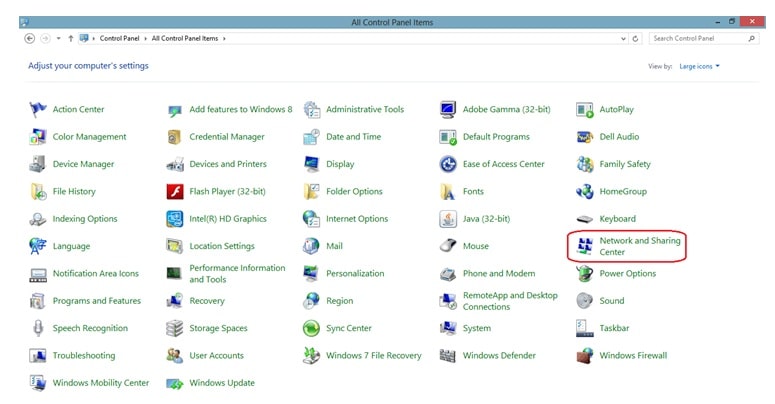 • Then click on "Change Adapter Setting"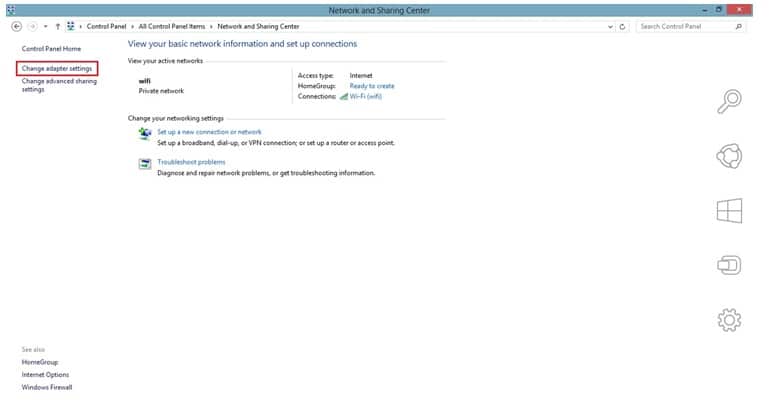 • Right Click on your VPN connection and click on "Properties"
• Below the sharing Tab check the "Allow other network users to connect through this computer's internet connection" box. Now from the drop down menu below "Home Network Connection" choose "Local Area Connection" and click "Ok"
• Restart your Xbox and PC
• Now on connecting to VPN connection you'll successfully establish an Xbox 360 VPN connection through your Computer.
Second Approach
Setting a VPN connection on Xbox 360 through Router
If you do not want to establish VPN connection on your PC but still want to use Xbox 360 VPN then using a router based VPN connection is ideal for you. Many people prefer router based solution over sharing PC's VPN because if you share your PC's VPN connection on your Xbox 360 then you are required to turn on your PC and establish a VPN connection every time you want to use VPN for Xbox 360. Added advantage is that all the other devices you connect through that router will also use this VPN connection.
Prerequisites
Let your VPN provider know that you wish to establish Xbox 360 VPN connection and ask them for following credentials.
• Username
• Password
• Domain Name
• Host Name
• Connection Type
• Router IP information. Local IP address and Subnet Mask
• Gateway
• DHCP enabling
Setting up a VPN Router for your Xbox 360
When you use your Xbox 360 VPN through a VPN Router, your Router will work as a gateway for all your devices, providing then the same security and accessibility as your Xbox 360. The process of establishing a VPN connection on a router is simple and requires no technical skills.
Xbox VPN setup via Router
The easiest way is to buy a pre-configured VPN router but there is no need to worry if you haven't, because with a few easy steps you can turn a normal router in to a VPN router. Best router for the purpose is a DD-WRT flashed router. DD-WRT router comes highly recommended for VPN subscribers as they are easy to use and there is ample information available on internet regarding these routers.
Step 1 – Go to your computer's Control Panel (I am assuming you know where it is)
Step 2 – After installing VPN router properly with your computer and Xbox 360 you can spot VPN router Control Panel inside your PC's "Control Panel".
Step 3 – Access the router control panel and it will give you system information
Step 4 – Hit on "Access Setup" and then "Basic Setup" in VPN Router Control Panel.
Step 5 – Fill in setup configurations provided by VPN service provider. You will be asked about your Host, Domain, Local IP and Subnet Masks.
Step 6 – Now choose suitable VPN protocol beneath "Connection Type" and check or uncheck DHCP based on your VPN provider's directions.
Step 7 – Fill in your username and password details and click on "Apply Settings" and Save.
Step 8 – Now click on "Status" tab and you'll see new sub tabs, Select "Wan" and click on Connect.
And you'll find yourself using an Xbox 360 VPN through a VPN router.
Conclusion
You can take full advantage of your Xbox 360 by using it with a VPN connection and you can enjoy this VPN experience either by sharing your computer's VPN connection or by using a VPN router. Whatever your choice is, VPN on Xbox 360 can be established by following few very easy steps. Xbox 360 is a console filled with great extents of entertainment, why not enjoy it at the fullest.