At the beginning of 2016, the German parliament had a second stab at implementing a data retention law. Their first law, which forced Internet Service Providers (ISPs) to retain logs of customer activity, was enacted in 2006 following an EU directive. However, the European Court of Justice threw the law out in 2010, ruling that it contravened the privacy rights of German citizens.
Following the EU order to create a data retention law, and then the EU court's decision to ban such laws, the data privacy standards of Europe are in disarray. Some countries decided not to bother trying to make another one, while others, sneakily, reformed their data retention laws to make them even more draconian than the banned law.
The new German law obliges telecoms services and ISPs to retain logs of customer activity for at least ten weeks. These records can then be accessed by the police with the aid of a court order.
Thankfully, the law does not oblige Virtual Private Network (VPN) providers to keep records. ISPs keeping ten weeks of records of which sites your Internet Protocol (IP) address accessed is reason enough to use a VPN when you access the internet from within Germany's borders.
List of The Best VPNs for Germany
Best VPNs For Germany
1.ExpressVPN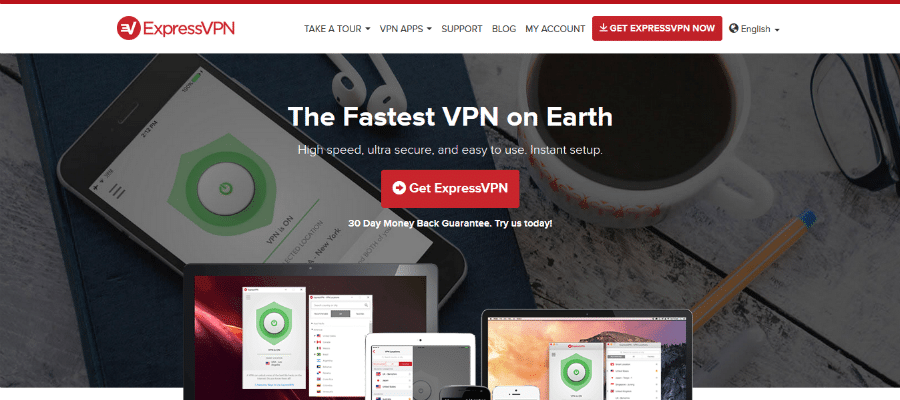 ExpressVPN has servers in 94 countries, including Germany. Although the website can be read in German, the app is only available in an English language version, so if you are an English speaker living in Germany you will be fine. However, if you want to share your subscription to spread out the allowed three simultaneous connections, you had better find another English speaker to partake with you. ExpressVPN gets around the geo-location locks on Netflix US and Netflix Canada, and you can also get into BBC iPlayer with it. If you are out of Germany and want to access German TV sites, ExpressVPN can help you there too, including access to Netflix Germany. Your German ISP won't be able to see your activities because the ExpressVPN
stealth system fools deep packet inspection attempts to identify VPN usage.
Advantages:
• Stealth servers to dupe ISP detection
• Easy-to-use, self-installing software
• Server network in 94 countries
• Gets into Netflix US, Canada, and Germany
• Up to three simultaneous connections
Drawbacks:
• Support staff don't speak German
• App written in English
2.VyprVPN


You can try out VyprVPN for three days for free. However, they do take your payment details before you get that free access. Their system is that they won't charge you for three days, and so you pay nothing if you cancel the service within that period. There is no money-back guarantee after the three-day trial has finished. VyprVPN has a great cloaking method, which the company wrote itself. This helps your traffic avoid detection.
The VPN cuts in automatically if you are near new WiFi hotspots, which is a great help if you are in Germany for a short time and go to cafes for your internet access. VyprVPN can get you into a wide range of US, Canadian, and British streaming services, including ABC GO, Netflix US, and BBC iPlayer.
Advantages:
• Three-day free trial
• Gets into BBC iPlayer and Netflix US
• Chameleon cloaking technology
• Servers in 64 countries
• Up to five simultaneous connections
Drawbacks:
• Only the Premium package includes strong security
• Support staff don't speak German
• Text on app is only available in English
3.NordVPN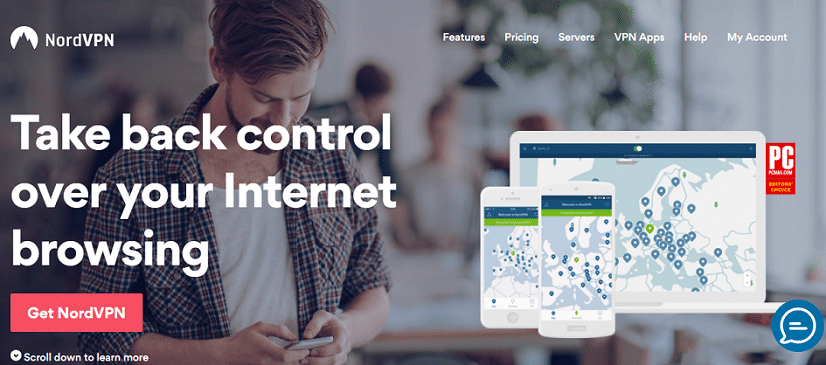 Check out the two-year subscription deal from NordVPN – it brings the price of the service way down, and makes it the cheapest VPN on this list when calculated on a monthly basis. It just beats Private Internet Access by a few cents.
The company is fine with customers using the VPN to access torrent downloading networks and you can pay with bitcoin, so your protection from being taken to court over copyright issues is greatly enhanced. NordVPN offers a double-hop encryption system, which effectively means your traffic is put through a VPN and then put through a VPN again. With six simultaneous connections allowed, this service can be incredibly cheap for those who opt to share an account.
Advantages:
• 741 servers in 58 countries
• Doubly-hop encryption with VPN chaining
• Cheap two-year subscription offer
• Up to six simultaneous connections
• Gets into Netflix US, Canada, India, and France from Germany
Drawbacks:
• Not the fastest VPN on the list
• Support staff only speak English
• No German language version of the app
4.VPNArea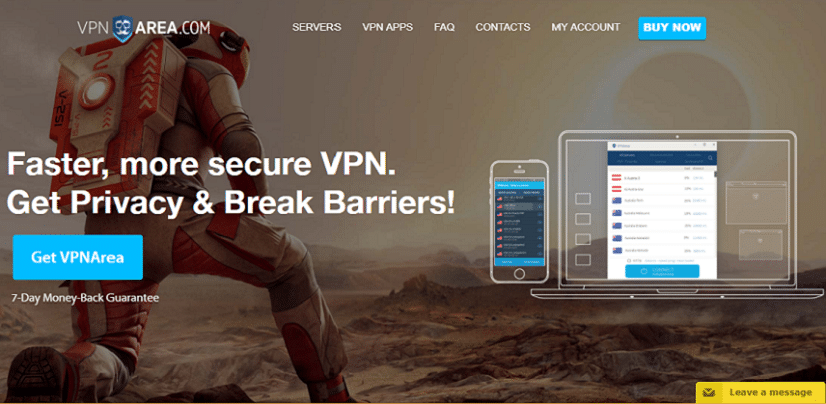 VPNArea, VyprVPN, and NordVPN are very similar products. NordVPN and VPNArea allow up to six simultaneous connections, while VyprVPN offers five. NordVPN has servers in 58 countries, VyprVPN has a presence in 64 countries, and VPNArea has servers in 60 countries. All three have very good technical capabilities. The geo-location locks on Netflix are just about the toughest in the world, yet all three of these VPNs can defeat them. VPNArea is the only one of the three that can get you into Netflix UK as well as Netflix US. ExpressVPN is the top-of-the-line VPN, but it is pricey. If you don't want to shell out so much, you will have difficulty deciding between NordVPN, VPNArea, and VyprVPN as your next favorite – really they all tie for the number two slot. Fortunately, you can try each without risk, because they all give you a period to try them out with the opportunity of getting your money back if you cancel.
Advantages:
• Servers in 60 countries
• Seven-day money-back guarantee
• Up to six simultaneous connections
• Subscription sharing encouraged
• Gets into BBC iPlayer, Netflix UK, and Netflix US
Drawbacks:
• Not the fastest VPN in the top five
• No German language version of the website or the app
• No German language customer support
5.Private Internet Access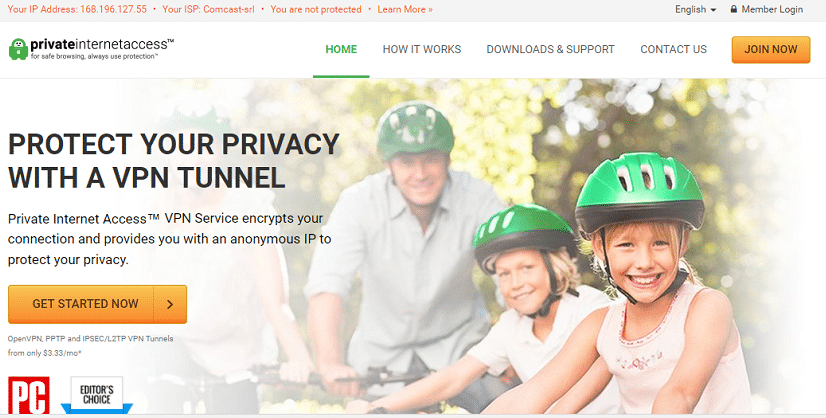 Private Internet Access (PIA) makes up the bunch. The company's operations base is in the US, which might be a problem for those who are suspicious of America's snooping NSA. However, it is adamant that it keeps no logs at all. This is a great network for downloading with torrents, but you need assurances that it won't fold in the face of legal action and hand your details over to copyright lawyers. You have that assurance because they simply don't have the information to hand over. The one-year plan is the cheapest of all the VPNs on this list, but the two-year plan of NordVPN just undercuts that. If you live in Germany and you can't stand German TV, you need the ability to download for free with PIA, in order to bypass streaming sites' geo-location blocks.
Advantages:
• Servers in 25 countries including the US, UK, Canada, Australia, and New Zealand
• Absolutely no logs
• P2P allowed
• Up to five simultaneous connections
• Accepts bitcoin
Drawbacks:
• Support not in German
• All text in the app is in English
VPN for Germany: Considerations
Germany is a liberal democracy, so you honestly don't have to worry about the secret service looking into your digital activities. Unless you are Jennifer Lawrence, they probably wouldn't want to intercept photos of you topless on the beach. However, you do need to worry about legal action from copyright holders.
There is no telling whether the current Data Retention Act will last very long. Germany is home to some very active civil rights pressure groups, including the Arbeitskreis Vorratsdatenspeicherung, which is working round the clock to bring down this law.
If you travel and expect to visit other countries outside of Germany, then you really need the top-quality detection evasion methods offered by all of the VPNs in this list. Being able to get into home streaming services while you are abroad is also important. The ability to use P2P downloading networks anonymously is the final "must have" for your expat traveler kit.
VPN for Germany: Conclusions
The German data retention laws put pressure on ISPs, but their rules don't apply to VPNs. All of the VPNs on this list operate zero logs policies. This means that even if the ISP that handles your internet traffic while you are in Germany can spot that you are using a VPN, no lawyer can ever get information on what you were up to.
The ability to pay in bitcoin gives you even further protection. All VPNs keep account details – they have to. However, all those can prove is that you have been using a VPN, not what you have been using it for. If you give a temporary webmail email address and pay with bitcoin, any legal pressure put on the VPN company would only lead to a dead end if they tried to "follow the money" and track you down.
As a final note, it is worth mentioning that all of the VPNs on this list are bona fide organizations. They aren't scams and they won't take your money and give you nothing in return. Try each of them to see which of them you like the best. In the case of VyprVPN, you've got three days to have a good kick of the tires before you have to pay out. ExpressVPN and NordVPN give you a full 30 days to play around with the service, and still get your money back if you don't like it. PIA and VPNArea give you seven days to ask for your money back.
Enjoy surfing the web while asserting your right to privacy. Use a VPN for Germany.